Et maintenant, déguisée en Black Canary et Zatanna :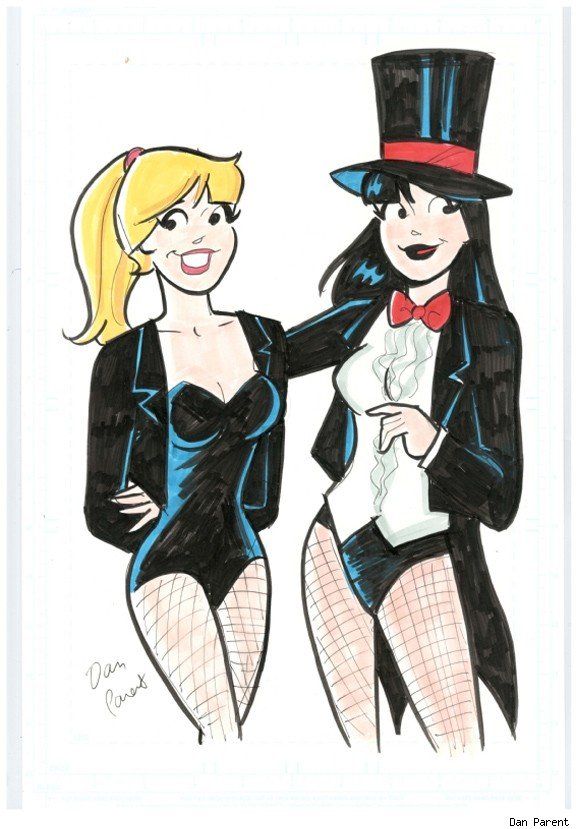 Jim
Betty, Archie et Veronica par Norm Breyfogle :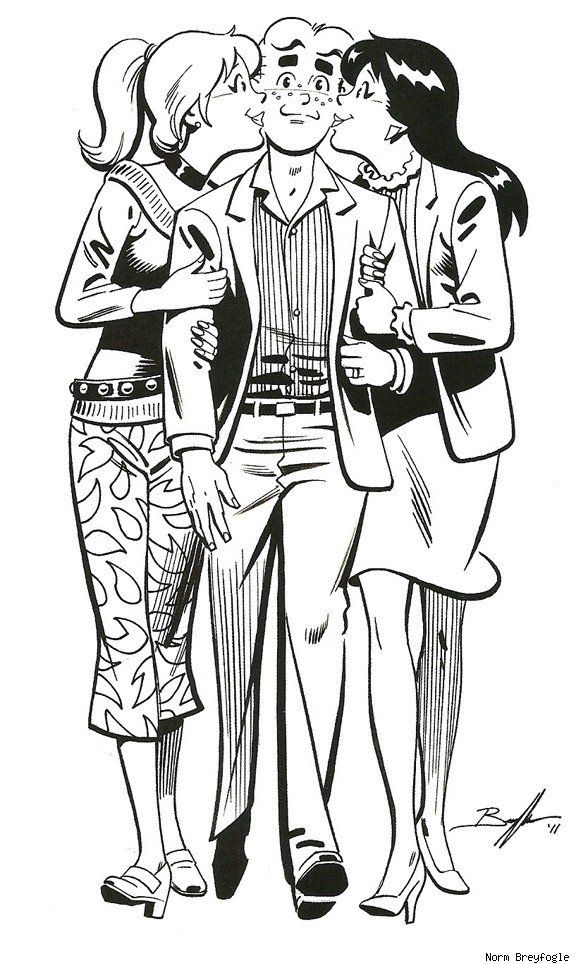 Jim
Betty, Archie et Veronica ont grandi, grâce à Howard Chaykin :
Il s'agit de la couverture alternative de Archie - The Married Life 10th Anniversary :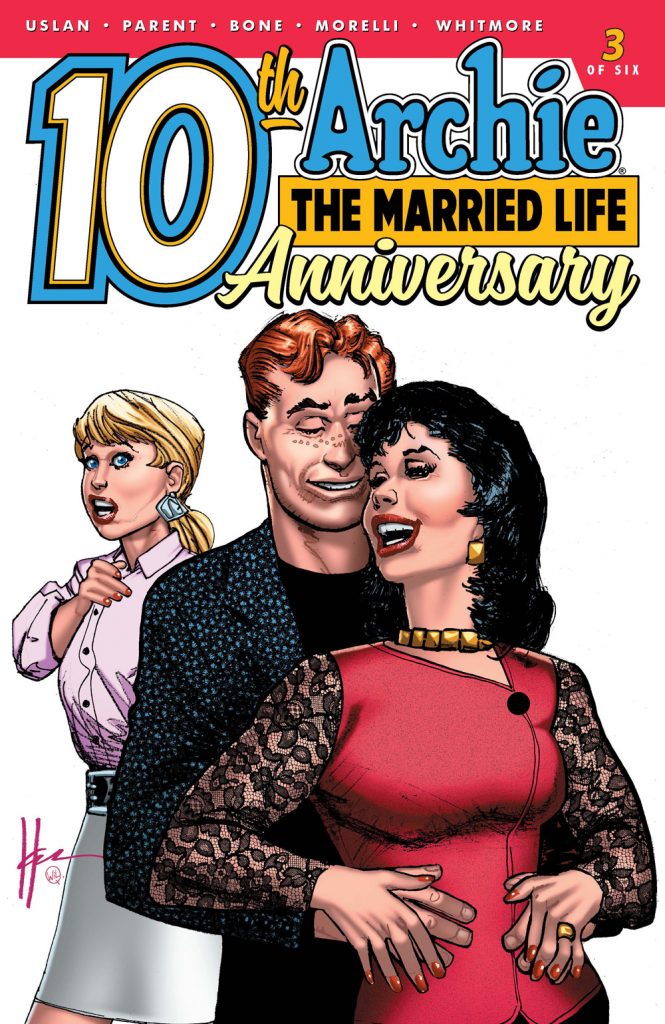 Jim
Projet avorté de Paul Kupperberg, The Riverdale Chronicles repose sur une idée simple : dans le grenier, Archie retrouve le journal de sa famille, dont la présence à Riverdale remonte à 1750.
À l'époque, Kupperberg est scénariste de la série Life With Archie. Il propose l'idée (sous la forme du scénario complet du premier épisode et de quelques dessins signés Jason Armstrong) à Victor Gorelick, qui est intéressé, mais l'éditeur n'a pas encore pour habitude de publier de nombreuses déclinaisons de son catalogue, et le projet en reste là, au point de sombrer dans les limbes.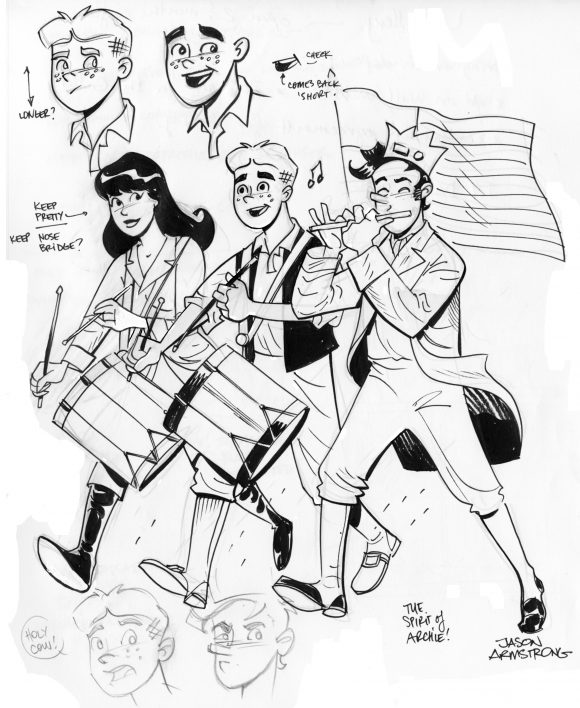 The Riverdale Chronicles, Archie. I liked this idea so much I wrote the entire 24-page script for the first issue on spec and coerced artist Jason Armstrong to make some sketches. The idea was simple: While cleaning out the attic, Archie finds the Andrews Family Journal, dating back to the first Andrews to settle Riverdale in the 1750s. In it, he finds a fascinating family history, as well as some family mysteries. The first story arc is set in the opening days of the Revolutionary War and finds Archie and the gang (or the ancestors thereof) playing their roles in American, and Riverdale, history.

I was still writing Life With Archie in 2011 when I pitched this idea to my editor, the late Victor Gorelick. He loved the idea (enough to see that I got paid for my spec script) but never closed the deal; I think at the time when this sort of thing was still new to them, they felt one ongoing series was enough for Archie to bear. And, by the time they were comfortable with the concept, they'd already moved beyond the semi-serious tone rendered in the cartoon style and were on to the horror phase of their evolution.
Jim
Autre projet avorté de Paul Kupperberg, Pop Tate était supposé intégrer une série d'one-shots consacrés à des personnages secondaires de l'univers Archie, en 2017. Le scénariste propose de raconter l'histoire de Pop, le tenancier du petit diner dans lequel les héros vont savourer des milk shake (et Jughead des burgers), du temps où il était jeune, où il s'appelait Terry et où Pop, c'était son père.
Mais au final, cet one-shot de quarante pages sera abandonné.
The proposal for the 40-page one-shot takes us back to before Terry became Pop, when he was being called Junior because his father was then known as "Pop" and still owned the Chocklit Shoppe. Much to his displeasure, Terry got stuck behind the counter while his siblings got to go off and have their own lives and he grew to hate the Chocklit Shoppe, turning to the bottle to drown his unhappiness.

But the thing he hates most becomes his salvation when he learns after his father's death and he inherits the Shoppe, just how much the place, and the Tates, mean to the people of Riverdale. He finds himself honored to be crowned by them as the new "Pop" Tate.
Jim
Dans Sabrina the Teenage Witch #15, daté d'octobre 1973, Joe Sinnott encre Stan Goldberg pour l'histoire « The Haunted Helmet ».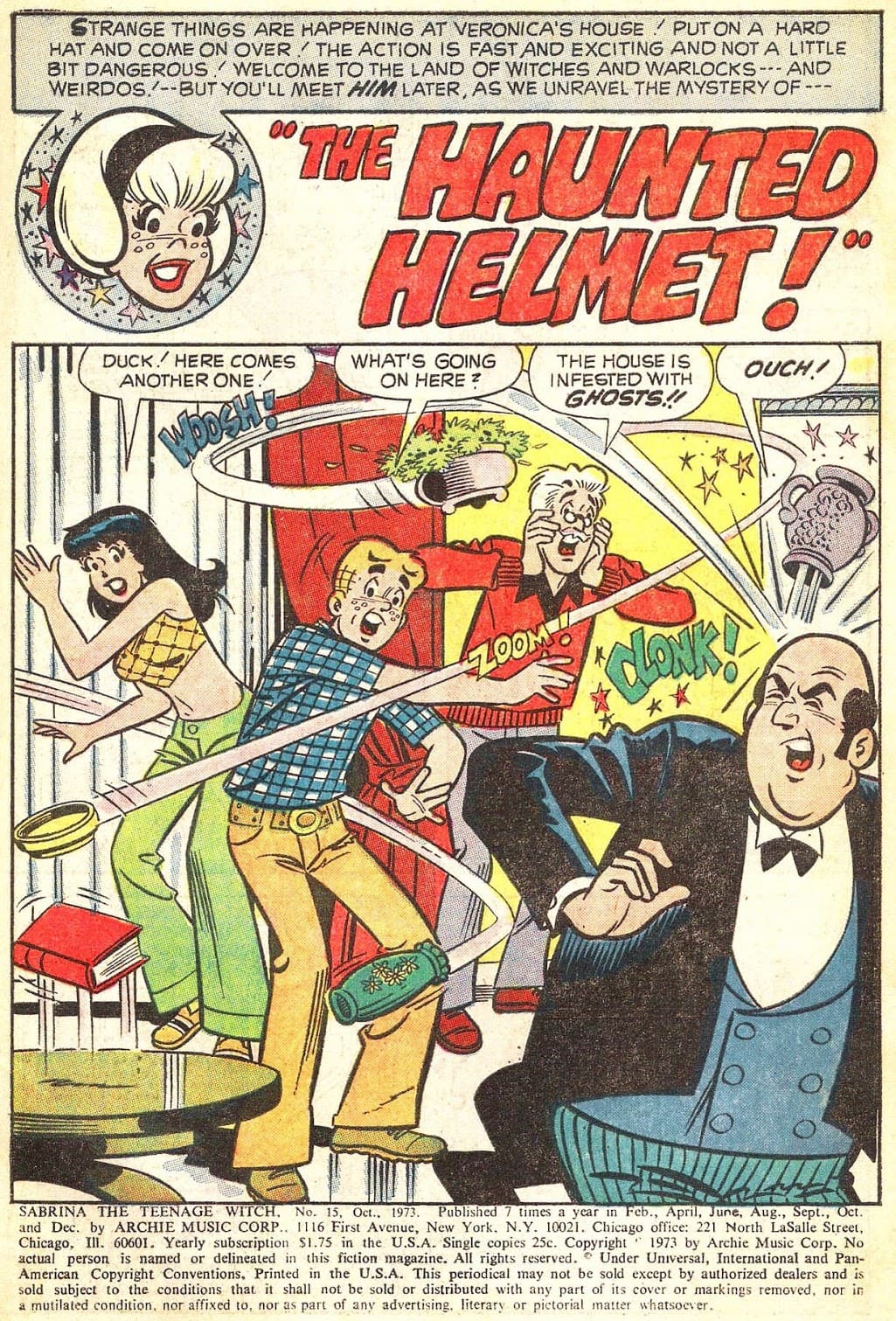 Les originaux sont visibles ici, en descendant un peu et en cliquant sur les numéros des planches.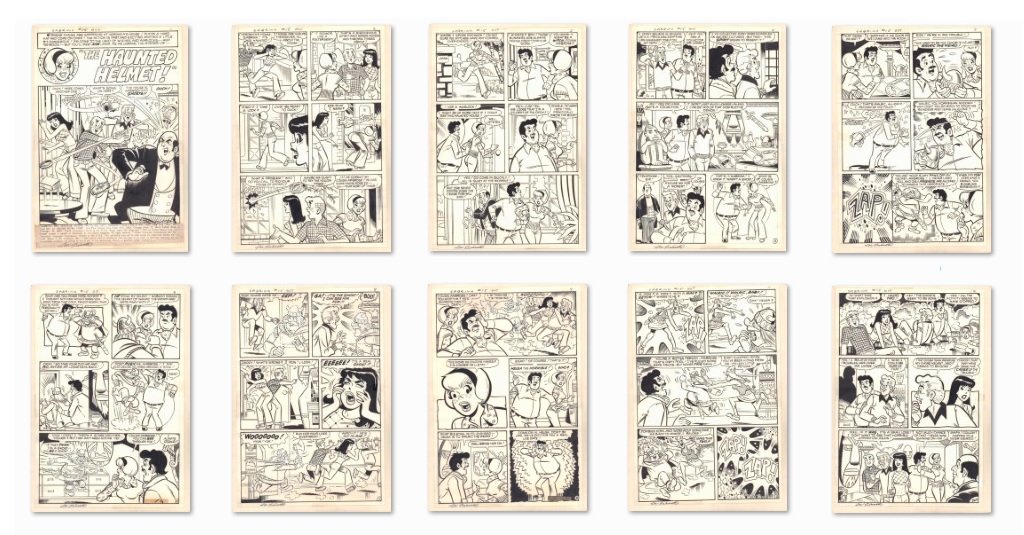 Jim
Nick Perks :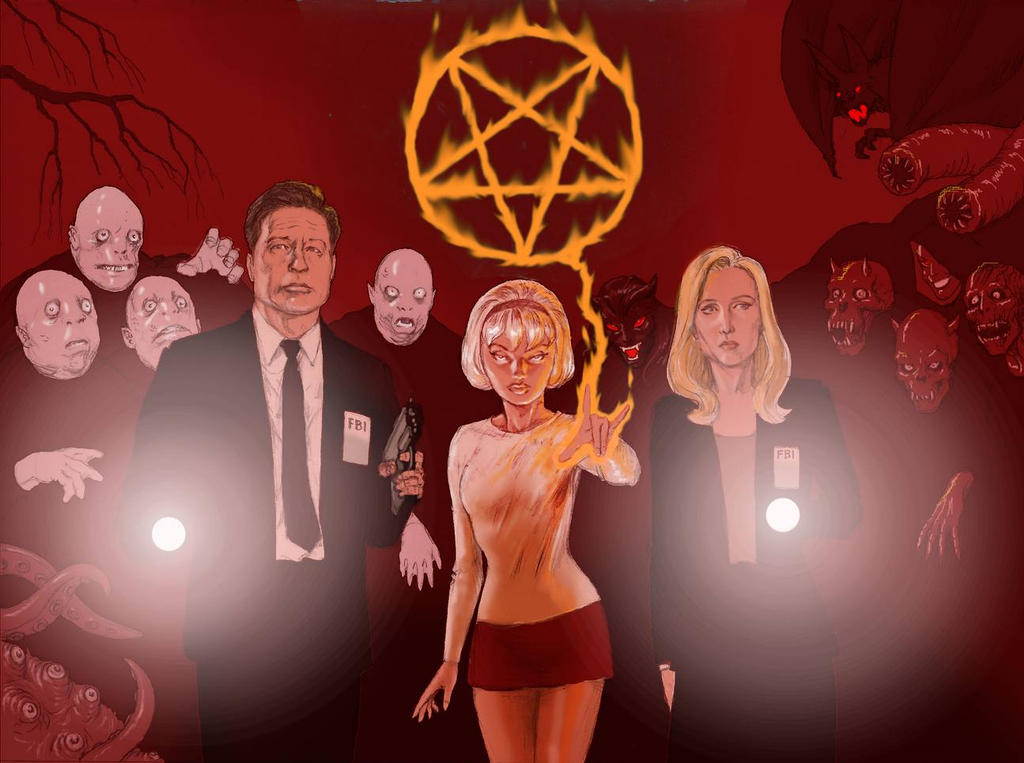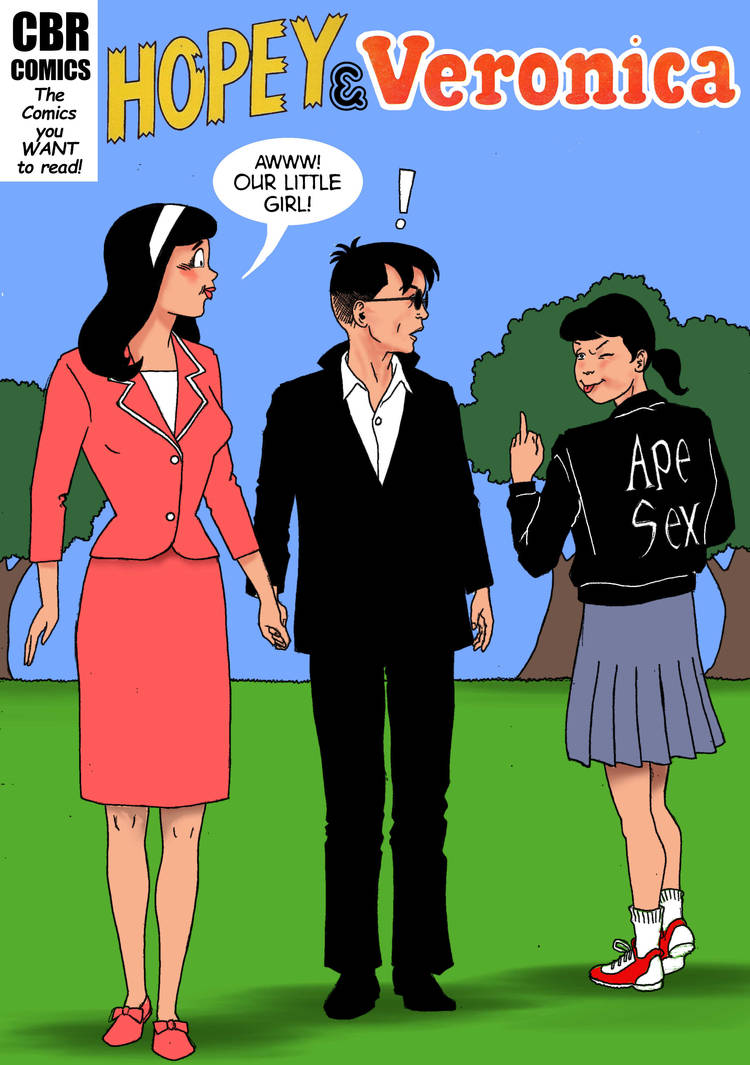 Jim
Josie des Pussycats en Wonder Woman, par Dan DeCarlo :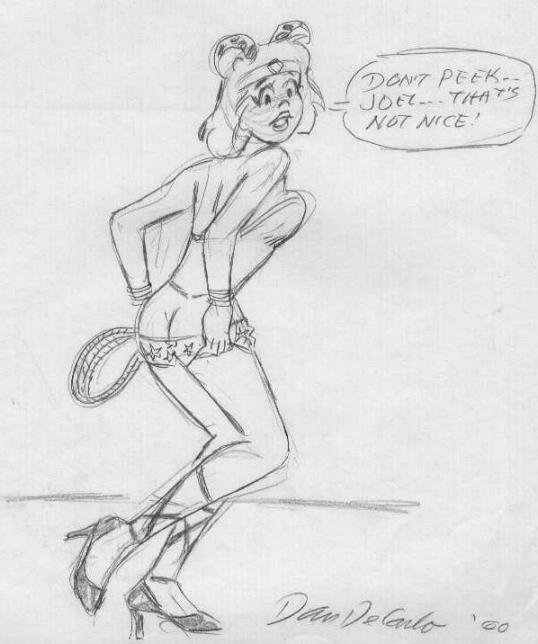 Jim
Cheryl Blossom en Wonder Woman par Dan Parent :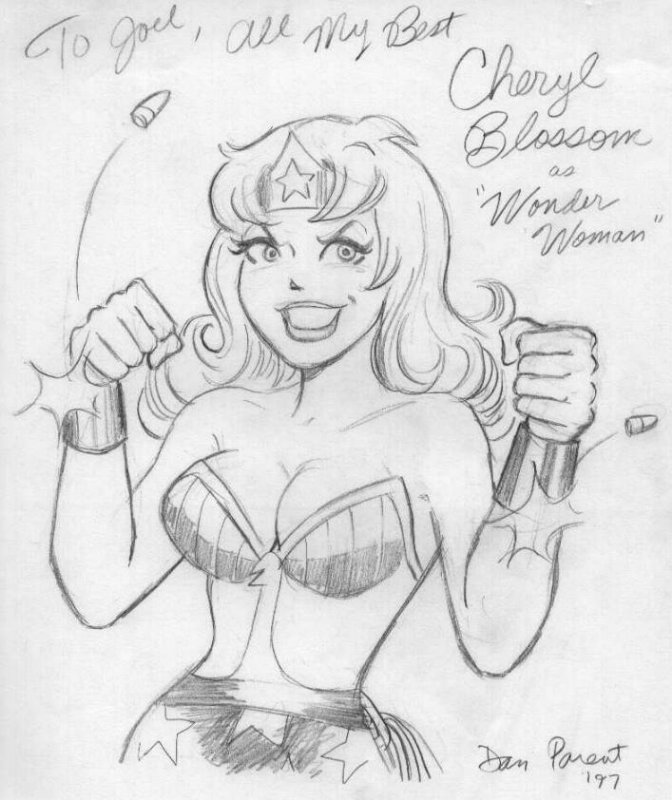 Jim
Dan Parent :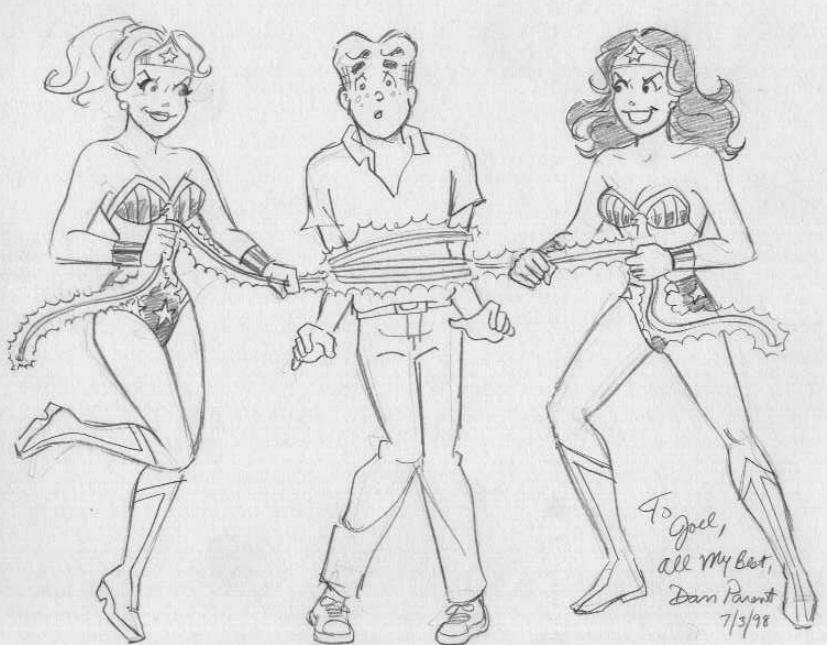 Jim
Katy Keene en Wonder Woman, par John S. Lucas :
Jim
Sabrina en Wonder Woman, par Bill Golliher :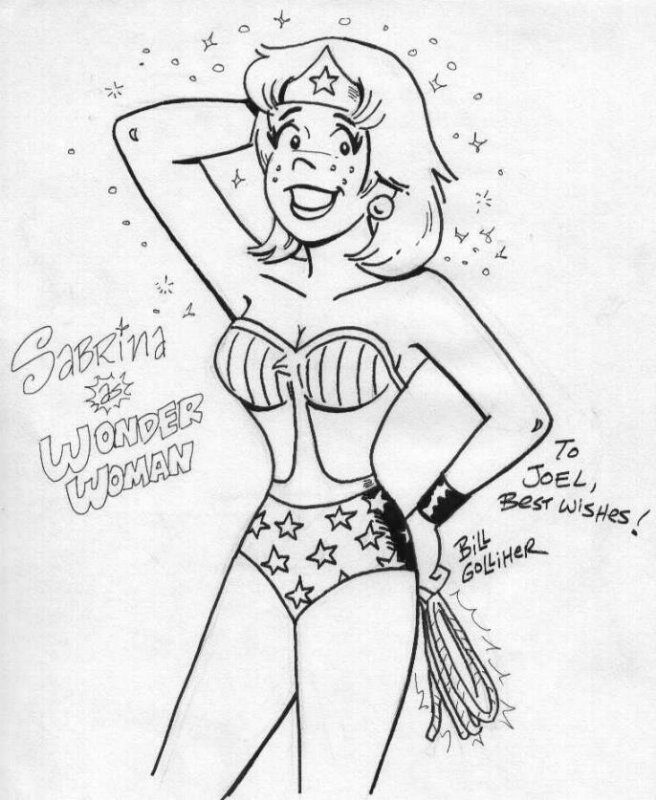 Jim
Veronica à la plage, en bikini Wonder Woman, par Mike Worley :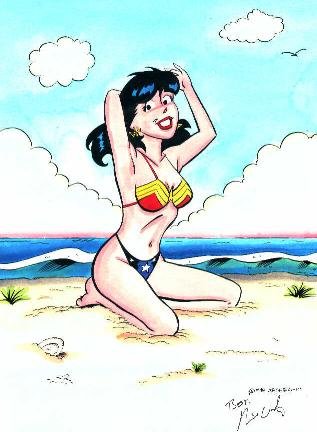 Jim
Paul Renaud