Larry Stroman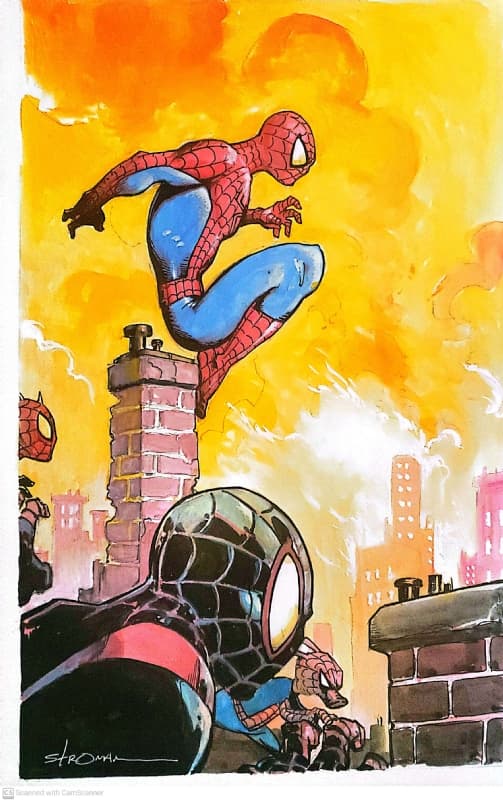 Ryan Stegman
Gabriele Dell'Otto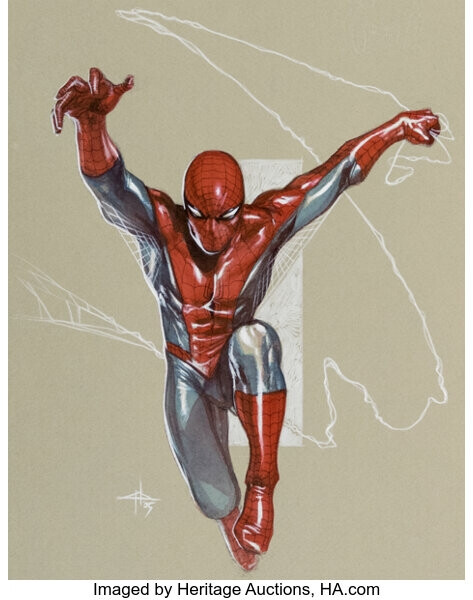 THE AMAZING SPIDER-MAN #16 :
Le premier numéro de Daredevil a été publié en avril 1964 (date de couverture). Et il ne lui a pas fallu longtemps pour croiser le chemin de l'Homme Araignée puisque leur première rencontre a eu lieu dans les pages de Amazing Spider-Man #16 daté de septembre 1964. L'Homme sans Peur n'avait pas encore troqué son costume jaune et noir pour sa célèbre combinaison rouge et l'ambiance est ici plus légère que lors de futures collaborations entre les deux super-héros.
Les vilains de cet épisode sont le Ringmaster et le Cirque du Crime, dont la version moderne (il y a eu une formation différente dans les comics Captain America des années 40) a été introduite dans l'un des premiers numéros de Incredible Hulk. Pour attirer le plus grand nombre de spectateurs possibles (afin de les hypnotiser et de leur faire les poches), le Ringmaster fait croire que Spider-Man fait partie de son spectacle…ce qui attise bien évidemment la curiosité de Peter Parker.
Spidey ne peut pas s'empêcher de faire le spectacle…jusqu'à ce que le Monsieur Loyal à moustache décide d'utiliser la spirale hypnotique de son haut-de-forme. Mais ce dont il ne se doute pas, c'est que Matt Murdock fait partie du public, en compagnie de ses amis et collègues Foggy Nelson et Karen Page. La deuxième moitié du numéro est donc consacrée à la baston et c'est aussi enjoué que divertissant.
Cela se joue en deux temps. La situation fait que Spider-Man affronte Daredevil, un malentendu comme il y en avait tant à l'époque. Heureusement, DD s'empare du chapeau du Ringmaster et libère rapidement Spider-Man de son état d'hypnose. Le reste est une bonne démonstration du dynamisme du découpage de l'action signé Steve Ditko (le spectacle est virevoltant)…sans oublier les répliques savoureuses de Stan « The Man » Lee !
SPIDER-MAN/X-FACTOR - SHADOWGAMES :
Avant d'explorer le passé de Spider-Man dans l'excellente série Untold Tales of Spider-Man, Kurt Busiek avait déjà travaillé à plusieurs reprises sur le personnage, notamment sur un arc narratif de Spectacular Spider-Man et des épisodes de Spider-Man Unlimited. On lui doit également la mini-série en 3 numéros Spider-Man/X-Factor : Shadowgames, sortie peu de temps après le titre qui a vraiment fait de Busiek un nom à suivre, un certain Marvels.
À la partie graphique, on retrouve le dessinateur Pat Broderick qui forme pendant un épisode et demi un duo solide avec l'encreur Bruce Patterson (les deux hommes avaient déjà travaillé ensemble sur Green Lantern, Legion of Super Heroes, Captain Marvel ou encore Alpha Flight). Pat Broderick est un nom que je croisais souvent dans mes lectures dans les années 80/90 (j'aime beaucoup ses Captain Marvel et ses Doom 2099) avant que le bonhomme s'éloigne des comics pour travailler dans la publicité à partir de 1995. Il est juste dommage que l'encrage soit irrégulier car Patterson est remplacé par Sam De La Rosa au milieu du second chapitre.
La mini-série débute en pleine action, alors que Spidey est poursuivi par la Shadowforce, des personnages aux pouvoirs familiers et aux costumes très nineties. Le flashback montre ensuite comment tout cela a commencé, un combat qui se termine par la défaite du héros. Témoin de l'affrontement, Flash Thompson essaye de trouver de l'aide et comme les F.F. et les Avengers sont absents (ce qui arrive souvent), il a l'idée de téléphoner à Facteur X (la formation était dirigée par Havok et comprenait Polaris, Félina, Madrox et Guido). L'équipe travaillait alors pour le gouvernement américain et pendant leur enquête, les mutants découvrent que la Shadowforce est le résultat du projet d'un général qui utilise des données volées aux super-héros pour créer sa propre armée de soldats à super-pouvoirs.
Comme c'est souvent le cas dans ce genre d'intrigue, le militaire a outrepassé ses ordres en conduisant ses expériences sur des criminels et les choses ont dégénéré. Le rythme est soutenu (3 épisodes, c'est un bon format, les rebondissements ne sont pas dilués), l'action est dynamique et Spider-Man forme une bonne équipe avec Havok et Cie. Ce qui est intéressant en ce qui concerne la Shadowforce, c'est qu'au-delà de leur aspect assez caricatural, la frontière entre vilains et victimes est assez floue. Et Kurt Busiek joue bien sur ce point dans les dernières cases…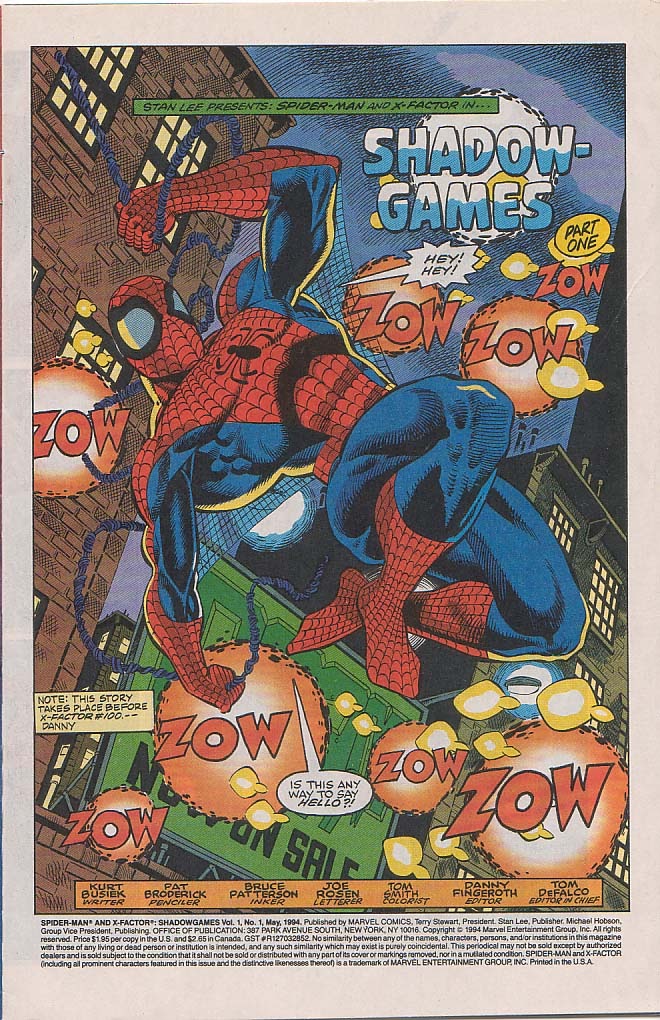 Super-Team Family : Spider-Man & Blue Devil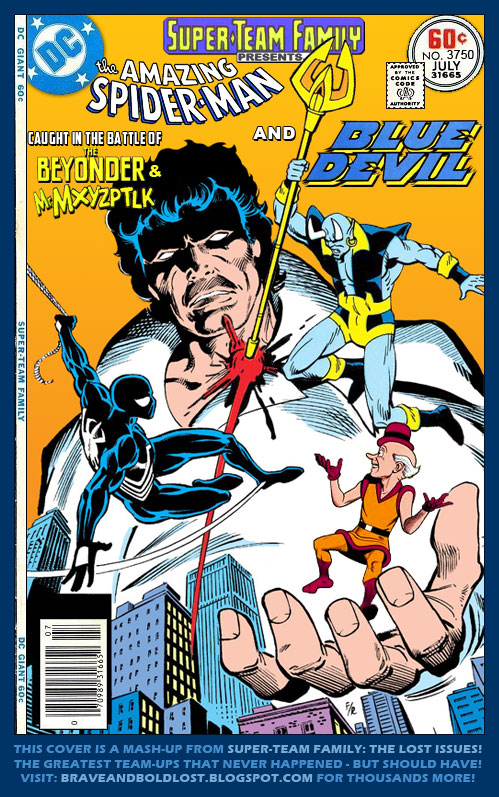 Leandro Fernandez :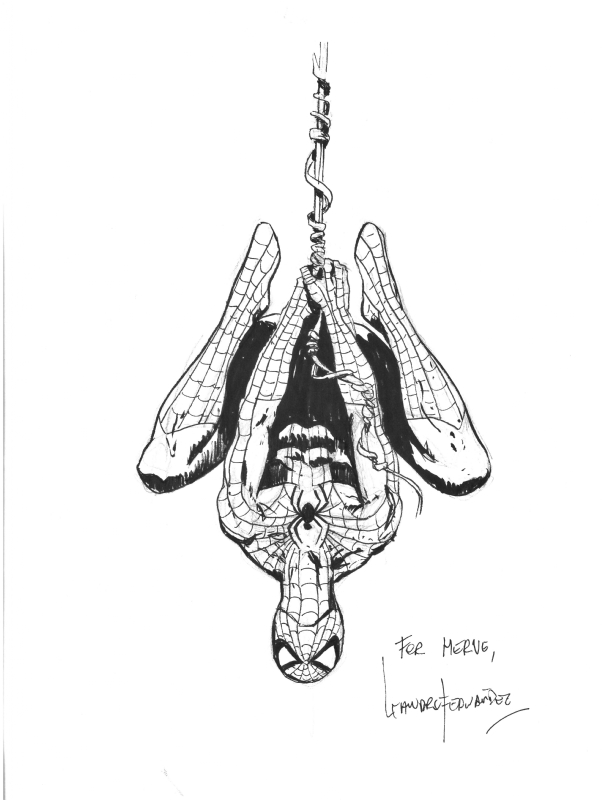 MAJ mensuelle du récap' avant le dernier trimestre :
#5 : Amazing Fantasy #15
#9 : Tombstone (Spectacular #137 à 150)
#15 : Marvel Team-up #126
#17 : Deadly Foes of Spider-Man
#56 : Superman vs the Amazing Spider-Man
#57 : Superman & Spider-Man
#67 : Spider-Man Noir
#68 : Sensational Spider-Man #-1
#69 : Spider-Man - With Great Power
#70 : Marvel Team-up #12
#71 : Marvel Team-up #13
#72 : L'Incroyable Spider-Man Pop-Up
#182 : Amazing Spider-Man, les comic-strips t.1
#183 : Amazing Spider-Man, les comic-strips t.2
#248 : Amazing Spider-Man #1
#255 : Spider-Man #17
#319 : What If ? #46
#353 : Spider-Man/Fantastic Four
#354 : Spider-Man/Human Torch
#356 : Spider-Man & Fantastic Four
#357 : Spider-Man aime Mary Jane t.1
#358 : Marvel Action Spider-Man t.1
#359 : Marvel's Spider-Man - City at war
#372 : Spider-Man / Venoml - Double Peine
#373 : Spider-Man - Un Jour Nouveau t.1
#374 : Spider-Man/Batman
#389 : Mythos - Spider-Man
#401 : Amazing Spider-Man #24
#416 : Amazing Spider-Man #801
#445 : Non-Stop Spider-Man t.1
#478 : Spider-Man - L'Ombre du Symbiote
#481 : Friendly Neighborhood Spider-Man #5
#499 : Spectacular Spider-Man #72
#515 : What If ? vol.2 #24
#540 : Spidey 8
#543 : Marvel Fanfare #1 et 2
#615 : Album Echec au Stratège
#629 : Untold Tales of Spider-Man Annual 1996
#649 : Strange Spécial Origines 280
#663 : Amazing Spider-Man Annual #15
#689 : Amazing Spider-Man Annual #5
#690 : Untold Tales of Spider-Man # -1
#700 : Amazing Fantasy #16 à 18
#712 : Sensational Spider-Man #13 à 15
#723 : Spider-Man Extra 15 (Amazing #121 à 123)
#725 : Amazing Spider-Man #259
#734 : I (Heart) Marvel - Web of Romance
#748 : Amazing Spider-Man #271
#752 : Destins Croisés
#760 : Sensational Spider-Man # -1
#761 : Amazing Spider-Man # -1
#762 : Spectacular Spider-Man # -1
#763 : Peter Parker Spider-Man # -1
#771 : Untold Tales/Amazing Annual 1997
#781 : Amazing Spider-Man Annual 2
#782 : Amazing Spider-Man #248
#819 : Spider-Man Bleu
#828 : La Collection Anniversaire t.1
#840 : La Collection Anniversaire t.2
#842 : Spider-Man /Gen 13
#843 : Spider-Man Classic 4
#855 : Spider-Man - Death and Destiny
#856 : Spider-Man - Ligne de vie
#858 : Tales to Astonish #57
#861 : La Collection Anniversaire t.3
#867 : La Collection Anniversaire t.4
#869 : La Collection Anniversaire t.5
#875 : Marvel Team-up #103
#877 : Amazing Spider-Man Annual 24
#889 : La Collection Anniversaire t.6
#899 : La Collection Anniversaire t.7
#901 : La Collection Anniversaire t.8
#912 : Marvel Team-up #48 à 51
#920 : La Collection Anniversaire t.9
#928 : Spectacular Spider-Man #107 à 110
#930 : La Collection Anniversaire t.10
#987 : Spider-Man - La Grande Illusion
#988 : La Vengeance du Bouffon Vert
#989 : Amazing Spider-Man #277
#991 : Tangled Web #1-3
#992 : Tangled Web #4-6
#1035 : Tangled Web #7-9
#1037 : Tangled Web #11 et 14
#1044 : Tangled Web #12 et 13
#1047 : La Mort de Jean Dewolff
#1059 : Spider-Man et les Héros Marvel t.9 - Captain America
#1067: Spider-Man Classic 10
#1068 : Spider-Man Classic 11
#1072 : Marvel Two-in-One Annual #2
#1073 : Ultimate Marvel Team-up #9
#1074 : Fantastic Four #512 & 513
#1088 : Amazing Spider-Man Extra #2
#1124 : Amazing Spider-Man #248
#1125 : Spider-Man Classic 1
#1132 : Amazing Spider-Man #224
#1149 : Tourments (Spider-Man #1-5)
#1181 : Spider-Man et les héros Marvel - La Colère de Hulk
#1196 : Fantastic Four #347 à 349
#1197 : Marvel 75th Anniversary Celebration
#1218 : Spider-Man/Dr Strange - Outre Monde
#1261 : Spider-Man #27 & 28
#1281 : Face-à-Face avec le clone (Amazing #144 à 151)
#1327 : Marvel Team-Up annual 7
#1328 : Marvel Team-Up #69-70
#1339 : La Vengeance du Monolithe Vivant
#1366 : Nous sommes Venom
#1367 : Je suis Carnage
#1378 : What If ? - Newer Fantastic Four
#1391 : Spider-Man et les héros Marvel - Ghost Rider
#1404 : Amazing Spider-Man Annual 21
#1413 : Mangaverse - Spider-Man
#1444 : She-Hulk #4
#1459 : MAD DOGS (Web #33, Amazing #295, Spectacular #133)
#1469 : Spider-Boy
#1526 : La Planète des Symbiotes
#1529 : Uncanny X-Men #346
#1540 : FREE COMIC BOOK DAY 2007 #1/AMAZING SPIDER-MAN - SWING SHIFT DIRECTOR'S CUT #1
#1550 : Web of Spider-Man #117/Amazing Spider-Man #394/Spider-Man #51/Spectacular Spider-Man 217
#1785 : Amazing Spider-Man Annual #3
#1975 : Stan Lee meets Spider-Man
#2043 : Spider-Man : The Lost Years #0
#2151 : Uncanny X-Men #35
#2152 : X-Men/Spider-Man
#2153 : Marvel Team-Up Annual 1
#2269 : Spectacular Spider-Man par DeMatteis
#2274 : What If ? vol.2 #105/Spider-Girl #0
#2323 : Spider-Man 2099 meets Spider-Man
#2324 : Avengers The Initiative #3
#2340 : Marvel Epic Collection - La Mort du Capitaine Stacy
#2350 : Amazing Spider-Man #546 à 548
#2351 : Spider-Man Sweet Charity
#2377 : Spider-Man - The Lost Years
#2378 : Peter Parker - The Spectacular Spider-Man #1
#2385 : Marvel Epic Collection - De Grands Pouvoirs
#2403 : Amazing Spider-Man #648-651
#2404 : Spider-Man Big Time
#2411 : Tangled Web #20
#2441 : Amazing Spider-Man #698-700
#2450 : Amazing Spider-Man #200
#2471 : Peter Parker - Spider-Man #20
#2472 : Peter Parker - Spider-Man #33
#2477 : Superior Spider-Man #1-3
#2566 : Web of Spider-Man #117/Amazing Spider-Man #394/Spider-Man #51/Spectacular Spider-Man 217
#2574 : Legend of the Spider-Clan
#2577 : Le Journal du Clone
#2581 : AMAZING SPIDER-MAN #652-654
#2594 : Superior Spider-Man #4-5
#2598 : Amazing Spider-Man #654.1
#2609 : La Dernière Chasse de Kraven
#2611 : Soul of the Hunter
#2637 : Spider-Man - Frères Ennemis
#2638 : REDEMPTION + PETER PARKER SPIDER-MAN #75
#2642 : Amazing Spider-Man #36
#2650 : AMAZING SPIDER-MAN #559-561
#2687 : Amazing Spider-Man #16
#2691 : Spider-Man/X-Factor - Shadowgames