ça va naturellement ensemble, non ?
Donc bc aurait parlé au premier à avoir relayé le leak qui confirme que c est d une source interne, etc, etc.
J'ai survolé l'épisode.
Pour être honnête, en ne jugeant que le numéro, Ms Marvel est quand même bien présente ici, avec un gros focus sur elle.
Sur ce seul numéro, la mort ici n'est pas incohérente.
Elle l'est cependant dans tout le run (où elle apparaît trop peu), et c'est une forme d'irrespect de faire mourir ici un personnage qui n'a rien de proche de Spider-Man, et sans aucun accompagnement de ses proches.
En outre, l'adversaire est bien naze, la caractérisation de Mary-Jane est minable, le traitement des enfants est pathétique (ils sont « absorbés » par Paul, pouf-pouf, ça disparaît), voire même gênant dans son aspect judaïque (et polémique).
Un projet incompréhensible.
Written by: Zeb Wells.

Art by: Ed McGuinness.

Covers by: Ed McGuinness, Lee Garbett, Lucas Werneck, Claudio Sciarrone.

Description: Grief looms over Peter after last issue's shocking death! Spider-Man's villains are more than happy to keep him distracted… Your eyes don't deceive you, Doctor Octopus is back!

Pages: 32.

Price: $3.99.

In stores: June 14.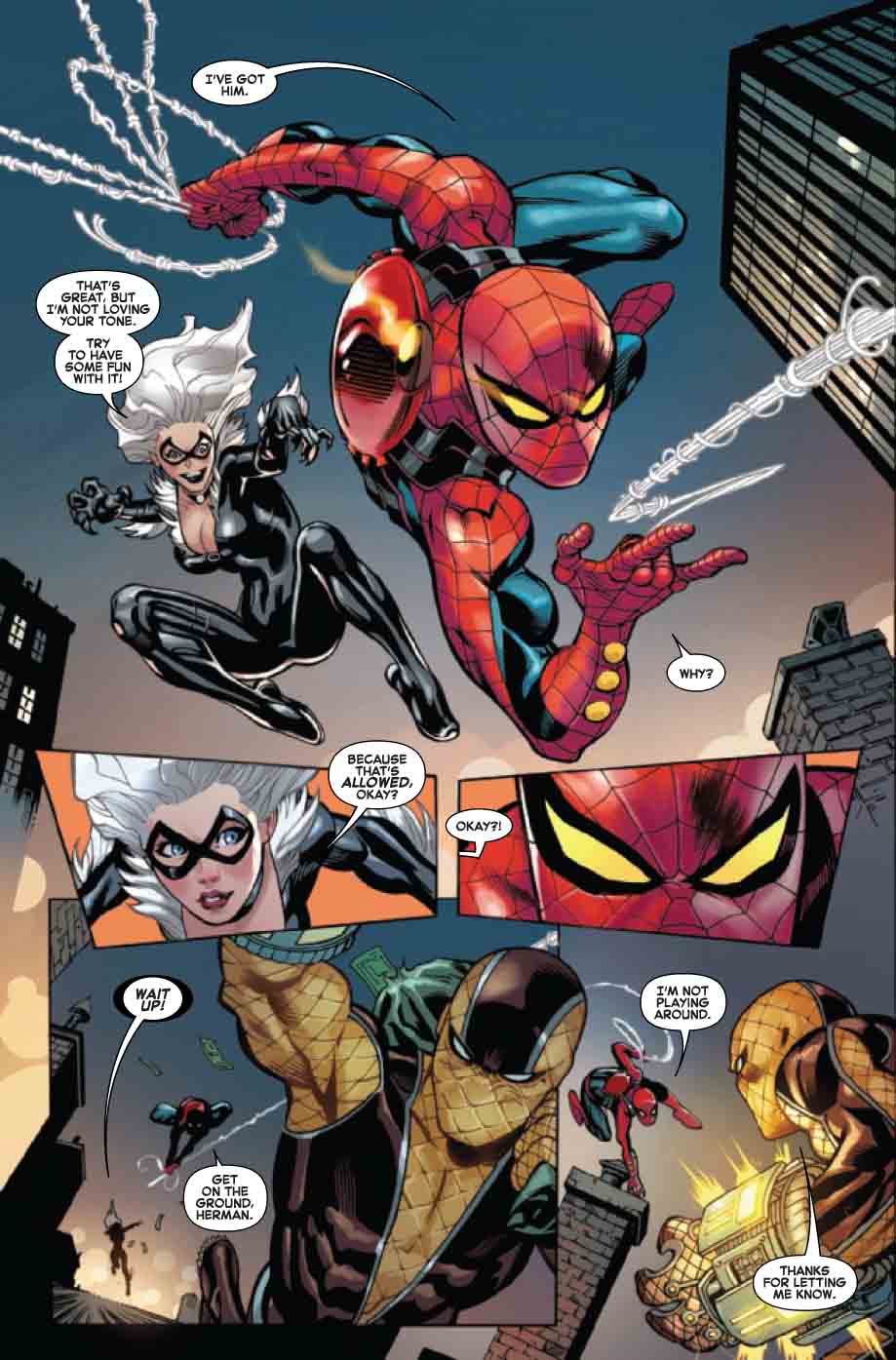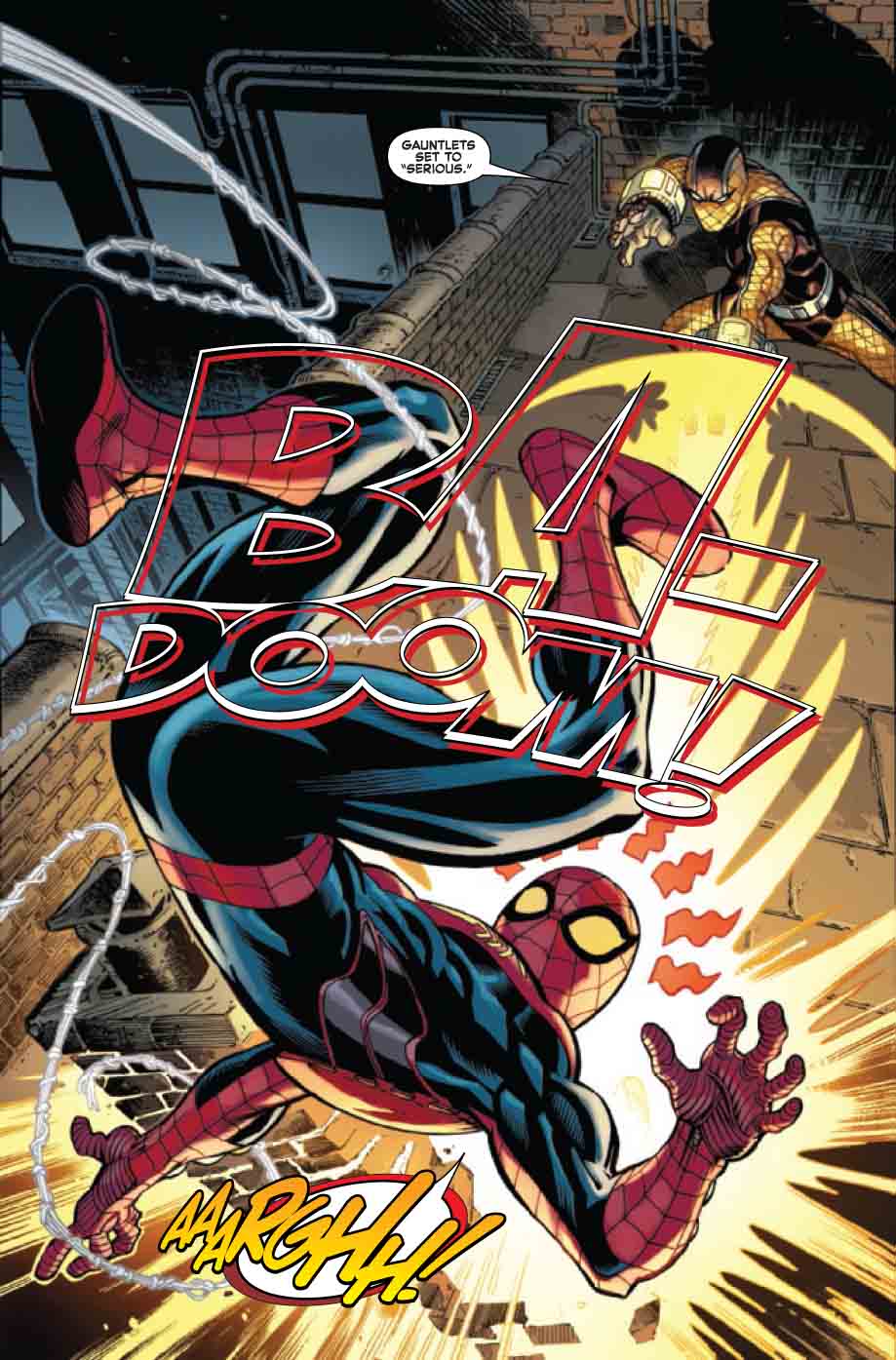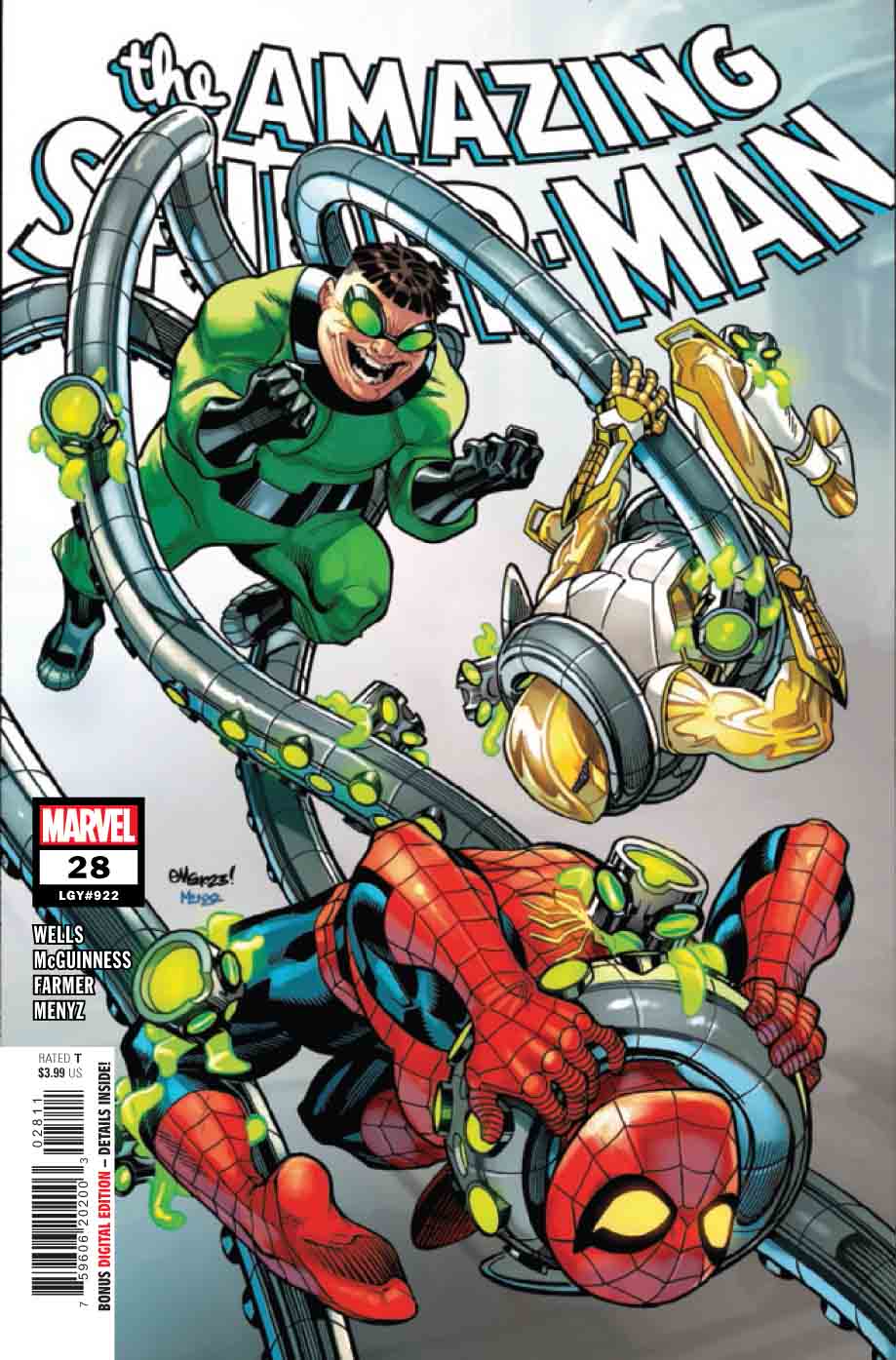 Written by: Zeb Wells.

Art by: Ed McGuinness.

Covers by: Ed McGuinness, Olivier Coipel, Elena Casagrande, Lucas Werneck.

Description: The new-and-improved Doctor Octopus takes his upgraded tentacles for a rampage through Oscorp! Can the deadliest Doc Ock ever be stopped?

Pages: 32.

Price: $3.99.

In stores: June 28.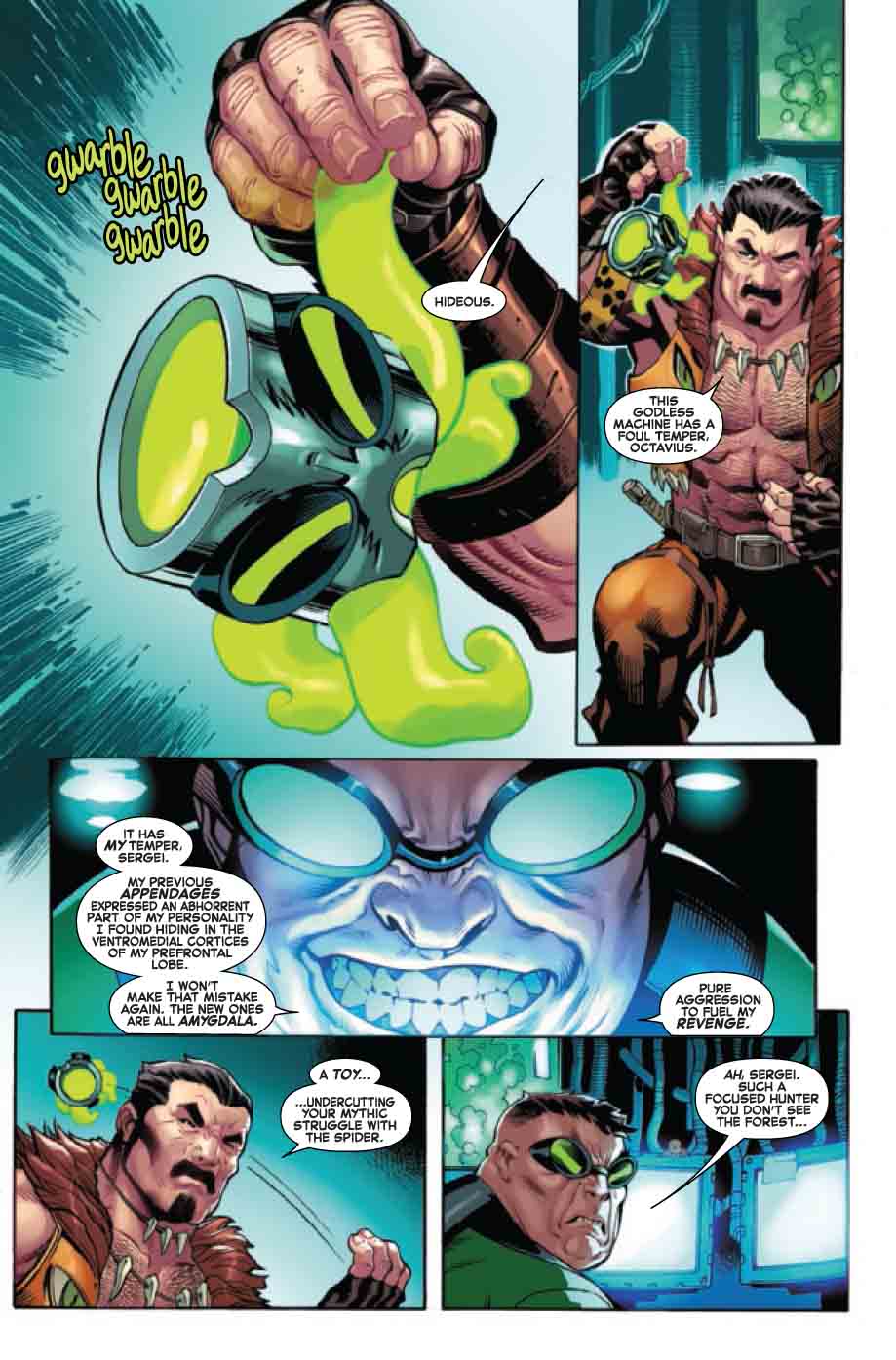 Written by: Zeb Wells.

Art by: Ed McGuinness.

Covers by: Ed McGuinness, David Nakayama, Marco Checchetto, Giada Perissinotto.

Description: Beaten and bloody, with his back against the wall, has Spider-Man finally met his match?

Pages: 32.

Price: $3.99.

In stores: July 12.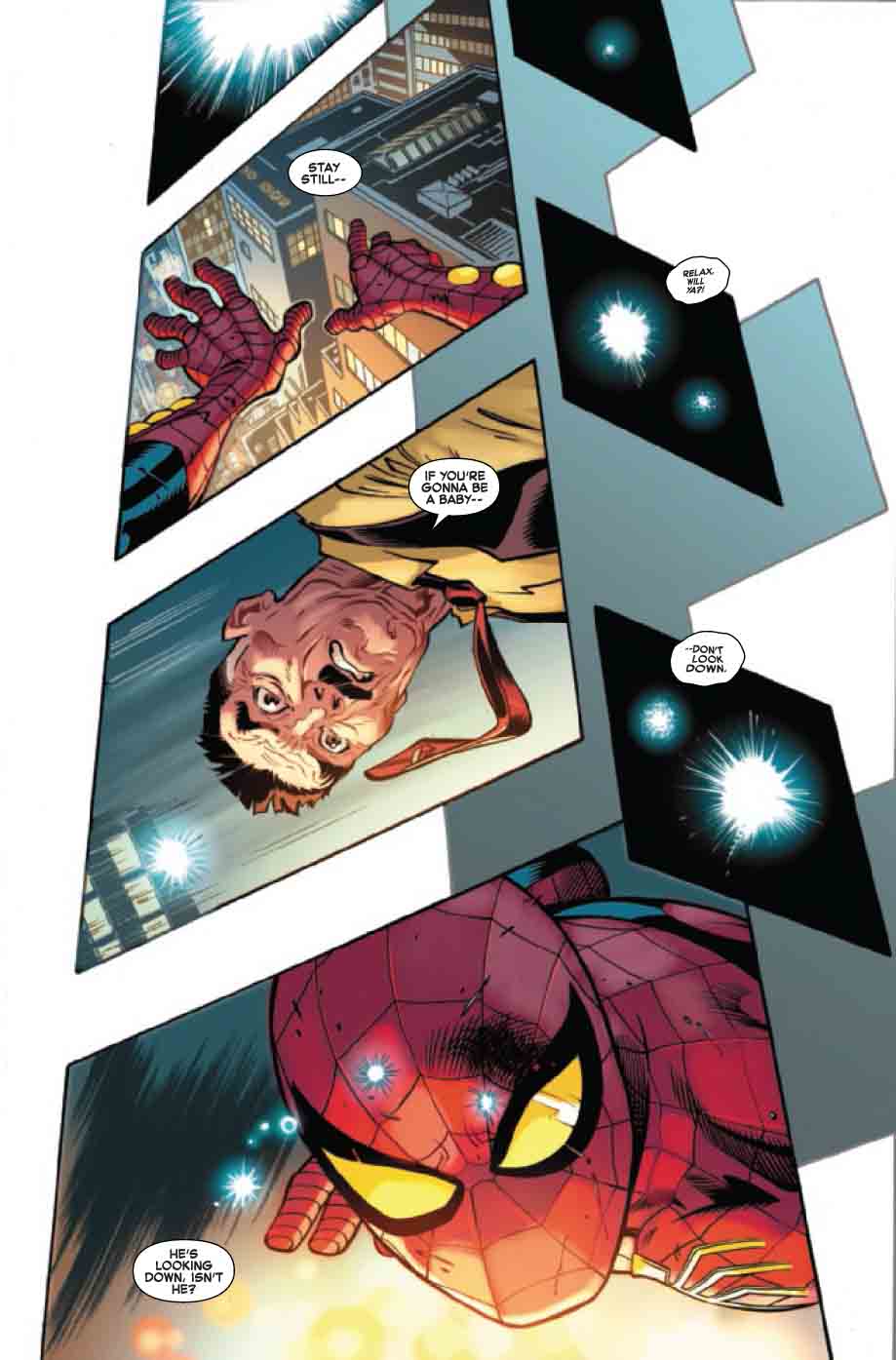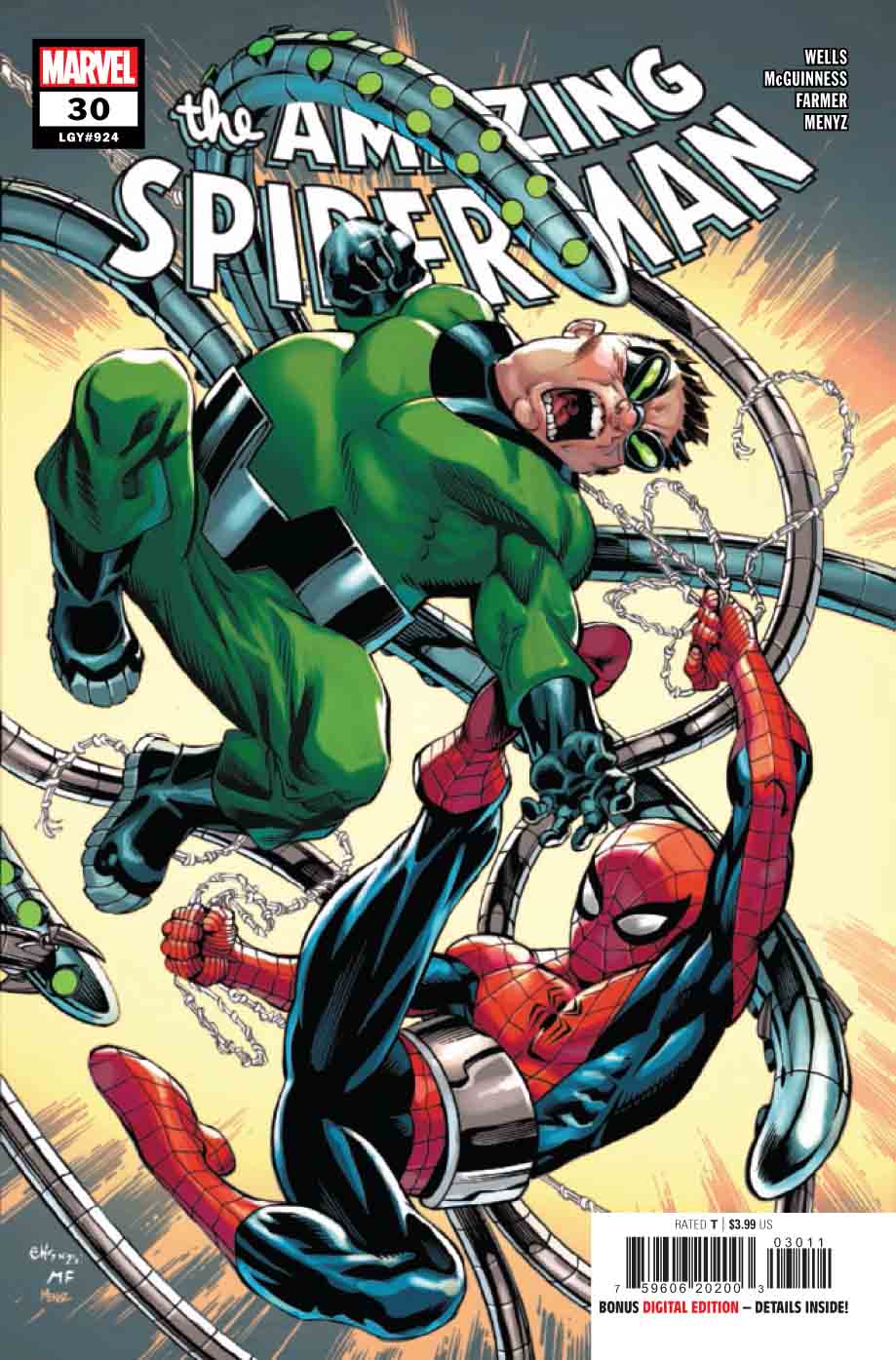 Written by: Zeb Wells.

Art by: Ed McGuinness.

Covers by: Ed McGuinness, Nick Bradshaw, Skottie Young, Betsy Cola, Mike Vosburg.

Description: Spidey goes one last round with the new and improved Doc Ock. Can his newest ally help turn the tide?

Pages: 32.

Price: $3.99.

In stores: July 26.
Written by: Erica Schultz.

Art by: Julian Shaw.

Covers by: Corin Howell, Clarice « Saowee » Menguito, George Perez \

Description: Hallows' Eve returns! Hallows' Eve's big play to break Chasm out of jail! Plus, find out what the Hellfire Gala means to the Spider-World this year! It is intense!

Pages: 40.

Price: $4.99.

In stores: August 2.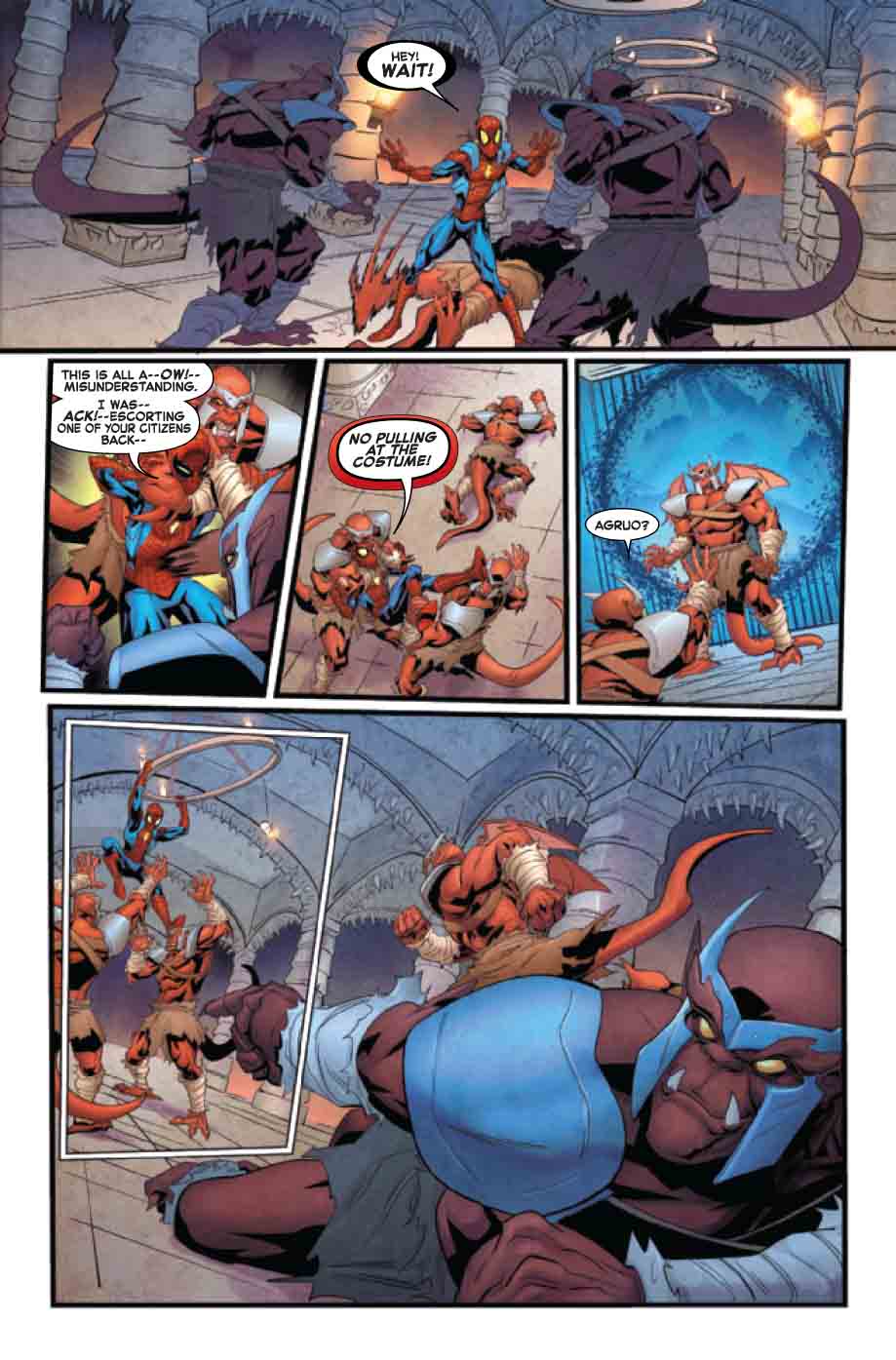 Depuis la mort de kamala, c est comme si twitter avait oublié l existence de cette serie.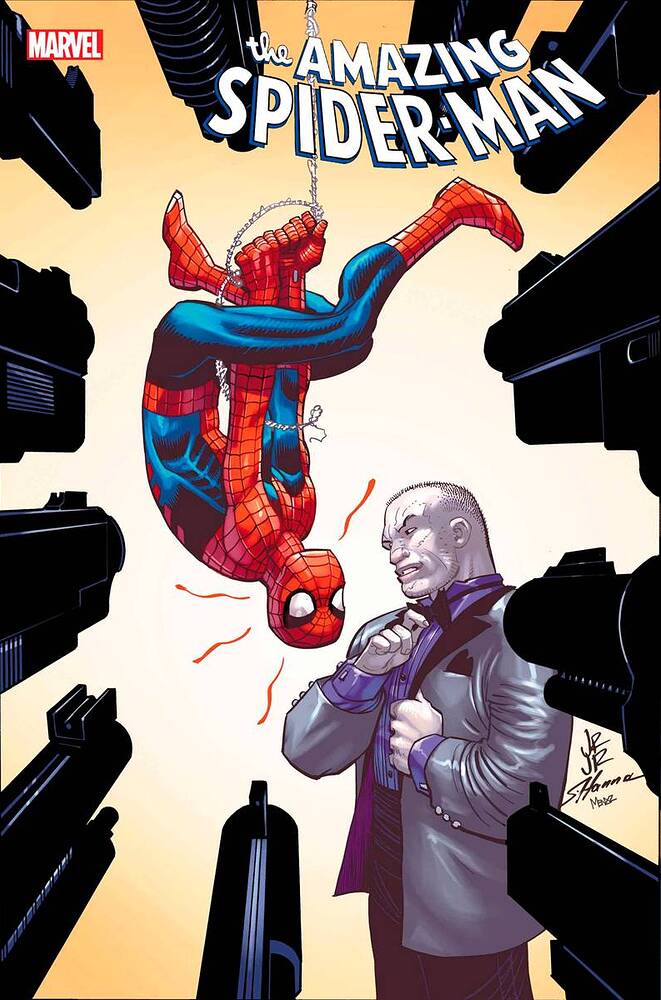 (W) Zeb Wells (A/CA) John Romita Jr, Emilio Laiso, Scott Hanna, Marcio Menyz, Bryan Valenza, … (CA) Elena Casagrande, George Perez, Greg Land, John Tyler Christopher
SPECIAL OVER-SIZED ISSUE!
IT'S THE WEDDING OF THE YEAR!
Peter Parker is the best man, and Tombstone is walking the bride down the aisle! That's right - Janice Lincoln and Randy Robertson are tying the knot, and there's NO WAY all the crime bosses in NYC aren't seeing this as an opportunity to off Tombstone. This story sets up our big Spider-Event of Zeb and Johnny's second year on ASM, and that's just the HALF of it! Also in this issue: bachelor/bachelorette parties, other ASM-story preludes, glimpses of some of the biggest unannounced Spider-projects and extra bonus awesomeness!
Rated T
In Shops: Aug 09, 2023
SRP: $9.99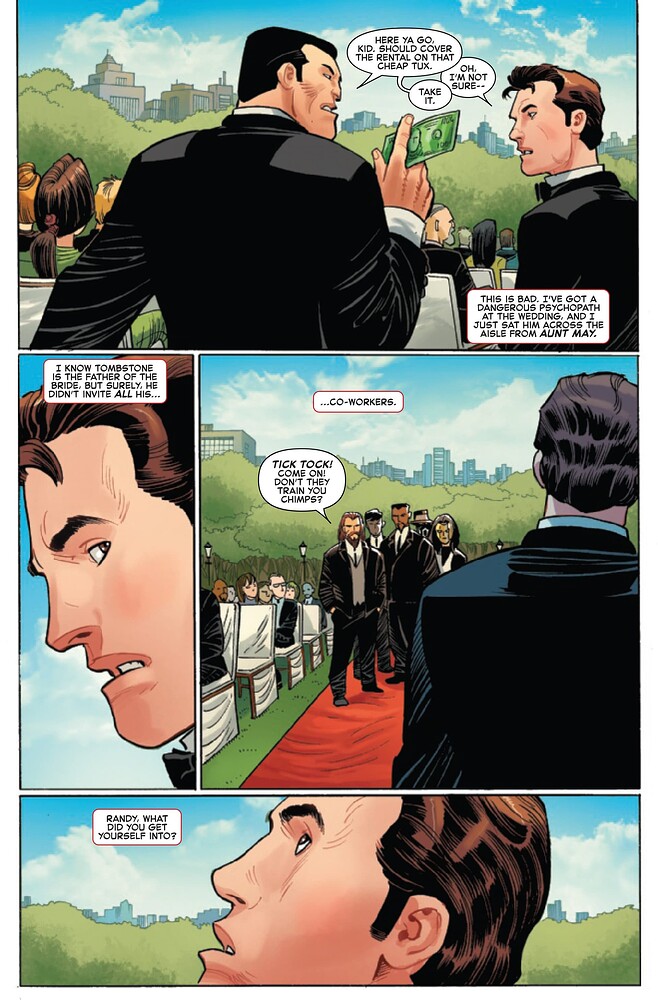 « And, honestly, the online reaction from fans is often deceptive. I tell our younger editors constantly that the feedback they see online or in the mail we get is nice, but the thing to really pay attention to is the customer's dollars. It's a lot easier to say that you'll buy something than it is to actually put your money on the counter and buy it. And the reverse is true as well. If you're super-irritated at something and vow to never again purchase a Marvel comic ever, ever, ever until it's fixed, what are the odds that you will actually follow through on your threats? Some will, but not everyone. What the audience does is more important than what they say. As was proved by SECRET EMPIRE, or more currently by all of those Spider-Man fans upset about recent storylines. Lots of people are complaining and telling us that "everybody" hates the book and the direction and Zeb Wells and Nick Lowe ( I can't argue with that last one.) But month after month, it continues to be our best-selling regular title. So given that, which should we pay heed to, the irate yelling or the cash in the register ? »
J ai accès à 4 photos montrant des backissues en soldes de la serie, ce qui prouve qu en fait la serie ne vend pas.
True story
Si ce truc est la meilleure vente du moment de Marvel - sachant que le dernier épisode de Dan Slott sur le tisseur est aussi un naufrage - on va en bouffer, de la daube.
Raisonnement de complotiste.
Non : ça prouve que les libraires en commandent trop.
Jim
C est un exemple des messages twitter sur les ventes de spidey.
Voilà : Twitter. Le truc qui relaie la pensée par bloc de trois lignes. Représentatif de rien.
C'est un business : vu du côté du business, c'est un succès. Ne pas s'inquiéter des clameurs. Ne pas relayer les cris. Ne pas nourrir les trolls.
Jim
ça commence à faire beaucoup de sabordage interne tout ça. C'est à se demander ce que foutent les responsables éditoriaux.