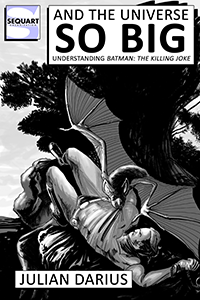 [quote]And the Universe so Big:Understanding Batman: The Killing Joke
And the Universe so Big: Understanding Batman: The Killing Joke
by Julian Darius
cover by Kevin Colden
trade paperback, 58 pages
Nov 2012
$5.99 MSRP
ISBN 9781481041706
Buy from CreateSpace, Amazon
Kindle edition
$2.99 MSRP
"This cat, Julian Darius… I like this guy's take… Pick up his book if you can."
– Kevin Smith
In 1988, Alan Moore and Brian Bolland's Batman: The Killing Joke offered a violent, literate, and controversial take on the Joker's origins and his relationship with Batman.
Now, Dr. Julian Darius examines it in the context of the high-art ambitions of 1980s super-hero comics, exposing the narrative's ambiguities and secrets.[/quote]
sequart.org/books/21/and-the-uni … ling-joke/
Court essai de Sequart sur Killing Joke qui analyse l'oeuvre de Moore et propose des interprétations. La plus fameuse étant celle où Batman tuerait le Joker à la fin.
Le livre se lit bien et est assez court.