Sur les X-Men ? Tiens donc.
Tu vas finir par me rattraper, je n'ai encore rien lu de reign of x (à part les Hellfire Gala, juste parce que j'ai été curieux et puis… je bosse dans la mode

ça fait « clin s'oeil »

)
C'est pire, tu t'en rends compte ?

Ça donne vachement envie.
Jim
Je n aurais pas dit ça.
Hitch fut vraiment tres bon et puis…
Oh, c'est pas le dessin qui suscite ma réaction.
Je trouve ça assez chouette à regarder.
Jim
Donc au minimum jusqu'en mars 2023.
Voire avril/mai s'il y a des numéros « aftermath » (en amont du prochain FCBD).
November 2022 > AVENGERS ASSEMBLE ALPHA 1
December 2022 > AVENGERS 63, AVENGERS FOREVER 12
January 2023 > AVENGERS 64, AVENGERS FOREVER 13
February 2023 > AVENGERS 65, AVENGERS FOREVER 14
March 2023 > AVENGERS 66, AVENGERS FOREVER 15
April 2023 > AVENGERS ASSEMBLE OMEGA 1
Sans doute des numéros qui permettront à Jason Aaron de ranger la chambre avant la probable arrivée d'une nouvelle équipe créative pour les 60 ans du titre en septembre 2023.
Je ne suis pas vraiment fan de Hitch, mais là, j'ai l'impression qu'il se fait plaisir. Et qu'on utilise son talent pour ce qu'il sait faire le mieux : du spectacle !
J'espère qu'il y aura de la bagarre !!
Ton ironicomètre semble fonctionner.
Jim
Pas très convainquant l'article.
(W) Jason Aaron (A/CA) Bryan Hitch, Andrew Currie, Alex Sinclair (CA) J. Scott Campbell, Salvador Larroca, Mark Brooks
UNITING THE AVENGERS, AVENGERS FOREVER AND AVENGERS OF 1,000,000 BC
IN AN EPIC SAGA THAT FORMS THE CAPSTONE TO JASON AARON'S ERA ON AVENGERS!
From throughout time and the far corners of the Multiverse, the Mightiest Heroes of All the Earths are assembling as never before for a battle beyond all imaging. A war that will take us from the prehistoric beginnings of an Earth under assault by the greatest villains who've ever lived to the watchtower that stands at the dark heart of the all and the always, where an army of unprecedented evil now rises. The biggest Avengers saga in Marvel history begins now. RATED T+
In Shops: Nov 30, 2022
SRP: $5.99
Jason Aaron: We had two missions going into the series from the beginning. One was to make each arc feel important and world-shaking. The other was to take us on a tour of the Marvel Universe – the different wondrous corners and spots, out into space, and into other dimensions and realms.
Robbie's journey is clearly one of the major threads of my overall run, going back to the Marvel Legacy one-shot, and it will go all the way through to the big finale of Avengers Assemble .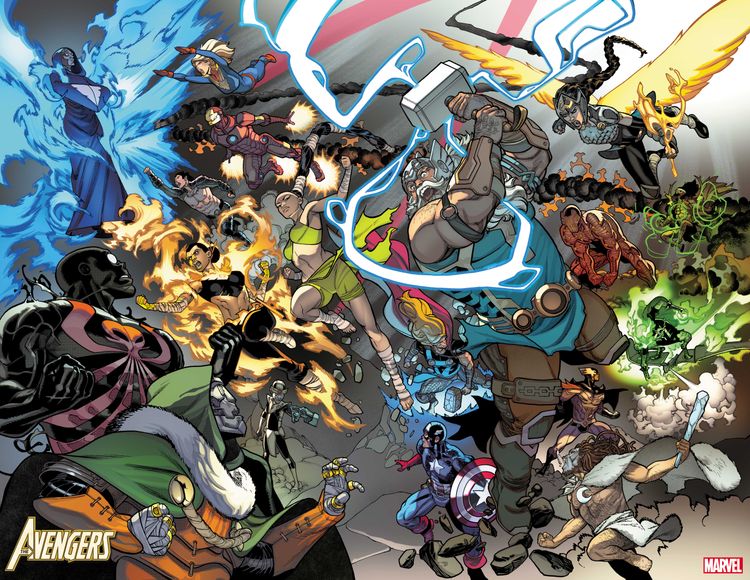 It will run through four issues each of the two books and wrap up the same way that it launched – with an oversized grand finale issue for everything that I've done on Avengers and really of a lot of the books I've been working on at Marvel going back 15 years now. So, it's 10 issues total.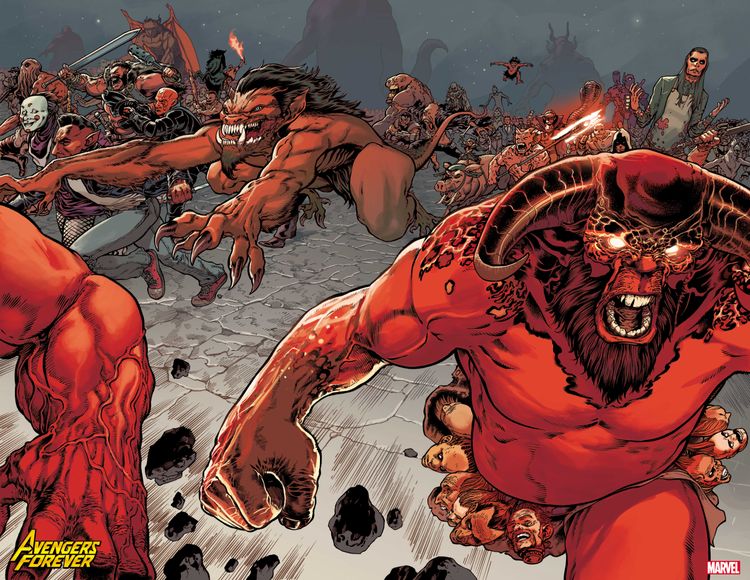 Bagarre!!