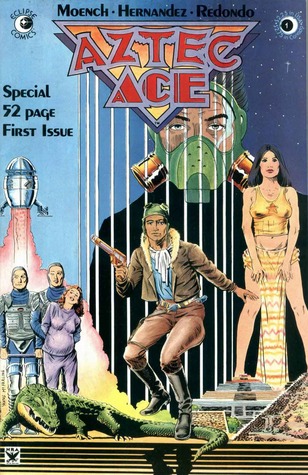 AZTEC ACE: THE COMPLETE COLLECTION HC

Doug Moench (W), Michael Hernandez (P), Dan Day (P), Thomas Yeates (P/I), Tim Sale (P/I), Nestor Redondo (I), Ron Harris (I), Mike Gustovich (I), Mike Harris (I), Art Nichols (I).

The fifteen-issue run of Aztec Ace, created by Doug Moench, is finally collected here for the first time by IT'S ALIVE! and Dark Horse!

Aztec Ace stars Caza (AKA Ace) as he travels between the Aztec Empire and his home in the 23rd century. Ace, along with his pupil Bridget Chronopolis and his navigator named Head, struggles to save his own dimension from time paradoxes created by his enemy, the mysterious Nine-Crocodile.

Includes a new foreword by original series editor Cat Yronwode, a new introduction by Doug Moench, a bonus collaboration between Moench and Tim Sale, a star-studded pinup gallery, and more!

528 pages, $79.99, in stores on July 20.