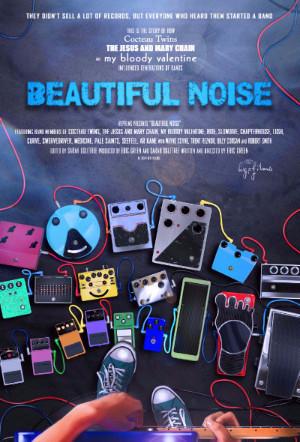 [quote]SCREENINGS
STORE - DVD & BLU-RAY
CONTACT US
Beautiful Noise is the first-ever documentary about one of the most influential, underground music movements of the late 20th century, a fascinating period when some innovative musicians mixed guitar noise into conventional pop song structures while maintaining a philosophy of letting the music speak for itself. Although many of the people interviewed are notoriously press shy they have opened up about their music and experiences from over 20 years ago, how they defied the rules and became sonic innovators that have inspired so many. Featuring members of Cocteau Twins, The Jesus and Mary Chain, My Bloody Valentine, Ride, Slowdive, Chapterhouse, Swervedriver, Lush, Curve, Pale Saints, Seefeel, AR Kane, and Medicine. Also featuring Wayne Coyne, Trent Reznor, Billy Corgan and Robert Smith.
The film premiered May 31, 2014 at the Seattle International Film Festival and Internationally June 8, 2014 at the Sheffield International Film Festival and has since been selected to screen in more than 20 festivals worldwide, including the Don't Knock the Rock Festival in Los Angeles and as the Opening Night selection for the Sound + Vision Festival at Lincoln Center
Created by filmmakers Eric Green (Writer/Director) & Sarah Ogletree (Producer/Editor) and their production company HypFilms, Beautiful Noise is a DIY, indie film and passion project inspired by a deep appreciation of the music and the desire to see it documented in musical history.
Beautif[/quote]
Documentaire sur Cocteau Twins, The Jesus & Mary Chain et My Bloody Valentine et les groupes shegazes comme Slowdive, Ride, Lush mais aussi plus rock comme Curve.
Le projet a été financé par Kickstarter et présenté à de nombreux festivals.
Il est sympa. Je le trouve peut être un peu court pour un tel sujet.
beautifulnoisedocumentary.com/