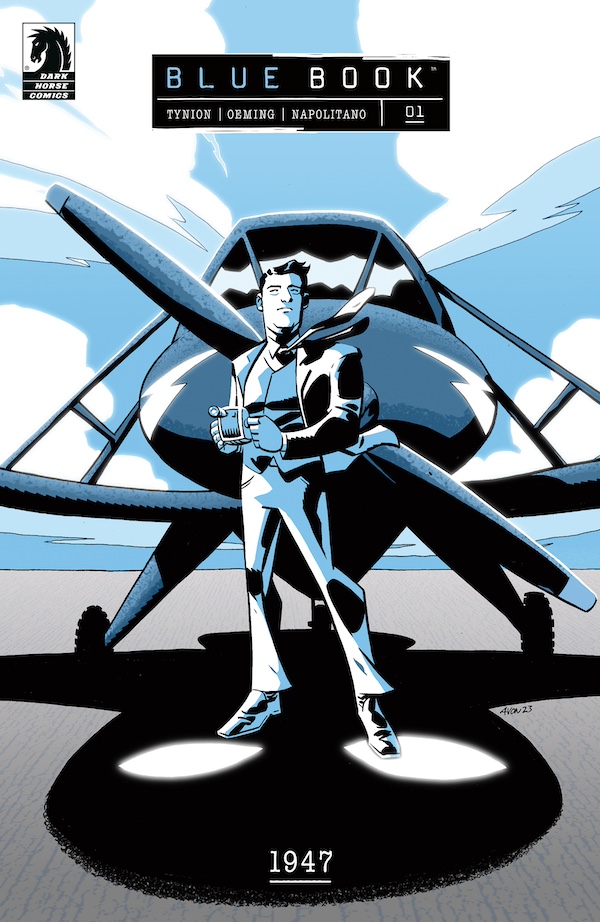 JAMES TYNION IV AND MICHAEL AVON OEMING'S ALIEN ENCOUNTER SERIES RETURNS WITH "BLUE BOOK: 1947"

From the multi-Eisner Award-winning creators of Something is Killing the Children and POWERS!**
Long before Betty and Barney Hill excited the public with their alien encounter story, there were years and years of suspected sightings and abductions. James Tynion IV, Michael Avon Oeming, Tom Napolitano, and Dark Horse Comics return with another deeply weird non-fiction tale exploring alien sightings in the upcoming comic, Blue Book: 1947 .

In 1947, Kenneth Arnold flew his Call-Air A-2 over the skies of the Pacific Northwest when all of a sudden, he saw a blinding flash of silver light. What followed was a bizarre and difficult to explain encounter with several flying objects that would change the course of his life forever.

Blue Book: 1947 #1 is written by Tynion, illustrated by Oeming, and lettered by Napolitano. The first issue will also include six variant covers by artists Michael Avon Oeming, Fábio Moon, Michael Allred, Cully Hamner, Joe Quinones (1:10 virgin retailer incentive variant), and Christian Ward (1:10 virgin retailer incentive variant). One additional variant cover will be revealed at a later date.

Blue Book: 1947 #1 also includes a True Weird backup story by Zac Thompson (Hunt for the Skinwalker), Gavin Fullerton (The Closet), and Aditya Bidikar.

Blue Book: 1947 #1 (of 5) flies into comic shops on February 7, 2024. It is now available to pre-order for $4.99 at your your local comic shop.

Be sure to follow Dark Horse Comics on social media and check our website, www.darkhorse.com, for more news, announcements, and updates!