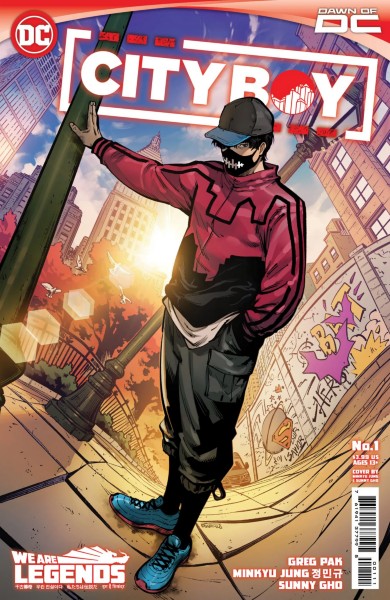 City Boy

#1

(of 6) – On Sale May 23, 2023

Both DC and WildStorm fans have already been introduced to Korean super hero Cameron Kim, a.k.a. City Boy, in the WildStorm 30th Anniversary Special #1 and Lazarus Planet: Legends Reborn #1. Cameron is just a kid trying to make a living, using his powers of speaking to cities to find lost and hidden goods to pawn, just trying to get by. But having these powers also means that he hears everything about these cities, everywhere and all at once, including their histories and the truths behind them. In his two current appearances he's already made "friends" with Gotham City (including a rat avatar made from the city's scraps), but only time will tell if City Boy is received as openly by Metropolis, Amnesty Bay, Themyscira, or other cities in the DC Universe.

This six-issue series reunites writer Greg Pak (Action Comics, Milestone Media's Duo) with artists Minkyu Jung (Batgirl, Titans) and Sunny Gho (Wonder Woman, DC Festival of Heroes, Justice League), and the debut issue features a main cover and 1 in 50 ratio variant cover by Minkyu Jung, and additional variant covers by InHyuk Lee and Michael Choi, with an AAPI Heritage Month variant cover by Alexandre Tefenkgi.