Après Avengers : No Road Home et Savage Avengers, Conan le Cimmérien poursuit ses aventures dans l'univers Marvel dans une nouvelle mini-série qui sera publiée à partir de février 2020. Et sa quête le mènera sur la trace d'un puissant artefact : la Couronne du Serpent !
Conan : Battle for the Serpent Crown est écrit par Saladin Ahmed (Miles Morales : Spider-Man) et dessiné par Luke Ross (Star Wars).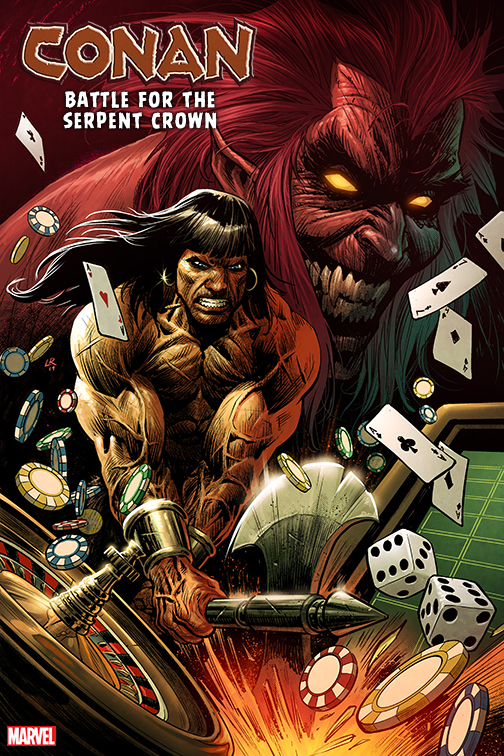 CONAN: BATTLE FOR THE SERPENT CROWN #1 (OF 5)

Written by SALADIN AHMED

Penciled by LUKE ROSS

Cover by GURU-eFX

A DEADLY QUEST AND A DARING HEIST…IN THE AGE OF MARVELS!

CONAN wanders the desert, and as he reaches the city, no Stygian temple nor Vendyhan fortress greets him. No, something far stranger: the lights of Fabulous Las Vegas! Conan is far from home, and it's time for him to tread the thrones of the Marvel Universe under his sandaled feet!

The City of Sin is just the beginning for Conan's solo jaunt by Saladin Ahmed (BLACK BOLT, MILES MORALES: SPIDER-MAN) and Luke Ross (STAR WARS: ALLEGIANCE, SAVAGE SWORD OF CONAN), as the barbarian finds himself on a quest for a relic that predates even his Hyborian Age: the Serpent Crown of Atlantis! But will his battle for this crown earn Conan his own kingdom, or doom him to a nefarious trap set forth by MEPHISTO? Featuring a wide array of Marvel heroes and villains, this is an adventure you can't afford to miss!
Source : www.marvel.com