Et on dit rien du retour du slip de Batman ?
Il a donc fini sa lessive ?
Jim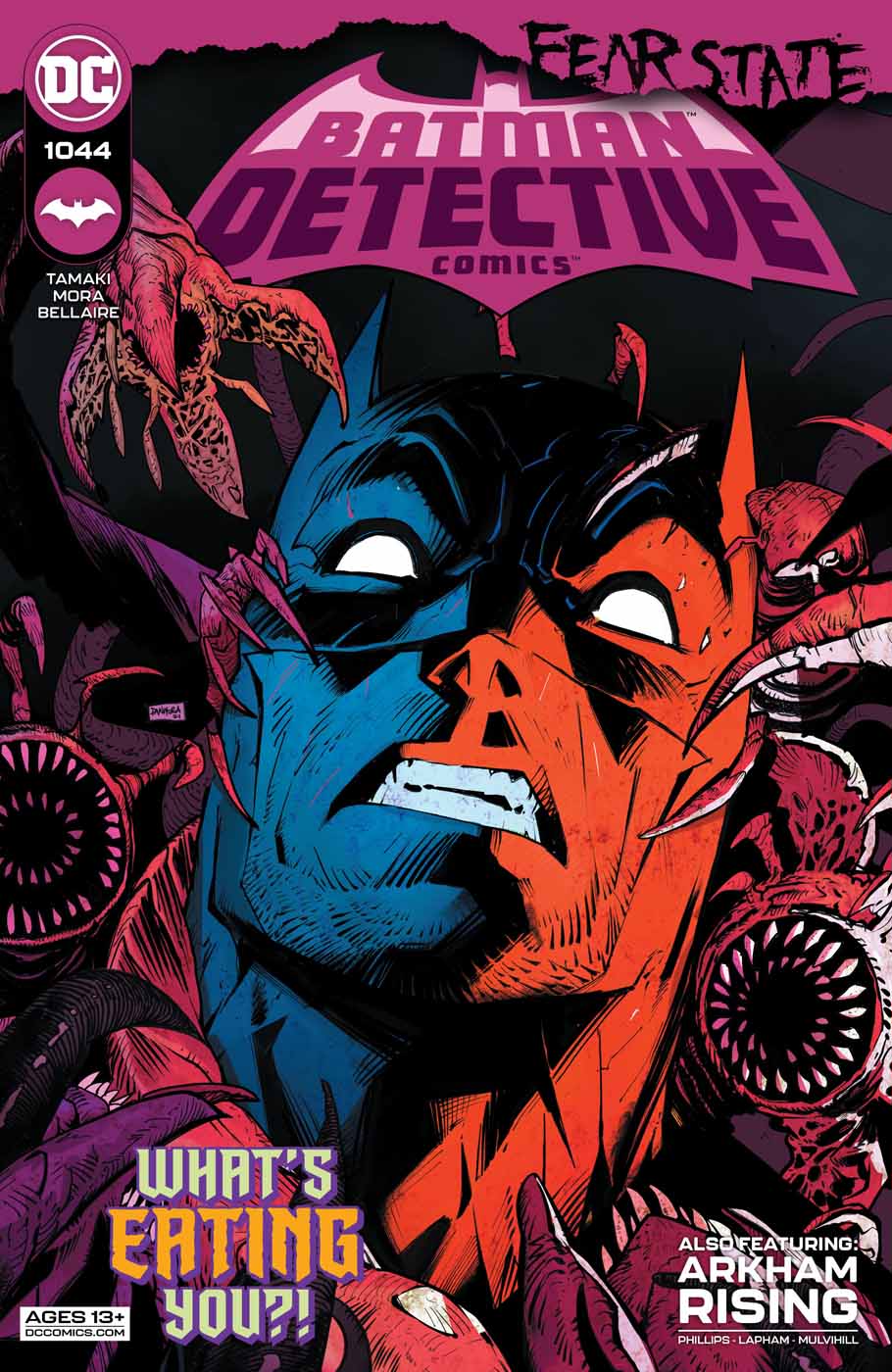 DETECTIVE COMICS

#1044

Written by: Mariko Tamaki, Matthew Rosenberg.

Art by: Dan Mora, David Lapham.

Covers by: Dan Mora, Lee Bermejo.

Description: When the terrorist organization known as The Red Crown took control of Mayor Nakano's personal security detail, only the Batman could protect Gotham's highest-ranking city official from certain death! But when the pair is thrust into the sewers below, a much more sinister threat lurks in the darkness. Better look sharp, Batman, because a hundred thousand eggs with a hundred thousand little monsters inside are about to hatch…and they look hungry… Back-up: Arkham Asylum may have been decimated during A-DAY, but its legacy lives on. Now, Mayor Nakano has given the green light for a brand-new Arkham Tower to be erected in the heart of Gotham City, and some strange and horrific things are going down at the construction site. An epic kick-off to a story arc that will shape the Batman universe for years to come!

Pages: 40.

Price: $4.99 (Variant, $5.99).

Available: October 26.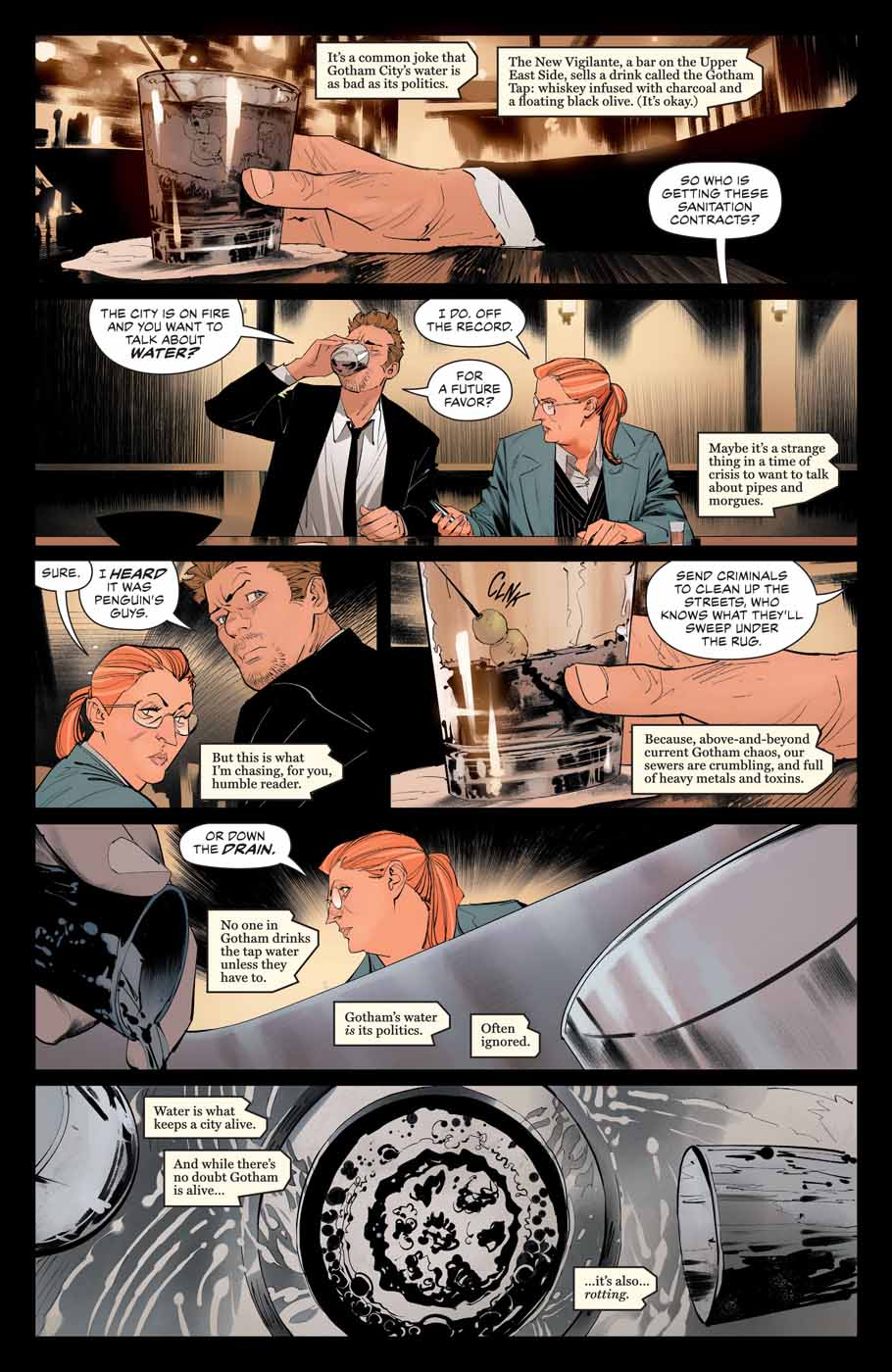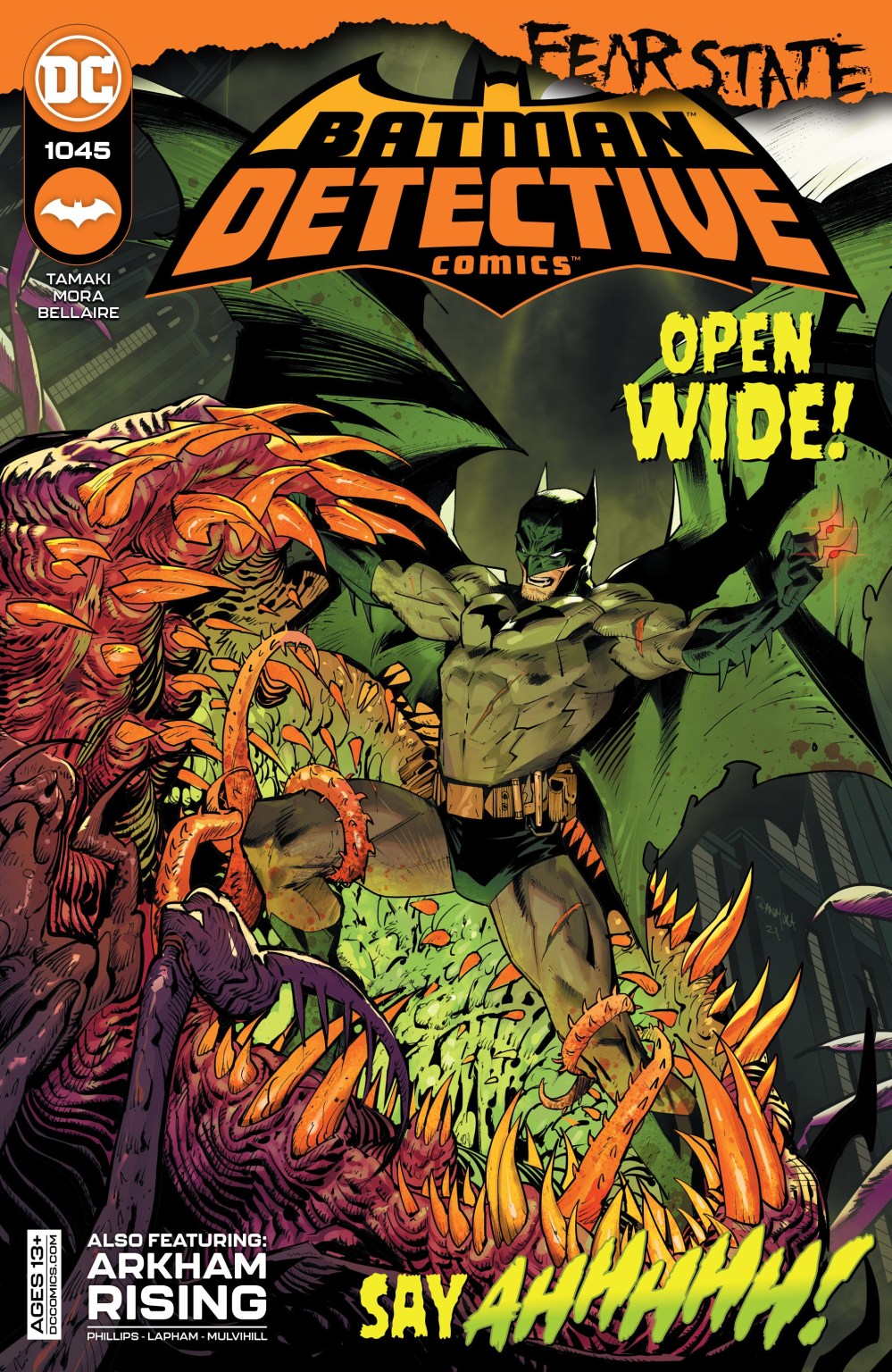 Detective Comics #1045

Written by: Stephanie Nicole Phillips, Mariko Tamaki
Art by: David Lapham, Dan Mora

Batman and Mayor Nakano have freed themselves from the Vile parasite-infected sewers of Gotham City…only to find the nightmare has risen higher than they had imagined! With the city streets being overtaken by larger, (somehow even more) horrific creatures, these two enemies must put aside their differences and save the city-while there's still time! This skin-crawling, heart-pounding, terror-inducing installment of "Fear State" will change the nature of the Dark Knight and Mayor Nakano forever, and cast an eerie shadow over the next major Bat-event to come… Then, in "Foundations" part two, Batman runs into an unlikely ally in his investigation at the Arkham Tower construction site, and believe us, Harley Quinn has a lot to say about all this!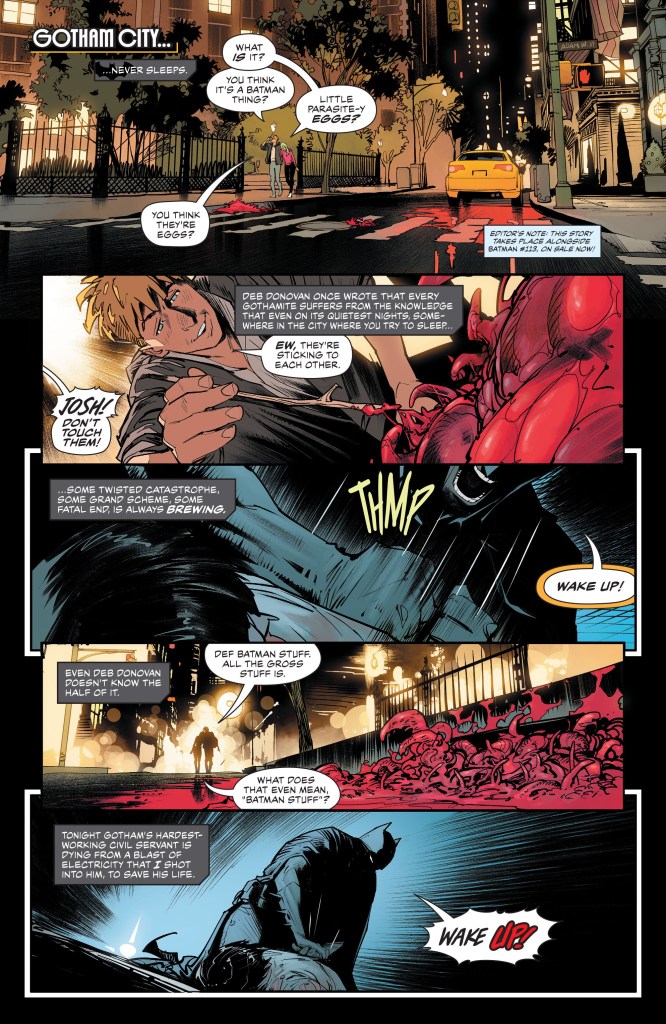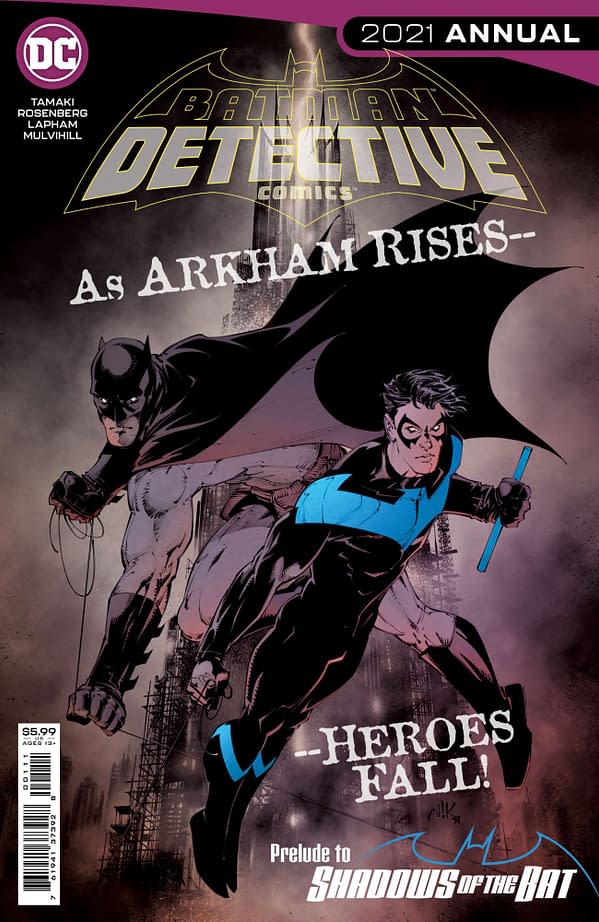 DETECTIVE COMICS 2021 ANNUAL #1 (ONE SHOT)
DC Comics
0921DC073
0921DC074 – DETECTIVE COMICS 2021 ANNUAL #1 (ONE SHOT) CVR B JASON FABOK CARD STOCK VAR – $6.99
(W) Mariko Tamaki, Matthew Rosenberg (A) David Lapham (CA) Viktor Bogdanovic
« We don't choose who we save, Bruce. You treat the patient who needs your help. »—Thomas Wayne « Shadows of the Bat » begins here! In the prelude to January's epic new Detective Comics event, Mayor Nakano has signed off on the construction of a new Arkham Tower in the heart of Gotham City, and the Bat-Family is torn. Batman has long seen Arkham as a necessary, if flawed, cog in the gears of Gotham City—a temporary solution to larger problems that in many ways mirrors his approach as Batman. Nightwing, however, who grew up watching Arkham mutate into a villain factory, believes a different approach is needed. But Bruce and Dick will need to see eye to eye on more than just Arkham Tower, as a new villain known as THE MAEGER MAN wreaks havoc in the streets and becomes the embodiment of Gotham's broken system!
In Shops: 11/30/2021
SRP: $5.99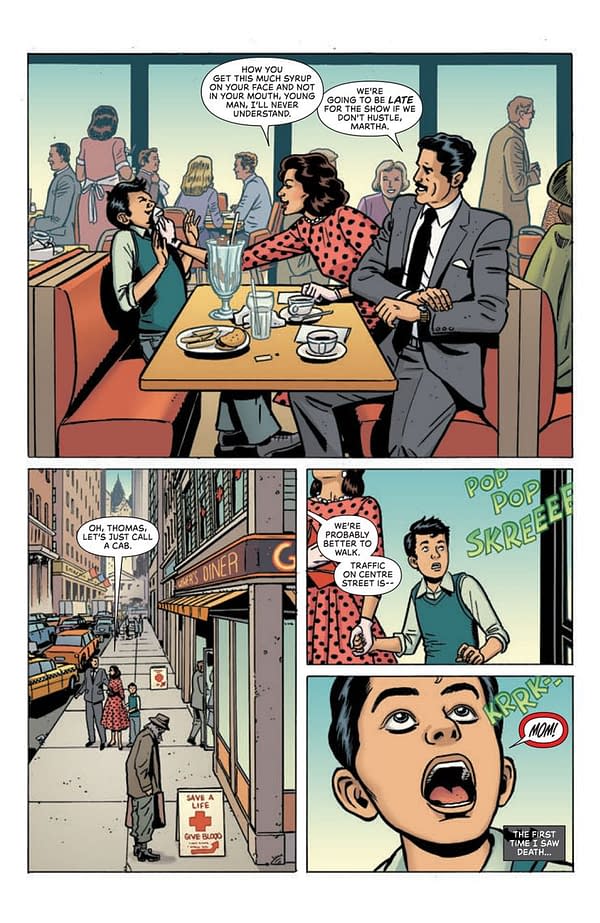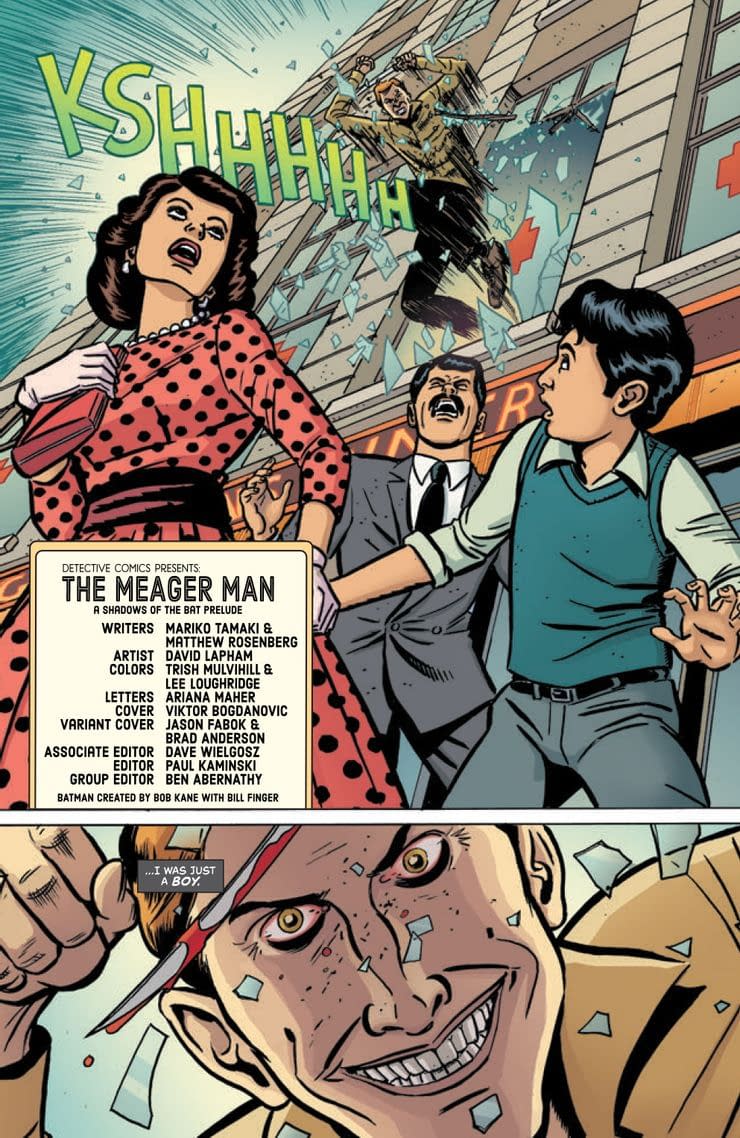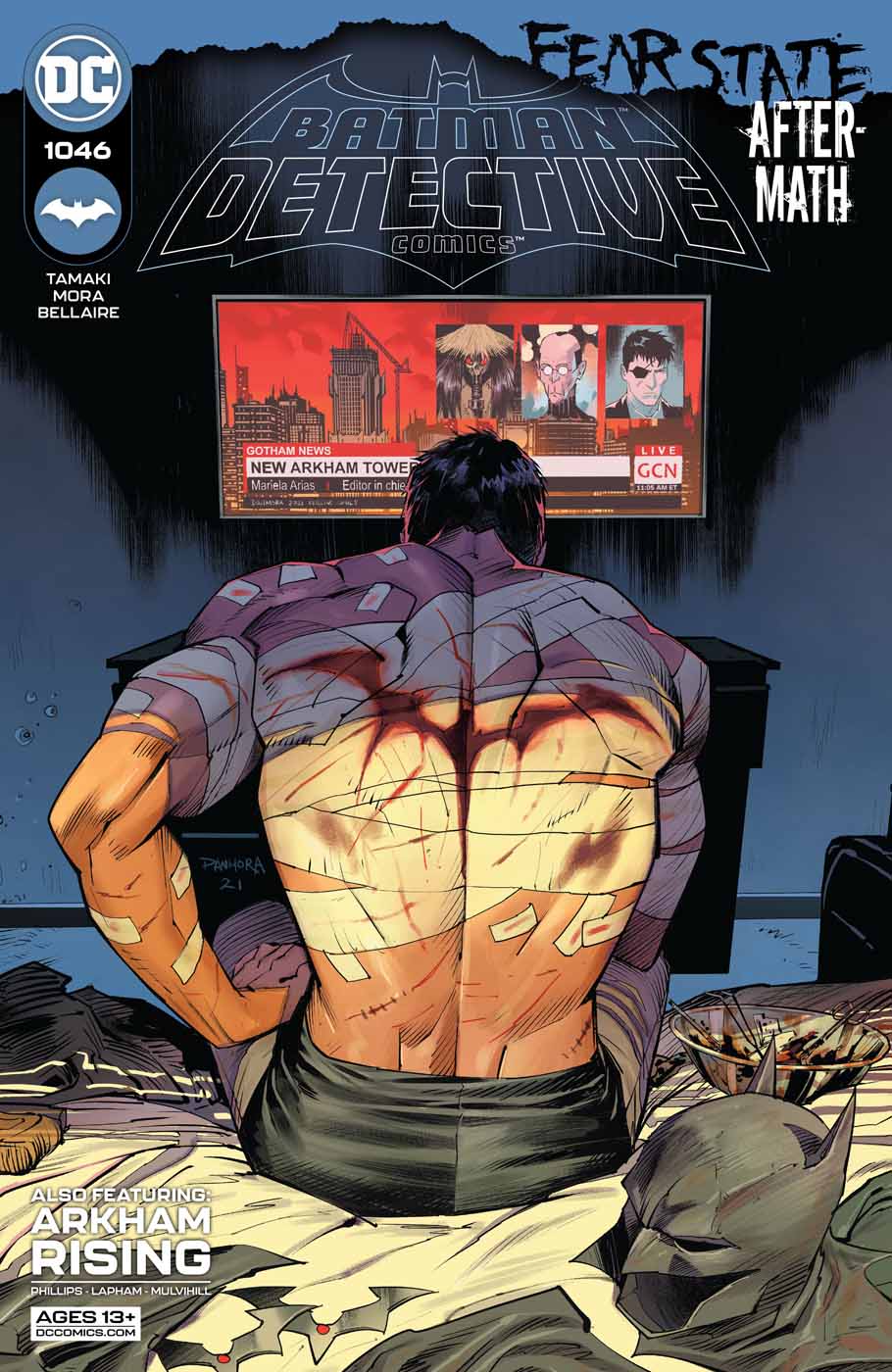 DETECTIVE COMICS

#1046

Written by: Mariko Tamaki, Stephanie Phillips.

Art by: Dan Mora, David Lapham.

Covers by: Dan Mora, Lee Bermejo.

Description: « Fear State » aftermath! Bloody, broken, and beaten…Batman had a mission after The Joker War. He would no longer look over Gotham City from Wayne Manor; he would move to the heart of the city, get closer to its people and its problems. The fight he pursued would be different, but after Fear State he finds himself disillusioned. He is no longer the protector the city needs, and definitely not the one it deserves. Batman's last night in Gotham City before his international sojourn is here. Backup: Harley Quinn guest-stars in the culmination of « Foundations. » Must Gotham City have an Arkham facility, and if so…will it be any different, or is doom on its way?

Pages: 40.

Price: $4.99 (Variant, $5.99).

Available: December 28.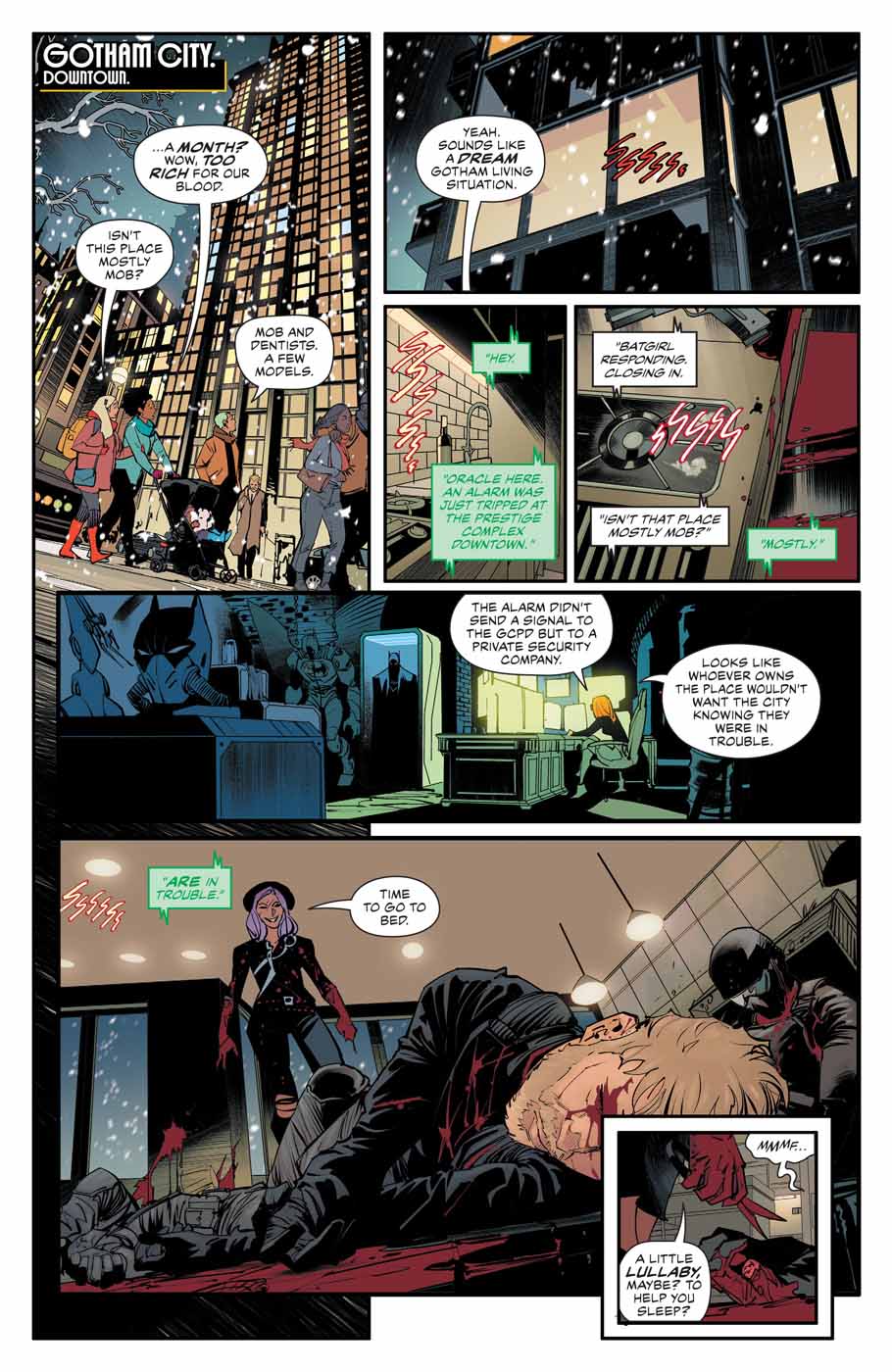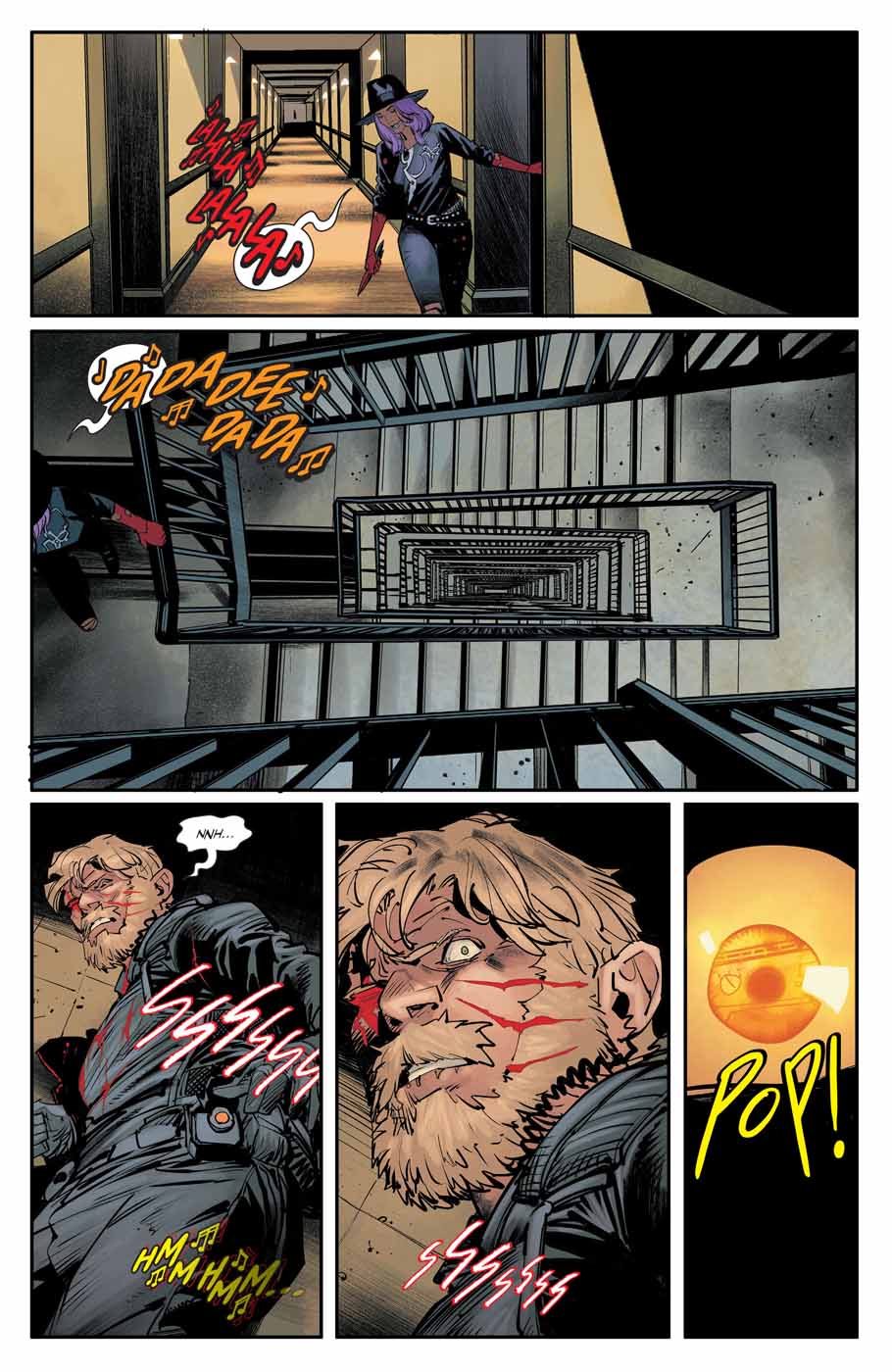 Detective Comics #1047

(W) Mariko Tamaki, Matthew Rosenberg (A) Ivan Reis, Danny Miki, Fernando Blanco
In Shops: Jan 05, 2022
SRP: $4.99

"The Tower" begins! The 12-part weekly Detective Comics event starts here. Arkham Asylum has fallen, and in its place, Arkham Tower has risen in the heart of the city, a pitch made by the mysterious Dr. Wear. Backup: "House of Gotham" begins! For a long time two houses have overlooked Gotham City, beckoning its broken: Wayne Manor and Arkham Asylum.
J'ai peur, les amis. Les deux scénaristes me font peur.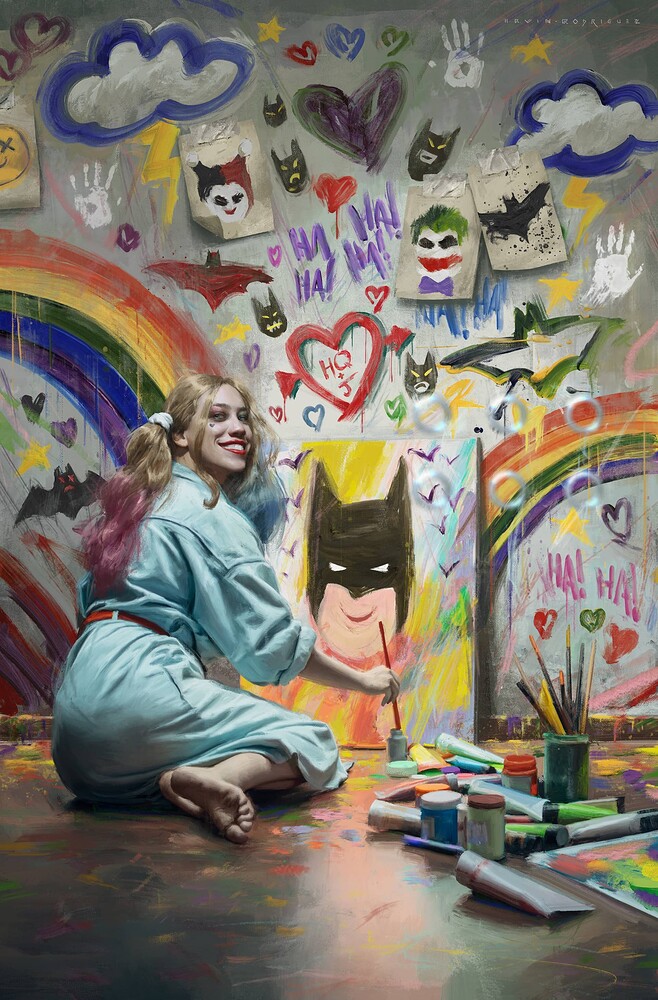 "The Tower" part two! The mysteries of Dr. Wear begin to unfold as a new doctor named Frow joins the staff of Arkham Tower. The Bat-Family tries to figure out the best way to infiltrate the facility, but someone may have gotten the drop on them…someone not unfamiliar with psychiatric facilities…one Dr. Harleen Quinzel, better known to you dear readers as Harley Quinn! Backup: "House of Gotham" part two! A boy's parents were killed by The Joker, and he fell through the cracks of the system. Instead of being sent to a facility that could care for him and his trauma, he was sent to Arkham Asylum! Will the villains inside eat him alive or show him how to survive in a city ruthlessly overseen by Batman??

Written by
Matthew Rosenberg, Mariko Tamaki
Pencils
Fernando Blanco, Ivan Reis
Inks
Fernando Blanco, Danny Miki
Colored by
Brad Anderson, Jordie Bellaire
Cover by
Irvin Rodriguez
Genres
Superhero
About Book
Page Count
34 Pages
Print Release Date
January 11 2022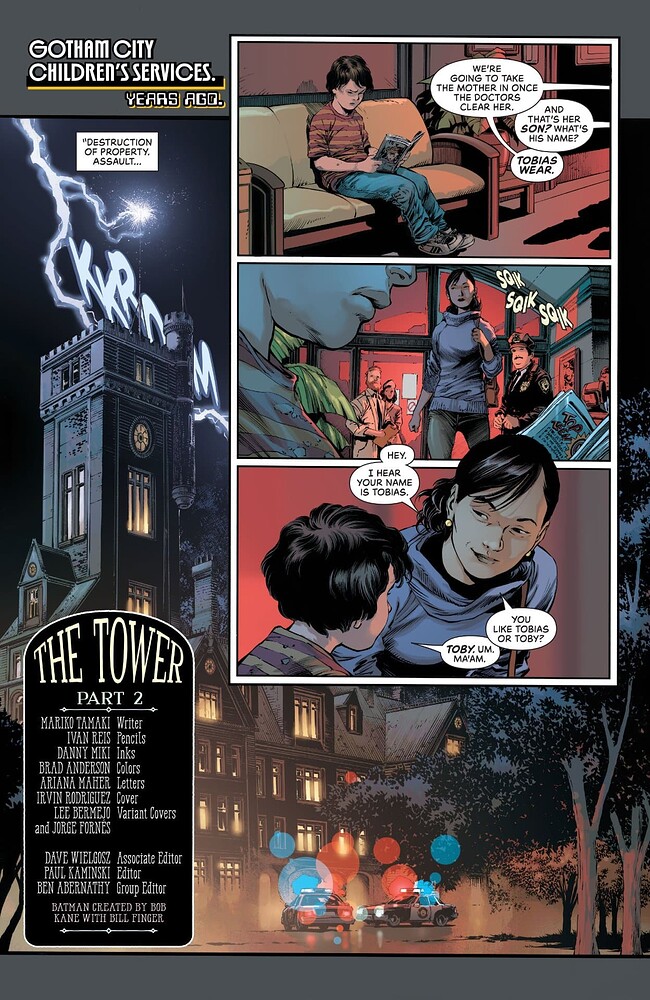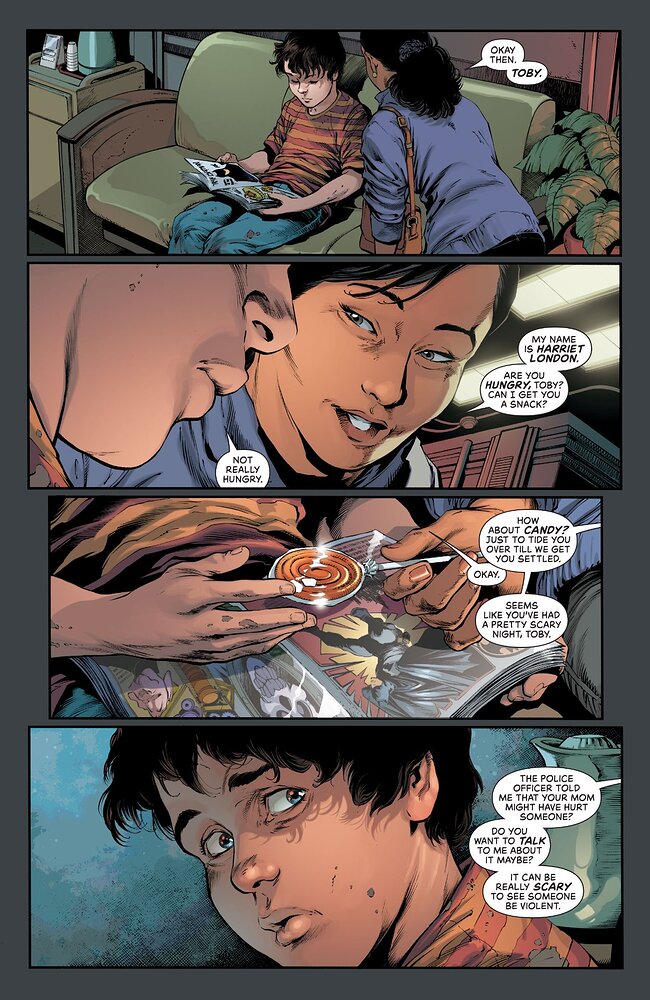 Après avoir conclu la lecture de la première partie du run de Tamaki (pas très folichon, il faut le reconnaître malgré un bon début, quelques personnages secondaires sympathiques ( dont un Ben Ulrich féminin un peu qui tire un peu sur la bouteille) où elle se noie dans un intrigue fantastique (why not?) mais un poil ridicule au final qui n'accouche de pas grand-chose.
Elle aura eu le mérite de collaborer avec Dan Mora que j'aurais découvert. Il aura rendu une superbe copie avec un Batman façon Neal Adams bleuté. Cool.
Après un Fear State sans grande saveur, Dan Mora parti vers gambader avec Mark Waid, voilà la scénariste mise sur le devant de la scène avec son premier event : Shadow of the Bat, en douze parties hebdomadaires (attention le morceau) lancé avec Ivan Reis!!!
Alors, qu'est-ce que ça dit?
Première chose, après le fiasco Fear State, Bats décide de se retirer le temps de régler une affaire impliquant Batman INC et de laisser sa chance à cette nouvelle infrastructure en béton, plantée en plein centre-ville, sobrement nommée « Arkham Tower » (la Tour Arkham pour Soyouz). Après Bane, après le Joker, après Fear State, il fallait en rajouter une couche et faire fonctionner la bétonnière avec cette Tour. Point de tranquillité à Gotham où le mot est banni depuis cinq ans.
Bref, c'est l'occasion de mettre en lumière Batwoman, Huntress et quelques filles bien connues (Oracle, les Batgirls notamment) face au 24ème jour de la Tour où se déroulent de nouveaux protocoles médicaux pour les vilains. Évidemment, cela ne pouvait pas durer et ca pète avec le Directeur de l'institut défenestré et amputé d'un doigt!
Le récit est rythmé, l'enchainement des séquences fonctionne bien, on ressent bien la tension de l'event assez rapidement. Mais surtout on passe un ENORME cap graphique avec Ivan Reis. Les visages sont détaillés, les décors fournis et l'ambiance nocturne fichtrement bien rendue avec une coloration au top!
Alors est-ce que « Die Hard » annoncé tiendra la route et la distance?
Je n'en sais rien mais je serai la la semaine prochaine.
Les images au dessus sont de reis ?
Il a changé d encreur ? C est quasi méconnaissable.
Oui.
Danny Miki. À la place d'Oclair Albert, qui l'encrait souvent ces dernières années.
C'est Miki que je ne reconnais pas : très peu de petite hachures, tout ça.
Je ne déteste pas le résultat : il y a un peu de Lee Weeks, un peu de Steve Epting (de la période que j'aime), peut-être un peu de Tom Grummett.
Deux pages qui me rendent curieux de voir ce que ça donne sur le long terme.
Jim
Cela brille moins sur ces quelques pages que lors de ses récents superman batman, je dirais rapidement.
Il existe même une différence sur la charge d'encre entre le premier épisode de Shadow of the Bat et les previews de l'épisode 2. Etrange.
When Huntress elected to go undercover in Arkham Tower, it was to investigate a place of healing that seemed too good to be true. But what happens when Helena Bertinelli really does need some healing? With Nightwing and Batwoman also on the inside, what began as an undercover mission has turned into a rescue operation as the mysteries of Dr. Wear's Arkham Tower begin to unravel! Then, in "House of Gotham" part three, the young boy rescued by Batman has begun his course of treatment at Arkham, so why are the only people showing him kindness those whom the law asserts are criminals? It's a cycle of violence the Dark Knight has no answer for as Gotham's most vulnerable struggle to keep their heads above water!

Written by
Mariko Tamaki, Matthew Rosenberg
Pencils
Ivan Reis, Fernando Blanco
Inks
Danny Miki, Fernando Blanco
Colored by
Brad Anderson, Jordie Bellaire
Cover by
Irvin Rodriguez
Genres
Superhero
About Book
Page Count
34 Pages
Print Release Date
January 18 2022