L'éditeur Dark Horse relance la série Ghost après un hiatus de presque dix ans. Le numéro #0 proposera une réimpression des pages parues dans l'anthologie Dark Horse presents par la scénariste Kelly Sue DeConnick (Captain Marvel) et le dessinateur Phil Noto (Uncanny X-force), puis l'équipe créative continuera son travail sur la série mensuelle à partir du numéro #1.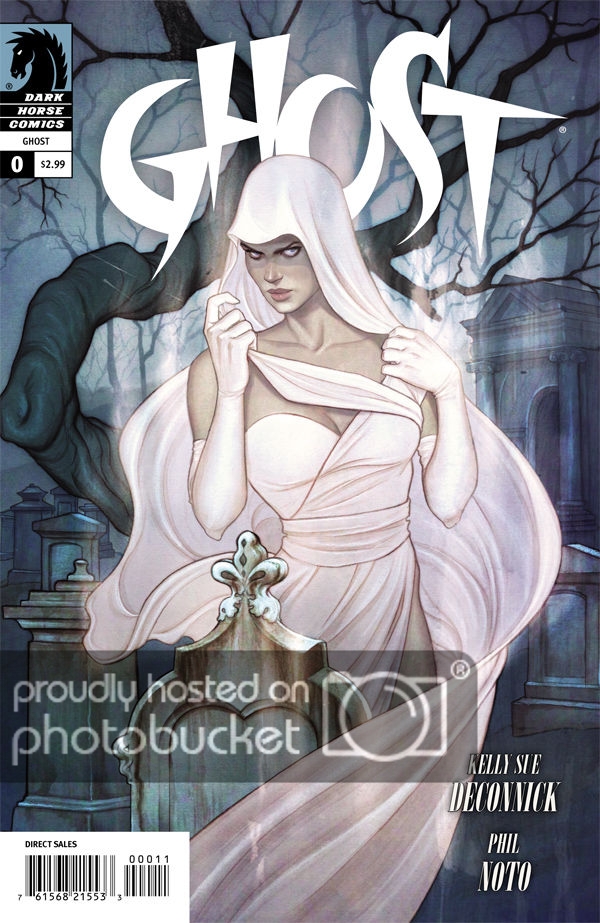 [quote]GHOST #0
*Writer: Kelly Sue DeConnick
Artist: Phil Noto
Cover Artist: Jenny Frison
Genre: Action/Adventure, Crime, Science-Fiction, Superhero
Publication Date: September 19, 2012
Format: FC, 32 pages
Price: $2.99
UPC: 7 61568 21553 3 00011
Former journalist Vaughn Barnes has been reduced to moonlighting as cameraman for the shoddy paranormal-investigation cable TV show Phantom Finders. But when a curious device summons the specter of a beautiful, translucent woman, Vaughn is plunged into a mystery of criminal intrigue that spans two worlds! Kelly Sue DeConnick and Phil Noto launch their exciting new take on one of Dark Horse's most popular characters ever!
Kelly Sue DeConnick (Captain Marvel) brings a keen new eye to the spectral heroine.
Renowned artist Phil Noto (Angel & Faith, X-23) perfectly captures the wraithlike elegance of the enigma known as Ghost!
Ghost is back!*[/quote]
[size=200]COMMENTAIRES DE LA SCÉNARISTE KELLY SUE DECONNICK[/size]
source : www.darkhorse.com