Image Comics annonce la mini-série Junior Baker the Righteous Faker par Joe Casey et Ryan Quackenbush. La publication débutera en septembre.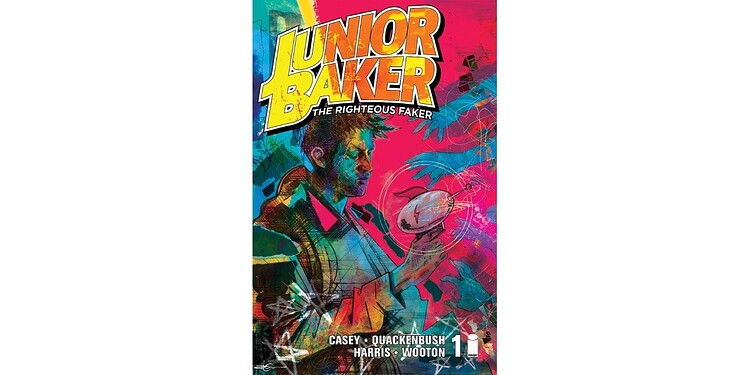 PORTLAND, Ore. 06/13/2023 — Fan favorite creator/writer behind the Butcher Baker the Righteous Maker series—Joe Casey—teams up with the dynamic newcomer artist Ryan Quackenbush for a highly anticipated sequel series titled, Junior Baker the Righteous Faker, first announced in The Hollywood Reporter. This dark, five-issue miniseries will take readers on a journey into a surreal family legacy beginning this September from Image Comics.

Each issue of Junior Baker the Righteous Faker will contain a mind-bending 30 pages of story and is a must-read for fans of the original 2011 hit series.

In Junior Baker the Righteous Faker, readers will meet Daniel « Dizzy » Baker, a gonzo journalist chasing superhuman news items in a world that's left superheroes behind. Stumbling onto the ultimate story, Baker embarks on a personal vision quest where his past and his future will inevitably and violently collide.

"Lately, I've been asking myself a lot of questions about my own relationship with the superhero genre, something I've been associated with professionally for over twenty-five years," said Casey. "Did it still speak to me? Did it still hold the same kind of relevance as it did when I was just a fan? How many other readers of my generation were feeling this ambivalence to something that meant so much to us since we were kids? Doing this kind of sequel series confronts some those questions. So both conceptually and narratively, it's a really big swing we're taking here. Not to mention, Ryan is a brave, new talent and his art on this alone is worth the price of admission."

Quackenbush added: « I'm very excited for people to read this. Creatively, Joe and I have been on the same page since the very start, although I never knew what I was going to draw as each script came to me. As I found myself in the middle of drawing this book, going down Joe's crazy paths with him, meeting these unpredictable characters, I could relate to Dizzy. Always looking for answers and trying to make the best of things. Messing things up in the process. No matter how weird it got, or where we took it, there were very human emotions at the heart of it and I hope everyone feels that in the midst of all the bizarre. »

Junior Baker the Righteous Faker #1 will be available at comic book shops on Wednesday, September 20:

Cover A by Quackenbush - Lunar Code 0723IM336
Cover B by Harris & Quackenbush - Lunar Code 0723IM337
Cover C by Dustin Nguyen - Lunar Code 0723IM338

Junior Baker the Righteous Faker will also be available across many digital platforms, including Amazon Kindle, Apple Books, and Google Play.