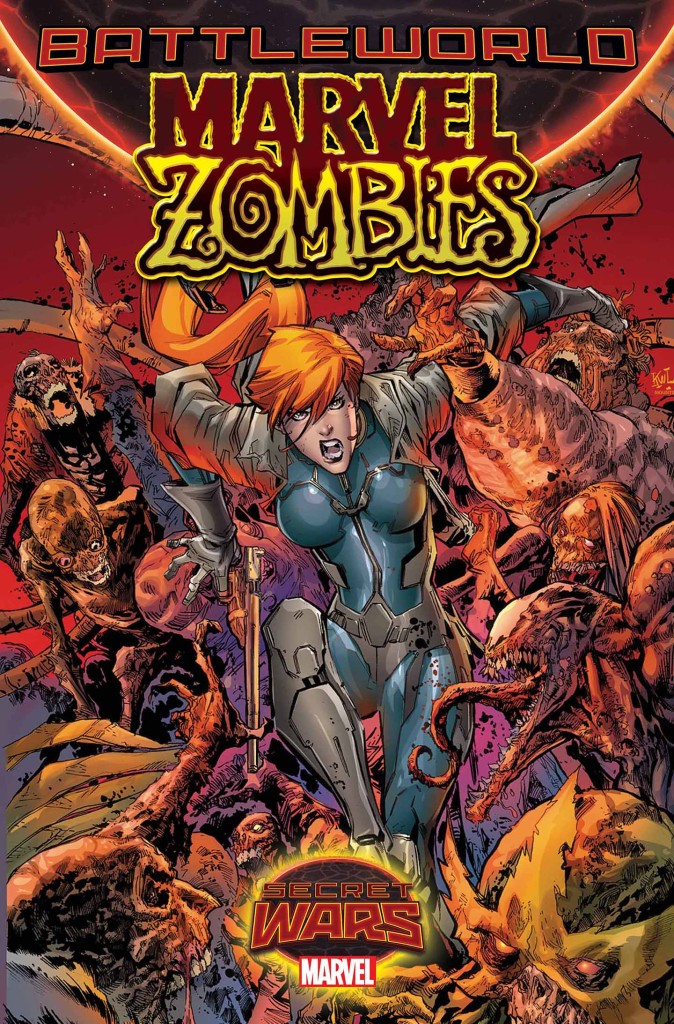 Les morts-vivants participent eux aussi à l'event Secret Wars, via la série Marvel Zombies de la gamme Battleworld, qui sortira en juin.
L'équipe créative est constituée de Si Spurrier (X-Men Legacy) et Kev Walker (Avengers Undercover).
L'histoire se concentrera sur l'affrontement entre les mangeurs de chair et la chasseuse de monstres Elsa Bloodstone, chargée de protéger « The Shield » (une des barrières du Battleworld) mais aussi les personnes qui se trouvent aux alentours.
Ce sera également l'occasion pour le scénariste de s'intéresser à la difficile relation père/fille entre Elsa et Ulysses, son défunt paternel, et plus largement des raisons pour lesquelles elle a accepté cette mission risquée.
[quote]We-ell…. like most stories which purport to be structured round a single journey, there are actually two of them going on side by side. The first and most obvious one is really simple, revolving around this incredible, relentless, fascinating woman – Elsa – trying to cross a wasteland full of indescribable horrors, while protecting a vulnerable young companion. This is the part of the journey packed with festering, corrupted, undead versions of your favourite Marvel characters, in whose rheumy eyes Elsa and her young charge are just a convenient moveable snack. Into this portion of the journey we're throwing putrid wads of horror, incredible action and some really creative evil. I'm actually rather proud of some of the inventive nastiness I've got planned.
The second journey, which is a lot less visible, is going on all the time inside Elsa's mind and heart. One of our quite explicit aims here is to remind everyone what a wonderful and unique character she is. Beneath the über-capable, sarcasm-spouting, unflappable kickass exterior lies a lot of really unique and harrowing stuff. To get at it we're going to peer into her troubled past and spend a little memory-time in the company of Mr Ulysses Bloodstone: adventurer; monster hunter; crappy dad.
The really fun stuff, for me, is where Journey #1 and Journey #2 intersect: where the external impinges on the internal and vice-versa. That sort of stuff is driven in no small part by the little girl Elsa's trying to save, who – in all her terror and confusion – sets the pace, tone and destination of our adventure.[/quote]
[size=150]INTERVIEW DU SCÉNARISTE SI SPURRIER[/size]
Lien:
Le site de l'éditeur : marvel.com