Marvel Comics lève le voile sur la destinée de l'univers Ultimate post-Cataclysm. La nouvelle ligne consistera en trois nouveaux titres lancés en avril sous la bannière Ultimate Marvel Now: "Miles Morales: Ultimate Spider-Man" par Brian Bendis et David Marquez, "Ultimate FF" par Joshua Hale Fialkov et Mario Guevara et "All-New Ultimates" par Michel Fiffe et Amilcar Pinna.
C'est sans grande surprise que le scénariste Brian Bendis reste aux manettes de la série "Ultimate Spider-Man" qu'il anime, sous une forme ou une autre, depuis le lancement de la ligne Ultimate il y a 14 ans. La série verra le jeune homme Miles Morales évaleur sa position en tant que Spider-Man et en tant que membre des Ultimates dans un monde profondément marqué par le cataclysme Galactus. David Marquez reste en place au dessin dont il s'occupe depuis la relance de 2011.
Ci-dessous, la couverture du premier numéro de "All-New Ultimates" par David Marquez: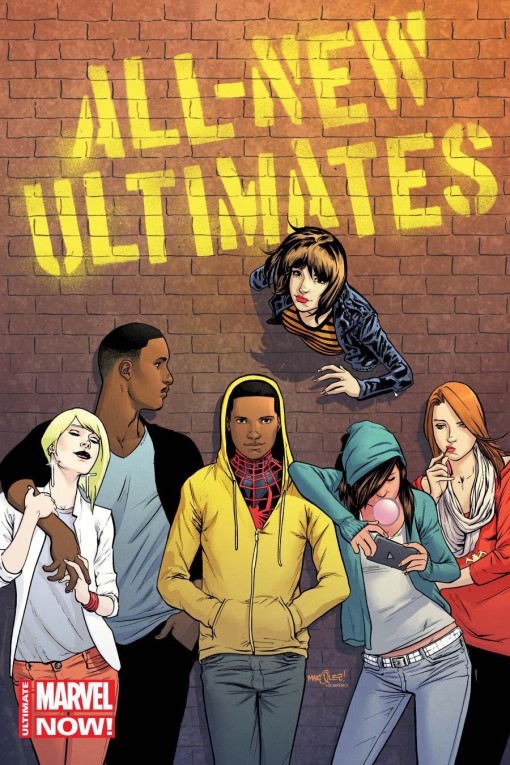 [quote]"They're able to win the day, but at great sacrifice, a sacrifice that is so huge that it changes the entire landscape," said Bendis. "It creates a place that demands a fresh start from everyone who surveys it."
"You can look at this as kind of his Bar Mitzvah of sorts and, now, he has to take the reins of Spider-Man under the new world he finds himself in," he said of the upcoming "Miles Morales: Ultimate Spider-Man" series drawn by Marquez.
"His entire life as a human being has changed."[/quote]
Liens
Le site de l'éditeur: marvel.com