Un projet publié mais oublié (ou presque) de Moore c'est possible ?
Une histoire entre Frankenstein & les EC Comics ?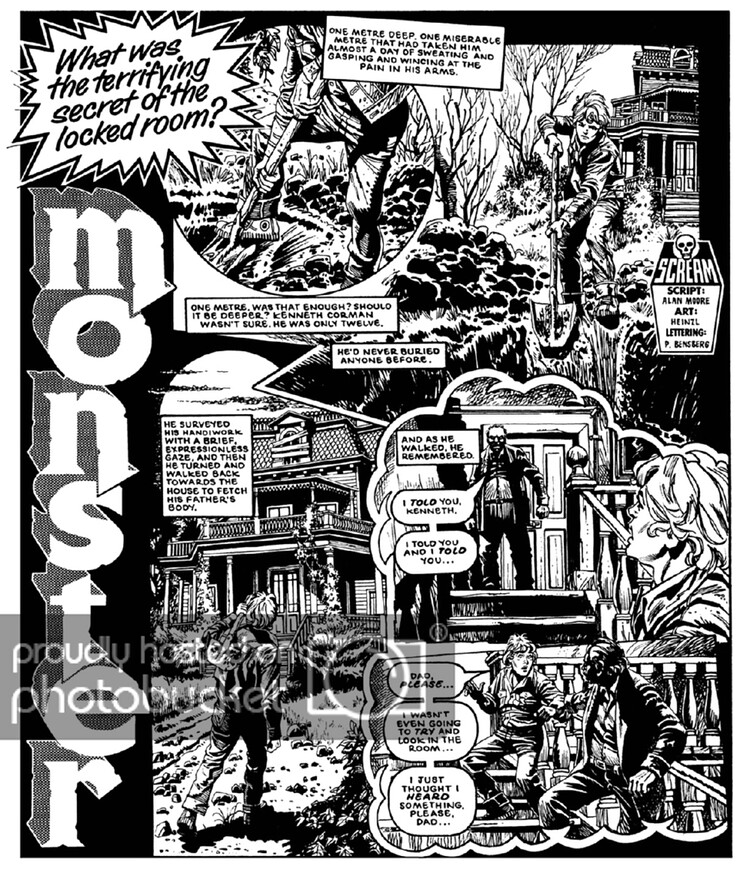 [quote]A "forgotten" early work by the Watchmen, V for Vendetta and From Hell author Alan Moore, about a disfigured man who murders those he doesn't like, is to be brought back on to bookshelves after being out of print for more than 30 years.
Comic legend Moore created the series Monster for the weekly horror anthology Scream! in the early 1980s. According to the comic 2000 AD, which will release a 190-page book collecting the story's dozens of episodes in July, it borrows from the gothic horror of Frankenstein and the banned EC horror comics of the 50s, telling of a "gentle monster on the run", who grows up locked in an attic, but escapes and turns to a life of murder.[/quote]
Lire la suite (Pour en savoir +)
Le premier épisode avait été écrit par Alan Moore en 1984, c'est John Wagner (le co-créateur du Judge Dredd) sous le pseudonyme de Rick Clark qui prendra la suite.
Les 190 pages parues dans Scream ! (un magazine IPC) puis dans l'hebdomadaire Eagle seront publiées par Rebellion (l'éditeur de 2000 AD) en juillet 2016.