JPL, c'est quand même sacrément la sse-cla.
Rien que cela.
Effectivement.
Dommage quand même que Tommy Lee Edwards soit parti. Le top, ç'aurait été un turn-over entre lui et Leon.
Reste que cette série, qui démarrait bien, s'enlise un peu, je trouve. J'aurai préféré qu'elle soit plus déconnectée du Bat-verse, qu'elle s'en émancipe. Il y avait de quoi faire mieux. Mais bon, rien de grave, d'autant que cette collection "Young Animals" est réjouissante.
[quote]Mother Panic #8
STORY BY
Jim Krueger and Jody Houser
ART BY
John Paul Leon and Phil Hester
COLORS BY
Dave Stewart
LETTERS BY
John Workman
COVER BY
Emanuela Lupacchino and Tommy Lee Edwards
PUBLISHER
DC Comics
3.99(USD)
2017-06-28
No one ever said detective work was Violet's strong suit, but she's never been one to let details get in her way. Mother Panic's got a hunch about the new murderer in Gotham, but are impulsiveness and a thirst for vengeance really the right tools to stop a killer?[/quote]
Source : cbr.com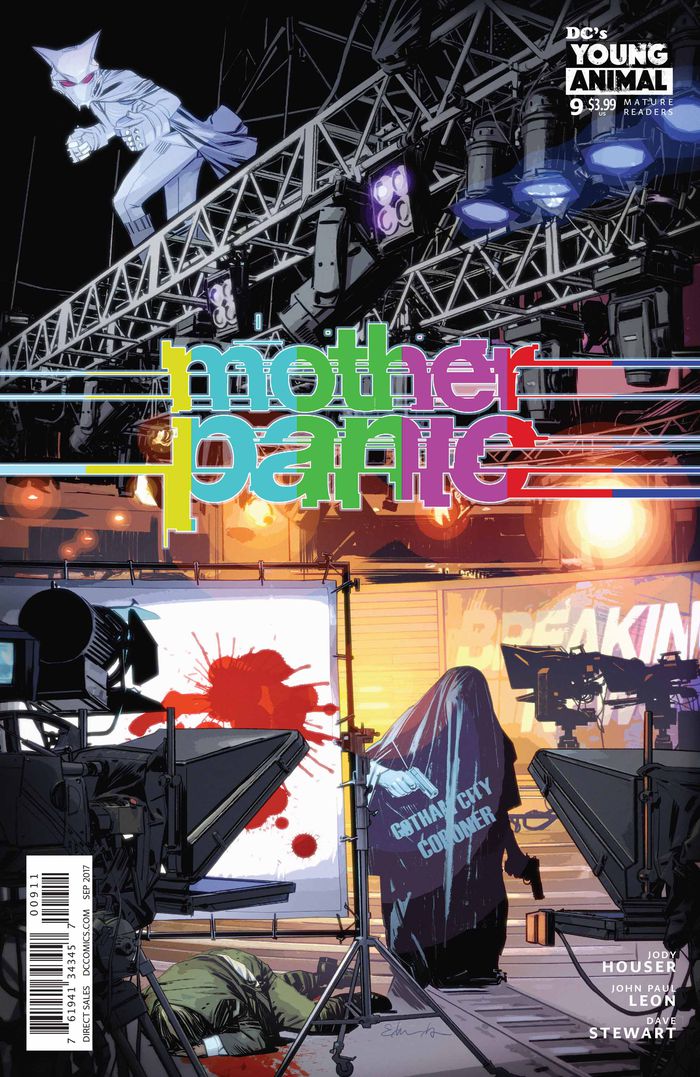 MOTHER PANIC #9
Written by: Jody Houser.
Art by: John Paul Leon.
Covers by: Tommy Lee Edwards, Phil Hester.
Description: As Mother Panic zeroes in on Remains, Violet's augmentations continue to lock up, making her unbelievably vulnerable. Will she be able to defeat her mysterious nemesis in time, or will Dr. Varma's warnings and predictions finally be actualized? Also includes the next installment of "Gotham Radio" by Jim Krueger and Phil Hester!
Pages: 32.
Price: $3.99.
In stores: July 26.
Source : www.comicscontinuum.com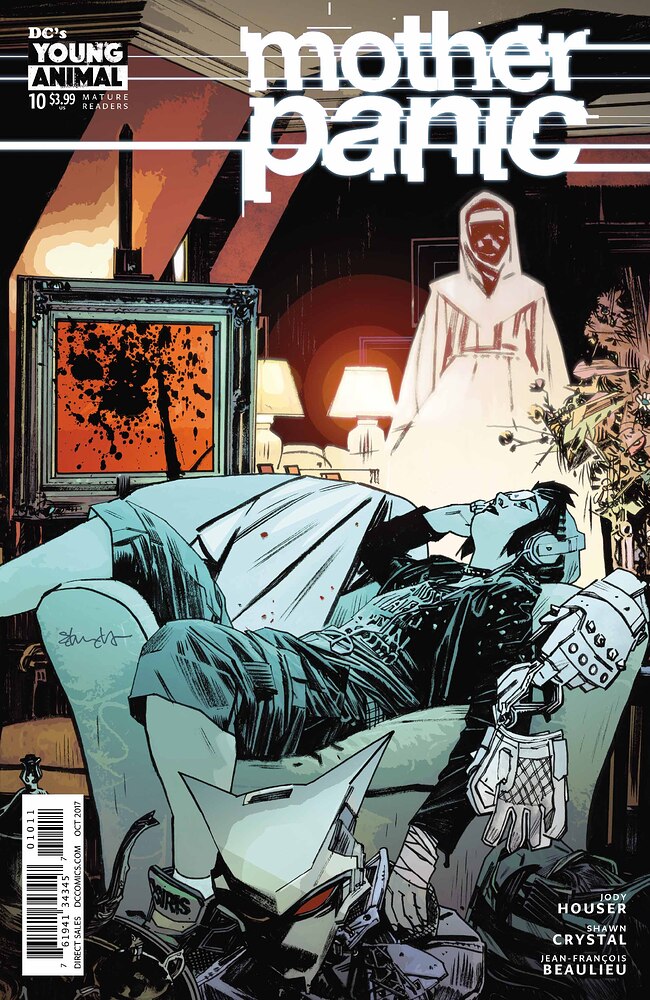 MOTHER PANIC #10
Written by Jody Houser and Jim Krueger.
Art by Shawn Crystal and Phil Hester.
"Gotham Radio" inks by Ande Parks.
Colors by Jean-Francois Beaulieu and Trish Mulvihill.
Letters by John Workman and Shawn Crystal.
Cover A by Tommy Lee Edwards.
Cover B by Sana Takeda.

Back to full strength, Violet Paige hits the Gotham City party scene to dig up more clues for the people behind Gather House. What she finds is a figure from her past who she thought was long dead. Meanwhile, Violet's allies discover something disturbing about her mother…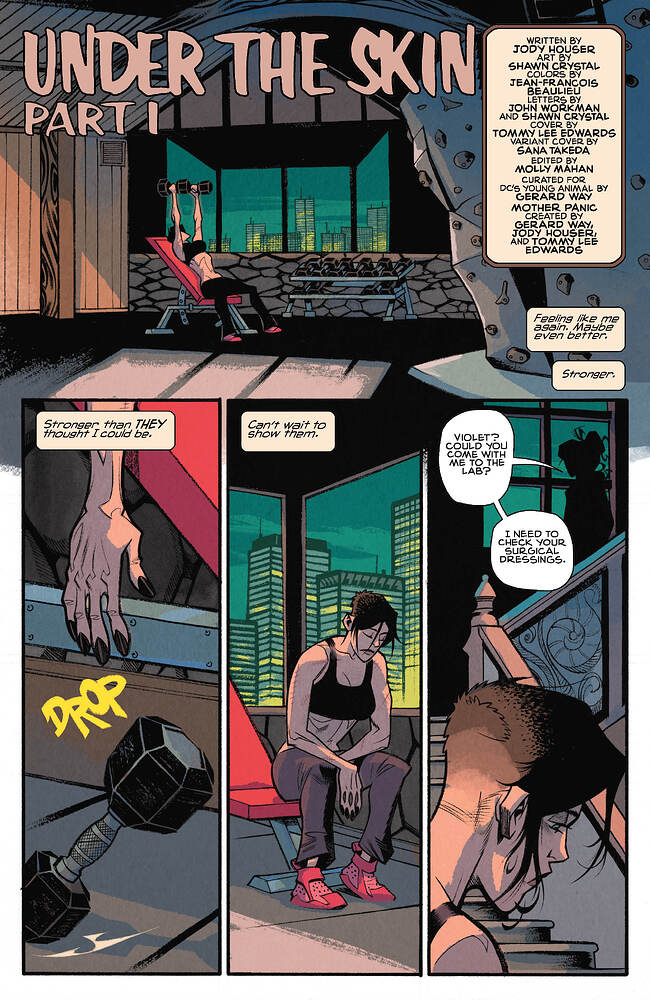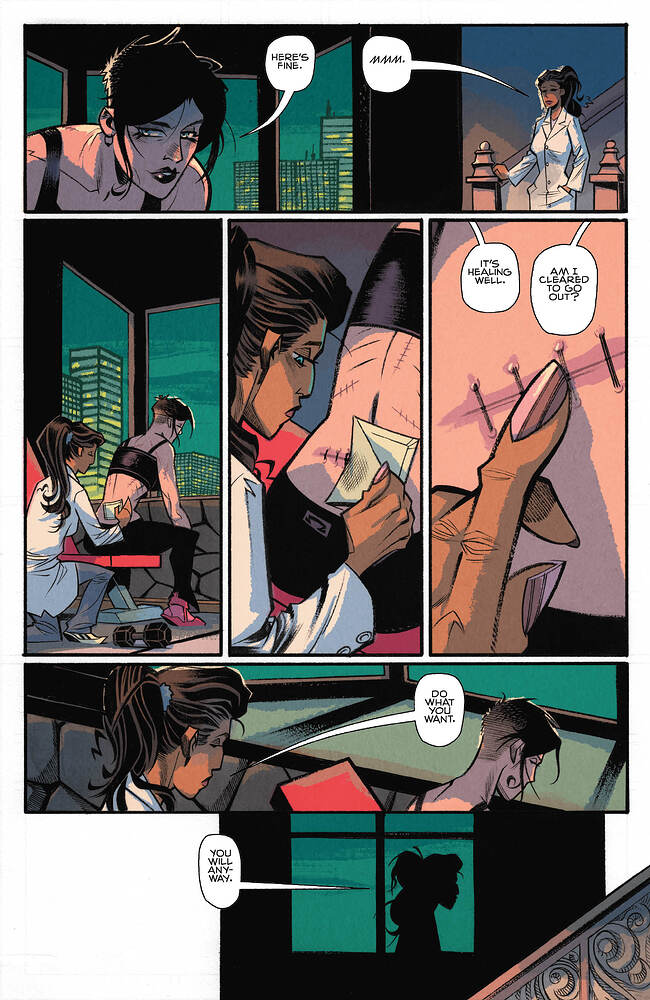 Source : www.doomrocket.com
Pendant mes congés, je me suis relu cette très bonne série.
Très bonne série pour son épais mystère autour de Violet Paige aka Mother Panic.
Les auteurs, sans que tout cela soit toujours très clair et lisible, profitent de petits arcs (2/3 parties) pour intégrer Violet dans le paysage de Gotham (assez habillement, je dois dire - Violet dressant son majeur en face de Bats) et mettre en avant ce mystérieux dossier familial qui a conduit Viloet à devenir Mother Panic.
L'ambiance est assez variée avec Violet à la ville (ou à la nuit), Violet en MP, Violet à la TV, etc… Les seconds rôles prennent aussi une large part au développement de la série entre le médecin, la mère et de chouettes nouveaux ou terribles anciens compagnons.
Ca se lit terriblement bien (back up compris), le mystère trouve des réponse et tout ça dans un esprit urbain et jetsetiste maso.
J'aime vraiment bien sans que cette série soit vraiment aussi barrée que Doom Patrol ou bourrée d'idées comme Cave Carson.
MP suit sa route dans un univers partagé présent pour la forme.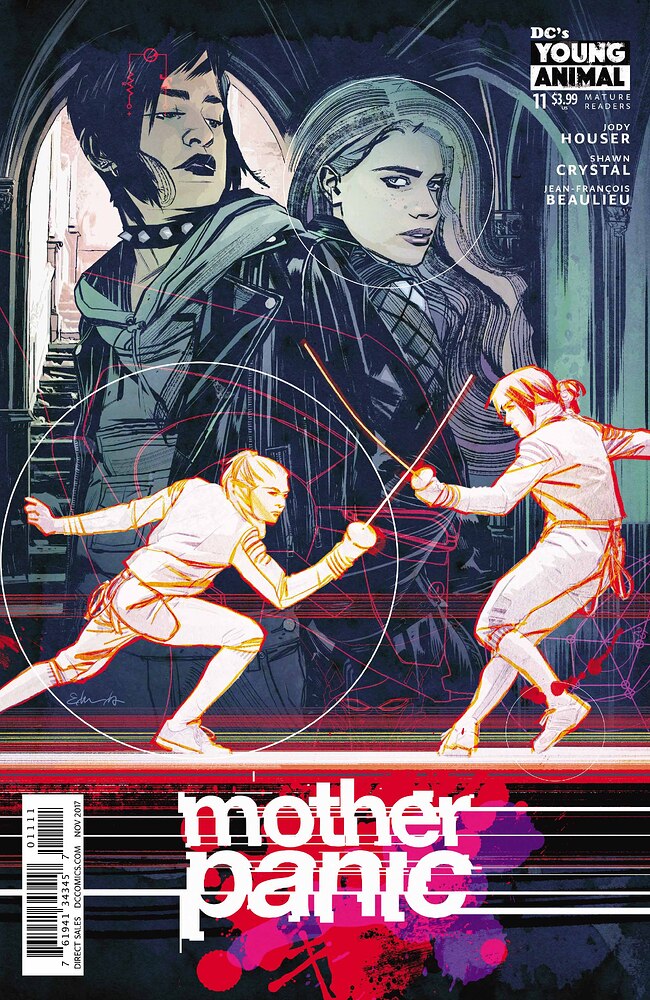 An unexpected face from the past throws Mother Panic's mission into turmoil. But things from Gather House are never what they seem, especially friendships. Meanwhile, a plan is set in motion at the Pike Hotel to figure out exactly what's going on in Rebecca's head. Also features the next exciting chapter of "Gotham Radio" by critically acclaimed team of Jim Krueger and Phil Hester!

Mother Panic #11 arrives in comic shops next Wednesday, September 27.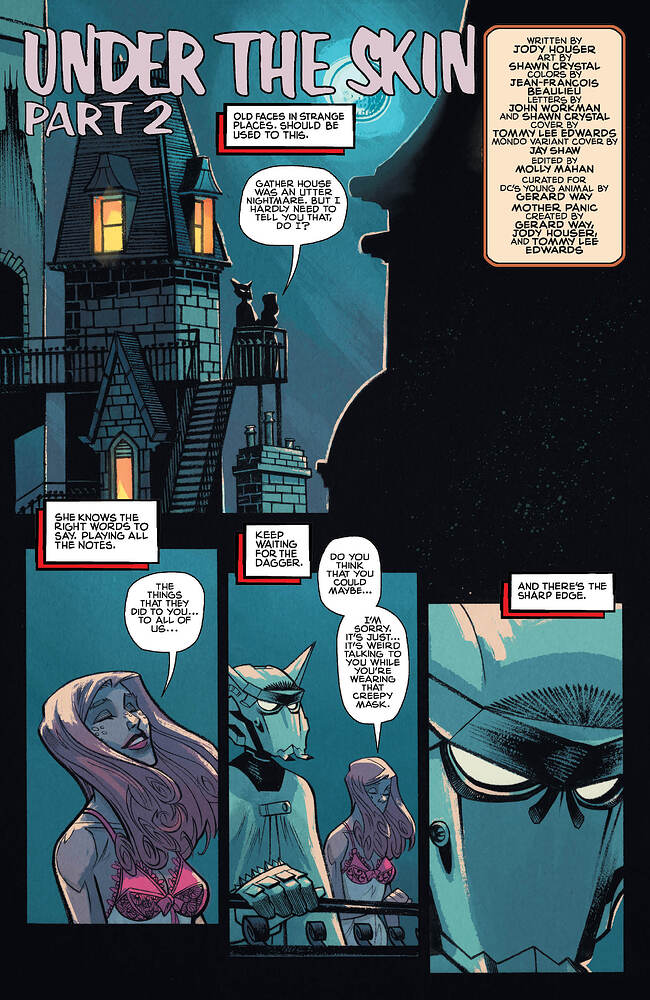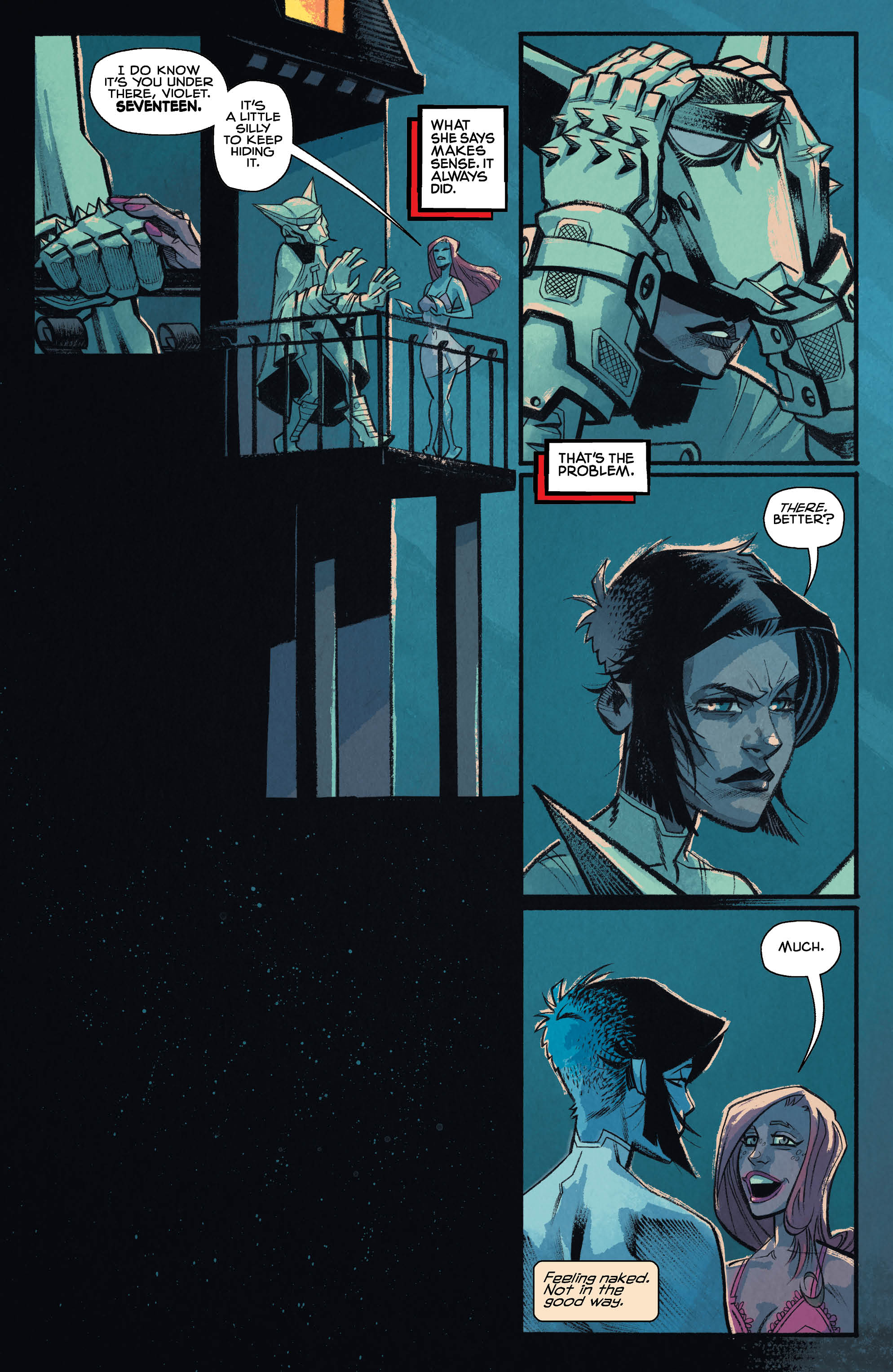 Source : www.wegotthiscovered.com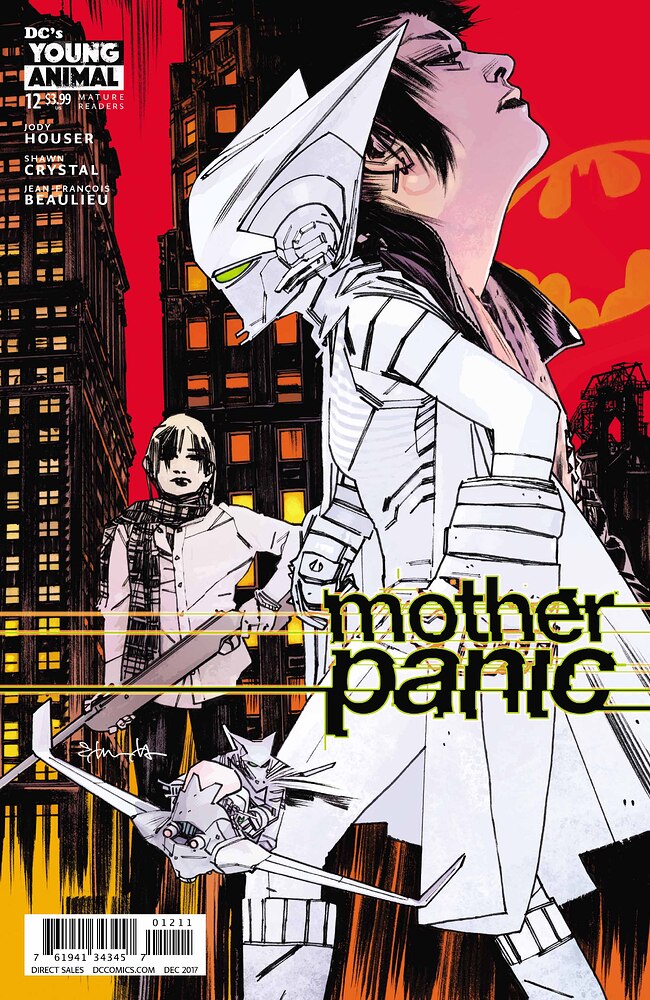 MOTHER PANIC #12 Written by JODY HOUSER, Backup story written by JIM KRUEGER, Art by SHAWN CRYSTAL, Backup story art by PHIL HESTER, Cover by TOMMY LEE EDWARDS, Variant cover by JOELLE JONES With the true face of an old friend revealed, Violet Paige must fight her way free or risk Mother Panic becoming a part of Gala's grisly art exhibit. Back at home a disturbing revelation about Rebecca's mental state comes to light. Includes the finale of "Gotham Radio" by the acclaimed team of Jim Krueger and Phil Hester!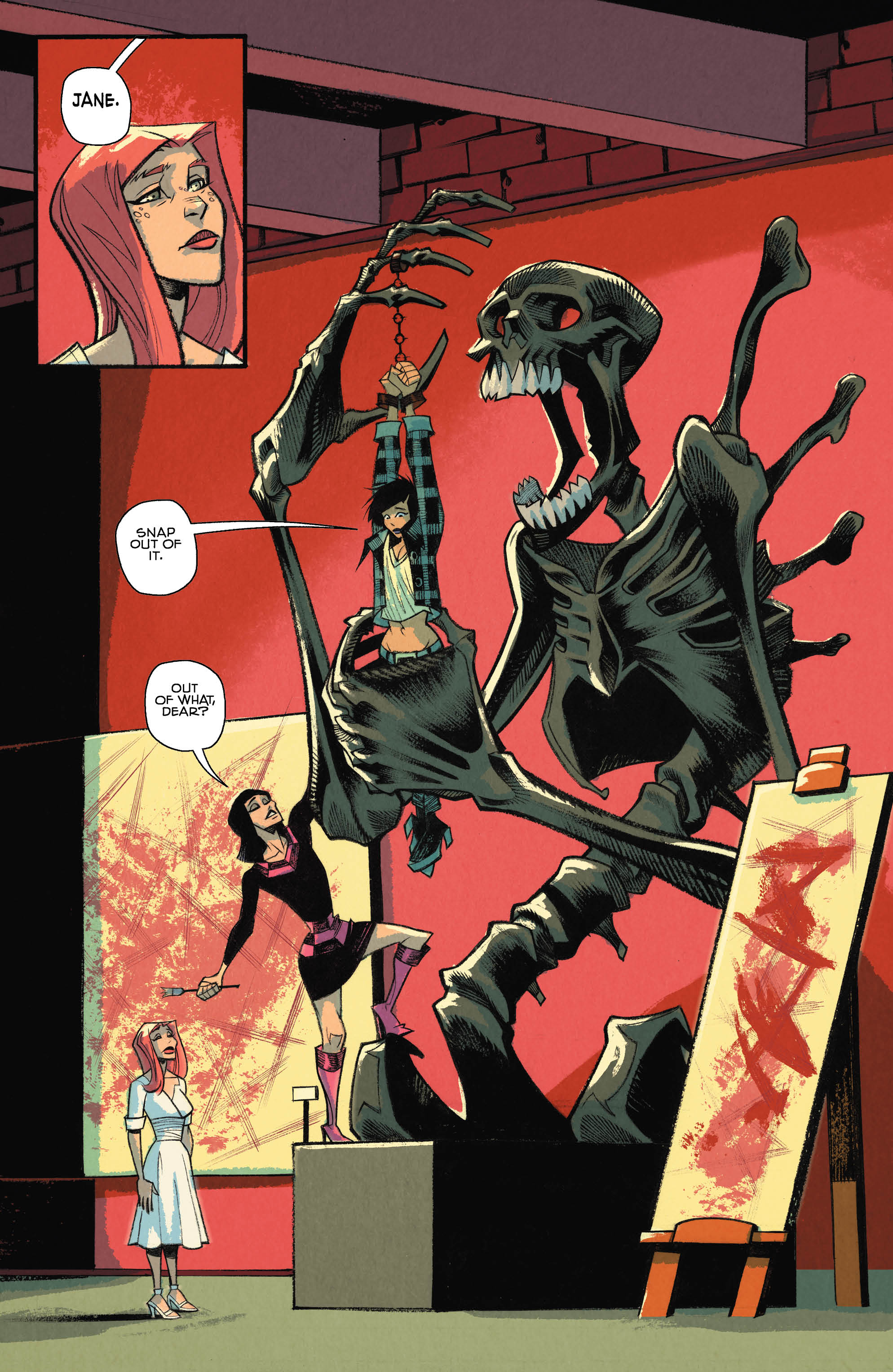 Source : www.denofgeek.com