Le scénariste Joshua Williamson retrouve le dessinateur Mike Henderson (Masks and Mobsters) avec « Nailbiter », une nouvelle série régulière inspirée par la prolifération des tueurs en série en Oregon.
Sur les traces du « Mangeur d'ongle », l'agent Charles Khole est à deux doigts de découvrir la vérité sur la petite ville de Buckaroo, Oregon, qui a connu pas moins de 16 tueurs en série. Lorsque son ami de la NSA Nicholas Finch apprend sa disparition, une course contre la montre débute pour retrouver Khole en un seul morceau.
Sortie du premier numéro en mai.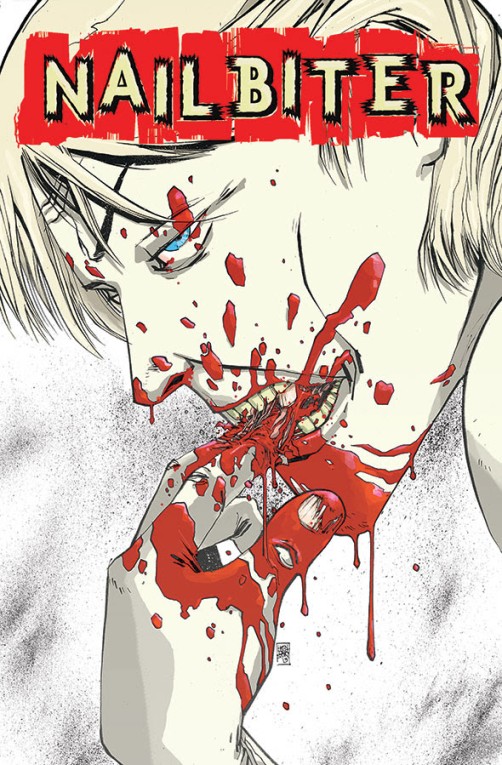 [quote]Image Comics Press Release
Did you know that more serial killers have been born in Buckaroo, Oregon than any other city in the world?
Joshua Williamson (GHOSTED, MASKS AND MOBSTERS, Captain Midnight) teams up with artist Mike Henderson (MASKS AND MOBSTERS, Venom, TMNT) to bring readers a serial killer mystery they won't be able to tear their eyes away from this May.
Since 1969, Buckaroo, Oregon has been the birthplace for sixteen serial killers and FBI criminal profiler Charles Kohl aims to uncover why. But just as Kohl begins to close in on understanding the truth behind why this small town seems to breed some of the vilest human beings America has ever seen, he goes missing. Enter trusted friend and NSA agent Nicholas Finch who must race against the clock to find his friend and piece together the rest of the mystery…before anyone else gets hurt.
Williamson delved deep into research about serial killers, both real and fictional, pulling inspiration from the Zodiac killer, Jeffrey Dahmer, and the characters in films like Se7en, Silence of the Lambs, and Psycho. "We talk a lot of the families of the victims, but what about the families of the killers. That's what Nailbiter is about," explained Williamson. "The people who have to deal with finding out someone they love is a murderer. Like how Twin Peaks shines a spotlight on a small town after Laura Palmer's death, Nailbiter does the same but shows a small town after finding out a bunch of horrible killers are from there."
"Josh and I had been working on Masks & Mobsters together for over a year when he pitched the idea of Nailbiter to me and it was an easy sell," said Henderson. "We both wanted to create something new and expansive and I was drawn in by the eccentric cast of characters, which took on a new life when I started designing them."
The process for bringing NAILBITER to life is an ongoing collaborative correspondence. "With each issue Mike and I text and chat about the plot, the pacing, the horror beats, and really try to get the most out of every page," Williamson revealed. "But at the same time, once we get past the layout stage, Mike cuts loose, and brings the energy and excitement the book needs."
NAILBITER is a new, ongoing crime-thriller series from Image Comics, debuting this May.[/quote]
Lien
Le site de l'éditeur: imagecomics.com