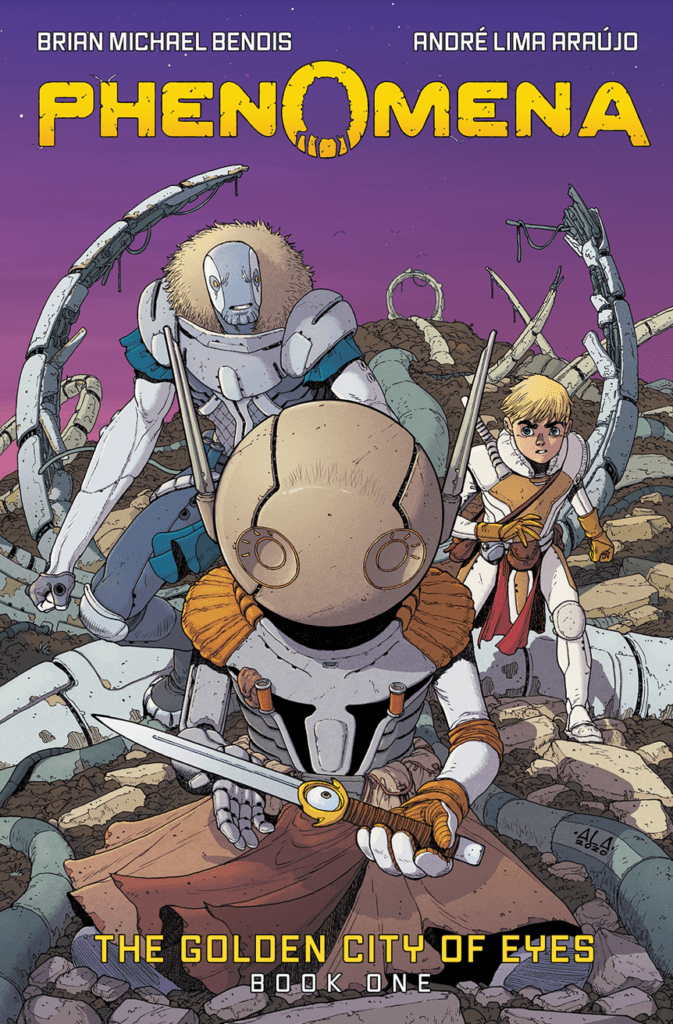 PHENOMENA: THE GOLDEN CITY OF EYES

BY BRIAN MICHAEL BENDIS

AND ANDRÉ LIMA ARAÚJO

"The world-building, the scope, the creatures, and the architecture . . . Phenomena looks like nothing you've ever seen. Bendis has always been a master of the power of story, but with Araújo they unlock something entirely original and fantastic. You'll love this—and your family will too."

—Brad Meltzer, bestselling author of the Ordinary People Change the World series

"Humor, adventure, monsters, and mayhem—and the art is beautiful! A wild ride through a dangerous and wondrous sci-fi world from one of my all-time favorite writers!"

—Kami Garcia, New York Times bestselling author of Teen Titans: Raven

In PHENOMENA, an all-new graphic novel fantasy adventure series, Brian Michael Bendis, the Peabody and five-time Eisner Award–winning, New York Times bestselling author and co-creator of Miles Morales, Jessica Jones, and Naomi, and André Lima Araújo, co-creator of A Righteous Thirst for Vengeance, transport you to a universe chock full of unforgettable characters, full-tilt action, and stunning imagination and world-building.

The first book in the series, PHENOMENA: THE GOLDEN CITY OF EYES (Abrams ComicArts; September 13, 2022; U.S. $24.99; Hardcover with jacket) tells the story of a young boy named Boldon and his warrior friend Spike—survivors of a phenomena that took over Earth years ago. Not an apocalypse . . . something far more interesting. We follow Boldon and Spike as they are forced to team up with another lost orphan of the world, Matilde. The trio of heroes go on a globetrotting adventure that takes them to a magical, mysterious place called the Golden City of Eyes.

As they quest across this epically crazy new world looking for answers and purpose, they face off against dark forces big and small, changing the world for better along the way. In each book in the series, our heroes travel to different parts of the magical world of Phenomena by various modes of transportation, each more and more fantastical than the mode that preceded it. Each journey is personal, and every chapter takes the trio toward a different, visually iconic destination, and each location, character, and chapter reveals clues to the shape of the world and how they got there—and, ultimately, their purpose.

The second book in the series is scheduled to publish in fall 2023 and the third is scheduled to publish in fall 2024.

About the Authors

Brian Michael Bendis is a Peabody and Eisner Award–winning comics creator, New York Times bestselling author, and one of the most successful writers working in mainstream comics. He is the co-creator of Miles Morales, Jessica Jones, Naomi, and dozens of other characters and stories. He lives in Portland, Oregon.

André Lima Araújo is an architect and comics creator who has worked for the major comics publishers in the United States and on an ever-growing body of creator-owed projects. His latest book is the original crime thriller A Righteous Thirst for Vengeance, co-created with Rick Remender. Araújo lives in Ponte de Lima, Portugal, with his wife and their three daughters.

About the Book

PHENOMENA: THE GOLDEN CITY OF EYES

By Brian Michael Bendis and André Lima Araújo

Abrams ComicArts | September 2022

U.S. $24.99 | CAN $31.99

Hardcover with jacket | 144 pages

6½ x 9¾" | Black-and-white illustrations throughout

ISBN: 978-1-4197-6169-0

e-book ISBN: 978-1-64700-666-2

Founded in 1949, ABRAMS was the first company in the United States to specialize in publishing art and illustrated books. The company continues to publish critically acclaimed and bestselling works in the areas of art, photography, cooking, craft, comics, interior and garden design, entertainment, fashion, and popular culture as well as narrative non-fiction and new works of fiction for adults; children's books ranging from middle grade to young adult fiction to picture books to board books. ABRAMS creates and distributes brilliantly designed books with the highest production values under the following imprints: Abrams; Abrams ComicArts; Megascope; Surely Books; Abrams Image; Abrams Press; The Overlook Press; Cernunnos; Cameron + Company; Abrams Books for Young Readers; Amulet Books; Abrams Appleseed; and Magic Cat. ABRAMS also distributes books for Booth-Clibborn Editions, Alain Ducasse Édition, Èditions de La Martiniére, Editions BPI, Global Golf Group, Lucky Spool, Milky Way Picture Books, The Museum of Modern Art, SelfMadeHero, Tate Publishing, V&A Publishing, and The Vendome Press.