La diffusion sur Netflix de Rebel Moon, le diptyque de S.F. de Zack Snyder, sera accompagnée par une préquelle en comic-book. La mini-série House of the Bloodaxe est écrite par Mags Visaggio d'après l'histoire de Snyder et dessinée par Clark Bint. Début de la publication en janvier 2024 chez Titan Comics.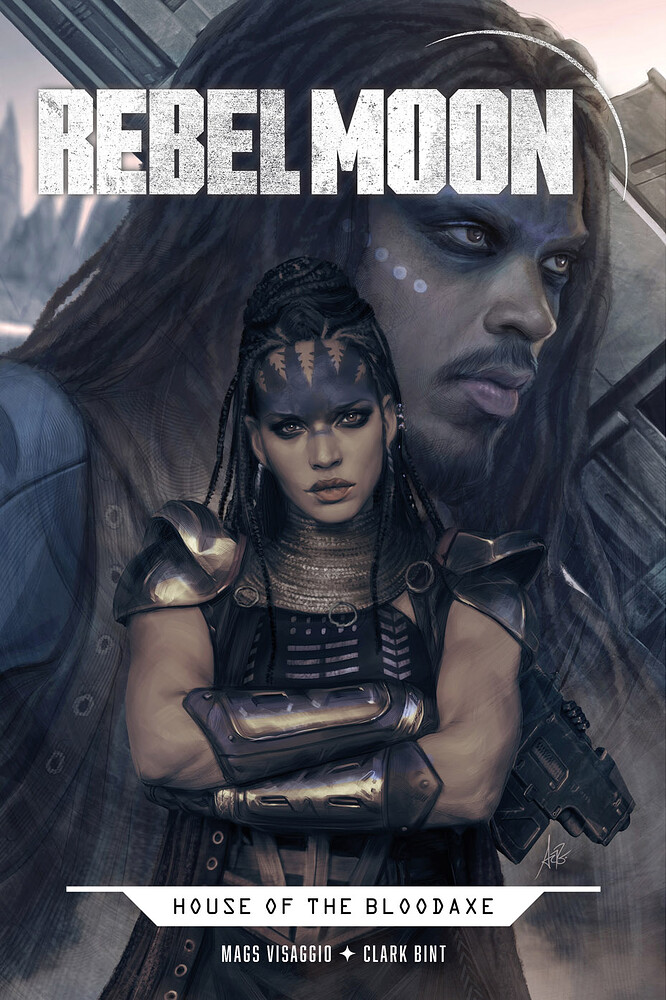 Titan Comics has announced a Jan. 10 launch for Rebel Moon: House of the Bloodaxe.

Bloodaxe is a prequel comic series for Rebel Moon, a movie that premieres on Netflx with part one on Dec 22 from director Zach Snyder.

The four-part comic series, based on a story by Snyder, is written by Mags Visaggio, with art by Clark Bint and colors from Francesco Segala. The first issue features an array of covers, including by Stanley « Artgerm » Lau and Rafael Albuquerque.Â

Set five years before the events depicted in Rebel Moon – Part One: A Child of Fire, the comic provides backstory for the characters of Devra and Darrian Bloodaxe, leaders of a band of outlaw revolutionaries and their formidable family's history. As war is looming on the horizon on the planet Shasu, the leader of the Bloodaxe family is conflicted between living up to his father's domineering legacy and maintaining the peace. It is up to him to settle the conflicts within himself, and his family, before the entire planet erupts in war.

« I'm excited to collaborate with Mags to explore the rich and complex backstory of the Bloodaxe siblings, » Snyder said "In Rebel Moon: House of the Bloodaxe, fans will get to discover their motivation, as well as the genesis of the rebellion."