Dans un registre pas si éloigné de la série Fables, le scénariste Bill Willingham annonce le comics Restoration en collaboration avec le dessinateur Barry Kitson.
Il y a plusieurs millénaires, la magie a été effacée par de puissantes forces. La série Restoration débute le jour fatidique où cette dernière, avec son lot de dieux et de créatures en tout genre, réinvestit mystérieusement le monde moderne.
Aucune date de sortie n'a été annoncée pour le moment.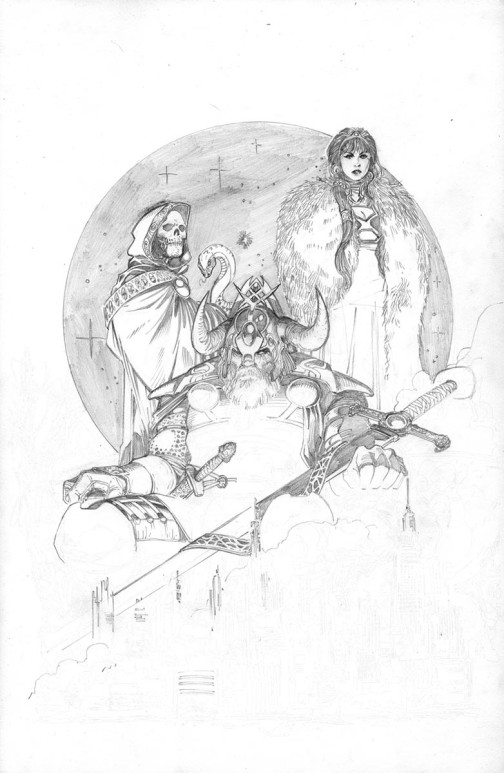 [quote]Image Comics Press Release
On Restoration Day, magic comes back into the world. This is not good news.
Bill Willingham (Fables, Elementals) and Barry Kitson (Batman, Fables) reveal that the magic and gods of legend and lore are not just oral history, but real…and now they're back in the forthcoming series RESTORATION.
Millennia ago, a group of some of the more forward-seeing movers and shakers in the world got together and decided to remove magic from the world—our world. They called themselves The Brotherhood of the Cauldron, because, in the first stages of their massive project, they would feed captured magical items and beings into a large magic cauldron, which would render them down into their most basic magic essence, which could then be bottled and stored away, much like we store the unwanted residue of our nuclear programs.
The world settled down into manageable natural laws that were always the same for everyone. Magic was gone. Until one day something terrible went wrong and the gods and monsters broke loose. Suddenly, all at once, magic came rushing back into the world.
"Bill Willingham was in the early vanguard for creator-owned comics, as well as one of comics' most unique and interesting voices, and it's a huge thrill to be working with him here at Image," said Eric Stephenson, Publisher at Image Comics. "Likewise, it's fantastic to welcome Barry Kitson back to Image for his first project here in over a decade. Restoration is going to be a fantastic ride, and different from everything else on the stands!"
Now the gods wish to keep their freedom—and magic—while the rest of the world seeks to imprison them. Will there be war? And who will win?
RESTORATION is a new ongoing fantasy action series coming to Image Comics in 2014. [/quote]
Lien
Le site de l'éditeur: imagecomics.com