BOOM! STUDIOS FOR DECEMBER
Writer: Greg Pak
Artist: Dan McDaid
Main Cover A: Lee Garbett
Preorder Cover B: Joe Quinones
Incentive Cover C: Marguerite Sauvage
Incentive Cover D: Joe Quinones
Incentive Cover E: Lee Garbett
The untold story of the Unification War continues! Stranded on an outer moon and with a price on their heads from Alliance bounty hunters, the crew race against time – and the planet's population – to fix Serenity and hightail it outta there!
32 pages, $3.99.
FIREFLY LEGACY EDITION BOOK TWO SC
Writers: Zack Whedon, Chris Roberson
Artists: Georges Jeanty, Karl Story, Stephen Byrne
Cover Artist: Nimit Malavia
BOOM! Studios presents the second of two Firefly Legacy Editions. Collecting all previously released Serenity comics in an all-new value-priced format, no fan can afford to miss this official follow-up to Joss Whedon's (creator of Buffy the Vampire Slayer) critically-acclaimed film Serenity, collected in one place for the first time! The 'Verse is on the brink of war, and Captain Mal and his crew are on the run from an old, unstoppable foe. With the crew scattered to the far ends of the 'Verse, it'll take quite a gamble to pull them back together . . . but when the chips are down, never bet against Captain Malcolm Reynolds! Collects Leaves on the Wind #1-6, "The Warrior and the Wind" from Dark Horse FCBD 2016, and No Power in the 'Verse #1-6.
$29.99.
Writer: Grant Morrison
Artist: Dan Mora
Main Cover: Dan Mora
Incentive Cover: Dan Mora
The best holiday tradition in comics returns in the next chapter of the epic Santa saga by visionary Grant Morrison and Eisner Award-nominated artist Dan Mora! Klaus has to help an absentee dad-turned-snowman make amends before melting away for good. And probably before he's defeated by a pantheon of Norse Gods and their minions. All in a day's work for Santa Claus.
$7.99.
THE GREAT WIZ AND THE RUCKUS OGN SC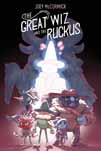 Writer: Joey McCormick
Artist: Joey McCormick
Cover Artist: Joey McCormick
The Ruckus, a terrible, growing darkness, is creeping over the land. The only hope is a being of light and good known as the Great Wiz, formed out of the Wiz's of the realm. Red is a blind Wiz tasked with finding the others – and while he finds some, it becomes all too clear that the fate of the world rests on the shoulders of a young Wiz named Bean who is too strong, too hot-headed, and too completely untested to be any real help. It's a battle of good versus evil in this amazing adventure written and illustrated by Joey McCormick. When heroes and villains come in all shapes and sizes, sometimes, all it takes to truly save the world is one small Bean.
$14.99.
WAVES OGN HC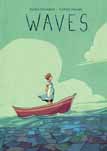 Writer: Ingrid Chabbert
Artist: Carole Maurel
Cover Artist: Carole Maurel
After years of difficulty trying to have children, a young couple finally announces their pregnancy, only to have the most joyous day of their lives replaced with one of unexpected heartbreak. Their relationship is put to the test as they forge ahead, working together to rebuild themselves amidst the churning tumult of devastating loss, and ultimately facing the soul-crushing reality that they may never conceive a child of their own. Based on author Ingrid Chabbert's own experience, coupled with soft, sometimes dreamlike illustrations by Carole Maurel, Waves is a deeply moving story that poignantly captures a woman's exploration of her pain in order to rediscover hope.
$14.99.
Writer: Shaun Simon
Artist: Conor Nolan
Main Cover: Conor Nolan
Incentive Cover: George Schall
When Hexley Daggard Ragbottom sets off to find his Uncle Salazar, he expects to find the most powerful wizard of the modern age. Instead, he finds Uncle "Sally" only wants to kick back, relax, and stay clear of any kind of wizard politics. So how is Hex supposed to become a great wizard if all the adults are too lazy to teach him? A humorous look at magic, family and just kicking back.
32 pages, $3.99.
Writer: Cullen Bunn
Artist: Jesus Hervas
Main Cover: Vanesa R. Del Rey
Preorder Cover: Jesus Hervas
The Kerry family is being torn apart over their mother's terrible illness, the deadly Empty Man disease. But when a stranger approaches, promising a cure, they must face how far they are willing to go.
32 pages, $3.99.
Writer: Matt Kindt
Artist: Tyler Jenkins
Main Cover: Matt Kindt
Intermix Cover: Tyler Jenkins
With the summer over, the Badges return to school to maintain their cover as normal children. But this glimpse into the everyday world forces them to confront a life in which they were never recruited.
32 pages, $3.99.
SPARROWHAWK #3
Writer: Delilah S. Dawson
Artist: Matias Basla
Cover Artist: Miguel Mercado
Though Art is growing stronger in Faerie, she is still hunted, still pursued. When she meets another creature on the run, Art must learn if she is ready to move from prey to protector.
32 pages, $3.99.
LOW ROAD WEST #4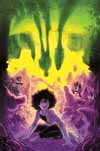 Writer: Phillip Kennedy Johnson
Artist: Flaviano
Cover Artist: Flaviano
Separated and surrounded by enemies, the kids feel as though they have nowhere to turn… and that's before they find a mysterious journal, belonging to a survivor named Abraham.
32 pages, $3.99.
MIGHTY MORPHIN POWER RANGERS #34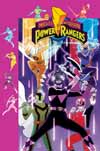 Writer: Marguerite Bennett
Artist: Simone di Meo
Main Cover: Jamal Campbell
Preorder Cover: Jordan Gibson
Incentive Cover: Linda Lithen
As dark forces coalesce around this new team of Power Rangers, they're confronted by the sinister enemy who's been secretly plotting their downfall…and that of the entire universe.
32 pages, $3.99.
SABAN'S GO GO POWER RANGERS #15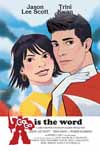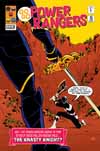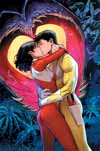 Writer: Ryan Parrott
Artist: Eleonora Carlini
Main Cover: Dan Mora
Intermix Cover: Miguel Mercado
Preorder Cover: Audrey Mok
Homage Incentive Cover: Natacha Bustos
That cover says it all – Trini is the new Red Ranger and Jason is the new Yellow Ranger. And…there might be some other complications too.
32 pages, $3.99.
PLANET OF THE APES: THE SIMIAN AGE #1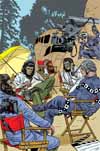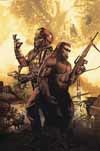 Writer: Matt Kindt, Jeff Jensen, Ryan Ferrier
Artists: Matt Smith, Jared Cullum, Lalit Kumar Sharma.
Main Cover: Fay Dalton, John Keaveney
Variant Cover: Michael Allred with colors by Laura Allred
Celebrate over 50 years of one of cinema's most influential franchises with this one-shot collection of stories highlighting the simian citizens of the world of Planet of the Apes! Featuring stories from both the original films and new series canon, including the life of an Ape Soldier in General Ursus's army, and a story set before Dawn of the Planet of the Apes, revealing Koba's early struggles to remain loyal to Caesar.
$7.99.
BONE PARISH #5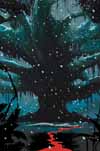 Writer: Cullen Bunn
Artist: Jonas Scharf
Cover Artist: Lee Garbett
The war between the Winters and the Cartel continues its bloody rampage. With the terrible power of the Ash behind them, the Winters stand a decent chance. But Ash is not without its dangers, and some of them are already falling to Ash Madness.
32 pages, $3.99.
AMORY WARS: GOOD APOLLO, I'M BURNING STAR IV VOL. 3 SC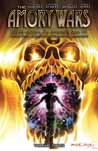 Writer: Claudio Sanchez & Chondra Echert
Artist: Rags Morales
Cover Artist: Rags Morales
The final chapter begins as the Rebel Army begins their assault on Apity Prime, while Claudio and Ambellina find themselves face-to-face with Wilhelm Ryan, while the great battle outside Kalline is in full bloom, and Inferno and Mayo meet face-to-face on the battlefield. Collects issues #9-12.
$14.99.
Writer: Dennis Hopeless
Artist: Serg Acuna
Main Cover: Marco D'Alfonso
Action Figure Variant Cover: Adam Riches
RAW Connecting Cover: Brent Schoonover
Incentive Variant Cover: Will Sliney
AJ Styles has regained the WWE Title, only to immediately be thrown into his biggest challenge yet: facing Universal Champion Brock Lesnar in a Champ vs. Champ Survivor Series match!
32 pages, $3.99.
WWE: THE SAMI & KEVIN SHOW SC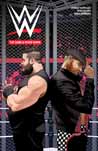 Writer: Dennis Hopeless
Artist: Serg Acuna.
Cover Artist: Dan Mora
Long-time frenemies Kevin Owens and Sami Zayn take the spotlight in this new arc. As Hell in a Cell looms, will KO finally corrupt Sami to his side? Also featuring a series of shorts celebrating 25 years of Monday Night RAW. Collects WWE #13, 18-20.
$16.99.
BIG TROUBLE IN LITTLE CHINA: OLD MAN JACK VOL. 3 SC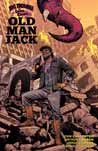 Writer: John Carpenter, Anthony Burch
Artist: Jorge Corona
Cover Artist: Greg Smallwood
With both Heaven and Hell out for Jack's head, there's nowhere left for him to hide. It's a battle of apocalyptic proportions, but ol' Jack Burton won't go down without a fight. Don't miss the epic conclusion of Jack Burton's story and the final ride of the Pork-Chop Express Collects issues #8-12.
$16.99.
Writer: Simon Spurrier
Artist: Matias Bergara
Main Cover: Matias Bergara
Intermix Cover: Christian Ward
When Hum learns a terrible secret, his life is thrust into turmoil – nothing will ever be the same.
32 pages, $3.99.
JIM HENSON'S LABYRINTH: A DISCOVERY ADVENTURE HC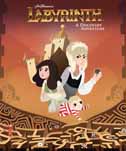 Artist: Kate Sherron and Laura Langston
Cover Artist: Laura Langston
Delve deep into the world of Jim Henson's magical fantasy film Labyrinth in this interactive Discovery Adventure! Join Sarah on her quest through the world of the Labyrinth to save her baby brother Toby from the clutches of Jareth, the Goblin King. Help her navigate fantastical locations alongside her companions Hoggle, Ludo, and Sir Didymus. Each page contains dense artwork with hidden treasures waiting to be found as readers rediscover the magic of the iconic film, where everything seems possible and nothing is what it seems.
$14.99,
FEATHERS SC
Writer: Jorge Corona
Artist: Jorge Corona
Cover Artist: Jorge Corona
● The debut graphic novel from 2015 Russ Manning Promising Newcomer Award Winner Jorge Corona. Born covered in black feathers, abandoned as a baby in the slums of the Maze, Poe has lived his entire 11-year-old life hidden away, until he meets Bianca, an over protected girl from the wealthy City beyond the Wall. As danger looms on all sides, a friendship grows between the city girl and the boy covered in feathers…a friendship that may just be enough to bring Bianca home, and lead Poe to his destiny. A heartwarming tale of danger, friendship, and adventure.
$14.99.
JIM HENSON'S BENEATH THE DARK CRYSTAL #5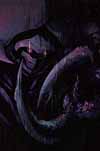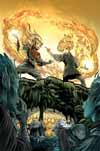 Writer: Adam Smith
Artist: Alexandria Huntington
Main Cover: Benjamin Dewey
Preorder Cover B: David Petersen
Incentive Cover C: Ramon K. Perez
As Thurma continues to fight for her right to rule, both candidates for the Throne of Mithra begin their training under The Fire That Stays, but they both find out that they have a lot to learn before either of them are fit to be the Ember Queen.
32 pages, $#.99.
JIM HENSON'S LABYRINTH: CORONATION #9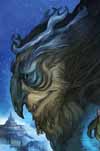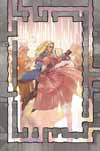 Writer: Simon Spurrier and Ryan Ferrier Artist: Daniel Bayliss
Cover Artist:
Main Cover: Fiona Staples
Preorder Cover: Cory Godbey
Maria finds herself in a stunning, masquerade ball of her dreams, reunited with her husband at long last. But like all things in the Labyrinth…everything is not what it seems.
32 pages, $3.99.
GIANT DAYS: WHERE WOMEN GLOW AND MEN PLUNDER #1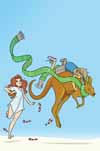 Writer: John Allison
Artist: John Allison
Cover Artist: John Allison Synopsis: Stop the presses! Ed Gemmel has a girlfriend. With Christmas looming, it's time to meet her family – in Australia. Which is fine. Who cares that they're all Manly Men! Ed once… did something manly. That one time. It happened. It's going to be fine.
32 pages, $3.99.
GIANT DAYS #45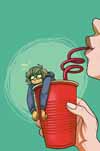 Writer: John Allison
Artist: Max Sarin
Cover Artist: Max Sarin
Ed and his girlfriend Nina may have bonded over bone breaks and PT, but now that the casts are off, Nina is going back to her partying ways – making Ed wonder if he ever knew her at all.
32 pages, $3.99.
GIANT DAYS VOL. 9 SC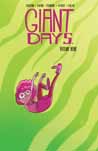 Writer: John Allison
Artist: Max Sarin
Cover Artist: Max Sarin
It's the end of second year, and everything is happening so fast! Moving out, breaking up, breaking hearts, breaking…bones? Best-Mates-for-Life Esther, Daisy, and Susan had better hold on tight if they want to make it to their third year, never mind in one piece! Collects issues #33-36 of the series.
$14.99.
Writer: John Allison
Artist: Christine Larsen
Main Cover: Christine Larsen
Preorder Cover: Sarah Stern
All footage from the other side of the Portal has been stolen! When when the thief auctions off information to the wrong bidder, it might be up to Jane and Heather to save him – reluctantly.
32 pages, $3.99.
SMOOTH CRIMINALS #2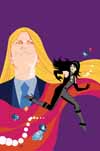 Writers: Kiwi Smith, Kurt Lustgarten
Artist: Leisha-Marie Riddel
Cover Artist: Audrey Mok
When Brenda, hacker extraordinaire, accidently awakens an international jewel thief from the 1969s, she wasn't expecting to get a new friend. And she might have been right. What she found instead is something better – a partner in crime. And Mia already has a target in mind.
32 pages, $3.99.
WELCOME TO WANDERLAND #4
Writer: Jackie Ball Artist: Maddi Gonzalez
Cover Artist: Maddi Gonzalez Synopsis: As Riot takes Bel on a tour of Wanderland, they are both surprised to see Riot's sisters, the Bad Royals. Unfortunately, they earned their name the hard way.
32 pages, $3.99.
LUMBERJANES: TO THE MAX VOL. 5 HC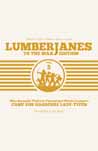 Writer: Kat Leyh, Shannon Watters
Artist: Carolyn Nowak, Ayme Sotuyo
Cover Design: Scott Newman
Strange things are afoot at Miss Qiunzella Thiskin Penniquiqul Thistle Crumpet's Camp for Hardcore Lady-Types – stranger than usual that is – and the only answer is… roller derby? This series is a story of friendship, hardcore lady-types and kicking a lot of butt. Collects Volumes 9 and 10 of the ongoing series into a deluxe hardcover edition.
$39.99.
Writers: Shannon Watters & Kat Leyh
Artist: AnneMarie Rogers
Main Cover: Kat Leyh
Preorder Cover: Naomi Franquiz. Synopsis: It's almost Jo's birthday, and for April that can only mean one thing: their yearly birthday movie night tradition! Now, she just has to figure out how to have movie night at camp, with no TV and no electricity! Luckily, though, there's the rest of Roanoke cabin and yeti friends to help make it happen!
32 pages, $3.99.
OVER THE GARDEN WALL: HOLLOW TOWN #4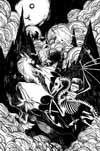 Writer: Celia Lowenthal
Artist: Jorge Monlongo
Main Cover: Celia Lowenthal
Preorder Cover: Natalie Hall
As Beatrice continues to urge Wirt to leave Hollow Town, Greg is unhelpful. Except, after all this time something about Wirt seems off.
32 pages, $3.99.
STEVEN UNIVERSE VOL. 4: JUST RIGHT SC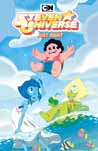 Writer: Grace Kraft Artist: Rii Abrego
Cover Artist: Missy Pena
After so much time defending the Earth, Steven and the Crystal Gems know the value of teamwork and asking for help. Join Steven on a series of one-on-one adventures with your favorite characters from around Beach City. Writer Grace Kraft and artist Rii Abrego guide Steven and the Crystal Gems as they learn what it means to rely on one another in these all-new stories from Cartoon Network's Steven Universe.
$14.99.
Writer: S.M. Viduarri
Artist: Mollie Rose
Main Cover: Marguerite Sauvage
Preorder Cover: Savanna Ganucheau
With the location of the last Harmony Core on Earth revealed, Garnet sets out to retrieve it, while Steven and those left in Beach City try to figure out what to do next.
32 pages, $3.99.
Writer: Grace Kraft
Artist: Rii Abrego
Main Cover: Missy Pena
Preorder Cover: Alex Chiu
:Steven asks Connie to join him in helping Garnet navigate cat ownership with her new kitten, Cat Steven.
32 pages, $3.99.
Writer: Sonny Liew & Ted Anderson
Artist: Marina Julia
Main Cover: Jorge Corona
Preorder Cover: Julie Benbassat
Incentive Cover: Simone D'Armini
Finn and Jake learn that there is a reason that the three henchmen are so determined to find "precious" objects for Marceline, and it's not anything good. Hunson Abadeer makes a show!
32 pages, $3.99.
ADVENTURE TIME: MARCELINE THE PIRATE QUEEN OGN SC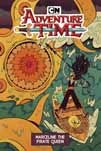 Writer: Leah Williams
Artist: Zachary Sterling
Cover Artist: Sara Kipin
When pirates infiltrate the Candy Kingdom and steal a precious treasure, Princess Bubblegum must send her most trusted friends to retrieve it. Well, her most trusted friends least likely to dissolve in water. Together with BMO, Marceline sets sail in pursuit as the dread Pirate Queen, where she faces deadly sea monsters and more in her quest to retrieve the Candy Kingdom's treasure. Marceline and BMO learn exactly what it takes to survive the furious oceans of Ooo!
$14.99.
GARFIELD: HOMECOMING SC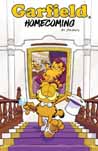 Writer: Scott Nickel
Artist: Shelli Paroline & Braden Lamb, Sara Talmadge, Ben Sears, Genevieve FT, Antonio Alfaro
Cover Artist: Andy Hirsch w/Shelli Paroline & Braden Lamb
The Fat Cat returns, as Garfield explores what life is like outside of the friendly confines of Jon's house. Feeling mistreated and unappreciated by Jon, Garfield embarks on a journey for a new home.
Writer Scott Nickel ( Garfield: His 9 Lives) will pair with artists Shelli Paroline & Braden Lamb (Adventure Time ), Sara Talmadge (Steven Universe), Ben Sears, and Genevieve FT (Archie) take us through this wild ride!
Collects the complete 4-issue series.
$14.99.