BOOM! STUDIOS FOR JANUARY
Written by Carly Usdin
Art by Noah Hayes
Covers by Noah Hayes, Veronica Fish.
Welcome to the Georgia O'Keeffe College of Arts and Subtle Dramatics, an historically all-female school whose population is decidedly more drama geek than jock. Liv, aspiring actor and basketball enthusiast, doesn't understand why she can't be both, but she seems alone in that belief…until Charlie.
Charlie is a recent transfer, a star basketball player, and the answer to all of Liv's problems. She'll stop at nothing to get Charlie to join the ragtag group of misfits that make up their fledgling basketball team.
Usdin and Hayes present a touching tale about finding what you're looking for… on and off the court.
32 pages, $3.99.
Written by Jordie Bellaire
Art by Dan Mora
Covers by Matthew Taylor, Kevin Wada, Royal Dunlap, Becca Carey, Jen Bartel.
Go back to the beginning as the critically acclaimed pop culture phenomenon Buffy The Vampire Slayer is reimagined under the guidance of series creator Joss Whedon.
This is the Buffy Summers you know, who wants what every average teenager wants: friends at her new school, decent grades, and to escape her imposed destiny as the next in a long line of vampire slayers tasked with defeating the forces of evil.
But her world looks a lot more like the one outside your window, as Jordie Bellaire and Dan Mora bring Buffy into a new era with new challenges, new friends…and a few enemies you might already recognize. But the more things change, the more they stay the same, as the Gang faces brand new Big Bads, and the threat lurking beneath the perfectly manicured exterior of Sunnydale High confirms what every teenager has always known: high school truly is hell.
32 pages, $3.99.
Written by Greg Pak
Art by Dan McDaid
Covers by Lee Garbett, Joe Quinones, Marguerite Sauvage.
With the Unificators closing in, Mal and Zoe must take some big risks to try to throw the enemy off their scent, as the crew of the Serenity start to grapple with the fact that their captain and first mate might not be who they say they are.
32 pages, $3.99.
CODA VOL. 1 SC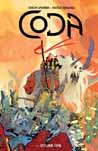 Written by Simon Spurrier
Art and cover by Matias Bergara.
Simon Spurrier and Matias Bergara present a broken fantasy world that's perfect for fans of Mad Max and The Lord of the Rings.
In the aftermath of an apocalypse which wiped out nearly all magic from a once-wondrous fantasy world, a former bard named Hum (a man of few words, so nicknamed because his standard reply is « hm ») seeks a way to save the soul of his wife with nothing but a foul-tempered mutant unicorn and his wits to protect him…but is unwillingly drawn into a brutal power struggle which will decide forever who rules the weird wasteland.
Collects issues #1-4.
$9.99.
BEN 10: THE TRUTH IS OUT THERE OGN SC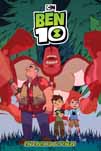 Written by C.B. Lee
Art by Lidan Chen
Cover by Ling Chen
Ben Tennyson isn't your average 10-year-old…he's also the wielder of the the Omnitrix, an alien device that allows Ben to shift into 10 different alien forms from around the galaxy. Together with his cousin Gwen and his Grandpa Max, they protect the world from alien incursions.
When Grandpa Max takes Ben and Gwen on a camping trip away from alien shenanigans, Ben has the bright idea to prank some Bigfoot enthusiasts with one of his alien forms. Little do they know, the real Bigfoot might be just around the corner…
Join Rainbow Award-winning novelist C.B. Lee and artist Lidan Chen in the first installment of original graphic novels based on Cartoon Network's hit Ben 10 series.
$7.99.
ADVENTURE TIME: MARCY & SIMON #1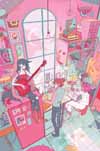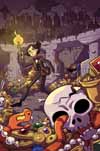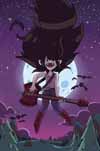 Written by Olivia Olson.
Art by Slimm Fabert.
Covers by Brittney Williams, Ashley Morales, Lisa Dubois, Sofie Drozdova.
After the events of the Adventure Time series finale, Marceline and Simon have finally reunited! Now together, Simon asks Marceline for help in making amends for his time as Ice King, which leads them, Finn, and Jake to one of the most dangerous places yet…the Nightosphere!
32 pages, $3.99.
PLANET OF THE APES: WHEN WORLDS COLLIDE SC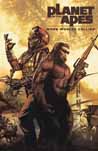 Written by Matt Kindt, Jeff Jensen, Dan Abnett, David Walker, Ryan Ferrier, Phillip Kennedy Johnson
Art by Matt Smith, Jared Cullum, Carlos Magno, George Schall, Lalit Kumar Sharma, Morgan Beem
Cover by Fay Dalton with John Keaveney
In celebration of the original film's 50th anniversary, stories from both eras of the ​Planet of the Apes franchise are featured together in one collection for the first time ever.
These all-new stories include the reveal of the ape who calls the remains of the Statue of Liberty home, and the first look at the world left behind following the events of War for the Planet of the Apes.
Planet of the Apes: When Worlds Collide ​is an unprecedented examination of the iconic franchise that fans of the original and new series will not want to miss.
$14.99.
Written by Brent Schoonover, Michael Kingston, Lan Pitts, Derek Fridolfs.
Art by Brent Schoonover, Michel Mulipola, Carlos Magno, Derek Fridolfs.
Covers by Rahzzah, Kendall Goode,​Marco D'Alfonso
Get ready for some old school action in this all-new special focusing on WWE Legends.
The team of Michael Kingston & Michel Mulipola return to document the rise of the Excellence of Execution, Bret Hart; Brent Schoonover tells a tale of what happens when Bobby « The Brain » Heenan attempts to kidnap Matilda the Bulldog, and Lan Pitts amd Carlos Magno reveal a showdown between Razor Ramon and Ted Dibiase at a jewelry shop, and more!
$7.99.
WWE: THEN. NOW. FOREVER. VOL. 3 SC
Written by Ryan Ferrier, Tini Howard, Kevin Panetta.
Art by Kendall Goode, Hyeonjin Kim, Dominike « Domo » Stanton. Cover
Art by Rahzzah.
ARE YOU READY?
We're going to BREAK IT DOWN across various eras of WWE in this softcover collection. Stories include DX's infamous « invasion » of a certain southern wrestling program, a look at the rise of Asuka, The Must See Superstar, The Miz, main-eventing Wrestlemania, and more.
Collects the Wrestlemania 2018 Special, ​the​ Attitude Era 2018 Special​, and exclusive backups from the main series.
$16.99.
Written by Dennis Hopeless
Art by​Serg Acuna
Covers by Marco D'Alfonso, Adam Riches, Brent Schoonover, Rahzzah
AJ Styles sees a path to Wrestlemania, but must get through multiple title matches to get to his dream bout. The problem? He doesn't have to be pinned in these matches to lose the belt.
32 pages, $3.99.
KONG: GODS OF SKULL ISLAND SC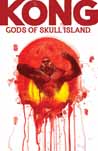 Written by Phillip Kennedy Johnson, Paul Allor
Art by Chad Lewis, Carlos Magno
Cover by Jeremy Simpson
The story of Kong has endured for centuries—from the time of the Vikings to turn of the century England. Now, journey deep into Skull Island with two new stories that take a captivating look at one of the greatest monsters in history.
Collects the Kong: Gods of Skull Island #1 and the ​Kong of Skull Island 2018 Special.
$14.99.
MIGHTY MORPHIN POWER RANGERS VOL. 7 SC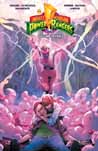 Written by Kyle Higgins
Art by Daniele di Nicuolo
Cover by Jamal Campbell
Lord Drakkon and his newly reformed army are crossing dimensions in order to execute an all-out attack on our reality! For the first time in comic book history, the Mighty Morphin Power Rangers will join forces with some of the most popular Power Rangers teams from across time and space to face the ultimate threat.
Writer Kyle Higgins (Nightwing​) and artist Daniele Di Nicuolo (Mighty Morphin Power Rangers: Pink) raise the stakes as Rangers from across realities band together to save the universe in this first installment of the critically acclaimed event, ​Shattered Grid.
Collects ​Mighty Morphin Power Rangers ​issues #25-28.
$16.99.
MIGHTY MORPHIN POWER RANGERS #35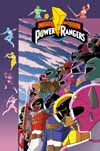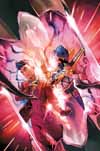 Written by Marguerite Bennett
Art by​French Carlomagno
Covers by Jamal Campbell, Jordan Gibson, Linda Lithen.
The mysterious new Dark Ranger is the man known as Heckyl – and his origin is revealed for the first time in this stand alone issue.
32 pages, $3.99.
SABAN'S GO GO POWER RANGERS #16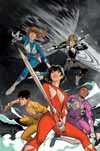 Written by Ryan Parrott
Art by Eleonora Carlini
Covers by Dan Mora, Miguel Mercado, Audrey Mok, Gleb Melnikov
The Rangers have swapped costumes and powers…and nothing's working right! Can Trini step up to lead the team and stop Rita from acquiring the ultimate weapon?
32 pages, $3.99.
LOW ROAD WEST #5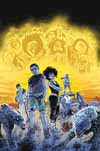 Written by Phillip Kennedy Johnson
Art and cover by Flaviano
Forced from the only refuge they have been able to find, the teenage refugees must face off once and for all against the enemy that surrounds them… and the enemy within them.
32 pages, $3.99.
BONE PARISH #6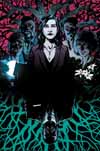 Written by Cullen Bunn
Art and cover by Jonas Scharf
With a renewed focus on the Ash business, the Winters family goes on the offensive to claw back every scrap of New Orleans territory that was taken from them.
32 pages, $3.99.
Written by Cullen Bunn
Art by Jesus Hervas
Covers by Vanesa R. Del Rey, Jesus Hervas
Chaos descends on the Kerry family's neighborhood as the mysterious cult known as the Whisper Oracles engages in a full-fledged assault to « save » their mother.
32 pages, $3.99.
Written by Matt Kindt
Art by Tyler Jenkins
Covers by Matt Kindt, Tyler Jenkins
The Black Badge program has been around for generations, and has a storied history to match. The Black Badge program is built on legacies, on recommendations, on families. How many fathers have sent their sons to a new class of Black Badges?
32 pages, $3.99.
SPARROWHAWK #4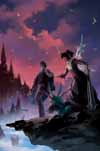 Written by Delilah S. Dawson
Art by Matias Basla
Cover by Miguel Mercado
Art and her strange allies come to a crossroads as they finally reach the Unseelie Queen's castle.
32 pages, $3.99.
WIZARD BEACH #2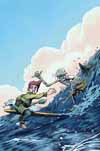 Written by Shaun Simon
Art and cover by Conor Nolan
After a disappointing row with his Uncle Sally where he discovers that he won't be learning great wizardry, Hex endeavors to head home and resume his battle, alone if he has to. Too bad an invisible barrier prevents him from leaving and he's forced to embrace some beach vibes, his lazy Uncle, and some killer waves.
32 pages, $3.99.
JIM HENSON'S BENEATH THE DARK CRYSTAL VOL. 1 HC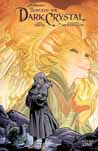 Written by Adam Smith
Art by Alexandria Huntington
Cover by Benjamin Dewey
Writer Adam Smith (Jim Henson's Labyrinth 2017 Special) ​and artist Alexandria Huntington (Avengers Origins) present a new sequel to the hit film!
Arriving at the Crystal Castle where he was once a lowly acolyte, Kensho is asked to accept the responsibility as leader of Thra. But he will have to rectify sins of the past before he can decide if he – or anyone – is fit to rule.
Meanwhile, the realm of Mithra is being rebuilt by the newly-crowned Ember Queen Thurma, whose own quest to decide the future of her land is thrown into question when another Fireling makes a claim as the true heir to the throne.
$24.99.
JIM HENSON'S BENEATH THE DARK CRYSTAL #6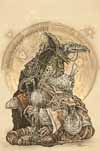 Written by Adam Smith
Art by Alexandria Huntington
Covers by​Benjamin Dewey,​David Petersen.
Thurma tests her new Fireling abilities with dangerous results while Kensho and the others seal the fate of the town of Dagger Root… for better or worse.
32 pages, $3.99.
JIM HENSON'S LABYRINTH: CORONATION #10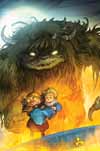 Written by Simon Spurrier, Ryan Ferrier
Art by Daniel Bayliss
Covers by Fiona Staples, Cory Godbey
The battle for the heart of the Labyrinth is underway as the goblin rebellion storms the Owl King's castle, with Maria and her companions right at the heart of it.
32 pages, $3.99.
GIANT DAYS #46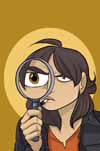 Written by John Allison
Art and cover by​Max Sarin
A thief is targeting the Dark Nebula comic book shop where Esther works, and it's up to Susan to put her amatuer detective skills to work… emphasis on amatuer.
32 pages, $3.99.
BY NIGHT VOL. 1 SC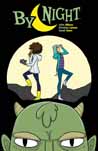 Written by John Allison
Art and cover by Christine Larsen
Aspiring documentarian (and actual Chemistry major) Jane has recently reunited with her former best friend Heather, amateur urban explorer. They fall easily into their old roles, with Jane as the cautious voice of reason, Heather as the bold, adventurous leader. When a trip into an abandoned industrial building leads them to another world, a plan begins to unfold – create a documentary about the world and become filthy, filthy rich.
The other side of the portal is filled with monsters, magic and a chance for a whole new life. All they have to do is step through…
Collects issues #1-4.
$14.99.
Written by John Allison
Art by Christine Larsen
Covers by Christine Larsen, Sarah Stern.
A creature from beyond the Eidolon has gotten loose in Spectrum, and it's up to Chip, Heather and Jane to search it out and pest-control it. And if they can survive a literal blood-sucking monster, maybe they'll be able to hunt down the thief who absconded with their otherworldly footage, too!
32 pages, $3.99.
LUMBERJANES VOL. 11 SC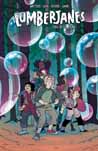 Written by Shannon Watters, Kat Leyh
Art by Ayme Sotuyo
Cover by Kat Leyh
When Molly makes a deal with a mysterious Voice in the woods surrounding Miss Qiunzella Thiskwin Penniquiqul Thistle Crumpet's Camp for Hardcore Lady Types to slow down time, all she wants is more time to spend with her friends at camp, hiking and doing crafts, and playing music and having fun.
Unfortunately there are… side effects, and it's up to Roanoke Cabin to to set time right again, and save camp!
Collects issues #41-44.
$14.99.
Written by Shannon Watters, Kat Leyh
Art by ​AnneMarie Rogers
Covers by Kat Leyh, Alexa Sharpe
With April's movie night dreams dashed by clumsy yetis, she sets her sights on a different scheme for Jo's birthday. Mal is on distraction duty, but their river rafting badge winds up off course. Stranded on an island unknown to Lumberjanes, will Jo, Barney, Jen, and Mal be able to get back to camp in time for the festivities? And does Jo even want to?
32 pages, $3.99.
SMOOTH CRIMINALS #3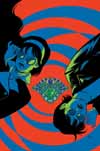 Written by Kiwi Smith, Kurt Lustgarten
Art by​Leisha-Marie Riddel
Cover by Audrey Mok
With their heist all planned out and the clock counting down, Mia and Brenda are ready to case the place and make their move. Sneaking into the exhibit hall should be cake, but going unnoticed? To pull that off, they'll both have to shape up and work on playing their part: with Mia trying to pass herself off as a modern 1990s woman, and Brenda as a high-society dame!
32 pages, $3.99.
OVER THE GARDEN WALL: HOLLOW TOWN #5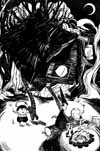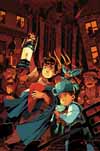 Written by Celia Lowenthal
Art by Jorge Monlongo
Covers by Celia Lowenthal, Natalie Hall
Hollow Town has sprung it's trap on Wirt, Greg, and Beatrice, and they must work together if they have any hope of escaping back to the Unknown to continue on their journey home.
32 pages, $3.99.
Written by Sonny Liew, Ted Anderson
Art by Marina Julia
Covers by Jorge Corona, Julie Benbassat, Arielle Jovellanos
When Marceline loses her memories, everyone suspects foul play! Finn, Jake, Princess Bubblegum, and Simon must band together to save their friend!
32 pages, $3.99.
ADVENTURE TIME: SUGARY SHORTS VOL. 5 SC
Written by Jeremy Sorese, Meredith McClaren, Hanna K
Art by Jeremy Sorese, Meredith McClaren, Hanna K
Cover by Jamie Coe
A variety pack of sugary goodness awaits! With brand-new, never-before-collected stories by fan-favorite​Adventure Time​ comic book creators, ​Sugary Shorts ​packs a sweet punch of stories for everyone!
Including stories from Meredith McClaren (Jem and the Holograms), Jeremy Sorese (Steven Universe), and Adventure Time ​ storyboard artist Hanna K! This volume of Sugary Shorts ​defies dentistry and proves you can't have too much of a sweet thing!
$19.99.
Written by Grace Kraft
Art by​Rii Abrego
Covers by Missy Pena, Ayme Souto
Steven, Connie, and the Crystal Gems work together to restore a historic site special to the Crystal Gems from the past.
32 pages, $3.99.
ROCKO'S MODERN LIFE VOL. 2 SC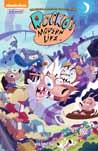 Written by Ryan Ferrier
Art by Ian McGinty
Cover by Jorge Monlongo
Rocko's dog Spunky becomes an overnight internet sensation. Desperate times call for desperate measures and Rocko will do whatever it takes to win back his best bud's affection. But Rocko's resolve will be really be put to the test when he chooses to take on corporate giant, Conglom-o!
Collects issues #5-8.
$14.99.
Source : www.comicscontinuum.com