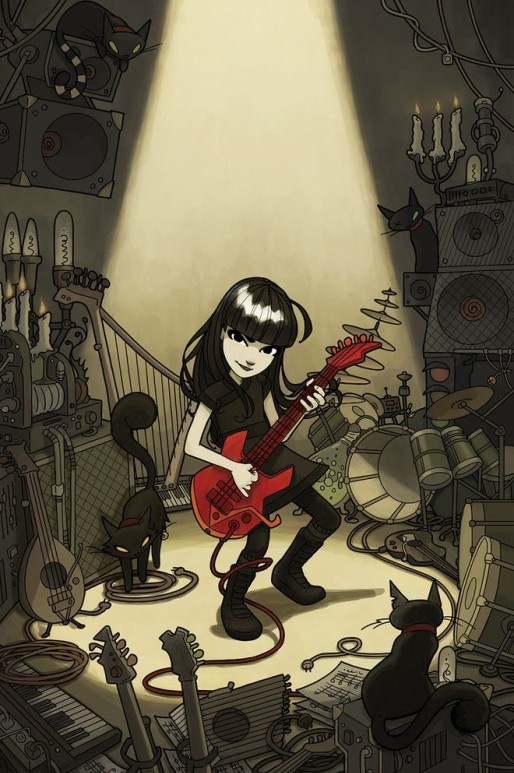 #1 for $1 (large)
Emily and the Strangers
Rob Reger (W), Mariah Huehner (W), Emily Ivie (A/Cover), and Buzz Parker (Cover)
On sale Apr 16
FC, 32 pages
$1.00
One-shot
With the help of her trio of troublemaking cats, Emily is determined to make the most rockin' song the world has ever known and win a legendary haunted guitar . . . but can she do it solo? Only one thing is for sure—what Emily wants, Emily gets . . . sometimes.
• Look for the Emily and the Strangers collection on sale May 2014!
"If the White Stripes, Edward Gorey and Tim Burton had a baby . . . that would be Emily."—Mania
#1 for $1 (large)
Itty Bitty Hellboy
Art Baltazar (W/A/Cover) and Franco (W)
On sale Apr 2
FC, 32 pages
$1.00
One-shot
Who is Hellboy anyway? Why does he have such a big hand and what is it used for? Who's weirder, him or his friends? What is the B.P.R.D.? And what does chicken soup have to do with all of it? All this and more is answered in this premium-priced debut issue where BIG things happen to itty bitty Hellboy!
• Mike Mignola's characters drawn by Art Baltazar (Tiny Titans, Superman Family, Aw Yeah! Comics)!
• The Itty Bitty Hellboy TP hits shelves April 16!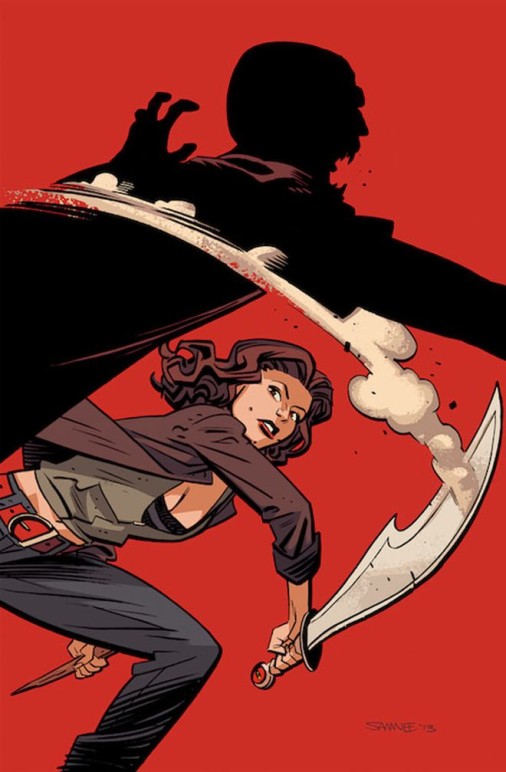 https://imagizer.imageshack.us/v2/506x774q90/18/kavl.jpg

Season 10 begins!
Angel & Faith Season 10 #1
Victor Gischler (W), Will Conrad (A), Michelle Madsen ©, Scott Fischer (Cover), Chris Samnee (Variant cover), and Rebekah Isaacs (Ultravariant Cover)
On sale Apr 2
FC, 32 pages
$3.50
Ongoing
Angel's work is never done. During his most recent world saving, a part of London was transformed and flooded with magic. Who better to watch over this magical community than Angel? At least, that's what he thinks. Meanwhile, Faith starts a new chapter in her life—slaying zompires alongside Buffy?!
• Will Conrad (Serenity, Nightwing) returns to the Whedonverse!
• Executive produced by Joss Whedon!

Bram Stoker award winner Jonathan Maberry!
Bad Blood #4 (of 5)
Jonathan Maberry (W) and Tyler Crook (A/Cover)
On sale Apr 2
FC, 32 pages
$3.99
Miniseries
Our heroes finally find the information they need and, with the help of their battle-hardened teacher, they learn the art of fighting vampires. But can they overcome their weaknesses to truly fight the monsters that are after them? Or will they succumb to the battles raging within?
• Art by Eisner Award winner Tyler Crook (B.P.R.D., The Sixth Gun)

New York Times bestseller!
Baltimore Volume 4: Chapel of Bones HC
Mike Mignola (W/Cover), Christopher Golden (W), Ben Stenbeck (A), and Dave Stewart ©
On sale June 11
FC, 144 pages
$24.99
HC, 7" x 10"
The world's greatest monster hunter wages war against a plague of vampires intent on resurrecting a demonic god, an evil witch in league with a clan of undead, and his mortal nemesis, leading to a final showdown in London! Collects Baltimore: The Infernal Train #1-#3 and Baltimore: Chapel of Bones #1-#2.
• By award–winning, best-selling writers Mike Mignola and Christopher Golden.
"One of the most energetic and inventive new horror comics."—Joe Hill (Locke & Key)
WHAT GOOD IS A DEAD HERO?
Blackout #2 (of 4)
Frank J. Barbiere (W), Randy Stradley (W), Colin Lorimer (A/C), Doug Wheatley (A), and Micah Kaneshiro (Cover)
On sale Apr 23
FC, 32 pages
$2.99
Miniseries
Scott Travers's mysterious suit grants him unseen, unlimited access to almost anywhere and may hold the key to his benefactor's disappearance. But others will do anything—including kill—to possess the suit. Will Scott give up the search and ditch the suit to save his own skin?
• Story by Frank Barbiere (The White Suits), art by Colin Lorimer (UXB).
• Special King Tiger feature by Randy Stradley and Doug Wheatley!
"A fascinating character."—The Red Shirt Crew

"Four-color crime and punishment like they just don't make anymore. It's good for the blood."—Warren Ellis
Bloodhound Volume 2: Crowbar Medicine TP
Dan Jolley (W), Leonard Kirk §, Robin Riggs (I), Moose Baumann ©, and Dave Johnson (Cover)
On sale June 18
FC, 160 pages
$19.99
TP, 7" x 10"
Ex-con and FBI consultant Travis Clevenger doesn't have superpowers, but he can put a beatdown on anyone who does! When a superhuman tragedy shocks the nation, a rogue scientist announces that he can avert future disasters by granting powers to citizens who pass his personal background check! The ensuing wave of new superhumans sets in! Collects the five-issue miniseries and a story from Dark Horse Presents #23–#25!
• Dan Jolley (The Terminator, Prototype 2) and Leonard Kirk (Hunger, X-Factor) are back!
• Cover by Dave Johnson (100 Bullets)!
• Clev on the bloodiest trail yet!

20 Years of Hellboy!
B.P.R.D. Hell on Earth #118
Mike Mignola (W), John Arcudi (W), James Harren (A), Dave Stewart ©, Rafael Albuquerque (Cover), and Ryan Sook (Variant Cover)
On sale Apr 16
FC, 32 pages
$3.50
Ongoing
With the Russian bureau director on the brink of death, the B.P.R.D. somehow manages to stand their ground against Zinco's forces, while Liz Sherman and the Black Flame fight fire against fire in the skies of New York, Akira style.
• Art by James Harren (Conan the Barbarian).
• From the pages of Hellboy!
• 4 of 5 special variant covers celebrating 20 years of Hellboy!
https://imagizer.imageshack.us/v2/514x774q90/23/1yu7.jpg
Back together with the big ol' gang!
Buffy the Vampire Slayer Season 10 #2
Christos Gage (W), Rebekah Isaacs (A/Variant cover), Dan Jackson ©, and Steve Morris (Cover)
On sale Apr 23
FC, 32 pages
$3.50
Ongoing
The Scoobies are back—including li'l Giles! Revelations about a new kind of vampire menace and the blank Vampyr book have only just begun. Everyone has a job to do, and for Buffy, it's treading the road of past relationships! Lucky girl . . .
• The team from Angel & Faith tackles Buffy!
• Executive produced by Joss Whedon!

His past catches up with him!
Captain Midnight #10
Joshua Williamson (W), Fernando Dagnino (A), Ego ©, and Felipe Massafera (Cover)
On sale Apr 30
FC, 32 pages
$2.99
Ongoing
Captain Midnight's search for his old sidekick, Chuck Ramsey, comes to an end—but, thanks to the teleporting assassin Helios, the meeting might not be the friendly reunion he expected.
One of Captain Midnight's closest friends is about to die! Can he save them?
• Written by Joshua Williamson (Ghosted, Masks and Mobsters, Uncharted)!
"Fernando Dagnino nails the action. His art is kinetic and exciting."—IGN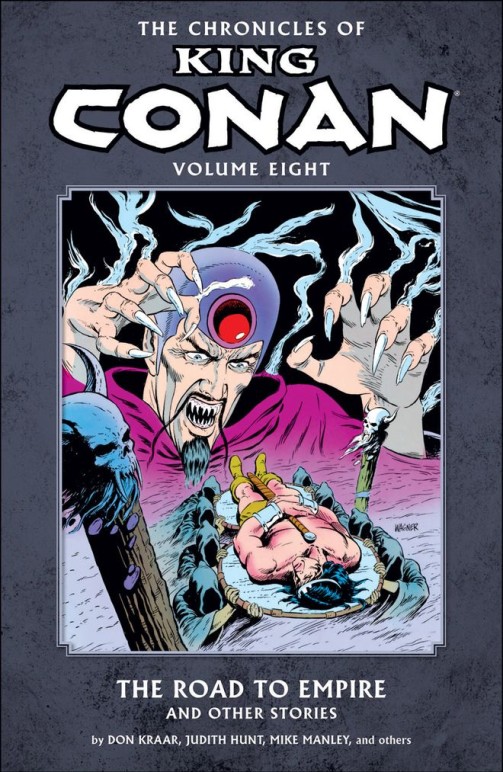 A SON'S VENGEANCE!
The Chronicles of King Conan Volume 8: The Road to Empire and Other Stories TP
Don Kraar (W), Judith Hunt §, Mike Manley §, Mike Docherty §, Art Nichols (I), Ernie Chan (I), Al Williamson (I), Pat Redding (I), George Roussos ©, and Ron Wagner (Cover)
On sale June 18
FC, 208 pages
$19.99
TP, 7" x 10"
With the tide of war turned, Conan's armies assault the Nemedian capital. But the greatest threat to Conan is not Nemedian steel, but the steeled heart of a boy raised in the black arts and dedicated to Conan's destruction—Conan's lost son, Taurus! Collects Conan the King #36–#41.
• Conan is a fantasy icon, inspiring novels, comics, games, three feature films and a television series.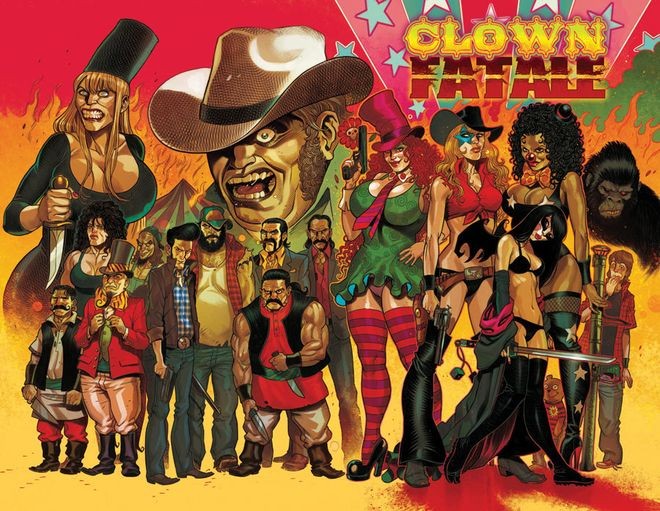 Cute! Carny! Contract killers!
Clown Fatale TP
Victor Gischler (W), Maurizio Rosenzweig (A/Cover), Moreno Dinisio ©
On sale June 18
FC, 112 pages
$17.99
TP, 7" x 10"
When four down-on-their-luck, sexy clowns are mistaken for contract killers, the pandemonium begins. To prove themselves in the high-profile world of contract killing and big bucks, the girls are going to need to paint their faces and head to war . . . with the real killers. Can the femmes fatales stand toe to toe? Collects the four-issue miniseries.
• Created and written by Victor Gischler (Buffy the Vampire Slayer: Spike—A Dark Place, Kiss Me, Satan, Conan: Phantoms of the Black Coast)!
"Oozing with hyper-sexuality and tough-talking dialogue." —Bloody Disgusting
Writer Fred Van Lente takes the helm!
Conan the Avenger #1
Fred Van Lente (W), Brian Ching (A), Michael Atiyeh ©, and Iain McCaig (Cover)
On sale Apr 23
FC, 32 pages
$3.50
Ongoing
Nursing his broken heart, Conan drinks himself into a stupor in the troubled city of Shumballa—until a brazen act of thievery launches the Cimmerian into a wild hunt and a supernatural adventure!
• A perfect jumping-on point for new readers!
• Cover by Star Wars and The Avengers concept artist Iain McCaig!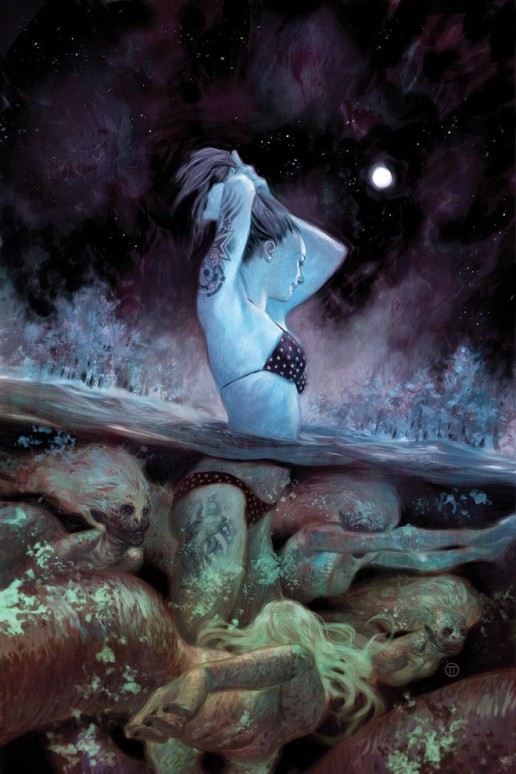 IT WILL MAKE YOUR SKIN CRAWL!
Creepy Comics #16
Rachel Deering (W), Ted Naifeh (W/A), Peter Bagge (A), Vanesa R. Del Rey (A), and Julián Totino Tedesco (Cover)
On sale Apr 9
b&w, 40 pages
$3.99
Ongoing
It's a sickening sweet sixteen! Join Uncle Creepy for some sensational scares from a cavalcade of cursedly clever creators! Rachel Deering and Vanesa R. Del Rey wind up a lovesick mechanical monstrosity, and Ted Naifeh gives a lurid lesson in blackmail and bewitching bedlam! It's a fright delight!
• New story and art from Ted Naifeh (Courtney Crumrin and the Night Things)!
• Horror's rising star Rachel Deering (Anathema, In the Dark)!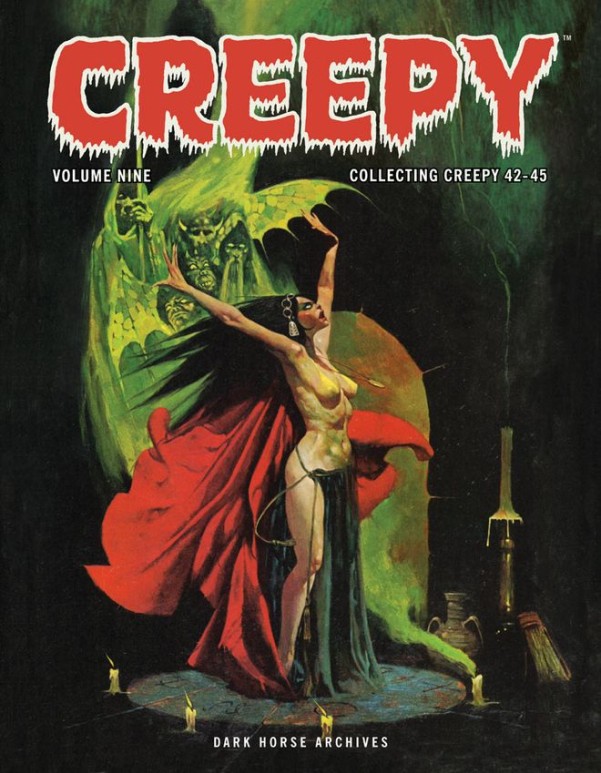 Creepy Archives Volume 19 HC
Various (W/A)
On sale June 11
b&w, 280 pages
$49.99
HC, 8 3/8" x 10 7/8"
Death lurks after every page turn! An unbelievable lineup of creators fills this volume. Shiver at the work of Frank Frazetta, Russ Heath, Carmine Infantino, John Severin, Bernie Wrightson, Bruce Jones, Richard Corben, and many others—and enjoy all original fan pages and a new introduction by writer Jack Butterworth (Creepy, Taboo)! Collects Creepy magazines #89-#93.
Hard-boiled crime collected!
Crime Does Not Pay: City of Roses HC
Phil Stanford (W), Patric Reynolds (A/Cover), and William Farmer ©
On sale June 11
FC, 112 pages
$19.99
HC, 6" x 9"
Portland, Oregon, is often called the Rose City, but the denizens that inhabit its underbelly rarely smell so sweet. Dirty cops, dirty robbers. These shady characters and their illicit connections reveal their boiling corruption in Phil Stanford's true crime stories. Only the names have been changed to protect the guilty. Collects City of Roses parts 1–12 from Dark Horse Presents.
• Phil Stanford won an Independent Publisher Book Award in the True Crime category in 2005!
• Art by Patric Reynolds (Aliens, Abe Sapien)!
"Another commendable installment to the Criminal Macabre repertoire."–Bloody Disgusting
Criminal Macabre: The Eyes of Frankenstein TP
Steve Niles (W), Christopher Mitten (A), Michelle Madsen ©, and Justin Erickson (Cover)
On sale June 18
FC, 112 pages
$17.99
TP, 7" x 10"
With ghouls dying all around him and the mystery of his own violent illness racking his body and mind, occult detective Cal McDonald takes on a new case from an old friend—Frankenstein's monster. To solve the case, Cal seeks help from a man billed as "the world's foremost authority on the supernatural." Cal must trust this wealthy entertainer to save his friends and cure his illness. But that trust leads down a dangerous path that will leave Cal changed forever. Collects the four-issue miniseries.
• A perfect starting point for new readers!

2013 Eisner Award and Harvey Award Winner!
Dark Horse Presents #35
Stan Sakai (W/A), Justin Aclin (W), Chad Lambert (W), Dean Motter (W/A/Cover), Mike Richardson (W), Michael T. Gilbert (W/A), Dennis Culver (W/A), Christopher Sebela (W), Darrin Grimwood (W), Brendan McCarthy (W/A), Jamie S. Rich (W), Nicolás Daniel Selma (A), Apri Kusbiantoro (A), Ron Chan (A), Brian Churilla (A), and Brent Schoonover (A)
On sale Apr 16
FC, 80 pages
$7.99
Ongoing
Stan Sakai's rabbit ronin returns to Dark Horse Presents with a full-color story! Chad Lambert and Apri Kusbiantoro tell another tale of the backstage world behind life in radio! A new chapter in the secret lives of teddy bears is revealed! And long-running serial Integer City comes to its exciting conclusion!
Plus, new installments of Cruel Biology, S.H.O.O.T. First, The Deleted, Davey Jones, Mister X, and Mr. Monster!
"Dark Horse's prestigious anthology series . . . showcases emerging talent alongside some of the greatest writers, artists and cartoonists comics has to offer."—ComicsAlliance
"I've read a lot of comics anthologies in my time and it's not often that I've seen such a consistently high level of quality throughout." —Comic Bastards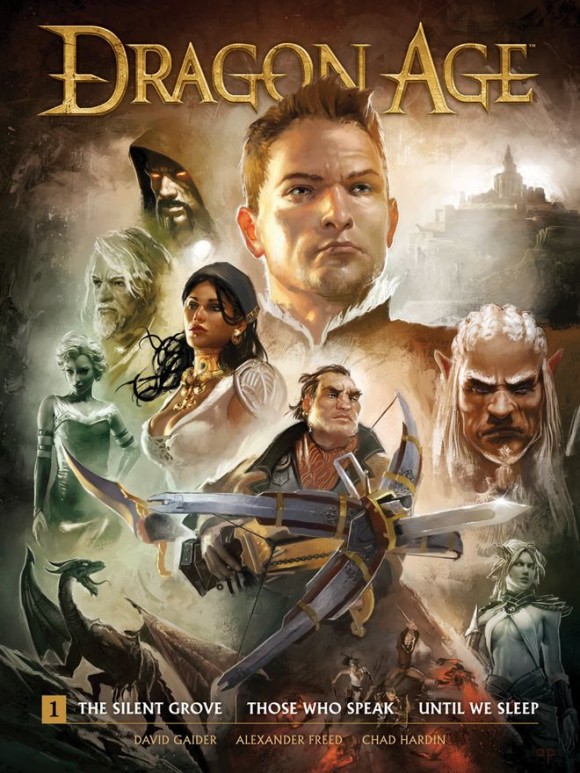 FROM LEAD WRITER DAVID GAIDER!
Dragon Age Library Edition Volume 1 HC
David Gaider (W), Alexander Freed (W), Chad Hardin (A), Michael Atiyeh ©, and Anthony Palumbo (Cover)
On sale June 4
FC, 232 pages
$39.99
HC, 9" x 12"
Helping set the stage for BioWare's hotly anticipated Dragon Age: Inquisition, this deluxe oversized hardcover collects every Dark Horse Dragon Age comic to date—The Silent Grove, Those Who Speak, and Until We Sleep—an epic trilogy complete in one volume, written by Dragon Age lead writer David Gaider!
• Prepare for Dragon Age: Inquisition!
• Featuring annotations from the creators!
• An essential addition to the Dragon Age canon!
"The industry needs to take note, if you want to do a comic book video game tie-in; you follow the blueprint that this title has set." —Comic Bastards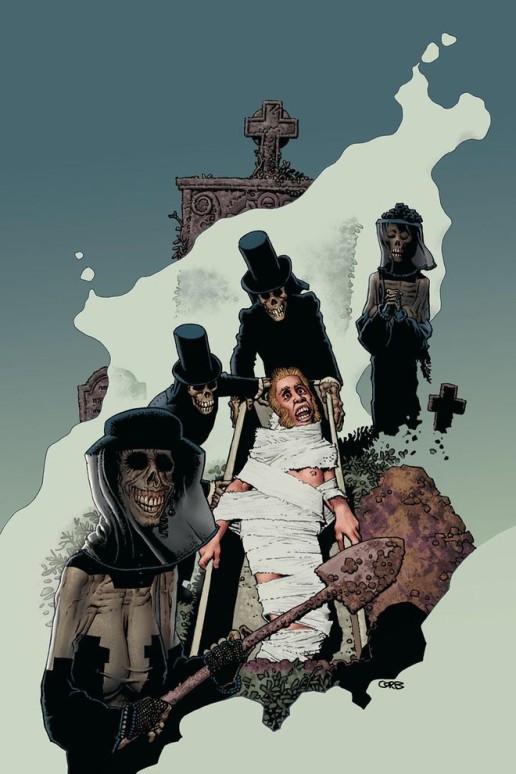 Eisner Award Hall of Famer Richard Corben!
Edgar Allan Poe's The Premature Burial
Richard Corben (W/A/Cover)
On sale Apr 2
FC, 32 pages
$3.99
One-shot
The fear of being buried alive is presented in two horrifying Poe adaptations by Eisner Hall of Fame inductee Richard Corben—"The Premature Burial" and "The Cask of Amontillado."
"Richard Corben's art. Man, the guy just gets better and better. There is no plateau. Corben is like an aged single malt whisky, with depth and maturity added by years."—Comics Bulletin

Eisner and Harvey winner Evan Dorkin!
The Eltingville Club #1
Evan Dorkin (W/A/Cover)
On sale Apr 23
FC, 32 pages
$3.99
One-shot
After twenty years, three Eisner Awards, and a smattering of hate mail, the Eltingville Comic Book, Science-Fiction, Fantasy, Horror, and Role-Playing Club is finally breaking up. When Bill's dream job in a comic shop turns into a nightmare for the club, more than bridges and membership cards are burned in a fiery, fan-tastic finale!
• From the creator of Beasts of Burden and Milk & Cheese.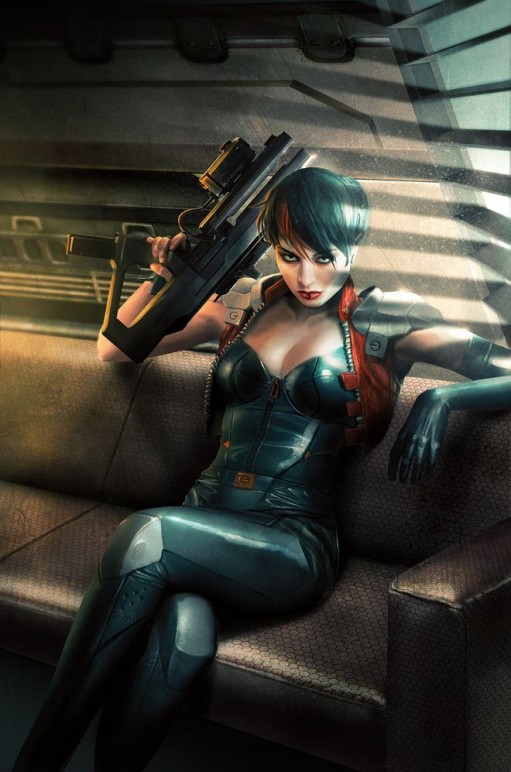 One of the greatest multiplayer online role-playing games!
EVE: True Stories HC
Daniel Way (W), Alejandro Aragon (A), Tomm Coker (A), Federico Dallocchio (A), Daniel Warren Johnson (A), Michael Atiyeh ©, Jean-Sebastien Rossbach (Cover)
On sale June 11
FC, 72 pages
$12.99
HC, 7" x 10"
In the early hours of February 5, 2009, one man single-handedly destroyed the aggressive Band of Brothers alliance and brought an end to the Great War, the largest war in the history of EVE Online. Inspired by actual player-driven events within the universe of EVE Online, superstar writer Daniel Way tells the stranger-than-fiction tale of the most popular true story of the last decade!
• An amazing true story from one of online gaming's most massive, multiple award–winning universes!
• Subscriber base is over half a million users, composing one of video game's most dedicated communities!
Fear Agent Volume 3: The Last Goodbye 2nd edition TP
Rick Remender (W/I), Tony Moore (P/Cover), Ande Parks (I), and Lee Loughridge ©
On sale June 4
FC, 104 pages
$16.99
TP, 7" x 10"
Fan-favorite creators Rick Remender and Tony Moore reunite to tell the pulse-pounding origin of the last Fear Agent! When Earth is attacked by the three feuding alien races, obliterating almost all life on the planet, weary trucker Heath Huston and his wife Charlotte face a living nightmare! Collects issues #12-#15.
• From Rick Remender (Captain America, Uncanny X-Force) and Tony Moore (The Walking Dead)!
• A sci-fi homage to Two-Fisted Tales and the war comics of the EC era.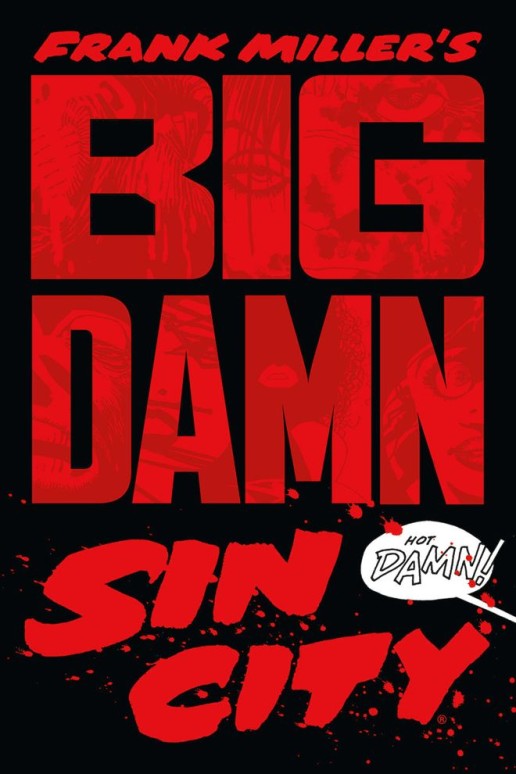 AS DAMN BIG AS THEY COME!
Frank Miller's Big Damn Sin City HC
Frank Miller (W/A/Cover) and Lynn Varley ©
On sale June 25
b&w/FC, 1,360 pages
$100.00
HC, 8" x 12 3/16"
The biggest, baddest Sin City ever is here, just in time for fall's Sin City: A Dame to Kill For! This imposing volume, suitable for home defense, contains all seven of Frank Miller's landmark Sin City yarns! In these tales of Marv, Dwight, Gail, Miho, Hartigan, Nancy, and the Yellow Bastard, no corner of Basin City is left unturned, and no bloody deed is left undone. Written with unmatched intensity and drawn in the starkest black-and-white imaginable, with blood-red bits of color, among others, the Sin City books make up the greatest crime saga in comics history, and Big Damn Sin City is the best way to rediscover the whole darn shootin' match!
• Every blood-soaked page of Sin City to date!
• Over one million Sin City books in print!

FRANK MILLER!
Frank Miller: The Art of Sin City TP
Frank Miller (W/A/Cover)
On sale June 25
b&w/FC, 128 pages
$25.00
TP, 9" x 12"
Frank Miller's Sin City has set the gold standard for crime comics, both for Miller's unflinching stories and for his visceral, powerfully charged art. To honor the artist and his groundbreaking work, Dark Horse is proud to return Frank Miller: The Art of Sin City to print, now in an affordable softcover edition. An astonishing look into a master's process, containing pieces both published and unpublished, and featuring items ranging from preliminary sketches to promotional images, this beautiful artistic showcase holds everything a Sin City fan, or connoisseur of fine art, could ever hope for.
• The out-of-print masterpiece, now in softcover!
• Available just in time for the release of Miller and Robert Rodriguez's Sin City: A Dame to Kill For!
• Includes rarely seen art!
• Introduction by art historian R. C. Harvey!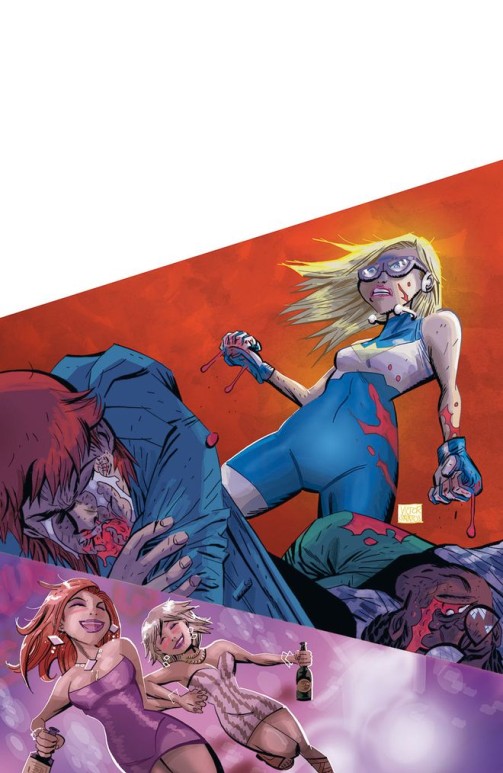 Furious #4 (of 5)
Bryan J. L. Glass (W) and Victor Santos (A/C/Cover)
On sale Apr 30
FC, 32 pages
$3.99
Miniseries
An innocent man is dead because of Furious, and she's not going to rest—or feel less guilty—until she finds his killer! Returning to the scene of the crime, she takes out her anger on any punk in sight, but is she after justice or just trying to bury her guilt beneath a beating?
• The creators of the Harvey Award–winning Mice Templar join forces again for a creator-owned superhero series!

A EULOGY FOR GHOST!
Ghost #4
Kelly Sue DeConnick (W), Ariel Olivetti (Cover)
On sale Apr 2
FC, 32 pages
$2.99
Ongoing
While Ghost is out busting Chicago's scum, her friends discover a eulogy written for Elisa Cameron's funeral. It speaks of her idyllic childhood . . . and a tragic loss of innocence! One woman's quest for justice comes into focus as past and present meld and the hero now known as Ghost is born!
• Kelly Sue DeConnick (Captain Marvel, Avenging Spider-Man) pens a poignant epilogue to the "White City Butcher" arc.
"Grindhouse is a hit. It's wild, it's crazy, and it's for adults."—Comic Book Therapy
Grindhouse: Doors Open at Midnight #7 (of


Alex de Campi (W), Gary Erskine (A), and Francesco Francavilla (Cover)
On sale Apr 2
FC, 32 pages
$3.99
Miniseries
Lace up for the "Flesh Feast"! Built on the site of a Puritan-era curse, Camp Oneida is better known today for vicious hockey matches and even more intense pie fights! But when the Devil Doll returns to seduce and kill once more, the Oneida hockey girls make with the high-sticking!
• Gary Erskine (Judge Dredd, The Mask) joins the mayhem!
• Alex de Campi (Smoke, Valentine) brings her blood-and-guts A-game!
An essential addition to the Halo canon!
Halo: Escalation #5
Chris Schlerf (W), Ricardo Sánchez §, Rob Lean (I), Michael Atiyeh ©, and Anthony Palumbo (Cover)
On sale Apr 23
FC, 32 pages
$3.99
Ongoing
Missing for thirty years, a legendary UNSC warship is discovered deep behind enemy lines. As Infinity plans a rescue mission, however, Admiral Hood's past with the ship's captain threatens to jeopardize the mission. The investigation into the UNSC saboteur continues as the journalist infiltrates an Elite holy land in search of answers.
• An all-new ongoing series from Dark Horse!
• The franchise has sales eclipsing $3 billion over its lifetime!
• From Christopher Schlerf, lead writer of Halo 4!
https://imagizer.imageshack.us/v2/509x774q90/10/vq79.jpg
The exterminators become the exterminated!?!?
Juice Squeezers #4 (of 4)
David Lapham (W/A/Cover) and Lee Loughridge ©
On sale Apr 2
FC, 32 pages
$3.99
Miniseries
The deadliest bug battle in the history of Weeville is imminent when the Juice Squeezers awaken the dormant horde below Valley May Farms! But what secrets hide below the surface? If he can live through the insect onslaught, the newest Squeezer might just find something truly unbelievable!
• Eisner Award winner David Lapham (Stray Bullets, The Strain) writes and draws his first creator-owned series since 2009's Young Liars!
• Featured in Free Comic Book Day 2014!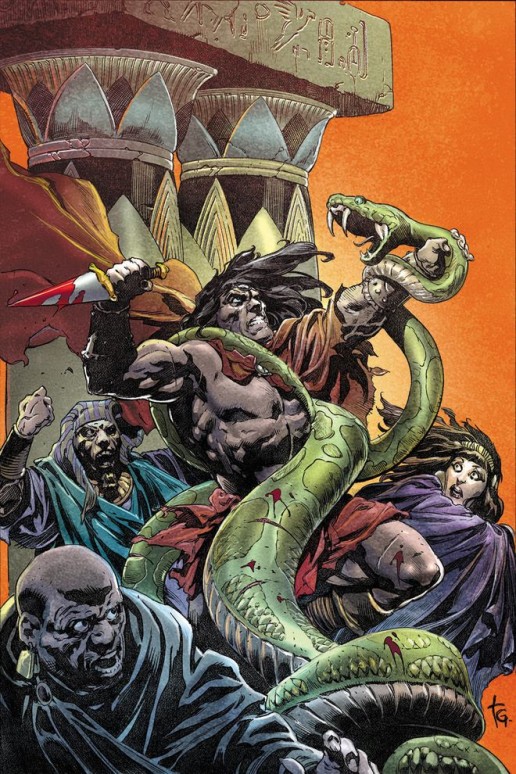 A CITY OF SERPENTS!
King Conan: The Conqueror #3 (of 6)
Timothy Truman (W), Tomás Giorello (A/Cover), and José Villarrubia ©
On sale Apr 30
FC, 32 pages
$3.50
Miniseries
The exiled barbarian king's frantic quest for the mystical Heart of Ahriman leads him to a Stygian city enthralled by a bloodthirsty serpent god! To regain his crown, Conan will have to contend with powerful priests, mad disciples, and slithering monsters—before descending into a dark maze of horrors!
• Continuing the acclaimed Hour of the Dragon adaptation!
• Truman, Giorello, and Villarrubia continue to astonish!
Lobster Johnson: Get the Lobster #3 (of 5)
Mike Mignola (W), John Arcudi (W), Tonci Zonjic (A/Cover), and Dave Stewart ©
On sale Apr 2
FC, 32 pages
$3.99
Miniseries
All police resources are shifted to taking down Lobster Johnson after a vicious grenade fight in the NY streets. Meanwhile, bank vaults all around the city are exploding. Lobster knows it's a trap, but justice is not afraid of traps.
"Lobster Johnson seems like the sort of deus ex machina hero who will watch and wait and provides the necessary thrills to justify every cent spent on this comic." —Comic Book Resources

Marvel Classic Character: X-Men 94 #2—Wolverine
On sale June 18
Packaged in a custom litho-printed tin box, containing character booklet and unique pin back button. Limited to 750 numbered copies
$49.95
The debut of Wolverine, who first appeared in Hulk #181 as a member of the X-Men, marks a milestone in comics history. One of the most popular Marvel characters, the Canadian-born hero known simply as Logan has spawned his own comic series, his own movies, and a plethora of collectibles. We are delighted to give him the Syroco-style treatment.

Mass Effect Alliance Shuttle Replica
On sale July 16
Measuring 6 1/4" x 3" on custom base
$39.99
The Systems Alliance represents humanity's economic, political, and military reach throughout the galaxy. Dark Horse has been bringing forward a well-received series of replicas of the Alliance's most notable ships.
The Systems Alliance drop shuttles, nicknamed "combat cockroaches," can carry up to fourteen people, including pilot and copilot. They have minimal weaponry in favor of stealth masking systems.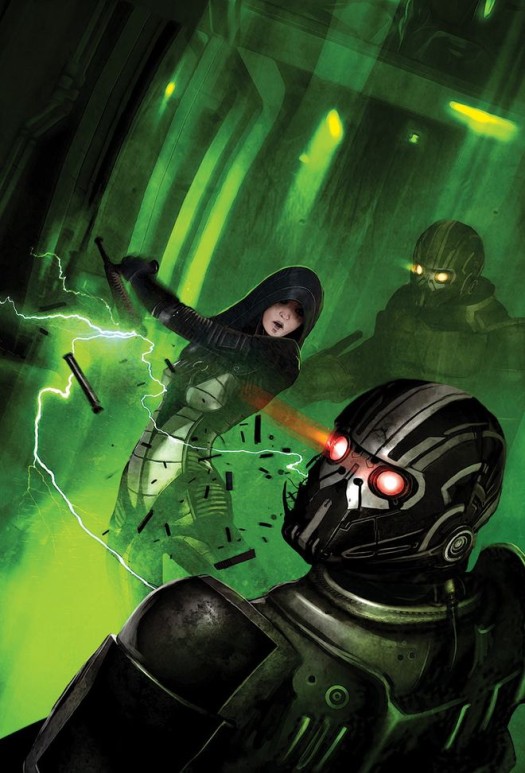 "5 Stars!"–Unleash the Fanboy
Mass Effect: Foundation #10
Mac Walters (W), Tony Parker (A), Michael Atiyeh ©, and Benjamin Carré (Cover)
On sale Apr 23
FC, 32 pages
$3.99
Ongoing
Before joining Shepard, master thief Kasumi Goto was known as the most skilled burglar in populated space. Witness her early adventures as she pilfers from the galaxy's most elite—and most dangerous!
• Written by Mac Walters, lead writer of Mass Effect 2 and 3!
• A canonical entry in the Mass Effect series!
• Ties directly into Mass Effect 2!
"Mass Effect's lead writer does it again in this next installment of the sci-fi franchise." —Culture Mass

"You definitely should add this to your pull list."–Florida Geek Scene
Mass Effect: Foundation Volume 2 TP
Mac Walters (W), Matthew Clark §, Garry Brown §, Tony Parker §, Drew Geraci (I), Sean Parsons (I), Michael Atiyeh ©, and Benjamin Carré (Cover)
On sale June 4
FC, 120 pages
$16.99
TP, 7" x 10"
Follow Miranda Lawson and Jacob Taylor as they chase Commander Shepard to the lawless and dangerous Terminus Systems, where no training can prepare them for what they'll find! Then, join the beautiful and cunning Agent Rasa as she hunts Jack, the lethal biotic powerhouse, and crosses paths with the deadly master assassin Thane Krios! Collects Mass Effect: Foundation #5-#8.
• Art by Matthew Clark (Supergirl, Ghost Rider), Garry Brown (The Massive), and Tony Parker (X)!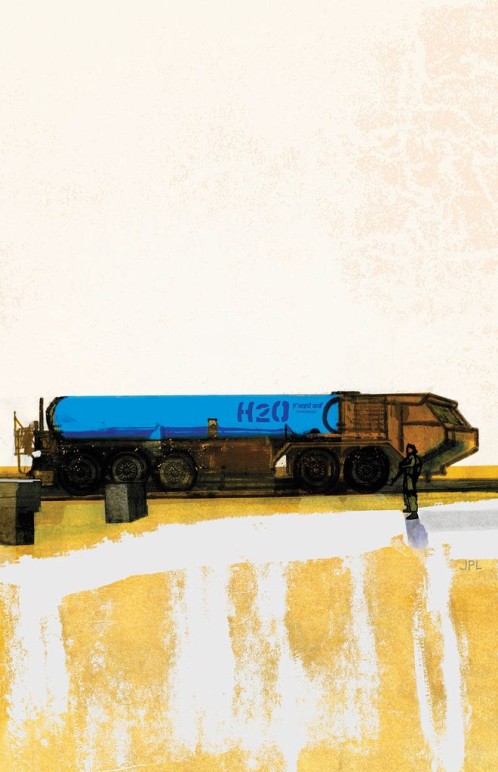 Access to clean water could save millions . . .
The Massive #22
Brian Wood (W), Danijel Zezelj (A), Jordie Bellaire ©, and J. P. Leon (Cover)
On sale Apr 23
FC, 32 pages
$3.50
Ongoing
Roaring across North Africa, a five-mile-long convoy of water trucks represents life for millions of people. Local soldiers sign on as security, and it's a high-risk job to repel pirates, saboteurs, and well-armed warlords in 120-degree heat. So why is Mary here?
"If you liked Wood's work on DMZ, or if you just want to read a comic book with some brains, you should take the money you would otherwise spend on a superhero title and give [The Massive] a shot instead."—Complex

The Massive Volume 3: Longship TP
Brian Wood (W), Garry Brown (A), Jordie Bellaire ©, and J. P. Leon (Cover)
On sale June 25
FC, 152 pages
$19.99
TP, 7" x 10"
In Longship, Callum Israel and Ninth Wave go head to head with a disgraced comrade threatening nuclear war, a rogue faction of the US Navy working as pirates in New York Harbor, and a colony of Norwegian whalers who hunt in the Viking tradition. Collects issues #13–#18 of The Massive.
• From New York Times bestselling author Brian Wood.
"Few could interpret this bleak and threatening world better than [Garry] Brown."—Comic Book Resources
New York Times bestseller!
Mind Mgmt #21
Matt Kindt (W/A/Cover)
On sale Apr 23
FC, 24 pages
$3.99
Ongoing
MIND MGMT goes quiet this month in a special "silent" issue! But in a world of psychics and mind readers, silence screams louder than words!
• Comics visionary Matt Kindt (3 Story) reinvents the silent issue!
• Immortals! Siamese twin assassins! Fights! Thoughts!
• Comics' most innovative series.

The biggest anime franchise of the last 20 years!
Neon Genesis Evangelion: The Shinji Ikari Raising Project Volume 14 TP
Osamu Takahashi (W/A/Cover)
On sale June 18
b&w, 176 pages
$9.99
TP, 5 1/8" x 7 1/4"
High intelligence and low wisdom—that's how they roll deep inside the Artificial Evolution Research Center, and no section is deeper than the one in which Asuka's brilliant but flaky mother Kyoko resides. Surely she didn't spend all those years in graduate computer science just to open up a maid café? You might think so, but remember—she's smarter than you.
• The new anime movie, Neon Genesis Evangelion: 3.33 You Can (Not) Redo is available from Funimation.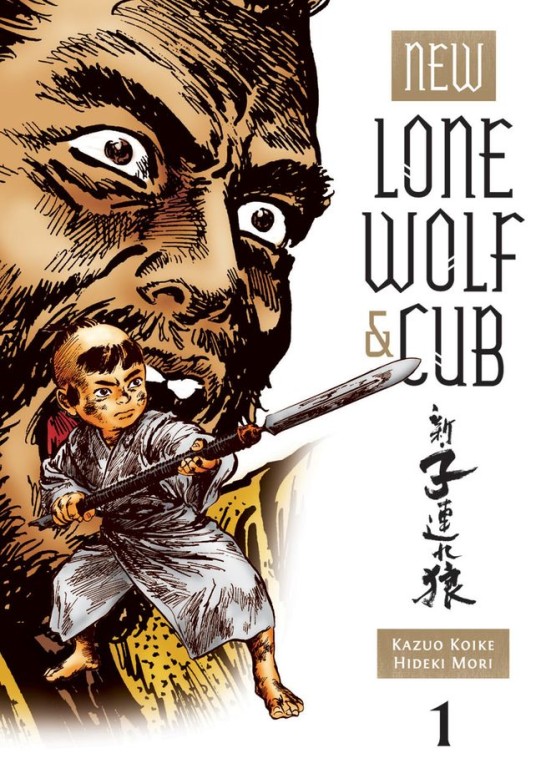 AT LAST THE STORY CONTINUES!
New Lone Wolf & Cub Volume 1 TP
Kazuo Koike (W) and Hideki Mori (A/Cover)
On sale June 4
b&w, 216 pages
$13.99
TP, 5" x 7 1/8"
Kazuo Koike returns to Lone Wolf and Cub with an epic sequel, New Lone Wolf and Cub. Ogami Itto, the Lone Wolf, and his nemesis, Yagyu Retsudo, lie dead after their titanic duel. Ogami's young son, Daigoro, stays at his father's side, and none dares help the child—save Togo Shigetada, a samurai on a desperate and deadly mission of his own!
• Over one million copies sold of the original Dark Horse editions.
• Lone Wolf and Cub omnibus program is collecting the entirety of the original series in value-priced editions.
• Presented uncut and in authentic right-to-left reading format.
A NEW LONE WOLF from Kazuo Koike!

Multiple Eisner Award winner!
Nexus Omnibus Volume 5 TP
Mike Baron (W), Steve Rude (P/Cover), Paul Smith §, Adam Hughes §, John Nyberg (I), Les Dorscheid ©, and others
On sale June 4
FC, 440 pages
$24.99
TP, 6" x 9"
When Horatio Hellpop resigns as Nexus, the mantle of cosmic executioner falls to the vengeful and dangerous Loomis sisters. It isn't long before the amazing power that accompanies the office begins to corrupt Stacy and Michana Loomis, and the nigh-omnipotent Merk must supplant them with a new, nobler host! Collects issues #53–#65 of Nexus volume 2 and issues #2–#4 of The Next Nexus!
• Features early work from Adam Hughes, Peter David, and Phil Hester!
• Over 400 pages!
The Occultist Volume 2: At Death's Door TP
Tim Seeley (W), Mike Norton (A), Allen Passalaqua ©, and Steve Morris (Cover)
On sale June 25
FC, 136 pages
$16.99
TP, 7" x 10
The Occultist has been tricked into abusing his power over life and death, and now he must face the consequences. He must choose the right path—and decide who his real friends are—so he can confront agents from the realm of the dead that want to claim his soul! Collects The Occultist #1–#5.
• From the creative team of Revival!
"It's one of if not the best book I've read this week." —Comic Bastards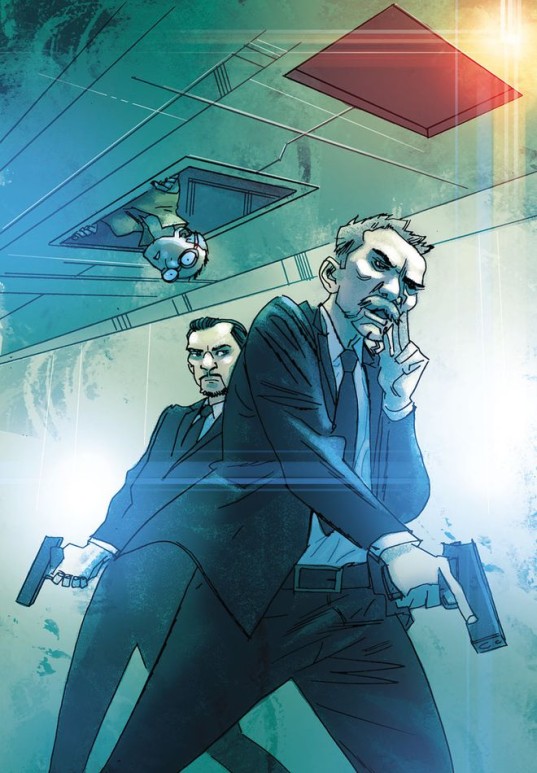 Genetically modified geniuses on the run!
Pariah #3 (of


Aron Warner (W), Philip Gelatt (W), and Brett Weldele (A/Cover)
On sale Apr 30
FC, 32 pages
$3.99
Miniseries
The last Vitro on Earth devises a plan to cut off government control of the Vitro satellite in order to free his comrades in space.
• Created by Academy Award winner Aron Warner (Shrek).
• Art by Eisner-nominated painter Brett Weldele (The Surrogates).
• Written by Philip Gelatt (Petrograd).

The Portent: Ashes TP
Peter Bergting (W/A/Cover)
On sale June 18
FC, 144 pages
$17.99
TP, 7" x 10"
A wood nymph has returned alone from the realm of the dead to find her dying world overwhelmed with powerful warlocks, vengeful spirits, demons, and witches.
• An all-new, self-contained story by Domovoi creator Peter Bergting.
Praise for Domovoi:
"Beautifully drawn new graphic novel." —Den of Geek
Robert E. Howard's Savage Sword #8
John Arcudi (W), Gary Chaloner (W/A), Dan Jolley (W), Roy Thomas (W), Paul Tobin (W), Alberto Alburquerque (A), Franck Biancarelli (A), John Buscema (A), John Nadeau (A), Philip Tan (Cover)
On sale June 4
FC, 80 pages
$7.99
Ongoing
Eighty pages of adventure from the mind of pulp master Robert E. Howard! Solomon Kane comes to the rescue in a wolf-infested forest, while Conrad and Kirowan plumb the depths of the supernatural . . . plus more pioneering adventures of Breckinridge Elkins and an original Conan story by John Arcudi!
• An original, haunting story of globetrotting adventurers Conrad and Kirowan!
• Featuring adventurous poetry in the tradition of "Solomon Kane's Homecoming."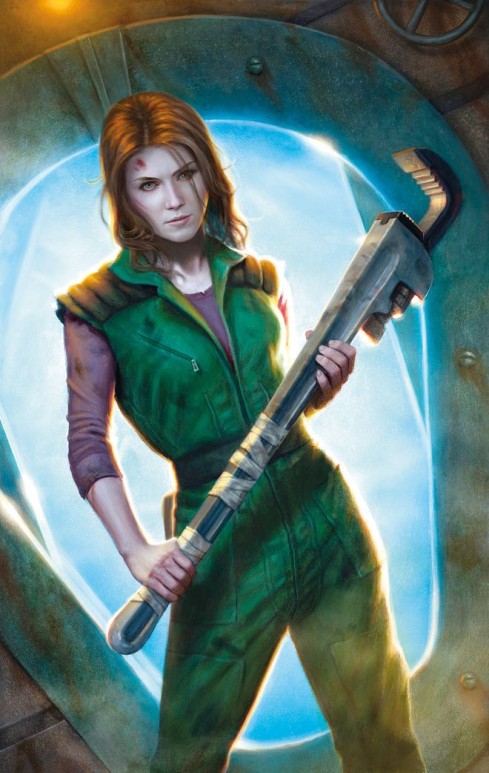 #WheresSerenity?
Serenity: Leaves on the Wind #4 (of 6)
Zack Whedon (W), Georges Jeanty (P/Variant cover), Karl Story (I), Laura Martin ©, and Dan Dos Santos (Cover)
On sale Apr 30
FC, 32 pages
$3.50
Miniseries
With help from the New Resistance, Mal and Serenity's crew are crashing the secret Alliance facility from which River was rescued. She is certain they need to go there—now. Meanwhile, Zoe is in Alliance custody where she discovers that there is more immediate danger from fellow prisoners than anyone else . .
• Buffy's Season 8 and 9 artist conquers the galaxy!
• Zack Whedon returns to Serenity!
• The story finally continues after the film!
• Executive produced by Joss Whedon!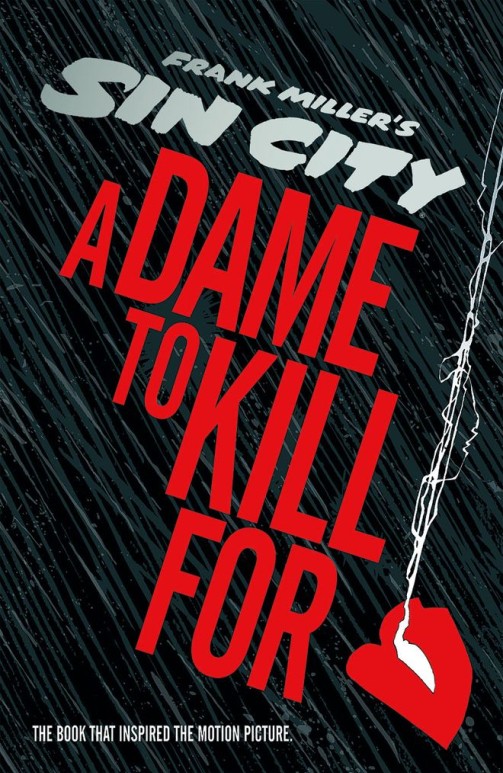 Sin City: A Dame to Kill For HC
Frank Miller (W/A/Cover)
On sale June 25
b&w, 216 pages
$25.00
HC, 7" x 10"
Stuck with nothing but a seedy gumshoe job and some demons, Dwight's thinking of all the ways he's screwed up and what he'd give for one clear chance to wipe the slate clean, to dig his way out of the numb gray hell that is his life. And he'd give anything. Just to feel the fire. One more time. But he can't let himself lose control again, can't ever let the monster out. And then Ava calls.
• Eisner Award winner for Best Limited Series!
• Back in hardcover for the first time in years!

Skyman #4 (of 4)
Joshua Hale Fialkov (W), Manuel Garcia §, Javier Bergantiño Menor (I), Marta Martinez Garcia ©, and Freddie Williams II and Dan Scott (Cover)
On sale Apr 16
FC, 32 pages
$2.99
Miniseries
Fighting for his life thousands of feet above the ground, Skyman faces off against the people who made him a hero—and if he fails, he falls! Literally!
They tried to make the perfect weapon, but they got a hero instead. And Skyman intends to act like one, even if it costs him his life!
• Joshua Hale Fialkov (Hunger, The Bunker) and Manuel Garcia (Bloodshot) deliver a new kind of Dark Horse hero!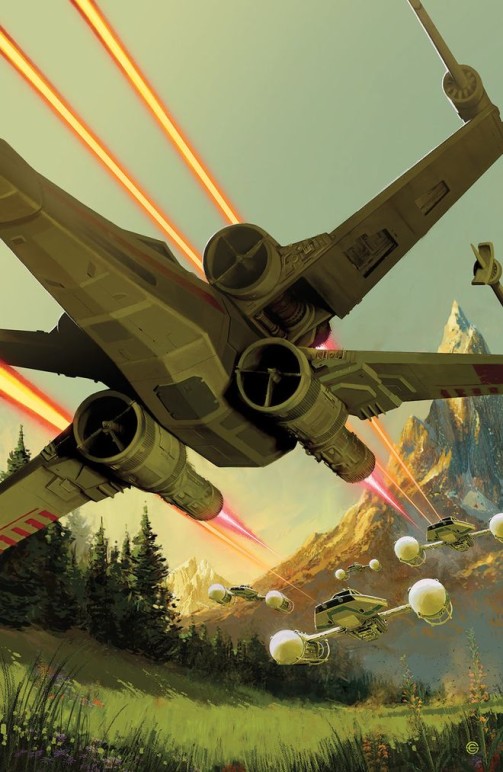 Star Wars #16
Brian Wood (W), Stéphane Créty §, Julien Hugonnard-Bert (I), Gabe Eltaeb ©, and Sean Cooke (Cover)
On sale April 9
FC, 32 pages
$2.99
Ongoing
Establishing the new Rebel base on Arrochar, Wedge Antilles teaches the local pilots Rogue Squadron's secret tactics, Luke Skywalker joins the Arrocharian militia on a "routine" mission, and Princess Leia balances her duty to the Rebellion with her upcoming duties as a royal wife. So why is everyone so uneasy?
• Writer Brian Wood gets to the heart of Star Wars!
"This is a great read and has been each and every issue."—Comics List

The Star Wars #7
Jonathan Rinzler (W), Mike Mayhew (A), Rain Beredo ©, and Nick Runge (Cover)
On sale Apr 16
FC, 32 pages
$3.99
Ongoing
When Princess Leia falls into the hands of Darth Vader, General Skywalker, Annikin Starkiller, and Han Solo must go on the offensive against the Galactic Empire. But they have a secret weapon on their side—one that the Imperials have vastly underestimated: Wookiees!
• Official eight-issue adaptation of George Lucas's original rough-draft screenplay for Star Wars!
"If you love Star Wars with every fiber of your being than you will find everything you love about Star Wars in these pages in a new and interesting way." —All-Comic
Trooper vs. trooper!
Star Wars: Darth Vader and the Cry of Shadows #5 (of 5)
Tim Siedell (W), Gabriel Guzman (A), Michael Atiyeh ©, and Felipe Massafera (Cover)
On sale Apr 16
FC, 32 pages
$3.50
Miniseries
Stormtrooper Hock sabotages the remnant Separatists from the inside as they defend against Darth Vader's advancing forces, and fights for his life against a figure from his past. At Vader's side, Hock witnesses firsthand the power and ruthlessness of the man-machine he has followed into battle!
• Tim Siedell (@badbanana) has one of Time's 140 Best Twitter Feeds!
The battle that will decide the future of the Star Wars galaxy!
Star Wars: Dawn of the Jedi Volume 3—Force War TP
John Ostrander (W), Jan Duursema §, Dan Parsons (I), Wes Dzioba ©, and David Michael Beck (Cover)
On sale June 11
FC, 128 pages
$19.99
TP, 7" x 10"
The Rakata, powerful users of the dark side of the Force, have invaded the Tython system to enslave the Je'daii . . . With Forcesabers in hand, the Je'daii fight, led by mad Je'daii Daegen Lok and the mysterious Force Hound Xesh. But when Xesh is captured, the direction of the war is changed . . . Collects Dawn of the Jedi: Force War #1–#5.
"The Force is indeed strong with this one."—Comic Book Resources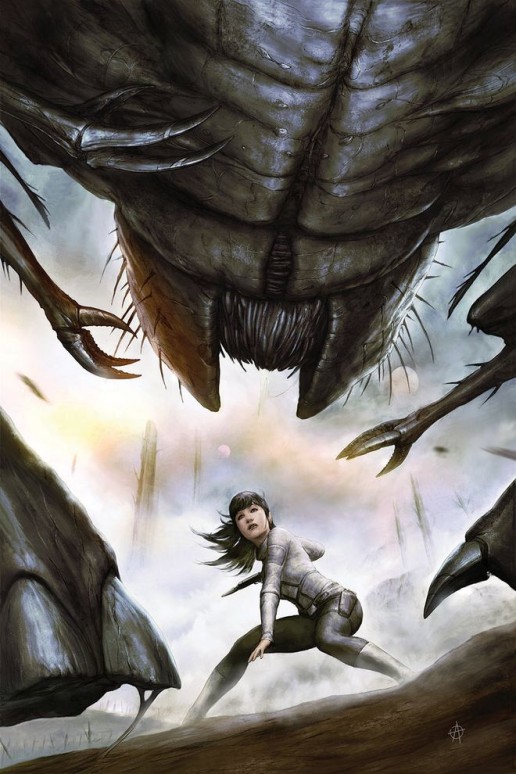 Who IS Ania Solo?
Star Wars: Legacy #14
Corinna Bechko (W), Gabriel Hardman (W/A), Jordan Boyd ©, and Agustin Alessio (Cover)
On sale Apr 23
FC, 32 pages
$2.99
Ongoing
A look into Ania Solo's prison-camp past reveals a secret connection to the brutal bounty hunter who is desperate to bring her to justice—dead, not alive!
But bounty hunters are only part of Ania's problems!
• The answer to "Who is Ania Solo?" is at hand!
"Bechko and Hardman do a fantastic job."—Comic Booked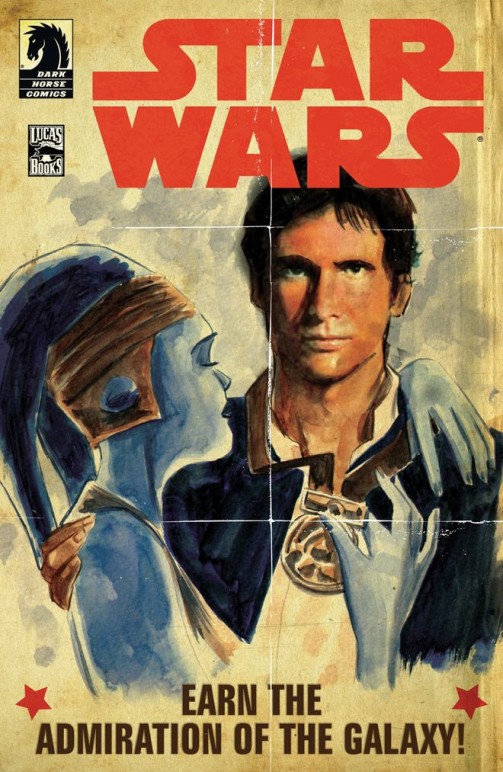 Matt Kindt writes Star Wars!
Star Wars: Rebel Heist #1 (of 4)
Matt Kindt (W/Cover), Marco Castiello §, Dan Parsons (I), Gabe Eltaeb ©, and Adam Hughes (Cover/Sketch Cover)
On sale Apr 30
FC, 32 pages
$3.50
Miniseries
A young Rebel meets one of the Alliance's best for his first mission. But the young man's hero worship is crushed by the reality of Han Solo. A botched escape, a ship that doesn't work—could it be that Solo is just a lucky bumbler whose luck has run out?
• Han Solo–the truth behind the myth!
• Covers by Adam Hughes!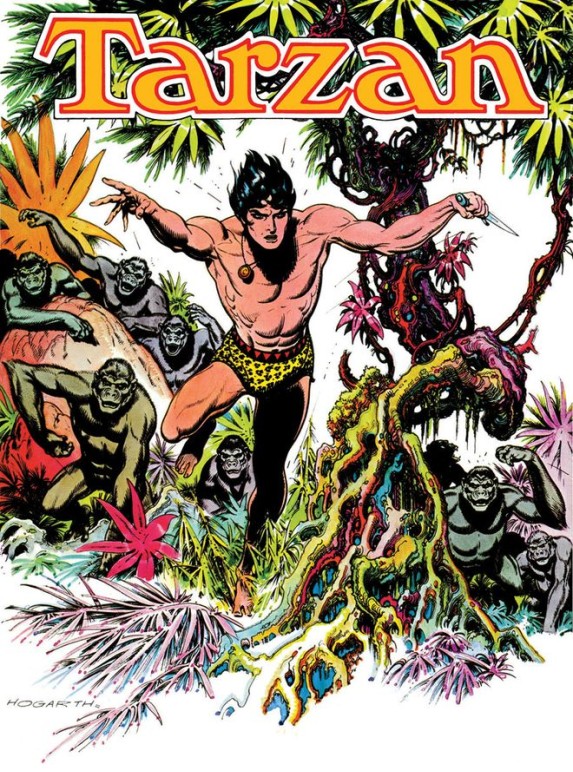 Tarzan—by the legendary Burne Hogarth!
Tarzan: Burne Hogarth's Lord of the Jungle HC
Edgar Rice Burroughs (W) and Burne Hogarth (A/Cover)
On sale June 25
b&w, 264 pages
$49.99
HC, 8 3/8" x 10 7/8"
One of the most influential illustrators ever adapts two of Edgar Rice Burroughs' most beloved Tarzan novels! Burne Hogarth's color Tarzan of the Apes and black-and-white Jungle Tales of Tarzan graphic novels are collected into one deluxe hardcover. Hogarth (Dynamic Anatomy) shines in these lively, lush, and faithful Tarzan adaptations!
• Classic adventure tales from a master illustrator!
• Dazzling, dynamic adventure for every comic-book fan's library!
A NEW TERMINATOR IN THE CLASSIC ERA!
Terminator: Enemy of My Enemy #3 (of 6)
Dan Jolley (W), Jamal Igle (P/Cover), Ray Snyder (I), and Moose Baumann ©
On sale Apr 16
FC, 32 pages
$3.99
Miniseries
With her mission to kidnap biotechnician Elise Fong compromised by the appearance of a massive, seemingly invulnerable killer, ex-CIA operative Farrow Greene calls on all her training for an epic, one-woman war against the stranger! Meanwhile, an army of mercenaries will stop at nothing to capture the Terminator technology!
• Writer Dan Jolley (Bloodhound, Prototype 2) brings the eighties-style action!
• Superstar artist Jamal Igle (Supergirl) turns up the heat!
"Recommended."–Unleash the Fanboy
Terminator Salvation: The Final Battle #5 (of 12)
J. Michael Straczynski (W), Pete Woods (A/Cover), and Matt Wilson ©
On sale Apr 2
FC, 32 pages
$3.99
Miniseries
John Connor's assault on Skynet is met with a devastating counterattack! Controlled by a human serial killer with no loyalty to mankind, the Terminators' deadly mechanical efficiency is now matched with the creativity and pleasure for killing of a murderous psychopath!
• From the mind of superstar writer J. Michael Straczynski (Ten Grand, Amazing Spider-Man, Thor)!
• Pete Woods (Superman, Deadpool) shows us the ultimate man vs. machine battle!

Gail Simone!
Tomb Raider #3
Gail Simone (W), Nicolás Daniel Selma §, Juan Gedeon (I), Michael Atiyeh ©, and Ariel Olivetti (Cover)
On sale Apr 23
FC, 32 pages
$3.50
Ongoing
Lara Croft is on the hunt for the strange force that is terrorizing the survivors of the Endurance crew! As ancient mythological creatures appear to wreak havoc on Lara, so too do the ghosts of her past!
• The official continuation of Lara Croft's story!
• The video game sold over 3.5 million copies in 2013!

Steampunk horror from Jai Nitz!
Toshiro TP
Jai Nitz (W) and Janusz Pawlak (A/Cover)
On sale June 4
FC, 168 pages
$19.99
TP, 7" x 10"
The mechano-samurai Toshiro travels a Victorian clockwork world, battling horrors too dark for mankind. With his mysterious partner, the world-famous adventurer Quicksilver Bob, Toshiro must face Earth's greatest foe yet: the soul-stealing, zombie-creating jellyfish from beyond.
• Genres collide in this adventure where steam-powered tanks clash with katanas!
• Janusz Pawlak's jagged inks and moody watercolors create a world of dread and mystery.
• From the critically acclaimed writer of Dream Thief!
128 pages for only $9.99!
Two Past Midnight TP
Duane Swierczynski (W), Eduardo Francisco (A), Stefani Rennee ©, and Paolo Rivera (Cover)
On sale June 11
FC, 128 pages
$9.99
TP, 7" x 10"
A madman is on the loose. His goal: Shock, awe, panic, and hysteria. Can three disparate heroes—an investigative specter, a psychopathic vigilante, and a time-traveling genius —put aside their differences to defeat this terror-focused sociopath? Find out what happens when Ghost, X, and Captain Midnight meet up in the first crossover of Dark Horse's new superhero comics! Collects the Two Past Midnight Dynamics ePlate comics/Dark Horse Digital issues #1–#5.
• Written by X scribe Duane Swierczynski!
• Cover by Eisner Award–winning artist Paolo Rivera!
• Ghost, X, and Captain Midnight meet for the first time!
https://imagizer.imageshack.us/v2/546x774q90/42/qprr.jpg
Vampire Hunter D Volume 21: Record of the Blood Battle TP
Hideyuki Kikuchi (W) and Yoshitaka Amano (A/Cover)
On sale June 25
b&w, 160 pages
$11.99
TP, 5 1/8" x 7 1/4"
D accompanies a convoy delivering a vampire Noble to face public trial for his crimes against humanity. However, the Noble's enemies have targeted the men and women of the convoy, and they are out for vengeance! Can D bring himself to kill humans in order to protect the Noble under his charge?
• Six new original illustrations from Final Fantasy designer Yoshitaka Amano!
• Presented in English for the first time anywhere!
"Vampire Hunter D is a solid mixture of horror, sci-fi and fantasy." - Otaku USA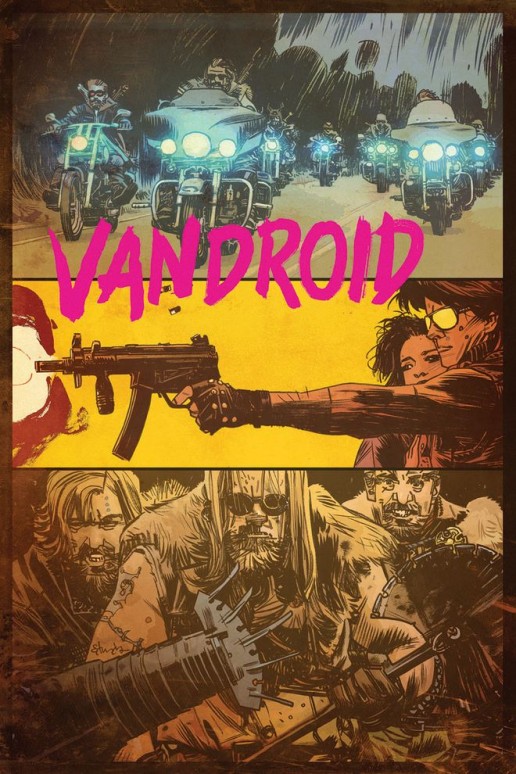 The lost 1980s science fiction classic that never was!
Vandroid #3 (of 5)
Tommy Lee Edwards (W/Cover), Noah Smith (W), and Dan McDaid (A)
On sale Apr 30
FC, 32 pages
$3.99
Miniseries
In this action-packed third issue, Vandroid gets personal! An all-out brawl with the Mighty Oak Biker Club has Vandroid discovering who he really is . . . and it's not what he expected. But when his best friend is in danger, will Vandroid be able to withstand the brutal experimentation of the R&D Gang, or will he become a wiped motherboard?
• Complete the Vandroid experience with the remastered soundtrack from Ed Banger Records and the unearthed 1984 movie trailer at Vandroid.com!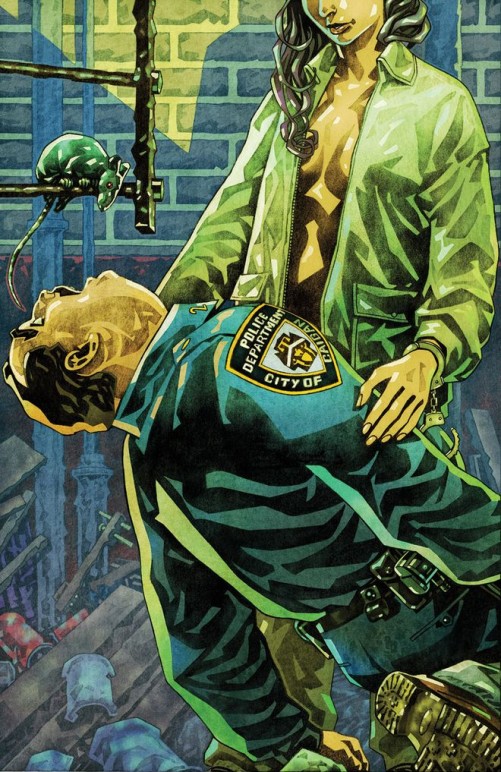 A new mystery from Greg Rucka!
Veil #2 (of 5)
Greg Rucka (W) and Toni Fejzula (A/Cover)
On sale Apr 2
FC, 32 pages
$3.50
Miniseries
A conjuring doesn't work out as planned, and one man's life is in danger . . . but when you have the powers of the devil at your fingertips, how bad can it get? Double-crossed and angry, the mystery man is on the hunt . . . and Veil is his target.
• From Eisner Award–winning writer Greg Rucka (Whiteout, Stumptown, Queen & Country, Gotham Central)!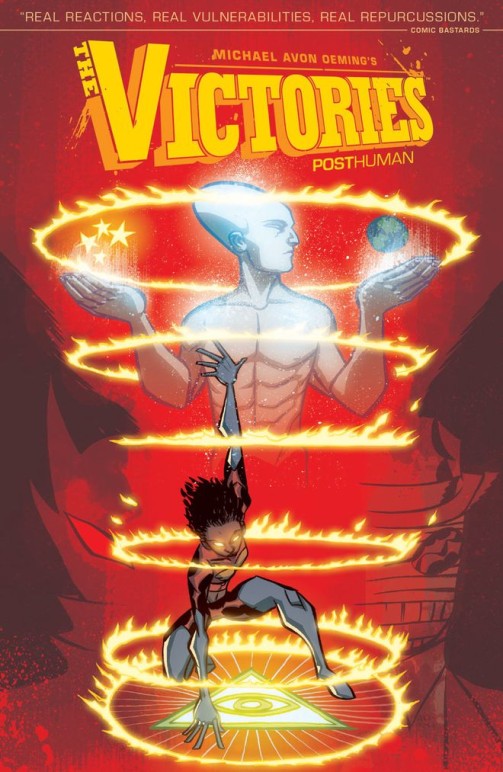 The Victories Volume 3: Posthuman TP
Michael Avon Oeming (W/A/Cover) and Nick Filardi ©
On sale June 11
FC, 136 pages
$17.99
TP, 7" x 10"
With all the superheroes locked in internment camps and one of the world's most powerful heroes a mind slave to the mysterious Advisors, who will save us from this shadowy group taking over the world? Collects The Victories #6–#10.
• By Eisner Award winner Michael Avon Oeming (cocreator of Powers).
• #FindTheVictories.
"This book is perfect in every way."—Comic Bastards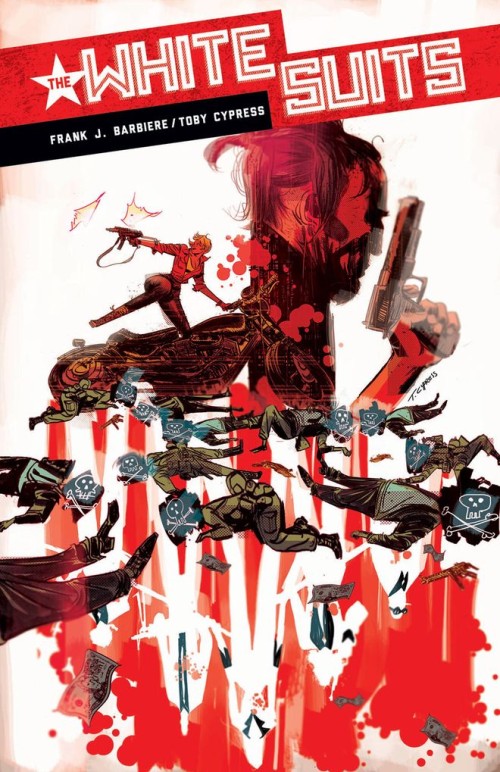 "Lots of guns and mystery."—Comic Attack
The White Suits #3 (of 4)
Frank Barbiere (W) and Toby Cypress (A/Cover)
On sale Apr 16
FC, 32 pages
$3.99
Miniseries
Mob war erupts in Chinatown! In a desperate final gambit, New York's criminal underworld and their Russian mercenaries draw the murderous White Suits into a deadly ambush, with ex-Suit Prizrak and FBI agent Sarah Anderson as hostages. With no way out but death, who will survive the "Kill Box"?
• Violent noir action from Frank Barbiere (Blackout, Five Ghosts) and Toby Cypress (Blue Estate, Predator).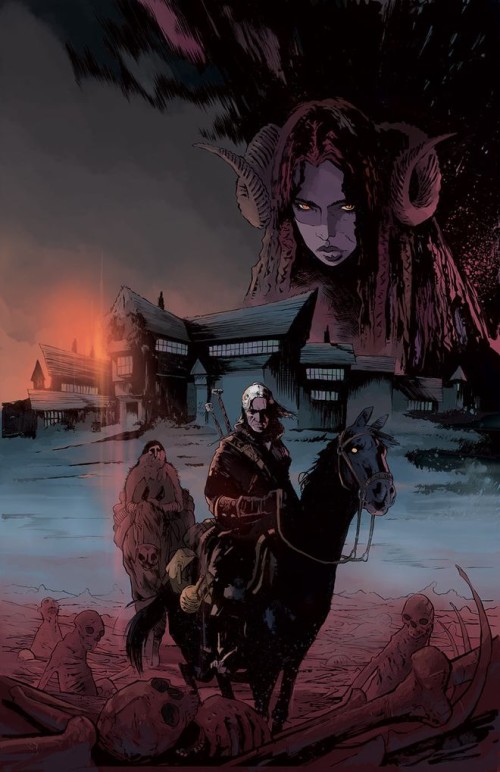 Eisner award winner Paul Tobin!
The Witcher #2 (of 5)
Paul Tobin (W), Joe Querio (A/Cover), and Carlos Badilla ©
On sale Apr 23
FC, 32 pages
$3.99
Miniseries
As our heroes explore the creepy corridors of the House of Glass, monster hunter Geralt faces an army of horrific creatures ready to sink their teeth into him!
• Based on the hit game by CD Projekt Red!
• The Witcher games were collectively granted over 250 awards and sold more then 5.5 million copies worldwide!
• There are currently two games and a third is slated for release in 2014!

"X marks the spot."–Unleash the Fanboy
X #12
Duane Swierczynski (W), Eric Nguyen (A), Michelle Madsen ©, and Garry Brown (Cover)
On sale Apr 9
FC, 32 pages
$2.99
Ongoing
X faces his greatest challenge of the series as four villains—suicidal maniac Deathwish, stargazing supercriminal Carmine Tango, risk-taking assassin Gamble, and a new threat no one suspected—converge on Arcadia's lone vigilante . . . but the cruelest stab of all comes from a friend!
• The bullet-ridden, lacerated climax of the "Siege" arc!
• Cover by Garry Brown (The Massive)!