DARK HORSE COMICS FOR APRIL
Brian Wood (W), Robert Carey (A), Dan Jackson ©, Roberto De La Torre (Cover), and Tristan Jones (Variant Cover)
Amanda Ripley and Zula Hendricks are engaged in a desperate battle on the jungle moon, losing the fight against genetically modified Aliens and synthetics for survival. One desperate, last-ditch, option remains, and the two women are forced to decide how much of a sacrifice they are willing to make.
32 pages, $3.99, in stores on April 24.
AMERICAN GODS: THE MOMENT OF THE STORM #1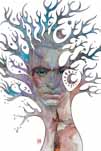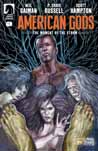 Neil Gaiman (W), P. Craig Russell (W/A), Scott Hampton (A/C), Glenn Fabry (Cover), and David Mack (Variant Cover)
The new and old gods agree to meet in the center of America to exchange the body of the old gods' fallen leader – heading toward the invitable god war in this final arc of the bestselling comics series!
32 pages, $3.99, in stores on April 17.
ANTHEM #3
Alexander Freed (W), Mac Walters (W), Eduardo Francisco (A/Cover), and Michael Atiyeh ©
When rumor of a volatile threat emerges, Jani prepares alongside the other Freelancers for the oncoming attack. Assisted on the field of battle by her adoptive brother Kismet, Jani finds herself sacrificing more than she imagined to save her fellow citizens.
32 pages, $3.99, in stores on April 24.
ASTRO HUSTLE #2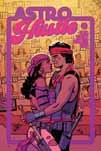 Jai Nitz (W), Tom Reilly (P/Cover), Ursula Decay (I), Chris Crank ©, and Luke Parkes (Back Cover)
Chen breaks out of prison on the banana republic planet of Tidesky and joins up with the pirates of the Pixie Ghost. Will they escape the lawmen hunting them down? Then will Chen escape the pirates when they find out his brother is the President of the Galaxy? Then will Chen escape the bounty hunters of the deep? That's a lot of escaping. He'll probably die.
32 pages, $3.99, in stores on April 3.
AVATAR: TSU 'TEY'S PATH #4
Sherri Smith (W), Jan Duursema §, Dan Parson (I), Wes Dzioba ©, Doug Wheatley (Cover), and Shea Standefer (Variant Cover)
Passion turns to hatred as Tsu'tey and Jake Sully go blade-to-blade! But forces beyond their control have a different fate in store for them – and all of the Na'vi: the humans have come in their sky-ships, ready for a slaughter!
32 pages, $3.99, in stores on April 17.
BAD LUCK CHUCK #2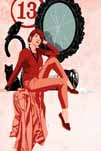 Lela Gwenn (W), Matthew Dow Smith (A/Cover), and Kelly Fitzpatrick ©
A broken mirror gets you seven years of bad luck. Salt was thought to have the same preservative effect on friendship as it had on food, so spilling it was a bad omen. We all know a black cat crossing your path is bad luck, but did you know an upside-down horseshoe represents good fortune spilling out on the ground?
Charlene "Chuck" Manchester hires out her bad luck, providing disaster where someone else can profit. While her enemies rally to take her down, Chuck sees a way out with her new heiress sidekick.
But sometimes her own bad luck is not enough, and Chuck needs to really tempt fate to pay the rent . . .
32 pages, $3.99, in stores on April 24.
BERSERK DELUXE EDITION VOLUME 2 HC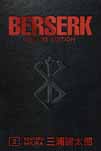 Kentaro Miura (W/A)
The ultimate adult fantasy manga, now in 7"x10" hardcover editions! Raised in torment, young Guts is hardened into a fearsome warrior, drawing the attention of the charismatic Griffith, commander of the elite Band of the Hawk. This crossroads will take Guts to fame and glory . . . and damnation! Collects Berserk volumes 4, 5, and 6.
692 pages, black and white, $49.99, in stores on June 26.
BLACK HAMMER '45: FROM THE WORLD OF BLACK HAMMER #2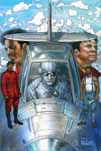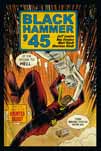 Jeff Lemire (W), Ray Fawkes (W), Matt Kindt (A/Cover), Sharlene Kindt ©, and Glenn Fabry (Variant Cover)
From the World of Black Hammer comes a truly gripping tale of war and intrigue! With their orders to save a family of scientists from the clutches of the Nazi regime, the Black Hammer Squadron are on the move. As they encounter fantastical foes, the elite air-men also find themselves with the aid from a hero Black Hammer readers will find familiar!
32 pages, $3.99, in stores on April 3.
Jeff Lemire (W), Dean Ormston (A/Cover), Dave Stewart ©, and Michel Fiffe (Variant Cover)
With the team coming together, Black Hammer, Abe, and company try to figure out what's happened to throw their lives upside down. Lucy, however, receives a call from an unexpected hero, which thrusts their plan into chaos.
32 pages, $3.99, in stores on April 24.
B.P.R.D.: THE DEVIL YOU KNOW #15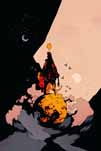 Mike Mignola (W/Cover), Scott Allie (W), Laurence Campbell (P/I), and Dave Stewart ©
After fifteen years of B.P.R.D. comics, the series reaches its explosive conclusion!
32 pages, $3.99, in stores on April 17.
Magdalene Visaggio (W), Corin Howell (A/Cover), Valentina Pinto (C/cover), and James Stokoe (Variant cover)
From the Eisner and GLAAD Media Award-nominated writer of the breakout hit Kim & Kim and DC Comics' Eternity Girl with Gerard Way and artist on IDW's Ghostbusters and X-Files comes this modern day adventure of heroes and monsters. After the mysterious Javelin starts sniping Kate's monster kills, Kate can't seem to get her out of her head. As the one-sided rivalry continues, Kate can't help but feel that there's some connection between Javelin and her ex-wife Sandra, which is throwing her whole process into chaos.
32 pages, $3.99, in stores on April 17.
CITY OF OTHERS: TENTH ANNIVERSARY EDITION HC
Steve Niles (W), Bernie Wrightson (A/Cover), and Jose Villarrubia ©
A masterwork from two horror comics legends in a deluxe oversized edition! From the writer who created 30 Days of Night and the artist who created Swamp Thing comes a horror graphic novel like no other! Stosh Bludowski is a killer, born with the capacity for no apparent human emotion other than rage. Killing comes easy for Blud, and he makes a good living doing what's easy – until the day he meets two jobs in an alley who just won't die, and a grotesque mystery unfolds right in front of him. Soon, the remorseless killer is confronted by a reality he could never imagine, and he will be invited to make a decision once and for all: is he human, or is he Other?
136 pages, $29.99, in stores on June 5.
DANGANRONPA 2: ULTIMATE LUCK AND HOPE AND DESPAIR VOLUME 3 TP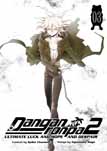 Kyousuke Suga (W/A/Cover)
The conclusion! Caught in the execution procedure by mistake, Fuyuhiko desperately requires emergency aid. But never one to let an evil opportunity slip by, Monokuma uses the medical theme to claim a corpse is required to cure the Despair Disease! But they can't kill someone to save themselves, can they . . . ?
200 pages, black and white, $12.99, in stores on June 5.
DRAGON AGE: THE MASKED EMPIRE DELUXE EDITION HC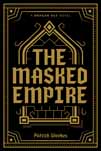 Patrick Weekes (W), Andres Ponce (A), Stefano Martino (A), German Ponce (A), and Alvaro Sarraseca (A)
Empress Celene of Orlais rose to the throne of the most powerful nation in Thedas through wisdom, wit, and ruthless manipulation. Now the empire she has guided into an age of enlightenment is threatened from within by imminent war between the templars and the mages, even as rebellion stirs among the downtrodden elves. This deluxe edition features twenty-four brand-new illustrations by Stefano Martino, Álvaro Sarraseca, Andres Ponce, and German Ponce in an intricately designed foil-stamped hardcover!
368 pages, black and white, $29.99, in stores on June 5.
THE EC ARCHIVES: WEIRD FANTASY VOLUME 4 HC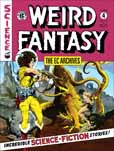 Al Feldstein (W/Cover), Bill Gaines (W), John Severin (A), Bill Elder (A), Jack Kamen (A), Al Williamson (A), Roy Krenkel (A), Joe Orlando (A), Frank Frazetta (A), Reed Crandall (A), Bernie Krigstein (A), Wally Wood (A), Angelo Torres (A), Marie Severin (A/C), George Evans (A), and Carlos Badilla ©
Science Fantasy tales of a weird nature! This classic volume collects issues #19-#22 of the groundbreaking comics anthology Weird Fantasy, as well as #25 and #26 of Weird Science-Fantasy – fully remastered in digital color! Featuring strange and exciting tales from iconic writers and artists including Al Feldstein, Jack Kamen, Wally Wood, Joe Orlando, Al Williamson, and more!
216 pages, $49.99, in stores on June 12.
THE COMPLETE ELFQUEST VOLUME 6 TP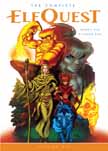 Wendy Pini (W/A/Cover), Richard Pini (W), and Sonny Strait ©
This new treasury of the classic fantasy series by Wendy and Richard Pini collects deeper cuts of canonical backstories and Wolfrider essentials. Discover how humans, looking to escape their own barren lands, invade Bearclaw's forest and cause unseen disaster for the elves. Also collected are stories showcasing the deep bond of brotherhood between Cutter and Skywise. Whether hatching a plan to steal treasure from the Troll King, or dealing with magical madness that reverts one of them to feral wolf-mind, adventure is never far away from these two!
This volume of the New York Times bestselling series weighs in at over 500 pages. It collects short stories and full series including Wolfrider, Homespun,Troll Games, and Soul Names, The Heart's Way, Jury, Wolfshadow, Full Circle, Searcher and the Sword, and The Discovery.
556 pages, $24.99, in stores on June 26.
Chuck Palahniuk (W), Cameron Stewart (A), Dave McCaig ©, David Mack (Cover), and Duncan Fegredo (Variant Cover)
Trying to return to self-help groups doesn't go so well for Balthazar – the narrator from the original Fight Club. The conspiracy behind Die Off Endeavors, the group that replaced Project Mayhem, is more sinister than Tyler realized . . . and it's almost orientation day.
32 pages, $3.99, in stores on April 24.
DISNEY FROZEN: REUNION ROAD #2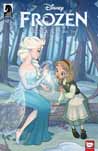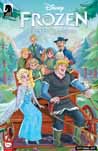 Joe Caramagna (W), Eduard Petrovich §, Nastia Beloushova ©, Yana Chinstova ©, Luisa Russo (Cover), and Carlotta Dicataldo (Varinat Cover)
Traveling to the harvest festival, the group find themselves separated after a harrowing accident. Elsa and Kristoff meet a young girl and her family in the woods who may be able to help . . . Meanwhile, Anna, Kai, Sven, and Olaf search a nearby village for the means to get to Snoob and reunite with the rest of the group – and reunite Kai with his long-lost brother!
32 pages, $3.99, in stores on April 3.
DISNEY THE INCREDIBLES 2: SECRET IDENTITIES #1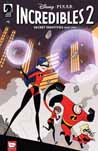 Christos Gage (W), Jean Claudio-Vinci (A/Cover), and Kawaii Creative Studio (Variant Cover)
It's tough being a teenager, and on top of that, a teenager with super powers! Violet feels out of place at school and doesn't fit in with the kids around her . . . until she meets another girl at school—an outsider with powers, just like her! Is this the beginning of a beautiful friendship? Or are powers not the only thing her friend is keeping secret?
32 pages, $3.99, in stores on April 10.
DISNEY THE LION KING: WILD SCHEMES AND CATASTROPHES TP
John Jackson Miller (W) and TBD (A)
A graphic novel anthology expanding on the Disney live-action feature film The Lion King. Journey through Pride Rock and beyond in four stories focusing on the life of Simba as a cub and what awaits him on his path to become the lion king.
72 pages, $10.99, in stores on June 4.
THE GIRL IN THE BAY #3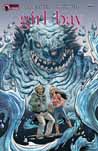 J.M. DeMatteis (W), James Devlin ©, and Corin Howell (A/Cover)
Kathy realizes that the life she remembers might not be her own – while Hugh's gruesome companion is urging him on to murder again . . . with Kathy and another innocent soul as his primary targets.
32 pages, $3.99, in stores on April 6.
HALO: LONE WOLF #4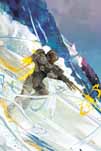 Anne Toole (W), Kieran McKeown §, JL Straw (I), Dan Jackson ©, and Christian Ward (Cover)
In her final confrontation with the rogue scientist Dr. Chen, Spartan Linda-058 and her AI companion find themselves in a race against time to end the threat posed by the disenfranchised doctor and evacuate the endangered civilian settlement before Covenant forces overwhelm them all.
32 pages, $3.99, in stores on April 3.
HALO: LONE WOLF HC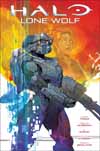 Anne Toole (W), Kieran McKeown §, JL Straw (I), Dan Jackson ©, and Christian Ward (Cover)
Sent on a covert mission without the rest of her team, Spartan Linda-058's skills in infiltration and marksmanship are called upon to end the threat posed by a wanted scientist on a distant planet. With only an ONI AI at her side, Linda must fight through both the dregs of the Covenant and the hostility of a lost human settlement to stop the rogue scientist in his tracks. Collects issues #1-4 of the series.
96 pages, $19.99, in stores on June 12.
H.P. LOVECRAFT'S AT THE MOUNTAINS OF MADNESS VOLUME 1 TP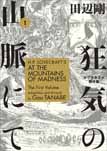 Gou Tanabe (W/A/Cover)
January 25, 1931: an expedition team arrives at a campsite in Antarctica . . . to find its crew of men and sled dogs strewn and dead. But a still more horrific sight is the star-shaped mound of snow nearby . . . for under its five points is a grave – and what lies beneath is not human!
At the Mountains of Madness is a journey into the core of Lovecraft's mythos – the deep caverns and even deeper time of the inhospitable continent where the secret history of our planet is preserved – amidst the ruins of its first civilization, built by the alien Elder Things with the help of their bioengineered monstrosities, the shoggoths. Since it was first published in Astounding Stories during the classic pulp era, At the Mountains of Madness has influenced both horror and science fiction worldwide!
316 pages, $19.99, in stores on June 12.
I AM A HERO OMNIBUS VOLUME 10 TP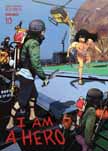 Kengo Hanazawa (W/A/Cover)
An odd observer in Barcelona pieces together the puzzle of the ZQN infestation before creator Kengo Hanazawa takes readers back to Japan and our remaining human survivors. Hideo and Hiromi discover something else that connects the two of them, as they head to Tokyo with a new ally. The penultimate volume in this omnibus series! The penultimate collection! The end is near! Huge secrets are revealed!
384 pages, black and white, $19.99, in stores on June 19.
INVISIBLE KINGDOM #2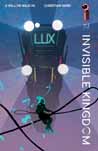 G.Willow Wilson (W) and Christian Ward (A/C/Cover)
After her shocking discovery of religious corruption, Vess must choose between quiet obedience in the monastery, and deafening truth . . . in exile. Meanwhile, Grix learns that Lux will stop at nothing to keep her newfound knowledge from leaking, and decides to make a break for it. Both women might feel terribly alone – but not for much longer.
32 pages, $3.99, in stores on April 24.
JOE GOLEM: OCCULT DETECTIVE VOLUME 3 – THE DROWNING CITY HC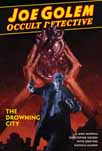 Mike Mignola (W), Christopher Golden (W), Peter Bergting (A), Michelle Madsen ©, and Dave Palumbo (Cover)
A chilling new adventure unfolds as Joe Golem investigates the kidnapping of a conjuror and the strange men who took him. Aided by the victim's ward, a spunky teenage girl, the detective soon finds that otherworldly forces are at work. The only way to stop the madman behind the kidnapping and occult activities is to locate a strange object known as Lector's Pentajulum. But how can they locate it, who else is trying to track it down, and how can it save both them and the city? Collects issues #1-#5 of the series, plus bonus material.
144 pages, $24.99, in stores on June 19.
LIGHTSTEP #5
Milos Slavkovic (W/A/Cover) and Mirko Topalski (W)
An assassin is out for Jazzman's blood – seeking revenge for a promise broken years ago. Or was it just yesterday? Relativity encounters immortality and friends who have become old enemies are reunited in a quest for a secret that may save the galaxy . . . hidden in a radio play from the 1930s!
32 pages, $3.99, in stores on April 3.
MIND MGMT OMNIBUS PART 2: THE HOME MAKER AND THE MAGICIAN TP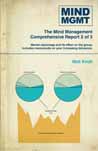 Matt Kindt (W/A/Cover)
Meru's hunt for answers about the dismantled government Mind MGMT program and its rogue agent Henry Lyme lead her to confront super spies, the competing mission of the deadly agent "the Eraser," and discover some buried memories of her own. Collects volumes 3 and 4 of the Mind MGMT series – a story that's optioned for film by Ridley Scott.
360 pages, $24.99, in stores on June 5.
MOB PSYCHO 100 VOLUME 3 TP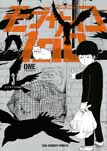 One (W/A/Cover)
From the creator of One-Punch Man! In a showdown with Black Vinegar Middle School's shadow gang leader, Teru, Mob sticks to his policy of nonviolence and refrains from using his powers – and gets knocked out! The fight seems over for Mob . . . but something then awakens in Mob, beyond the confines of his conscious mind! And in the aftermath, a new story develops with Ritsu, Mob's conflicted younger brother who enjoys the social success Mob desires . . . yet still longs for what Mob has that Ritsu lacks–psychic power!
200 pages, black and white, $11.99, in stores on June 26.
MYSTERY SCIENCE THEATER 3000: THE COMIC TP
Joel Hodgson (W), Harold Buchholz (W), Matt McGinnis (W), Seth Robinson (W), Sharyl Volpe (W), Mary Robinson (W), Todd Nauck (A/Cover), Mike Manley (A/C), Jack Pollock (A/C), and Wes Dzioba ©
From its humble beginnings on a tiny mid-west TV station in 1988, through its years as a mainstay on The Comedy Channel/Comedy Central and the SciFi Channel all through the '90s, to its spectacular resurrection on Netflix in 2017, Mystery Science Theater 3000 has had a transformative effect on television, comedy, and the way, cheesy movies are viewed. Now creator Joel Hodgson has set his sights on the comics medium, and the four-color pamphlets will never be the same! Collects issues #1-6 of the series. Introduction by creator Joel Hodgson!
154 pages, $19.99, in stores on June 2.
PLANTS VS. ZOMBIES: SNOW THANKS HC
Paul Tobin (W), Cat Farris (A/Cover), and Heather Breckel ©
Dr. Zomboss invents a Cold Crystal capable of freezing Neighborville and creating an eternal winter, burying both plants and humans in snow and ice! With most of the benevolent plants chilled and immobile, Zomboss hopes to lead his cold-blooded zombie troops on a mission to overrun the city. It's up to Nate, Patrice, Crazy Dave, and the fieriest plants to adapt, fight on, and save Neighborville – with the help of pirates!
88 pages, $9.99, in stores on June 12.
SHE COULD FLY: THE LOST PILOT #1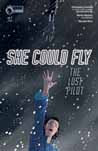 Christopher Cantwell (W), Martin Morazzo (A/Cover), and Miroslav Mrva ©
Luna has crash-landed back into her life after spending a year in a mental institution . . . but that might just mean she's closer to the edge than she's ever been before. After discovering clues about the Flying Woman's missing family, Luna's obsession reignites, threatening to again unravel her fragile mind. Meanwhile, a mysterious guru appears in the sewers of Chicago and a Russian mercenary seeks old secret technology, and the specter of violence begins to loom over everyone once more. Luna begins to wonder . . . will she even survive long enough to go insane?
32 pages, $3.99, in stores on April 10.
STARCRAFT: SOLDIERS #4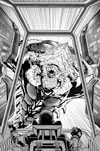 Andrew R. Robinson (W), Miguel Sepulveda (A/Cover), and Michael Atiyeh ©
As a massive zerg force besieges Camp Pitcairn, Lieutenant Shivani Singh must lead her marines in a brutal fight for their lives. Blizzard Entertainment's own Andrew R. Robinson and artist Miguel Sepulveda present the thrilling conclusion of StarCraft: Soldiers.
32 pages, $3.99, in stores on April 24.
STEPHEN MCCRANIE'S SPACE BOY VOLUME 4 TP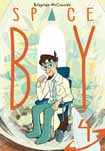 Stephen McCranie (W/A/Cover)
To Amy, everyone has a flavor. For instance, Doctor Kim is like chamomile tea with lemon. Amy is finally feeling that she's made a true connection with the mysterious, flavorless Oliver, but their entire relationship is rattled – possibly forever. Amy struggles to come to terms with that friendship ending, and reaches out to an old friend. She'll discover that the help of friends from all points of her life makes everything better.
224 pages, $10.99, in stores on June 26.
THE UMBRELLA ACADEMY: HOTEL OBLIVION #7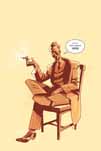 Gerard Way (W), Gabriel Ba (A/Cover/Variant Cover), and Nick Filardi ©
The heroes face a mortal showdown with Perseus and the villains from Oblivion, as a new threat arises, deepening the mystery of the Umbrella Academy.
32 pages, $3.99, in stores on April 3.
USAGI YOJIMBO VOLUME 33: THE HIDDEN TP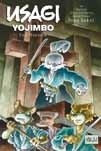 Stan Sakai (W/A)
Usagi and Inspector Ishida join forces once again as they embark on a mission to track down and uncover the importance of a foreign book. The duo, desperate to solve the mystery, are forced to undertake unusual measures as well as enlist the help of a few surprising sources to get the information they require. Collects Usagi Yojimbo: The Hidden #1-7.
216 pages, black and white, $17.99, in stores on June 26.
Curt Pires (W), Antonio Fuso (A/Cover), Stefano Simeone ©, and Danijel Zezelj (Variant Cover)
Wyrd pays the price. Everything ends, and begins anew. Plus: Kansas City, 1938. First contact. A familiar face.
32 pages, $3.99, in stores on April 24.