DARK HORSE COMICS FOR MAY
Brian Wood (W), Kieran McKeown (A), JL Straw ©, Roberto De LaTorre (Cover), and Mack Chater (Variant Cover)
Following the events of Aliens: Resistance, Alec Brand, the colonist rescued by Amanda Ripley and Zula Hendricks, has grown up into an elite Colonial Marine. A secret mission brings him back to the alien-infested moon where he was rescued . . . and face to face with the past.
32 pages, $3.99, in stores on May 22.
AMERICAN GODS: THE MOMENT OF THE STORM #2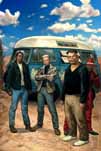 Neil Gaiman (W), P. Craig Russell (W/A), Scott Hampton (A/C), Jennifer T. Lange ©, Glenn Fabry (Cover), and David Mack (Variant Cover)
The battling gods have a momentary ceasefire as they mourn a death in their ranks. However, the "vigil" that Shadow wants to be a part of may end up being more than he can handle.
32 pages, $3.99, in stores on May 8.
BEANWORLD OMNIBUS VOLUME 2 TP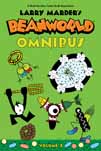 Larry Marder (W/A/Cover)
Music, art, and technology are forever intertwined in Larry Marder's Beanworld. In this omnibus collection that features three standalone graphic novels, the Boom'r Band teaches Beanish their musical secrets, and the Pod'l'pool Cuties discover the power of flight! Marder's deceptively simple art style works in tandem with multi-layered narratives that run by Beanworld's own rules, truths, and lingo. All characters – whether friends or adversaries – depend on interactions with each other for the ultimate survival of their environment. Beanworld has delighted readers from grade school to grad school for more than a generation, earning a spot on the New York Times Graphic Books Best Sellers List. Collects Beanworld HC volumes 3, 3.5 (Tales of the Beanworld in b&w), and 4, with a bonus sketchbook section.
448 pages, $24.99, in stores on July 3.
ASTRO HUSTLE #3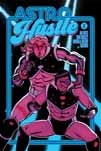 Jai Nitz (W), Tom Reilly (P/Cover), Ursula Decay (I), and Chris Crank ©
Chen hasn't died . . . yet. But Bash Starcranker and the Gooch, Freelance Freelancers are on the job! Before Chen faces the deadliest bounty hunter tag team in the galaxy, he has to escape robotic shark bounty hunters. And the lawmen that have been hunting him since the beginning. And the space battleships surrounding the planet intent on blowing it all up. I bet he dies in this issue.
32 pages, $3.99, in stores on May 1.
BAD LUCK CHUCK #3
Lela Gwenn (W), Matthew Dow Smith (A/Cover), and Kelly Fitzpatrick ©
Cursed at birth, Charlene "Chuck" Manchester hires out her own bad luck, providing disaster where someone else can profit. A warehouse job goes wrong – meaning Chuck destroys the place according to plan, but the authorities finally catch up to her – not to mention the curse she's run from her whole life. A vengeful cult leader, a mob matriarch, and an insurance investigator on a quest finally have her where they want her. But Chuck won't let bad luck stop her, even if she has to seek out allies she turned her back on a long time ago.
32 pages, $3.99, in stores on May 29.
BEASTS OF BURDEN: THE PRESENCE OF OTHERS, PART ONE (OF TWO)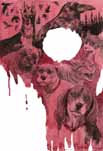 Evan Dorkin (W) and Jill Thompson (A/Cover)
A team of paranormal investigators poking around Burden Hill disturb the graveyard where the "Master" lies, setting off a chain of events that will have serious consequences for the animal defenders of the haunted town.
32 pages, $3.99, in stores on May 1.
BLACK HAMMER '45: FROM THE WORLD OF BLACK HAMMER #3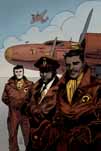 Jeff Lemire (W), Ray Fawkes (W), Matt Kindt (A/Cover), Sharlene Kindt ©, and Denys Cowan, Don Hudson, and Noelle Giddings (Variant Cover)
The Black Hammer Squadron, with the aid of a familiar hero, continue on their perilous mission to save acclaimed scientist Herman Greenbaum and his family from the Nazis. However, with a battle between Nazarova's Soviet mechs and the fabled Ghost Hunter raging above the Greenbaum's heads, time may be running out!
32 pages, $3.99, in stores on May 1.
Jeff Lemire (W), Dean Ormston (A/Cover), Dave Stewart ©, and Paolo and Joe Rivera (Variant Cover)
Lucy comes face to face with someone she would never expect, as the only solution to the ongoing fight against Anti-God is revealed!
32 pages, $3.99, in stores on May 22.
BLADE OF THE IMMORTAL OMNIBUS VOLUME 9 TP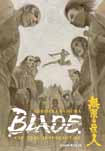 Hiroaki Samura (W/A)
Anotsu's strange Ittō-RyÅ« crew is splintered and fatigued, and Habaki Kagimura's group of suicidal Rokki-dan soldiers is closing in on them! In this penultimate omnibus volume, Hiroaki Samura's spellbinding masterpiece sees several major storylines finally beginning to dovetail. As some characters' strange paths converge, Samura's epic study on revenge and survival begins to wind its way toward a massive final confrontation!
680 pages, $21.99, in stores on July 10.
B.P.R.D.: THE DEVIL YOU KNOW VOLUME 3 TP
Mike Mignola (W), Scott Allie (W), Laurence Campbell (P/I/Cover), and Dave Stewart ©
After fifteen years of B.P.R.D. comics, the series reaches its explosive conclusion!
144 pages, $19.99, in stores on July 17.
Magdalene Visaggio (W), Corin Howell (A/Cover), Valentina Pinto (C/Cover), and Jenn St. Onge (Variant cover)
Delving into Kate's past, we discover what brought the monster hunter to the West Coast, and the painful destruction of a relationship. As Kate feels she has adjusted to her new locale, a face from her past throws everything in Kate's life out of control.
32 pages, $3.99, in stores on May 15.
CREEPY ARCHIVES VOLUME 29 HC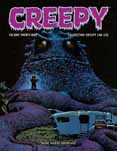 Roger McKenzie (W), Michael Fleisher (W), Don McGregor (W), Alex Niño (A), Martin Salvador (A), Tom Sutton (A), Richard Corben (Cover), and others
From 1964 to 1983, Creepy magazine set the standard for horror in graphic fiction. Now, Dark Horse Books finishes the complete collection of the greatest horror publication in comics history with this final fear-filled volume. Featuring the work of Roger McKenzie, Alex Niño, Don McGregor, Victor de la Fuente and many more, and with hair-raising tales of bloodthirsty vampires, ruthless graverobbers, invisible men, alien creatures, and homicidal maniacs, these are still the comics that give you the creeps! Collects Creepy #141-145.
248 pages, $49.99, in stores on July 17.
CRIMSON LOTUS TP
John Arcudi (W), Mindy Lee (A), Michelle Madsen ©, Tonci Zonjic (Cover)
The Crimson Lotus began life as a young girl whose family was caught up in the Russo-Japanese war. Thirty years later, she exacts her revenge against those who wronged her, with terrifying results! Two spies in China must try to chase her down before they become just another pair of flies in her web. Collects issues #1-5 of the series, plus bonus material.
144 pages, $19.99, in stores on July 3.
Chuck Palahniuk (W), Cameron Stewart (A), Dave McCaig ©, David Mack (Cover), and Duncan Fegredo (Variant Cover)
Marla Singer practices various methods of birth control as Tyler comes to the rescue . . . and the infection spreads.
32 pages, $3.99, in stores on May 29.
DISNEY DRACULA, STARRING MICKEY MOUSE TP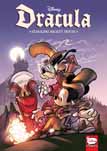 Bruno Enna (W), Fabio Celoni (A), and Mirka Andolfo ©
The bizarre and frightening rise up in this adaptation of Bram Stoker's Dracula! Trapped in Dracula's castle, Jonathan Ratker (Mickey Mouse) must find a way to escape and return to his love, Minnina. Meanwhile, Minnina and Doctor Goofy Van Helsing are dealing with the supernatural themselves . . . Could Dracula be after the one Jonathan Ratker loves most?
80 pages, $10.99, in stores on July 17.
DISNEY DUMBO: FRIENDS IN HIGH PLACES (LIVE ACTION) TP
John Jackson Miller (W), Giovanni Rigano (A/Cover), Alberto Zanon (A), Paola Antista (A), Anna Merli (A), Giuseppe Di Maio (A), and Rosa La Barbera (A)
Experience the magic and adventure of Disney's Dumbo in a graphic novel anthology expanding on the live-action feature film directed by Tim Burton. Written by John Jackson Miller (Star Wars, Mass Effect), this graphic novel weaves through five connecting stories set before, during, and after the film. Five new stories set before, during, and after the upcoming Disney live-action film directed by Tim Burton!
72 pages, $10.99.
DISNEY FRANKENSTEIN, STARRING DONALD DUCK TP
Bruno Enna (W), Fabio Celoni (A), and Luca Merli ©
An electrifying adaptation of the classic novel by Mary Shelley! Donald Duck is Doctor Victor von Duckenstein – a doctor with a talent for the art of creation. Drawing inspiration from old books of science, Victor finds the means to make his vision into a reality. Through countless experiments, Victor conceives a breathing, living creature of horrible sight with intentions unknown. What has Victor created, and what does this creature want?
80 pages, $10.99, in stores on July 31.
DISNEY FROZEN: REUNION ROAD #3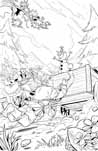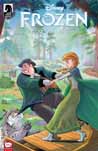 Joe Caramagna (W), Eduard Petrovich §, Anastasiia Belousova ©, Yana Chinstova © and Luisa Russo (Cover/Variant cover)
Lost and separated in the mountains, everyone is trying to get to the harvest festival where they hope to find one another, and reunite Kai with his long-lost brother. But this hazardous journey isn't over yet, and Olaf is now separated from everyone . . . Will they make it to the festival to celebrate together?
32 pages, $3.99, in stores on May 1.
DISNEY THE INCREDIBLES 2: SECRET IDENTITIES #2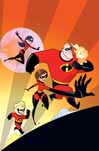 Christos Gage (W), Jean Claudio-Vinci (A/Cover), and Kawaii Creative Studio (Variant Cover)
Teenage troubles are the least of Violet's worries when she's faced with the moral quandary of having to keep her new friend's secret. Family has always been the cornerstone of Violet's life, but when her friend's secret is finally revealed, worlds collide and pits the Incredible family against one another.
32 pages, $3.99, in stores on May 8.
DISNEY ZOOTOPIA: HARD DAY'S WORK (YOUNGER READERS) HC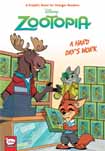 Jimmy Gownley (W), Leandro Ricardo da Silva (A/Cover), and Wes Dzioba ©
Nothing gets past young Judy Hopps, future police officer and school detective extraordinaire, as she searches for clues in the case of her teacher's missing necklace. Meanwhile, a new Foxtastic action figure has been released and young Nick can't wait to get his hands on one! He just needs the money to buy one. Have an odd job to do? Nick's just the fox to do it!
48 pages, $7.99, in stores on July 10.
EROMANGA SENSEI VOLUME 3 TP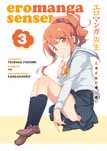 Tsukasa Fushimi (W) and rin (A/Cover)
From the creator of Oreimo! Elf Yamada seeks political asylum – from her editor – at the Izumi residence, offering in return to spill the secrets of how to turn one's light novel into an anime TV series, an offer certainly of great appeal to the much-less-selling Masamune! Meanwhile, Megumi's vow to make friends with the one girl in her class she hasn't yet, Sagiri, leads her into an embarrassing yet artistically insightful gesture with Eromanga Sensei . . .
200 pages, black and white, $11.99, in stores on July 3.
EXTRAORDINARY: A STORY OF AN ORDINARY PRINCESS TP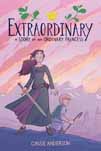 Cassie Anderson (W/A/Cover)
While her sisters were blessed at birth with exceptional skills, Princess Basil's "gift" is to be ordinary. After escaping an unconventional kidnapping, Princess Basil finds herself far from her castle and must take fate into her own hands. She tracks down the fairy godmother who "blessed" her, and finds the solution to her ordinariness might be as simple as finding a magic ring. With an unlikely ally in tow, she takes on gnomes, a badger, and a couple of snarky foxes in her quest for a less ordinary life.
200 pages, $12.99, in stores on July 24.
GAME OF THRONES IRON THRONE BUSINESS CARD HOLDER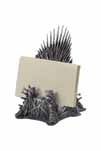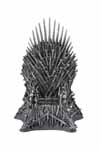 Let your colleagues know who's really in charge at the office with the Iron Throne business card holder. Whatever your position may be, boss, manager, assistant, or king – network with style and regality. At 4.5" tall by 3" wide, this throne will fit perfectly on any desk. Even royalty needs to exchange phone numbers from time to time.
$19.99, in store on June 19.
GIRL IN THE BAY #4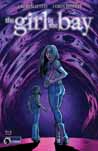 J.M. DeMatteis (W), James Devlin ©, and Corin Howell (A/Cover)
In the thrilling finale, Kathy Sartori comes face-to-face with the man who murdered her fifty years ago, discovering that Hugh Lansky is just a pawn in the hands of a dark entity that's determined to erase her from existence. Will Kathy ultimately learn the reason for her mysterious rebirth – or will she be destined to die again?
32 pages, $3.99, in stores on May 1.
HARROW COUNTY LIBRARY EDITION VOLUME 3 HC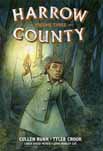 Cullen Bunn (W), Tyler Crook (A/Cover), Carla Speed McNeil (A), and Jenn Manley Lee (A)
The next chapter of the highly acclaimed, Eisner-nominated horror fantasy in a deluxe oversized hardcover format. While Emmy has been focused on dealing with supernatural threats from the outside world, a much bigger problem has been brewing at home. Collects volumes five and six of Harrow County in a deluxe oversized hardcover format with a new cover, sketchbook material, essays, "Tales from Harrow County" bonus stories by guest creators, and more!
232 pages, $39.99, in stores on July 24.
HELLBOY DELUXE FLASK SET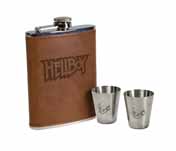 Fighting demons can cause a lot of stress. Take the edge off with the Hellboy Deluxe Flask Set! This 8 oz. stainless steel flask comes complete with a beautiful faux leather exterior, two stainless steel shot glasses, and funnel. The B.P.R.D. is busy, but you'll be ready for any mission with your flask at your side. Never go thirsty again!
$34.99, in stores on June 19.
HELLBOY: 25 YEARS OF COVERS HC
Mike Mignola (W/A/Cover) and Dave Stewart ©
To commemorate the 25th anniversary of the first issue of Hellboy, this deluxe art collection includes more than 150 full-page cover pieces from Mike Mignola, Richard Corben, Duncan Fegredo, and more! This oversized 8" x 12" hardcover is sure to appeal to Mignola fans and comics enthusiasts alike, featuring an introduction by colorist Dave Stewart and a foreword by Mignola himself.
176 pages, $34.99, in stores on July 3.
HELLBOY VS. LOBSTER JOHNSON: THE RING OF DEATH
Mike Mignola (W), Chris Roberson (W), Mike Norton (A), Paul Grist (A), Dave Stewart ©, Bill Crabtree ©, and Paolo Rivera (Cover)
Two legends meet face to face! Who will survive when Hellboy and Lobster Johnson meet . . . in the RING OF DEATH? Hellboy's infamous misadventures in Mexico are revealed in this double-barreled one-shot! Mike Norton draws Hellboy's ill-fated turn as foe to Lobster Johnson in a luchador movie, while Paul Grist returns to draw the Visitor as he lurks in the shadows with troubling doubts about his decision to spare Hellboy.
32 pages, $3.99, in stores on May 29.
INVISIBLE KINGDOM #3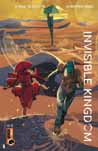 G. Willow Wilson (W) and Christian Ward (A/C/Cover)
On the Sundog, Grix is desperately fleeing Lux . . . and running out of fuel. On Duni, Vess wrestles with her spiritual doubts and the newfound knowledge that she is not alone. When she responds to the Sundog's mysterious distress signal, the unlikely pair will learn too quickly that there is no turning back now.
32 pages, $3.99, in stores on May 22.
JOE GOLEM: OCCULT DETECTIVE – THE CONJURORS #1
Mike Mignola (W), Christopher Golden (W), Peter Bergting (A), Michelle Madsen ©, and David Palumbo (Cover)
Joe Golem is dead. Or is he? Simon Church is fading fast in the city above and Molly is held captive by Dr. Cocteau's gas-men below, but something stirs in the tunnels. How much of the golem is still in the man, or the man in the golem? And can either be enough to stop Dr. Cocteau once he has the artifact he seeks?
32 pages, $3.99, in stores on May 15.
LAGUARDIA TP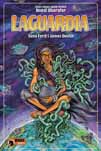 Nnedi Okorafor (W) and Tana Ford (A/Cover)
In an alternate world where aliens have integrated with society, pregnant Nigerian- American doctor Future Nwafor Chukwuebuka, has just smuggled an illegal alien plant named Letme Live through LaGuardia International and Interstellar Airport . . . and that's not the only thing she's hiding. She and Letme become part of a community of human and alien immigrants; but as their crusade for equality continues and the birth of her child nears, Future – and her entire world – begins to change. Written by Nnedi Okorafor, Hugo and Nebula award- winning author and the writer of Marvel's Shuri, this deluxe trade paperback collects issues #1-4 of the miniseries and includes artist sketches and afterword from the author.
128 pages, $19.99, in stores on July 17.
LAST STOP ON THE RED LINE #1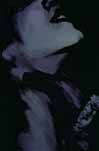 Paul Maybury (W), Sam Lotfi (A/Cover), and John Rauch ©
Detective Migdalia Torres investigates a vicious strangling on a Boston subway car with no feasible leads. As potential evidence produces dead ends, Migdalia inadvertently takes in a vagrant named Yusef who may have a supernatural connection to the crime at hand.
32 pages, $3.99, in stores on May 8.
THE MASSIVE OMNIBUS VOLUME 1 TP
Brian Wood (W), Garry Brown (A), Kristian Donaldson §, Jordie Bellaire ©, and J. P. Leon (Cover)
In a post-war, post-crash, post-disaster, post-everything world, the environmental action trawler Kapital scours the earth's oceans for its mysteriously missing sister ship, The Massive. This first- ever omnibus collects The Massive issues #0-15.
392 pages, $24.99, in stores on July 3
MINECRAFT VOLUME 1 TP
Sfe R. Monster (W) and Sarah Graley (A)
The first graphic novel set in the world of the gaming phenomenon Minecraft! Tyler is your everyday kid whose life is changed when his family has to move from the town he's always known. Thankfully, Tyler has a strong group of friends forever linked in the world of Minecraft! Tyler, along with his friends Evan, Candace, Tobi, and Grace, have been going on countless adventures together across the expanses of the Overworld and are in need of a new challenge. The group decides to go on the Ultimate Quest – to travel to the End and face off against the ender dragon!
88 pages, $9.99, in stores on July 16.
SHE COULD FLY: THE LOST PILOT #2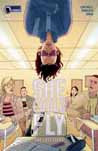 Christopher Cantwell (W), Martin Morazzo (A/Cover), and Miroslav Mrva ©
Luna's mental health deteriorates as her obsession with the Flying Woman reignites. Benji searches for his mother Kido while Dana begins to worship at her feet. Bill gets help mounting an escape, and Luna's doctors become worried . . . plus, she might have a boyfriend now?
32 pages, $3.99, in stores on May 8.
STAR BLAZERS: SPACE BATTLESHIP YAMATO 2199 VOLUME 1 TP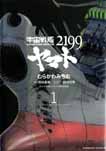 Michio Murakawa (W/A) and Junichiro Tamamori (Cover)
2199 will be Earth's final year – unless the voyage of space battleship Yamato can succeed! The alien Gamilas have devastated the biosphere, determined to reshape our planet into their own new home. But a third force has intervened, as an emissary from the distant Iscandar has given humanity the plans for a faster-than-light drive. If the Yamato can battle its way through the Gamilas fleet to reach Iscandar, their technology can heal the Earth – but the odds against us are literally astronomical . . .
The classic 1974 anime TV series Space Battleship Yamato became a fan phenomenon in North America under the title Star Blazers. Now the epic tale of a legendary WWII battleship retrofitted as a spacecraft on a mission to save Earth has been remade by the generation of Japanese creators that grew up inspired by it – with staff including Yutaka Izubuchi (Cowboy Bebop: The Movie), Nobuteru Yuki (Kids on the Slope), and Hideaki Anno (Evangelion)!
344 pages, $19.99, in stores on July 31.
Jody Houser (W), Edgar Salazar §, Keith Champagne (I), Triona Farrell ©, and Aleksi Briclot (Cover), Lyle Lambert (Variant Cover), TBD (Variant Cover), and Patrick Satterfield (Photo Variant)
A teenage girl with precognitive abilities, has struggled through a lifetime of exploitation only to end up the pawn of a government agency that wants to harness her powers for its own ends. You've seen the show Stranger Things, but this is your first glimpse of the strangeness that happened before the series began!
32 pages, $3.99, in stores on May 29.
TOM CLANCY'S THE DIVISION: EXTREMIS MALIS HC
Christofer EmgÃ¥rd (W), Fernando Baldo (A), Michael Atiyeh ©, and J. P. Leon (Cover)
The perfect introduction to the post-pandemic world of Ubisoft's record-breaking video-game series, this graphic novel follows Division agent Caleb Dunne from New York City to Washington, D.C. in pursuit of the mysterious woman who murdered his partner. This prequel to Tom Clancy's The Division 2 is a must-have for fans of intrigue and tales of survival. Collects Tom Clancy's The Division: Extremis Malis #1-3.
72 pages, $14.99, in stores on July 23.
TOMB RAIDER OMNIBUS VOLUME 1 TP
Gail Simone (W), Rhianna Pratchett (W), Derlis Santacruz §, Nicolas Daniel Selm §, Andrea Mutti §, Juan Gedeon (I), Andy Owens (I), Pierluigi Baldassini (I), and Michael Atiyeh ©
Collected in a softcover omnibus for the very first time, and with over 450 pages of material, this is a must-have for all Tomb Raider fans! This collection fully compiles issues #1-18 of Dark Horse's 2014 Tomb Raider series, as well as a bonus prequel issue to Crystal Dynamics' highly successful 2013 reboot of the franchise, Tomb Raider: The Beginning.
472 pages, $29.99, in stores on July 24.
THE UMBRELLA ACADEMY VOLUME 3: HOTEL OBLIVION TP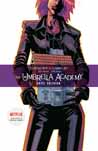 Gerard Way (W), Gabriel Ba (A/Cover), and Nick Filardi ©
Gerard Way (My Chemical Romance, Doom Patrol) and Gabriel Bá (Two Brothers, Casanova) have earned accolades on separate projects, and finally return for the latest chapter in the bizarre lives of their former teen superhero team. Faced with an increasing number of lunatics with superpowers eager to fight his wunderkind brood, Sir Reginald Hargreeves developed the ultimate solution . . .But their past is coming back to hunt them. Collects issues #1-7.
216 pages, $19.99, in stores on July 30.
USAGI YOJIMBO: THE HIDDEN LTD. ED. HC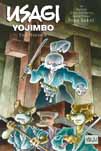 Stan Sakai (W/A)
Usagi and Inspector Ishida join forces once again as they embark on a mission to track down and uncover the importance of a foreign book. The duo, desperate to solve the mystery, are forced to undertake unusual measures as well as enlist the help of a few surprising sources to get the information they require.Collects Usagi Yojimbo: The Hidden issues #1–7, in a limited-edition hardcover signed by Stan Sakai.
216 pages, $59.99, in stores on July 10.
WILLIAM GIBSON'S ALIEN 3 TP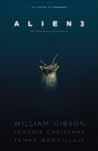 William Gibson (W), Johnnie Christmas (W/A/Cover) and Tamra Bonvillain ©
This is the official adaptation of the original screenplay for Alien 3, written by William Gibson, the award-winning science fiction author of the cyberpunk cult classic Neuromancer. You'll see familiar characters and places – but not all is the same in this horrifying Cold War thriller! Collects William Gibson's Alien 3 #1-5.
112 pages, $19.99, in stores on July 23.
THE WITCHER VOLUME 4: OF FLESH AND FLAME TP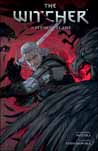 Aleksandra Motyka (W) and Marianna Strychowska (A/Cover)
Geralt is summoned by an old acquaintance to help solve a mystery involving his daughter. Upon arriving to investigate the situation, however, Geralt finds Dandelion, and the duo unexpectedly find themselves transported to regions beyond. Geralt works to defeat the dark forces plaguing the land, but discovers that the situation only leads to more trouble and results in all signs pointing toward him as the prime suspect. Collects issues #1-4 of the series.
104 pages, $17.99, in stores on July 3.
Source : www.comicscontinuum.com