B.P.R.D. Hell on Earth #1
Mike Mignola (W/Cover), John Arcudi (W), Guy Davis (A), and Dave Stewart ©
On sale Mar 26
FC, 32 pages
$1.00
One-shot
B.P.R.D. Hell on Earth follows the B.P.R.D., now operating under strict UN oversight, as they face new horrors. People are once again vanishing from small towns, monsters are roaming in the woods, and a strange new creature arrives to create hell on earth.
• The first issue of B.P.R.D. Hell on Earth for only $1!
• Written by Mike Mignola and John Arcudi!
"If you want a jumping on point, this is it."—Comic Vine
"You will not be disappointed."—Read Comic Books

Abe Sapien #11
Mike Mignola (W), Scott Allie (W), Max Fiumara (A/Cover), and Dave Stewart ©
On sale Mar 12
FC, 32 pages
$3.50
Ongoing
As a zombie swarm threatens a small Arizona town, a mad necromancer rises over the monster-infested ruins of Seattle.
"If a Fiumara brother draws it, I'll read it. These two artists are just that good."—Comic Book Resources
"Each time I look at the book, I come away with a new favorite panel or an appreciation of something I missed earlier."—Multiversity

COMIC STRIP MASTERPIECES!
Alley Oop: The Complete Sundays Volume 1, 1934–1936 HC
V. T. Hamlin (W/A/Cover)
On sale May 7
FC, 128 pages
$75.00
HC, 12" x 16"
Introducing the first in a series that will collect, in chronological order, all the Sunday pages of this popular newspaper strip! Go back in time to the prehistoric kingdom of Moo and follow the fantastic, whimsical—and often cleverly satirical—Stone Age adventures of V. T. Hamlin's irrepressible caveman, Alley Oop! This oversized volume collects every Alley Oop Sunday strip from 1934 through 1936, in full color.
• After over ninety years, Alley Oop is still in publication!
• A beloved and enduring pop culture character!
• Reprinted in full color!

A MUST-HAVE FOR FUN-DEAD FANS!
The Art of Plants vs. Zombies: A Visual Retro Retropsec Book HC
Rich Werner (Cover)
On sale May 14
FC, 88 pages
$9.99
HC, 6" x 9"
Get the story of the mulchifying super hit Plants vs. Zombies™ from the zombies' point of view. Part zombie memoir, part celebration of zombie triumphs, and part antiplant screed, this treasure trove of never-before-seen concept art covers Plants vs. Zombies, Plants vs. Zombies 2, Plants vs. Zombies Adventures, Plants vs. Zombies: Garden Warfare, and more!
• Part art book—part zombie memoir!
• Eighty-eight pages of "behind-the-leaves" material!
• The original Plants vs. Zombies game has been installed over 100 million times and has 16 million active users!

Discover the secrets!
The Art of Wolfenstein: The New Order HC
On sale May 14
FC, 184 pages
$39.99
HC, 9" x 12"
Bethesda and Machine Games offer up the secrets behind Wolfenstein: The New Order, a game set in a post-WWII world where the Nazis have won and only you can rewrite history. Featuring concept art, character designs, and astonishing settings, landscapes, and technology, this book provides a unique look at one of the gaming industry's most intriguing games.
• Incredible full color artwork from the game!
• Commentary direct from the creators!

Written by Bram Stoker Award winner Jonathan Maberry (Ghost Road Blues)
Bad Blood #3 (of 5)
Jonathan Maberry (W) and Tyler Crook (A/Cover)
On sale Mar 5
FC, 32 pages
$3.99
Miniseries
Trick and Lolly continue their hunt for vampires, though their research seems to be at a dead end. But when they get a little too close to the truth, the watching bloodsuckers attack! Thankfully, their Craigslist post has paid off, and a hero comes to their rescue!
"Phrases like 'modern Renaissance man' or 'the real deal' . . . seem perfectly applicable to New York Times-bestselling author Jonathan Maberry."—Nightmare Magazine

Eisner and Harvey Award winner!
Beasts of Burden: Hunters and Gatherers
Evan Dorkin (W) and Jill Thompson (A/Cover)
On sale Mar 12
FC, 32 pages
$3.50
One-shot
This standalone adventure is the perfect entry point for readers new to this award-winning series. The town of Burden Hill is defended from monsters and madmen by a brave crew of dogs and cats—and one werewolf hybrid. This book packs serious scares and occasional gross-outs, and sometimes drives readers to tears.
• Evan Dorkin and Jill Thompson return to the characters that won them the 2005 Eisner.

OUT OF NOWHERE COMES DARK HORSE'S NEWEST HERO!
Blackout #1 (of 4)
Frank Barbiere (W), Randy Stradley (W), Colin Lorimer (A/C), Doug Wheatley (A), Wes Dzioba ©, Micah Kaneshiro (Cover), and Paolo Rivera (Variant cover)
On sale Mar 26
FC, 32 pages
$3.50
Miniseries
Scott Travers's special suit lets him move through our world unseen and untouchable within a shadowy parallel dimension—but he doesn't know how the suit works or where it came from. With his benefactor missing and unfriendlies after his Blackout gear, Scott must find answers before the answers find him!
• Story by Frank Barbiere (The White Suits, Five Ghosts).
• Special King Tiger feature by Star Wars stars Randy Stradley and Doug Wheatley!
• Part of Project Black Sky!
• Introduced in the award-winning Dark Horse Presents.

The Final Showdown Begins!
Blade of the Immortal Volume 29: Beyond Good and Evil TP
Hiroaki Samura (W/A)
On sale May 14
b&w, 216 pages
$19.99
TP, 5 3/4" x 8 1/4"
Habaki and his Rokki-dan thugs turn a seemingly innocent harbor into a port of death—killing everyone who's docked there in case they're working with Anotsu's Itt?-ry? crew! And when Manji, Rin, and a desperate Anotsu arrive on the scene? This really is the start of Blade's final battle—with only three volumes left!
"Samura's work will thrill you, engage you, and even horrify you like no other artist working in film or print today."—Geof Darrow

"B.P.R.D. Hell on Earth brings the creepiness every month."—Comic Book Resources
B.P.R.D. Hell on Earth #117
Mike Mignola (W), John Arcudi (W), James Harren (A/Variant cover), Dave Stewart ©, and Rafael Albuquerque (Cover)
On sale Mar 19
FC, 32 pages
$3.50
Ongoing
A defiant Iosif launches a full-scale assault against the Zinco tower, confident that his troops can make short work of its monster security. Meanwhile, Liz goes after the Black Flame. Unfortunately for her, the Flame knows it was Liz who killed him. And this time, he's the one in control.
• Third of five special variant covers celebrating 20 years of Hellboy!
• Art by James Harren, who Multiversity calls one of their "favorite artists ever."
• From the pages of Hellboy!

The team from Angel & Faith relaunches Buffy!
Buffy the Vampire Slayer Season 10 #1
Christos Gage (W), Rebekah Isaacs (A/Variant cover/Ultravariant cover), Dan Jackson ©, and Steve Morris (Cover)
On sale Mar 19
FC, 32 pages
$3.50
Ongoing
New season. New rules. The age-old battle of Slayer vs. vampire is the focus of Buffy's life once again—it's downright nostalgic! But with all the toying with magic she's done lately, this girl should know it's time for another game change . . . Shouldn't she?
• Executive produced by Joss Whedon!
"Gage and Isaacs have created a comic that all future Buffy creators should use as a model."—Comic Book Resources
Next month, Angel & Faith returns!

"The more I read of this series, the more I want."—Comic Vine
Captain Midnight #9
Joshua Williamson (W), Fernando Dagnino (A), Ego ©, and Felipe Massafera (Cover)
On sale Mar 26
FC, 32 pages
$2.99
Ongoing
Eager to learn the mysterious fate of his former sidekick, Captain Midnight storms war industrialist Fury Shark's London stronghold. He's a man on a mission to confront his archnemesis, but will Midnight be able to handle the truth about his old buddy Chuck Ramsey?
• Artist Fernando Dagnino returns to the pilot seat!
• Written by Joshua Williamson (Ghosted, Masks and Mobsters, Uncharted)!
• Beautiful cover by Felipe Massafera.

Captain Midnight Volume 2: Brave Old World TP
Joshua Williamson (W), Eduardo Francisco (A), Dennis Culver (A), Stefani Rennee ©, Dave Stewart ©, and Freddie Williams II and Dan Scott (Cover)
On sale May 28
FC, 112 pages
$14.99
TP, 7" x 10"
When Captain Midnight discovers his innovative technology has been corrupted in his seventy-year absence, he rockets into action, setting a collision course with a high-flying, overzealous patriot without a conscience and a rogue black-ops organization eager to exterminate anyone who knows their secrets! Midnight is confronted by a brave new world he's determined to make better . . . or die trying! Collects Captain Midnight #4–#7 and the four-page story from the CBLDF's Liberty Comics.
• Written by Joshua Williamson (Masks and Mobsters, Voodoo, Uncharted)!
• Features a story with art by Dennis Culver and Dave Stewart from the Comic Book Legal Defense Fund's Liberty Comics!

"A psychedelic thrill-ride."—Comics the Gathering
Catalyst Comix #9 (of 9)
Joe Casey (W), Ulises Farinas (A), Paul Maybury (A), Dan McDaid (A), Brad Simpson ©, and Brendan McCarthy (Cover)
On sale Mar 5
FC, 32 pages
$2.99
Miniseries
It's all come down to this! The Agents of Change smash their way through a hellish mindscape, Grace dukes it out with an alien invasion force, and Frank Wells stands up to the biggest bully of them all! Make yours Dark Horse with the greatest issue yet of Catalyst Comix!
• Catalyst's first arc reaches its mind-altering conclusion!
• Joe Casey (Sex, The Bounce)!
• Cover by Brendan McCarthy (The Zaucer of Zilk)!

Conan and the People of the Black Circle HC
Fred Van Lente (W) and Ariel Olivetti (A/Cover)
On sale May 7
FC, 96 pages
$19.99
HC, 7" x 10"
After an agent of the dreaded Black Seers of Yimsha assassinates the king of Vendhya, his sister Yasmina—now a queen—vows revenge! But her plans are derailed when Conan kidnaps her, and soon the Cimmerian has ruthless mercenaries, vengeance-crazed tribesmen, sinister sorcerers, and an entire army hard on his heels! Collects the four-issue miniseries.
• From the celebrated team behind Hercules and Hulk!
• Conan like you've never seen him—fully painted by Olivetti!
• From the new writer of the monthly series!
http://imageshack.us/a/img440/1773/ssge.jpg
Eisner and Harvey Award Winner: Best Anthology!
Dark Horse Presents #34
Christopher Sebela (W), Dean Motter (W/A), Dennis Culver (W/A), Rich Johnston (W), Darrin Grimwood (W), Brendan McCarthy (W/A), Jamie S. Rich (W), Justin Aclin (W), Michael T. Gilbert (W/A), Mike Baron (W), Kel McDonald (W/A), Brian Churilla (A), Simon Rohrmüller (A), Brent Schoonover (A), Nicolás Daniel Selma (A), Steve Rude (A), and Michael Kaluta (Cover)
On sale Mar 19
FC, 80 pages
$7.99
Ongoing
Dennis Culver delivers seaside high jinks in Davey Jones and the Mystery of the Monocle Men, Justin Aclin and Nicolás Daniel Selma's S.H.O.O.T. First is back in action against secular threats, Kel McDonald takes you on a balloon ride in Across the Channel, and Mike Baron and Steve Rude complete their long-running Nexus story "Into the Past"!
• Plus, new installments of Cruel Biology, Mister X, Integer City, The Deleted, Miss Cranbourne, and Mr. Monster!
"Dark Horse's prestigious anthology series . . . showcases emerging talent alongside some of the greatest writers, artists and cartoonists comics has to offer, as well as promising new and underground talents."—ComicsAlliance
"Comics' best kept secret trove of great comics."—Comic Book Resources

CORBEN! STARLIN! INFANTINO! AND MORE!
Eerie Archives Volume 16 HC
Various (W/A) and Richard Corben (Cover)
On sale May 28
FC, 288 pages
$49.99
HC, 8 3/8" x 10 7/8"
A terrifying tome delivering a stunning variety of high fantasy, sexy science fiction, Victorian mystery, and modern-day adventure—all united by a common sense of profound horror! Richard Corben, Bruce Jones, Jim Starlin, and others deliver subtle shudders, scream-inducing terrors, and shocking twist endings in Eerie issues #75–#80!
• The debut of Jim Starlin's Darklon the Mystic series!
• Marvel at Richard Corben's sexy thrillers!
• Foreword by Peter Bagge!

All new Elfquest!
Elfquest: The Final Quest #2
Wendy Pini (W/A/Cover) and Richard Pini (W)
On sale Mar 26
FC, 32 pages
$3.50
Ongoing
Fate brings battle unasked for, and heartbreak unforeseen. Chieftess Ember's Wolfriders try to save a human town, only to lose their own mountain home and Ember and Teir's dearest wish comes true at the worst possible moment—with agonizing and far-reaching consequences!
• Winner of the Golden Pen Award from the Young Adult Advisory Committee!
• Includes extensive extra content!

Emily and the Strangers HC
Rob Reger (W), Mariah Huehner (W), Emily Ivie (A/Cover), and Buzz Parker (Cover)
On sale May 14
FC, 80 pages
$12.99
HC, 6" x 9"
In order to win a legendary haunted guitar, Emily is determined to create the most rockin' song the world has ever known . . . but can she do it solo? Emily isn't known for playing well with others, but she's going to have to rely on the help of some Strangers if she's going to succeed on her musical journey to the true heart of rock 'n' roll! Collects the three issue miniseries.
• An Emily the Strange feature film is currently in development.

ÜberNurses!
Empowered Special: Internal Medicine
Adam Warren (W/A/Cover) and Brandon Graham (A/Cover)
On sale Mar 26
b&w, 32 pages
$3.99
One-shot
At the Purple Paladin Memorial Hospital's terrifying Suprahuman Treatment Wing, Dr. Big McLarge Huge recruits costumed crimefighter Empowered and her best friend Ninjette to save a five-mile-wide alien mothership's parasite-infested babyship—if, that is, our heroines can even survive the elevator ride up to the operating room!
• Story (and bonus art) by Adam Warren, illustrated by rising star Brandon Graham (Prophet, King City, Multiple Warheads)
• 30 story pages!
• Over 100,000 Empowered graphic novels in print.
"Empowered stands as one of the great modern superhero comics."

Remender/Opeña!
Fear Agent Volume 2: My War Second Edition TP
Rick Remender (W), Jerome Opeña (A), Michelle Madsen ©, and Tony Moore (Cover)
On sale May 7
FC, 136 pages
$16.99
TP, 7" x 10"
Trapped in the past, alien exterminator Heath Huston must face the automaton regime that robbed him of all he loves. With the Feeders advancing on Earth, can Heath extract payback before the alien infestation arrives? Jerome Opeña (Avengers) joins Rick Remender for this exciting volume, collecting issues #5–#10 of the acclaimed series.
"There's nobody writing straight-ahead, classic action like Rick Remender, and nowhere better to get it than Fear Agent."—Kurt Busiek

Do we build our heroes up just to break them down?
Furious #3 (of 5)
Bryan J. L. Glass (W) and Victor Santos (A/Cover)
On sale Mar 26
FC, 32 pages
$3.99
Miniseries
Cadence Lark's past is riddled with fiery ruin and personal train wrecks, and she's desperate to prove her worth, if only to herself. As Furious, she must tame her own fears, while ensuring the creeps of the world know justice! When she is signaled to help at a rooftop fire, she heeds the call.
• Reuniting the Harvey Award–winning Mice Templar team!
• Unleash the Fanboy says Bryan J. L. Glass's writing is "truly, a work of art."
THE DOCTOR IS IN . . . FOR DESTRUCTION!
Ghost #3
Kelly Sue DeConnick (W), Chris Sebela (W), Ryan Sook §, Andy Owens (I), Dave McCaig ©, and Terry Dodson (Cover)
Offered again
FC, 32 pages
$2.99
Ongoing
While Doctor October sends her demonic enforcers to attack Elisa and her friends, the White City Butcher captures Tommy and Sloane. Ghost will have to choose between uncovering the secrets of her past and protecting everyone's future! Interdimensional forces turn Chicago into a war zone in the first arc's clashing conclusion!
• Who is James Barrow, the man who recognized Elisa?
• Stunning art from Ryan Sook (B.P.R.D.)!

"I positively cannot wait to see what they do next."—Bloody Disgusting
Grindhouse: Doors Open at Midnight #6 (of


Alex de Campi (W), Federica Manfredi (A/C), and Dan Panosian (Cover)
On sale Mar 5
FC, 32 pages
$3.99
Miniseries
Clad in her fallen brother's armor, massacre survivor Branwyn vows to repay every drop of blood that was spilled during the slaughter of her wedding party. But her mission turns even more horrific than expected when the true authors of her torment are revealed in the grisly conclusion to "Bride of Blood"!
• Cover by Dan Panosian!
• Hack/Slash and True Blood's Federica Manfredi brings the hurt!
• Eisner nominee Alex de Campi (Smoke, Ashes) will make you squirm!

From Christopher Schlerf, lead writer of Halo 4!
Halo: Escalation #4
Chris Schlerf (W), Ricardo Sanchez Arreola §, Rob Lean (I), Michael Atiyeh ©, and Anthony Palumbo (Cover)
On sale Mar 26
FC, 32 pages
$3.99
Ongoing
The UNSC Infinity is ambushed by an unexpected enemy while on a mission to rescue a damaged civilian freighter. Across the galaxy, an undercover Lasky enlists the help of an old friend in rooting out a spy inside the UNSC.
• An all-new ongoing Halo series from Dark Horse!
• An essential addition to the Halo canon!
• The Halo franchise has sales eclipsing $3 billion over its lifetime!

The next phase of Hellboy's story starts here!
Hellboy in Hell Volume 1: The Descent TP
Mike Mignola (W/A/Cover) and Dave Stewart ©
On sale May 21
FC, 152 pages
$17.99
TP, 7" x 10"
After saving the world in The Storm and the Fury but sacrificing himself and Great Britain, Hellboy is dead, cast into Hell, where he finds many familiar faces and a throne that awaits him.
Mike Mignola returns to draw Hellboy's ongoing story for the first time since Conqueror Worm. It's a story only Mignola could tell, as more of Hellboy's secrets are at last revealed, in the most bizarre depiction of Hell you've ever seen. Collects issues #1–#5.
"I, for one, can't wait to see the next iteration of Hellboy (drawn by Mignola again, no less) and see just what sort of life-after-death awaits our hero."—Comic Book Resources

DAVID LAPHAM PITS SCRAWNY KIDS AGAINST GIANT BUGS!
Juice Squeezers #3 (of 4)
David Lapham (W/A/Cover) and Lee Loughridge ©
On sale Mar 5
FC, 32 pages
$3.99
Miniseries
While half of the Squeezers try to uncover the secret parentage of one of their teammates, the rest of the group get into deep trouble . . . one hundred feet below the surface! And, with the new kid still causing trouble, Juice Squeezers Field Captain Eric Fitz takes action to test his mettle with an ambush where it's squish or be squished!
• Eisner Award–winning creator David Lapham (Stray Bullets, The Strain) writes and draws a new creator-owned series!

"A violent tribute to the world of Conan and something that all comic book fans should be reading."—IGN
King Conan: The Conqueror #2 (of 6)
Timothy Truman (W), Tomás Giorello (A/Cover), and José Villarrubia ©
On sale Mar 26
FC, 32 pages
$3.50
Miniseries
Conan finds himself chained on a galley ship manned by some of the Black Corsairs he once sailed with in his youth! If he's to reach Stygia and recover the magical jewel he needs to regain his throne, he'll have to lead a slave uprising and reclaim his old title: Amra the Lion!
• Continuing the acclaimed Hour of the Dragon adaptation!
• Howard's only Conan novel—adapted by a critically acclaimed team!
"This team does it again. Giorello and Villarrubia create such amazing art that's perfect for a serious and bloody Conan."—iFanboy

Art by Tonci Zonjic (Where Is Jake Ellis?)!
Lobster Johnson: Get the Lobster #2 (of 5)
Mike Mignola (W), John Arcudi (W), Tonci Zonjic (A/Cover), and Dave Stewart ©
On sale Mar 5
FC, 32 pages
$3.99
Miniseries
After a grenade fight with two renegade wrestlers, the NYPD declares Lobster Johnson public enemy number one. Can our hero find out who was behind the wrestling rampage with the police hot on his tail?
• From the pages of Hellboy!

Magnus, Robot Fighter Archives Volume 3 TP
Russ Manning (W/A), Robert Schaefer (W), Herb Castle (W), Don Christensen (W), and Mike Royer (A)
On sale May 21
FC, 184 pages
$19.99
TP, 7" x 10"
Comics legend Russ Manning's artistic flair reaches new heights in this final volume, as he pits the intrepid robot slayer Magnus against a seemingly endless cadre of wildly imaginative metal menaces. The classic sci-fi hero kicks, punches, and trademark chops his way through an army of robots to keep his futuristic world safe! Collects 1960s-era Magnus, Robot Fighter issues #15–#21.
• Foreword by Keith Giffen!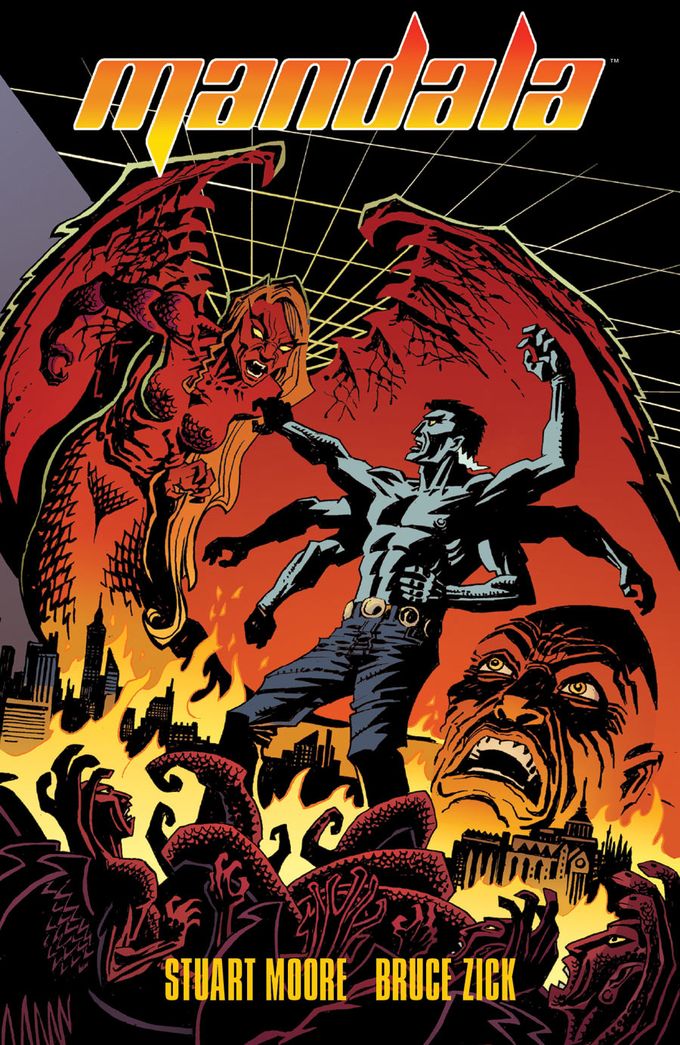 Mandala TP
Stuart Moore (W) and Bruce Zick (A/Cover)
On sale May 14
FC, 256 pages
$24.99
TP, 7" x 10"
Earth—here and now. Humankind is secretly enslaved by a global mind-control system called the GRID. Mike Morningstar and his spiritual spec-ops unit, the Thirteen, must alter time and take down the GRID before it's too late. As fiction meets reality, the Thirteen need your help if they are to succeed in awakening humanity and changing the future. Are you awake?
• Art by Bruce Zick (Thor, Atomic Legion)!
• Written by Stuart Moore (Wolverine Noir, Stargate: Atlantis)

Marvel Classic Characters: Uncanny X-Men #94—Storm
On sale May 14
Packaged in a custom litho-printed tin box, containing character booklet and unique pin back button. Limited to 750 numbered copies.
$49.95
One of the landmark issues in comics history is the 1975 release of Uncanny X-Men #94. In this issue, all of the previous X-Men except Cyclops were replaced by a new team: Storm, Wolverine, Nightcrawler, Banshee, and Colossus. It also marks the beginning of Chris Claremont's sixteen-year run on the title.
Storm (Ororo Munroe) is descended from a long line of African witch-priestesses.
She has many abilities, but her primary power is the ability to control weather, wielding lightning and wind as if a sword.

"Great read for fans of the franchise, and those of science fiction in general."—Digital Noob
Mass Effect: Foundation #9
Mac Walters (W), Tony Parker (A), Michael Atiyeh ©, and Benjamin Carré (Cover)
On sale Mar 26
FC, 32 pages
$3.99
Ongoing
The Illusive Man's agents redouble their efforts to resurrect Shepard, and in doing so are led to the very model of a scientist salarian—Mordin Solus!
• Written by Mac Walters, lead writer of Mass Effect 2 and 3!
• Ties directly into Mass Effect 2!
• Mass Effect 3 was named Best RPG at the 2012 Spike VGAs!

The Massive's location . . . revealed?!
The Massive #21
Brian Wood (W), Garry Brown (A), Jordie Bellaire ©, and J. P. Leon (Cover)
On sale Mar 26
FC, 32 pages
$3.50
Ongoing
In a cathedral in Prague, Cal prepares for a final showdown with his nemesis Arkady, but what will fell him first: his cancer, the bullet from the Russian's SIG Sauer, or the realization that nothing—nothing—of the past decade was what it seemed? The conclusion of "Bloc," the most groundbreaking arc of The Massive to date, takes us into the final year of the series with a stunning reveal.
"Brian Wood's The Massive proves that there's room for political comics."—Complex

"Matt's storytelling is second to none."—Unleash the Fanboy
MIND MGMT #20
Matt Kindt (W/A)
On sale Mar 26
FC, 24 pages
$3.99
Ongoing
If you thought Mind Management was wild today, wait until you meet the agents of the swinging 1970s!
• Matt Kindt (Justice League of America) is taking comics by storm!
• Introducing a new Giant Man from the creator of 3 Story!

"MIND MGMT is the kind of conspiracy thriller that I can wholeheartedly buy into."—Comic Book Resources
"One of comics' most endearing instant classics."—Comic Bastards
MIND MGMT Volume 3: The Home Maker HC
Matt Kindt (W/A)
On sale May 21
FC, 176 pages
$19.99
HC, 7" x 10"
With Meru and Lyme's partnership destroyed, the players go their separate ways in a series of interconnected one-shots revealing each character's hidden past! As the former team continue their investigations separately, the Eraser sets her sights on a valuable new recruit—Meru! Collects The Home Maker from MIND MGMT #13–#17 and The Zoo Keeper from #18.
• New York Times best-selling series!
• Foreword by Brian Michael Bendis (All-New X-Men, Guardians of the Galaxy)!
• Includes special gatefold image.
• Optioned for the big screen by Ridley Scott!

Neil Gaiman!
Murder Mysteries Second Edition HC
Neil Gaiman (W), P. Craig Russell (A/Cover), and Lovern Kindzierski ©
On sale May 14
FC, 112 pages
$19.99
HC, 7" x 10"
Constructing and maintaining all of heaven and earth is an immense task, which God has divided up among the various ranks and stations of angels. As with any such huge effort, there are bound to be casualties. This unique passion play sheds light on the hands behind creation, as well as one lonely man in LA who gets to hear the whole story of a most unspeakable crime: a murder in paradise!
• Featuring sketches, high-res scans, and more bonus material from master artist P. Craig Russell!

For want of love and blood
Nosferatu Wars
Steve Niles (W) and menton3 (A/Cover)
On sale Mar 12
FC, 40 pages
$3.99
One-shot
If the undead have glory days, then the Black Plague was the era they never could have imagined. No longer hunted, no longer suspected, the vampires ran, exempt from fear. They were free to play—until the night the vampires turned against each other. Collects all four Dark Horse Presents installments!
• Written by Steve Niles (Breath of Bones, 30 Days of Night, Criminal Macabre)!
• Art by menton3 (Monocyte, Transfusion, The Dunwich Horror)!

"The story draws you in from the beginning."—Open Book Society
Pariah #2 (of


Aron Warner (W), Philip Gelatt (W), and Brett Weldele (A/Cover)
On sale Mar 26
FC, 32 pages
$3.99
Miniseries
On Earth, a hacker causes an economic meltdown in what seems to be a rescue plan to save the vitros, who are trapped in space on a failing satellite.
• Created by Academy Award–winning producer Aron Warner (Shrek).
• Art by Eisner-nominated painter Brett Weldele (The Surrogates).
• Written by Philip Gelatt (Petrograd).

"A pitch-perfect narrative from two of my favourite creators."—Alan Moore
Resident Alien Volume 2: The Suicide Blonde TP
Peter Hogan (W) and Steve Parkhouse (A/Cover)
On sale May 28
FC, 104 pages
$14.99
TP, 7" x 10"
An alien explorer stranded in America yearns for his home world, but he's enamored with ours—especially when it comes to murder mysteries! Seeking to clear the name of a friend who's been fingered for a college girl's death, Harry combs Seattle for clues. Collects issues #0–#3.
• From the writer of Tom Strong and the artist of the classic Bojeffries Saga!
"Resident Alien is as strong as ever, and fans of the first series will be right at home."—Comicosity

FROM THE CREATORS OF LONE WOLF AND CUB!
Samurai Executioner Omnibus Volume 1 TP
Kazuo Koike (W) and Goseki Kojima (A)
On sale May 14
b&w, 768 pages
$19.99
TP, 5" x 7"
From Kazuo Koike and Goseki Kojima, the legendary creators of Lone Wolf and Cub, comes Samurai Executioner. Yamada Asaemon tests swords and performs executions for the shogun. The feared "Decapitator Asaemon" is the last stop for the doomed and often becomes final confessor as well as slayer. Collects all of volume 1 and volume 2, plus "Hellstick" from volume 3.
• Nearly 800 pages for only $19.99!
• Lone Wolf and Cub now available in omnibus format.
• Mature readers.

OVER 500 PAGES OF HAUNTING MADNESS!
The Savage Sword of Conan Volume 16 TP
Chuck Dixon (W), Gerry Conway (W), Gary Kwapisz (P/I), Mike Docherty §, Jorge Zaffino §, Ernie Chan (I), Andy Kubert (I), and Earl Norem (Cover)
On sale May 21
b&w, 528 pages
$19.99
TP, 7" x 10"
Plagued by the apparition of a lost lover in torment, Conan returns to the Valley of Howling Shadows, a forbidding land of dark magic and suffocating madness. But the visions are the conjurings of a treacherous necromancer who needs Conan's aid to claim a treasure of ultimate sorcerous power! Collects Conan stories from Marvel's The Savage Sword of Conan the Barbarian #161–#170.
• Showcasing stories never before collected and out of print for over twenty years!
• Over 500 pages, value priced.
• Featuring stories by famed comics and screen scribe Gerry Conway.

The story continues after the film!
Serenity: Leaves on the Wind #3 (of 6)
Zack Whedon (W), Georges Jeanty (P/Variant cover), Karl Story (I), Laura Martin ©, and Dan Dos Santos (Cover)
On sale Mar 26
FC, 32 pages
$3.50
Miniseries
Serenity is found! The crew, including Jayne and a certain bounty hunter, get themselves ready to restock and retrieve when River wakes from her self-induced sleep and gives Mal a mandate . . . which will eventually—hopefully—maybe—lead to Zoe's rescue!
• Buffy's Season 8 and 9 artist conquers the galaxy!
• Zack Whedon returns to Serenity!
• Executive producer Joss Whedon!

"Aclin's S.H.O.O.T. First might be the first of its kind."—Unleash the Fanboy
S.H.O.O.T. First TP
Justin Aclin (W), Nicolás Daniel Selma (A/Cover), Ben Bates (A/C), and Marlac ©
On sale May 14
FC, 112 pages
$12.99
TP, 7" x 10"
The Secular Humanist Occult Obliteration Taskforce exists to defend humanity from gods, fairies, monsters, and the legions of other creatures that survive on human beliefs and fears. If you've got a problem with a demon, dragon, or deity, better call SHOOT! Collects the four-issue miniseries, plus an eight-page story from MySpace Dark Horse Presents #35.
• An exciting, original, and irreverent concept from comics' hottest new talent!
• Sci-fi action in the four-color tradition with a bold new twist!

They wanted a weapon. They got a hero.
Skyman #3 (of 4)
Joshua Hale Fialkov (W), Manuel Garcia §, Bit (I), and Freddie Williams II and Jeremy Roberts (Cover)
On sale Mar 19
FC, 32 pages
$2.99
Miniseries
After a violent clash with his handlers, Skyman's at odds with the agents of the program that created him—and now he needs to fight his way out of dangerous airspace into friendlier skies before things get worse! Knowing he can't fly solo, the new hero seeks an alliance with a fellow patriot, but will he be greeted as friend or foe?
• Joshua Hale Fialkov (Hunger, The Bunker) delivers a new kind of Dark Horse hero!
• Cover by Freddie Williams II and Jeremy Roberts!

"I relished every panel of this."—Multiversity
Sledgehammer 44 Volume 1 TP
Mike Mignola (W/Cover), John Arcudi (W), Jason Latour (A), Laurence Campbell (A), and Dave Stewart ©
On sale May 28
FC, 144 pages
$19.99
TP, 7" x 10"
A man in a suit of iron drops from an American warplane onto a French battlefield and unleashes a powerful cosmic force on an army of Nazis, their massive war machine, and their most dangerous agent, the deadly Black Flame! Collects Sledgehammer 44 #1–#2 and Lightning War #1–#3.
• Cover by Mike Mignola!
• From Django Unchained artist Jason Latour and B.P.R.D. artist Laurence Campbell!

The Princess bride!
Star Wars #15
Brian Wood (W), Stéphane Créty §, Julien Hugonnard-Bert (I), Gabe Eltaeb ©, Hugh Fleming (Cover)
On sale Mar 12
FC, 32 pages
$2.99
Ongoing
Welcome to Arrochar! Enjoy our clean mountain air. Gaze at our majestic vistas. Build a secure base for your Rebel fleet. All we ask is that Princess Leia marry our Prince!
You can take the girl out of the Rebellion, but can you take the rebel out of the girl?
• Writer Brian Wood begins the most unexpected arc ever!
http://imageshack.us/a/img42/6240/cno7.jpg
Starkiller among the stars!
The Star Wars #6
Jonathan Rinzler (W), Mike Mayhew (A), Rain Beredo ©, and Nick Runge (Cover)
On sale Mar 12
FC, 32 pages
$3.99
Miniseries
A dogfight with Imperial fighter craft, a dangerous detour through an asteroid field, and a forced evacuation in life-pods land Luke Skywalker and company on Yavin—the planet of the Wookiees!
But Princess Leia gets separated from the group, and when slavers capture her, Annikin Starkiller goes all Jedi on them!
• First look at the Wookiees!
• Official eight-issue adaptation of George Lucas's original rough-draft screenplay for Star Wars!
http://imageshack.us/a/img600/9518/ftwe.jpg
"I haven't enjoyed a Star Wars comic this much in years!"—Comic Bastards
Star Wars: Darth Vader and the Cry of Shadows #4 (of 5)
Tim Siedell (W), Gabriel Guzman (A), Michael Atiyeh ©, and Felipe Massafera (Cover)
On sale Mar 19
FC, 32 pages
$3.50
Miniseries
Fighting at the side of Darth Vader in an air attack against a group of inspired, cause-driven Separatists, stormtrooper Hock has an opportunity to show his value. When he is captured, learning of the enemy's cause—and who they're working with—only reinforces Hock's belief in the Galactic Empire.
• Tim Siedell (@badbanana) has one of Time's 140 Best Twitter Feeds!
http://imageshack.us/a/img41/7104/zwf5.jpg
Battle at the edge of the galaxy!
Star Wars: Dawn of the Jedi—Force War #5 (of 5)
John Ostrander (W), Jan Duursema §, Dan Parsons (I), Wes Dzioba ©, and David Michael Beck (Cover)
On sale Mar 19
FC, 32 pages
$3.50
Miniseries
The alien Rakata are on the brink of opening the Infinity Gate, ready to unleash their Empire on an unsuspecting galaxy! The Je'daii must win this battle—even if it means the end of their order. But how can they attain victory when their greatest hero has joined the enemy?
"Ostrander and Duursema have reverse-engineered the setting, characters, and Force philosophies to create a fully believable 'real' ancient history of the Jedi."—Fan Girl Blog
http://imageshack.us/a/img27/9449/y7s3.jpg
"Highly recommended."—Unleash the Fanboy
Star Wars: Legacy #13
Corinna Bechko (W), Gabriel Hardman (W/A), Jordan Boyd ©, and Agustin Alessio (Cover)
On sale Mar 26
FC, 32 pages
$2.99
Ongoing
After a crash landing on a wild planet with her captor—and former flame—Ramid, Ania Solo is having trouble shaking the other bounty hunter on her tail. She's going to need some help from someone, but when you're accused of murdering an Imperial Knight, friends are hard to come by!
"Corinna Bechko and Gabriel Hardman have introduced me to a new favorite Star Wars character."—Comic Vine
http://imageshack.us/a/img703/9880/jc6i.jpg
Star Wars: Legacy Volume 2—Outcasts of the Broken Ring TP
Corinna Bechko (W), Gabriel Hardman (W), Brian Albert Thies (A), Rachelle Rosenberg ©, and Agustin Alessio (Cover)
On sale May 21
FC, 120 pages
$19.99
TP, 7" x 10"
Ania Solo and Imperial Knight Jao Assam break with the Galactic Triumvirate to track down the Sith Lord Darth Wredd. The trail leads Ania and Jao to a dead Mon Calamari planet—and another Sith Lord and his army of pirates! Collects Star Wars: Legacy #6–#10.
• Corinna Bechko and Gabriel Hardman take Star Wars to the future!
http://imageshack.us/a/img28/8028/fbpi.jpg
"Highest possible recommendation."—SciFi Pulse
Star Wars Omnibus: Dark Times Volume 2 TP
Randy Stradley (W), Douglas Wheatley (P/Cover), Gabriel Guzman (P/I), Chris Chuckry ©, Garry Henderson ©, Dan Jackson ©, and Dave McCaig ©
On sale May 7
FC, 456 pages
$24.99
TP, 6" x 9"
Jedi Dass Jennir takes a job that attracts the attention of Lord Vader himself! Meanwhile, Jedi Master K'Kruhk tries to shield a group of Padawans from the Empire's hunt for Jedi. Culminating in a confrontation between the Jedi and Darth Vader, the galaxy's dark times continue . . . Collects Dark Times Volume 4—Blue Harvest, Dark Times Volume 5—Out of the Wilderness, Dark Times Volume 6—Fire Carrier, and Dark Times Volume 7—A Spark Remains.
http://imageshack.us/a/img5/4089/uij5.jpg
THE HUGE 32-PAGE FINALE!
The Strain: The Fall #9
David Lapham (W), Mike Huddleston (A), Dan Jackson ©, and E. M. Gist (Cover)
On sale Mar 19
FC, 32 pages
$3.99
Ongoing
As the Master's plan to cover the world in eternal darkness is coming to fruition, Abraham Setrakian launches a desperate attack on his oldest enemy! The lives of our characters and the landscape of the world will never be the same. The Fall concludes!
• From director Guillermo del Toro and novelist Chuck Hogan!
• The TV show on FX launches July 2014!
"This is how you make vampires scary again."—IGN
http://imageshack.us/a/img837/6088/u8ss.jpg
SKYNET TAKES NEW YORK!
Terminator: Enemy of My Enemy #2 (of 6)
Dan Jolley (W), Jamal Igle (P/Cover), Ray Snyder (I), and Moose Baumann ©
On sale Mar 19
FC, 32 pages
$3.99
Miniseries
Biotechnician Elise Fong is destined to discover a vital weapon against the Terminators, and Skynet has no intention of waiting until she does! Targeted for actions in her future, Fong's only hope in the present is the ex-CIA operative tasked with kidnapping her. But can even CIA training stop a T-800?
• Dan Jolley (Bloodhound, Prototype 2) spins a classic-style Terminator yarn!
• Superstar artist Jamal Igle (Supergirl)!
http://imageshack.us/a/img208/4060/s4me.jpg
THE MACHINE WAR RAGES ON!
Terminator Salvation: The Final Battle #4 (of 12)
J. Michael Straczynski (W), Pete Woods (A/Cover), and Matt Wilson ©
On sale Mar 5
FC, 32 pages
$3.99
Miniseries
The battle for humanity is underway, but a deadly new player has entered the game! A murderous psychopath has joined with Skynet and imbued the Terminators with his own lust for death. How can John Connor hope to survive when the machines are now as ferocious as men?
• From writer J. Michael Straczynski (Ten Grand, The Amazing Spider-Man, Thor)!
• Pete Woods (Superman, Deadpool) shows us the ultimate man vs. machine battle!
• Return of the T-800!
http://imageshack.us/a/img689/5341/ucp2.jpg
GAIL SIMONE CONTINUES LARA CROFT'S JOURNEY!
Tomb Raider #2
Gail Simone (W), Nicolás Daniel Selma §, Juan Gedeon (I), Michael Atiyeh ©, and Dan Scott (Cover)
On sale Mar 26
FC, 32 pages
$3.50
Ongoing
Lara Croft and her friends are experiencing horrific visions in the aftermath of their ordeal in the lost kingdom of Yamatai. But those visions herald a darker fate than they could have imagined!
• The Tomb Raider video game sold over 3.5 million copies in 2013!
• The classic character reimagined and explored anew!
http://imageshack.us/a/img197/8607/kq7p.jpg
616 PAGES OF TRIGUN!
Trigun Maximum Omnibus Volume 3 TP
Yasuhiro Nightow (W/A)
On sale May 7
b&w, 616 pages
$19.99
TP, 5" x 7"
Vash the Stampede is the deadliest gunslinger in the galaxy, but his brother, Knives, is the deadliest creature in existence! Knives is out to turn planet Gunsmoke into just that, and he may soon grow too powerful to be stopped—though Vash may die trying! Sci-fi insanity from Yasuhiro Nightow! Collects Trigun Maximum volumes 7, 8, and 9.
• A mainstay of Cartoon Network's Adult Swim!
• Trigun: Badlands Rumble film released in 2010.
• Yasuhiro Nightow's Blood Blockade Battlefront now being published by Dark Horse Manga.
http://imageshack.us/a/img594/8708/52td.jpg
http://imageshack.us/a/img594/4351/ddn9.jpg
"Killjoys is a celebration of expecting the unexpected and carving out your own path."—Multiversity Comics
The True Lives of the Fabulous Killjoys TP and Ltd. Ed. HC
Gerard Way (W), Shaun Simon (W), Becky Cloonan (A/Cover), and Dan Jackson ©
On sale May 7
FC, 160 pages
$19.99
TP, 7" x 10"
On sale May 7
FC, 232 pages
$79.99
Ltd. Ed. HC, 8" x 12 3/16"
Years ago, the Killjoys fought against the tyrannical megacorporation Better Living Industries, costing them their lives, save for one—the mysterious Girl. Today, the followers of the original Killjoys languish in the Desert while BLI systematically strips citizens of their individuality. As the fight for freedom fades, it's left to the Girl to take up the mantle and bring down the fearsome BLI! Collects The True Lives of the Fabulous Killjoys #1–#6 and "Dead Satellites" from Free Comic Book Day 2013.
• From Gerard Way, creator of the Eisner Award–winning The Umbrella Academy!
• Hardcover limited to 2,500 copies!
from Becky Cloonan, Gabriel Bá, Paul Pope, Gerard Way, Fábio Moon, Rafael Grampá, and Brian Ewing.
http://imageshack.us/a/img198/2029/qt88.jpg
THEY DON'T MAKE 'EM LIKE THIS ANYMORE!
Vandroid #2 (of 5)
Tommy Lee Edwards (W/Cover), Noah Smith (W), Dan McDaid (A), and Melissa Edwards ©
On sale Mar 26
FC, 32 pages
$3.99
Miniseries
Vandroid ramps up in this no-holds-barred second issue! The Van Man is off the chain, but when he runs afoul of his creator's loose ends—including his estranged wife and an old criminal acquaintance—he finds out that being human is more complicated than his programming indicated!
• Complete the Vandroid experience with the remastered soundtrack from Ed Banger Records and the unearthed 1984 movie trailer at Vandroid.com!
http://imageshack.us/a/img600/1149/jptn.jpg
She's not what you expect!
Veil #1 (of 5)
Greg Rucka (W) and Toni Fejzula (A/Cover)
On sale Mar 5
FC, 32 pages
$3.50
Miniseries
A beautiful girl wakes up in an abandoned subway station with no memory of how she got there. When men try to hurt her . . . they wind up dead. Where did she come from? And what is she capable of?
• An all-new series from Eisner Award–winning writer Greg Rucka!
• Art by Toni Fejzula (Cthulhu).
• A surprising new heroine from the creator of Lazarus and Queen and Country!
http://imageshack.us/a/img96/222/7tj7.jpg
The Victories #10
Michael Avon Oeming (W/A/Cover) and Nick Filardi ©
On sale Mar 5
FC, 32 pages
$3.99
Ongoing
Faustus is on a search for clues as to why Metatron killed the Jackal and left his body on the Georgia Guidestones. But as each clue brings him closer to the mysterious Advisors, the danger he encounters is much greater.
• By Eisner Award winner Michael Avon Oeming (Powers, Rapture, Takio).
• The conclusion of the Posthuman arc!
http://imageshack.us/a/img202/8144/pv7d.jpg
FROM RUSSIA WITH BLOOD!
The White Suits #2 (of 4)
Frank Barbiere (W) and Toby Cypress (A/Cover)
On sale Mar 19
FC, 32 pages
$3.99
Miniseries
The White Suits, scourges of Russia's underworld, have declared war on New York's organized crime. But NYC's crime overlords have their own army of Russian mercenaries hunting the Suits, with FBI agent Sarah Anderson and the former Suit known as Prizrak certain to be caught in the crossfire!
• Debuted in the award-winning Dark Horse Presents.
• Violent noir action from Frank Barbiere (Blackout) and Toby Cypress (Blue Estate, Predator).
• Frank Barbiere's Image series Five Ghosts is a breakout hit!
"Lots of guns and mystery."—Comic Attack
http://imageshack.us/a/img62/5223/ryof.jpg
From the acclaimed monster-hunting video game!
The Witcher #1 (of 5)
Paul Tobin (W), Joe Querio (A), Carlos Badilla ©, and Dan Panosian and Dave Johnson (Cover)
On sale Mar 19
FC, 32 pages
$3.99
Miniseries
Traveling near the edge of the Black Forest, monster hunter Geralt meets a widowed fisherman whose dead and murderous wife resides in an eerie mansion known as the House of Glass—which seems to have endless rooms, nothing to fill them with, and horror around every corner.
• Written by Eisner winner Paul Tobin!
• The Witcher games have collectively won over 250 awards and sold more then 5.5 million copies worldwide.
• There are currently two games available across multiple platforms, and a third is slated for release in 2014.
"If you're in the mood for a dark crime series, X marks the spot."—Comic Book Resources
http://imageshack.us/a/img196/7814/0yfd.jpg
X #11
Duane Swierczynski (W), Michelle Madsen ©, and Garry Brown (Cover)
On sale Mar 12
FC, 32 pages
$2.99
Ongoing
X's hands were already full with Carmine Tango . . . Then Gamble reappeared! X thought he killed this suave assassin years ago, but the luck-obsessed murderer is still a player, taking his chances on revenge! Welcome to Arcadia, where the odds are bad . . . and the bads are odd!
• The battle for Arcadia builds towards a chaotic climax!
"Looking for a crime comic with a lot of grit, some interesting plot developments and a kickass hero? This is it."—Adventures in Poor Taste