DARK HORSE COMICS FOR SEPTEMBER
ALIENS COLONIAL MARINES: RISING THREAT #1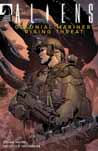 Brian Wood (W), Werther Dell'Edera (A), Michael Atiyeh (A), Tristan Jones and Simon Gough (Cover), and TBD (Variant Cover)
Tying into the events from the upcoming Cold Iron Studios video game, this series delves into the formative years of the Colonial Marines. Introducing Olivia Shipp, leader of a squad of battle-weary Marines who have defied orders to rescue the survivors of a refinery under siege. Based on characters from the upcoming Aliens video game!
32 pages, $3.99, in stores on Sept. 18.
THE ART OF BRAVELY SECOND: END LAYER HC
Square Enix (W) and Yoshida Akihiko (A)
Return to the enchanted world of Luxendarc with a collection of art that celebrates another critically revered entry in the Bravely series! Enjoy in-depth commentary from the creative team, and explore detailed concept art from the ethereal sequel to BRAVELY DEFAULT.
Dark Horse Books is proud to collaborate with Square Enix to present The Art of Bravely Second: End Layer, published in English for the first time! This localization of the original Japanese text features gorgeous concept art and extensive commentary from the team behind BRAVELY SECOND. The second of two volumes, this collection intimately explores the concepts and creativity from the next chapter in the fan-favorite Bravely series!
Presented in English for the very first time! Features hundreds of pieces of development art and exclusive commentary from the game's creators!
256 pages, $39.99, in stores on Nov. 20.
THE ART OF STAR WARS JEDI: FALLEN ORDER HC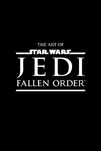 Respawn Entertainment (W)
A galaxy-spanning adventure awaits in Star Wars Jedi: Fallen Order, the new action-adventure videogame from Respawn Entertainment. Explore the artistic creation of Cal Kestis's quest to rebuild the Jedi Order as he learns the ways of the Force, travels to exotic worlds, and battles tyrannical foes. With detailed concept art of all-new characters, exciting weapons and equipment, and locales both familiar and new, this tome offers a behind-the-scenes look at the production of a hit game – all accompanied by intimate artists' commentary that reveals how this incredible universe is brought together.
A unique reading experience that chronicles the art and development of Star Wars Jedi: Fallen Order. The newest interactive addition to the Star Wars universe, exploring the dawn of the Empire.
184 pages, $39.99, in stores on Nov. 19.
Jeff Lemire (W), Mike Deodato Jr. (A/Cover), Frank Martin (C), and Andrea Sorrentino (Variant Cover)
Ripped from a savage world ruled by magic and dropped at the outskirts of a modern city, feared warrior the Mongrel King is found and rescued by a homeless man who guides him through a new land with new vices and hardships.
32 pages, $3.99, in stores on Sept. 4.
BLACK HAMMER/JUSTICE LEAGUE: HAMMER OF JUSTICE #3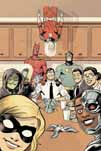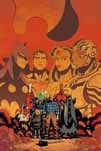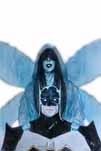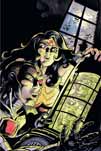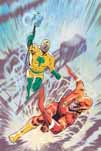 Jeff Lemire (W, Michael Walsh (A/C/Cover), Nate Powell (Variant Cover), Ray Fawkes (Variant Cover), Tradd Moore (Variant Cover), and Evan Shaner (Variant Cover)
Dropped into the DC Universe, the Black Hammer heroes find themselves captured by members of the Justice League who blame them for the cosmic switch – and on the Black Hammer Farm, the displaced DC heroes search for answers and a way out of their bucolic prison. But Colonel Weird and the Green Lantern discover that the solution to this riddle may not be so simple.
32 pages, $3.99, in stores on Sept. 11.
BLADE OF THE IMMORTAL OMNIBUS VOLUME 10 TP
Hiroaki Samura (W/A/Cover)
The harrowing, bone-crunching finale! Disgraced Edo officer Habaki faces the devious Anotsu in a decisive showdown, while Manga, Rin, and only a few others witness the end of an era. Rin's quest concludes with a violent bang – then things get weirder! Hiroaki Samura's Blade of the Immortal finale overflows with heartbreak and bloodshed! Collects volumes 29, 30, and 31.
704 pages, black and white, $21.99, in stores on Nov. 13.
BRAVEST WARRIORS MAGNET 4-PACK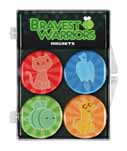 Four colorful 1.25" magnets, featuring the sticker pets in a hinged plastic case that measures 2.75" x 3.5".
$9.99, in stores on Sept. 20.
BRAVEST WARRIORS ENAMEL PIN SET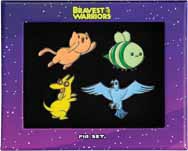 Four brightly colored pins, ranging from 1h to 1.75h. Represent your favorite sticker pet or wear them all!
$14.99, in stores on Sept. 20.
BRAVEST WARRIORS COASTER SET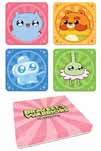 Four 4" x 4" coasters in bold colors depicting your favorite adorable creatures.
$9.99, in stores on Sept. 20.
BRAVEST WARRIORS MAGNET SET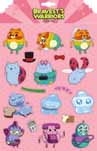 Admire and accessorize your favorite critters with these adorable magnets!
8.25" x 12.5", $8.99, in stores on Sept. 20.
THE COURAGEOUS PRINCESS VOLUME 1: BEYOND THE HUNDRED KINGDOMS TP
Rod Espinosa (W/A/Cover)
Once upon a time, a greedy dragon kidnapped a beloved princess . . . But if you think she just waited around for some charming prince to rescue her, then you're in for a surprise! Princess Mabelrose has enough brains and bravery to fend for herself!
248 pages, $14.99, in stores on Nov. 27.
CRITICAL ROLE: VOX MACHINA ORIGINS SERIES II #3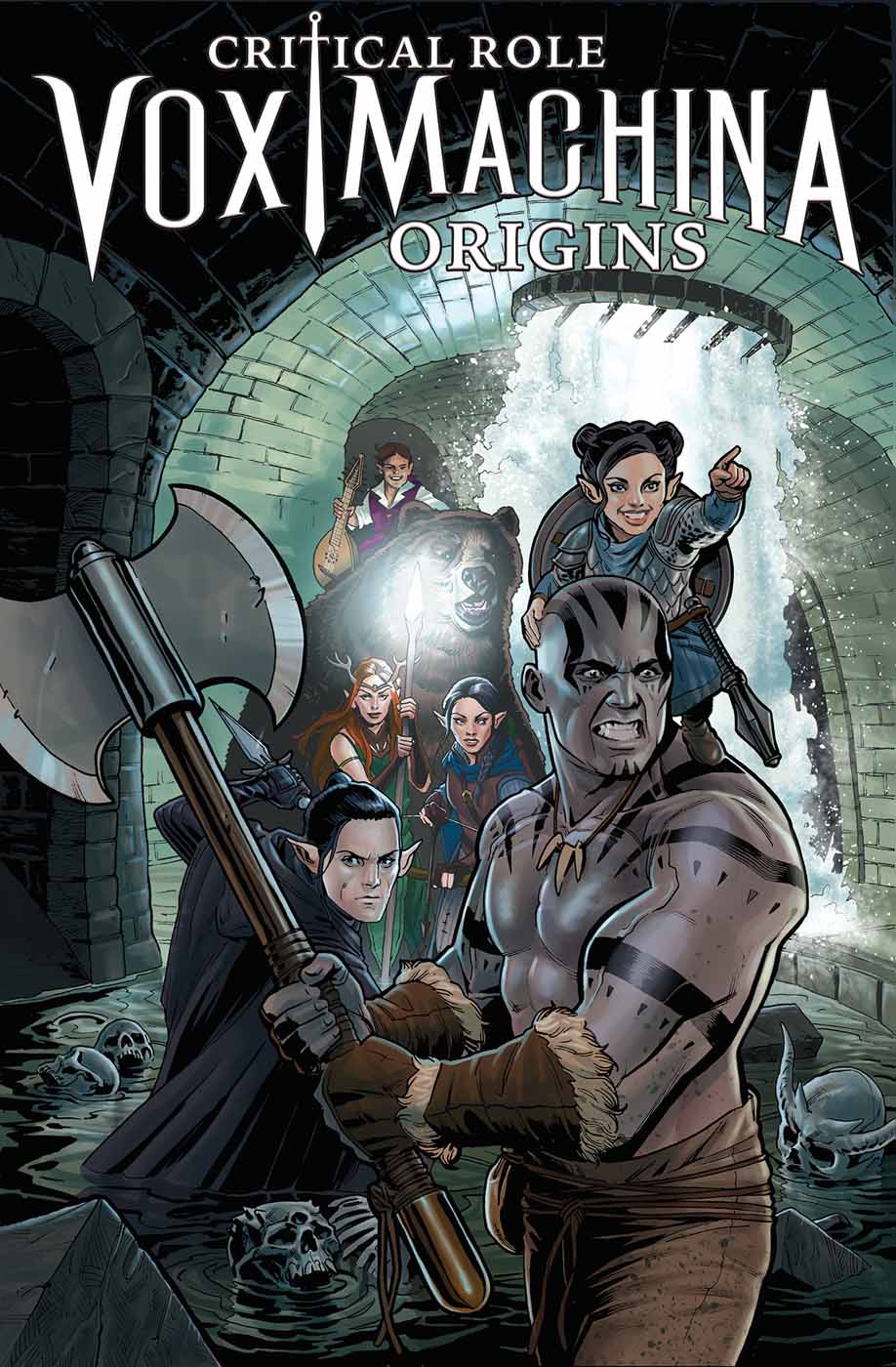 Jody Houser (W), Olivia Samson (A), Msassyk (C), and Benjamin Dewey (Cover)
Not even Pike's holy healing could remove the scar Grog received during the ritual his friends interrupted under Gatshadow, but reaching people who could provide answers is difficult. As often happens in these situations, a stranger approaches the party with an offer: he'll get them access to a wizard's tower in exchange for stealing a magical item while they're there. Simple enough. What could go wrong?
32 pages, $3.99, in stores on Sept. 11.
DANGANRONPA 2: GOODBYE DESPAIR VOLUME 1 TP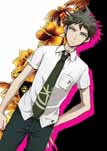 Kuroki Q (W/A/Cover)
Danganronpa 2: Goodbye Despair is an alternate version of the events told in the manga Danganronpa 2: Ultimate Luck and Hope and Despair. That series told the story through the eyes of gUltimate Lucky Studenth Nagito Komaeda; now Goodbye Despair gives you the perspective of his archrival in the desperate classroom murder game, Hajime Hinata! Based on the PlayStation and Windows game Danganronpa 2: Goodbye Despair from NIS America and Spike Chunsoft.
208 pages, black and white, $12.99, in stores on Nov. 13.
DISNEY FROZEN: THE HERO WITHIN TP
Joe Caramagna (W) and Kawaii Creative Studio (A/C/Cover)
Olaf's friend Hedda is a spunky girl with a big imagination and dreams of adventure. But an encounter with some bullies forces Hedda to make a life-changing decision: she runs away to face the world alone in the treacherous Forbidden Land. Anna, Elsa, Kristoff, Sven, and Olaf must solve the problem of the bullies and find Hedda before it is too late! Collects the three-issue miniseries.
72 pages, $10.99, in stores on Nov. 6.
DISNEY SNOW WHITE AND THE SEVEN DWARFS TP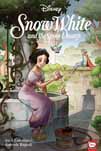 Cecil Castellucci (W) and Gabriele Bagnoli (A/Cover)
The classic Disney tale reawakens and expands through the first-person perspective of Snow herself in this comic retelling. Glimpse into the mind and heart of the princess as she experiences love, betrayal, terror, hope, friendship, longing, and sadness before her happily ever after. Collects the three-issue miniseries.
72 pages, $12.99, in stores on Nov. 20.
EMANON VOLUME 3 TP
Shinji Kajio (W) and Kenji Tsuruta (A/Cover)
What happens when the woman who remembers everything . . . forgets who she herself is? In 1973, Ryozo, a young hiker on a mountain trail in far southern Japan, comes across a disoriented girl who doesn't know her own name, carrying on her the small change of a dozen different nations . . . and a bag with the initials « E.N. » Haunted by nightmares of primordial seas and forests, she tries to find a new life with Ryozo – and reconnect somehow with her endless past.
240 pages, $14.99, in stores on Nov. 6.
ETHER: THE DISAPPEARANCE OF VIOLET BELL #1
Matt Kindt (W), David Rubin (A/Cover), and Paul Azaceta (Variant Cover)
From Mind MGMT creator Matt Kindt and Black Hammer's David Rubin comes the third installment of this fantasy adventure that's Sherlock Holmes meets Dr. Seuss. The Faerie King's daughter is missing, and only portal jumper Boone Dias can track her down. Jumping from one magical crime scene to another, he uncovers a bizarre plot featuring assassin eggs, weird pirates, ice deserts, and more noir absurdities. Pinups by Gabriel Walta, Kevin Nowlan, Paul Azaceta, and more!
32 pages, $3.99, in stores on Sept. 18.
EVERYTHING #1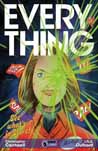 Christopher Cantwell (W) and I.N.J. Culbard (W/A/C/Cover).
EVERYTHING is a gleaming new mega-department store which arrives to extraordinary thrill – and rapidly escalates to inexplicable mania in the small town of Holland, Michigan. When random hellish fires and unshakable psychic disturbances start to overtake the community, a few – like depressive out-of-towner Lori and a suspicious local named Rick – begin to suspect Everything and its catalog-perfect manger, Shirley.
Who – or what – exactly is in charge here . . . and what insidious plans are in store?
From Christopher Cantwell, writer of She Could Fly and co-creator of AMC;s Halt and Catch Fire, and artist I.N.J. Culbard comes a new monthly ongoing series. Everything: a truly bizarre story about the most horrifying pursuit of happiness you've ever read.
32 pages, $3.99, in stores on Sept. 4.
Chuck Palahniuk (W), Cameron Stewart (A), Dave McCaig (C), David Mack (Cover), and Steve Morris (Variant Cover)
While Marla Singer enjoys a ggirl's night out,h her son learns about biological warfare, and Tyler joins a whole different kind of club at The Last Round-Up.
32 pages, $3.99, in stores on Sept. 25.
FIGHT CLUB 2020 CALENDAR
This is your calendar and it's ending one day at a time. From the mind of Chuck Palahniuk, with art from Cameron Stewart and cover artist David Mack, comes a twisted way to track all the mayhem of 2020. This 12-month calendar measures 9.5h x 12." Get a jump on the last year of the world as we know it!
$14.99, in stores on Sept. 11.
HELLBOY AND THE B.P.R.D.: SATURN RETURNS #2
Mike Mignola (W), Scott Allie (W), Christopher Mitten (A/Cover), and Brennan Wagner (C)
Hellboy and Agent Kinsley delve deeper into the mystery behind a cache of bodies found in the New Hampshire woods. Possible explanations include werewolves, vampires, and demons . . . but the truth may be even stranger! Meanwhile, a runaway Liz Sherman finds that life on the street comes at a steep cost!
32 pages, $3.99, in stores on Sept. 18.
ISABELLAE VOLUME 2 HC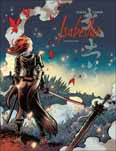 Raule (W) and Gabor (A/Cover)
Curious about her origins and in search of long-lost Celtic relatives, Isabellae travels to Ireland. But when the ancient druids of the Emerald Isle make a deal with the monstrous Formorian gods, Isabellae finds herself battling in a war for control with her English and Irish allies! In this epic conclusion to the series, Isabellae battles against ancient Celtic beasts and deities that threaten the destruction of humanity.
152 pages, $29.99, in stores on Nov. 9.
JOE GOLEM: OCCULT DETECTIVE – THE CONJURORS #5
Mike Mignola (W), Christopher Golden (W), Peter Bergting (A), Michelle Madsen (C), and David Palumbo (Cover)
Felix Orlov, all traces of his humanity gone, reaches toward the heavens as the Outer Dark descends! Dr. Cocteau is convinced he can use Lector's Pentajulum to make contact with the ggodsh who answer Felix's cries – and is willing to put the entire Drowning City in jeopardy to do it.
32 pages, $3.99, in stores on Sept. 18.
LAST STOP ON THE RED LINE TP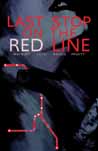 Paul Maybury (W), Sam Lotfi (A/Cover), John Rauch (C)
Detective Migdalia Torres investigates a vicious strangling on a Boston subway car with no feasible leads. As potential evidence produces dead ends, Migdalia inadvertently takes in a vagrant named Yusef who may have a supernatural connection to the crime at hand. While Yusef's plagued by visions and seemingly false memories, both suspect and detective struggle to discover the identity of the phantom killer that stalks the Boston Metro. Collects issues #1-4 of the miniseries.
88 pages, $17.99, in stores on Nov. 6.
Cullen Bunn (W), Brian Hurtt (W), Tyler Crook (A/C/Cover), and Greg Smallwood (Variant Cover)
From the creators of Harrow County and The Sixth Gun comes this gothic horror fantasy about a family of sorcerers in crisis. After Roman Black takes Ari under his wing, his family of powerful sorcerers begin to see the young mage as a threat, and the dangerous magicians on her trail continue to cause chaos in the surrounding town.
32 pages, $3.99, in stores on Sept. 25.
THE MASSIVE OMNIBUS VOLUME 2 TP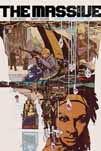 Brian Wood (W), Garry Brown (A), Danijel Zezelj (P), Jordie Bellaire (C), and J. P. Leon (Cover)
The Crash was only the beginning. What remains of civilization is being obliterated by a series of cataclysmic events. The truth about the identity of Captain Callum's companion Mary, which began as a faint signal, grows louder – and she's seemingly connected to it all. This second volume of The Massive Omnibus collects The Massive Issues #16-30.
392 pages, $24.99, in stores on Nov. 13.
NO ONE LEFT TO FIGHT #3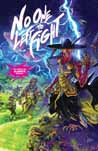 Aubrey Sitterson (W) and Fico Ossio (A/C)
The comic you ALWAYS wanted proudly presents « the Coming of the Hierophant! » This year's hottest new creative team, Aubrey Sitterson (The Comic Book Story of Professional Wrestling, G.I. Joe) and Fico Ossio (Spider-Man, Revolution), invite you to immerse yourself in their fantastical world, meeting its iconic heroes and the old nemesis who refuses to remain in the past: the dreaded, enigmatic Hierophant.
32 pages, $3.99, in stores on Sept. 4.
THE ORVILLE #3
David A. Goodman (W), David Cabeza (A/Cover), and Michael Atiyeh (C)
« The Word of Avis, » Part 1 of 2. When the Orville detects a Union transport headed straight for Krill territory, they hail them and receive no response. Forced to intercept, the Orville is soon playing host to a group of seemingly hapless xenoanthropologists – including an old acquaintance of John's. But not everything is as it seems.
32 pages, $3.99, in stores on Sept. 11.
THE PERRY BIBLE FELLOWSHIP HC (10TH ANNIVERSARY EDITION)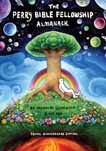 Nicholas Gurewitch (W/A/Cover)
Celebrate ten years of Perry Bible Fellowship with this comprehensive collection of PBF comics, sketches, and more! This newly formatted 7h x 10h almanac features every PBF comic strip that ran in alternative newspapers between 2004 and 2007 – and simultaneously exploded online during the internet's golden age! In commemoration of ten years since its initial printing, this almanac also contains content that is unavailable anywhere else, including previously undiscovered PBF comics from the era and numerous sketches for comics that never came to be.
256 pages, $24.99, in stores on Nov. 6.
PLANTS VS. ZOMBIES: GARDEN WARFARE VOLUME 3 HC
Paul Tobin (W), Jacob Chabot (A/Cover), and Heather Breckel (C)
Following up Plants vs. Zombies: Garden Warfare volumes 1 and 2, our plant and human allies strive to survive in a Neighborville ruthlessly occupied by the zombies. Dr. Zomboss creates robots to mimic Nate and Patrice and lead the plants astray, Crazy Dave unleashes new inventions, and some surprising additions to the Neighborville team are introduced!
86 pages, $9.99, in stores on Nov. 13.
STARCRAFT: SURVIVORS #3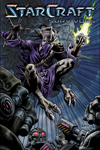 Jody Houser (W), Gabriel Guzman (A/Cover), and Michael Atiyeh (C)
Another Spearpoint worker has disappeared, plunging the base into chaos. As Caleb gets closer to finding the secret lab, he discovers another way to end the dark templar's reign of terror: the Shadowguard, elite psionic agents sent to guard the Umojan Protectorate against the most dangerous threats.
32 pages, $3.99, in stores on Sept. 18.
John Allison (W/A/Cover), Sarah Stern (C), and Max Sarin (Variant Cover)
A supernatural tale of friendship, the devil, and moral gray areas.Two women with wildly different worldviews become unlikely friends as they navigate the supernatural happenings in a sleepy coastal parish – and soon find themselves forced to choose sides in the war between good and evil, facing demons, curses, and a miniature Rapture!
32 pages, $3.99, in stores on Sept. 18.
STRANGER THINGS VOLUME 2: SIX TP
Jody Houser (W), Edgar Salazar (P), Keith Champagne (I), Marissa Louise (C), and Kyle Lambert (Cover)
Francine, a teenage girl with precognition, has struggled through a lifetime of exploitation: first by her parents, then by Dr. Brenner of Hawkins Laboratory. Dr. Brenner wants to harness her powers as well as those of the other gifted children that they hold captive at the lab. Wracked by increasingly disturbing visions, she sees an opportunity for her and all the children to escape. But at what cost? Collects the four-issue miniseries.
96 pages, $17.99, in stores on Nov. 27.
Carlos Giffoni (W), Juan Doe (A/C/Cover), and Jim Mahfood (Variant Cover)
Lou the astral-projecting cat's cosmic findings reveal new truths, new worlds, and new creatures. Unfortunately, his discoveries continue to be exploited for nefarious governmental purposes. Despite ailing health, his hunt presses on as he searches for the beings responsible for creating an energy source of astonishing power.
32 pages, $3.99, in stores on Sept. 11.
SWORD DAUGHTER VOLUME 3: COLD RAIN HC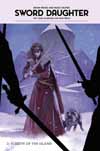 Brian Wood (W), Mack Chater (A), Jose Villarrubia (C), and Ben Oliver (Cover)
Elsbeth Dagsdottir has not forgotten the oath her father made to her on that remote Icelandic beach: to deliver revenge upon the Forty Swords clan that burned their village and murdered her mother. It might take them a lifetime of struggle and suffering and loss, but a promise is a promise. Collects issue #7-#9 of the series.
96 pages, $19.99, in stores on Nov. 6.
Christian Ward (W/A/Cover), Sami Kivela (A), Dee Cunnife (C), and Tula Lotay (Variant Cover)
In their struggle to take down Al Capone and his bootleg-magic operation, Eliot Ness and his Untouchables must navigate corrupt church officials, mystically enhanced bruisers, and ruthless wizards with obscure intentions who pull the strings behind the scenes. But can Ness keep up without succumbing to his own dark side?
32 pages, $3.99, in stores on Sept. 25.
TRIAGE #1
Phillip Sevy (W/A/C/Cover)
A dedicated nurse named Evie Pierce awakens to an unfamiliar world alongside two doppelgangers – one, a young and snarky superhero; the other, a hardened rebel military commander of a post-apocalyptic world. When a mysterious figure begins to hunt them down, the three women must work together to survive and discover why they were assembled.
32 pages, $3.99, in stores on Sept. 4.
TROUT: THE HOLLOWEST KNOCK #4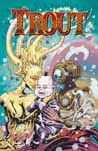 Troy Nixey (W/A/Cover) and Dave Stewart (C)
Trout's harrowing adventure comes to an earth-drenching conclusion. A huge tsunami has wiped out Giuseppe's village and along with it any hope he has of rescuing Trout. But a menagerie of fantastical sea creatures comes to the rescue and help our two heroes battle their past and embrace their future.
32 pages, $3.99, in stores on Sept. 18.
THE UMBRELLA ACADEMY LIBRARY EDITION VOLUME 2: DALLAS HC
Gerard Way (W), Gabriel Ba (A), and Dave Stewart (C)
The Umbrella Academy is despondent following the near apocalypse created by one of their own and the death of their beloved mentor Pogo. Trouble is – each of them is distracted by their own problems. The White Violin is bedridden. Rumor has lost her voice – the source of her power. Spaceboy has eaten himself into a near-catatonic state, while Number Five dives into some shady dealings at the dog track, and the Kraken starts looking at his littlest brother as the key to unraveling a mysterious series of massacres . . . all leading to a blood-drenched face-off with maniacal assassins and a plot to kill JFK!
This deluxe oversized hardcover reprints the 2009 limited edition collection of the complete second series, Dallas, with the short story gAnywhere but Hereh and an expanded 36-page sketchbook featuring work by Way, Ba, designer Tony Ong, and Superman's pal Jim Lee.
232 pages, $39.99, in stores on Nov. 13.
USAGI YOJIMBO: 35 YEARS OF COVERS HC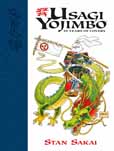 Stan Sakai (W/A/Cover)
Honoring the 35th anniversary of Stan Sakai's award-winning series Usagi Yojimbo, this deluxe art collection includes hundreds of full-page cover pieces illustrated by Stan Sakai! After 35 years of adventures, Usagi's lively history is fully represented in this compendium of Stan's greatest covers. A deluxe art collection featuring beautiful full-page cover art!
320 pages, $39.99, in stores on Nov. 13.
THE WITCHER 3 - WILD HUNT: REGIS VAMPIRE DELUXE FIGURE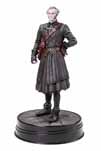 Emiel Regis Rohellec Terzieff-Godefroy, better known simply as Regis, was a very powerful higher vampire, and was more than four hundred years old when he first met Geralt of Rivia. He was the barber-surgeon of Dillingen but surprisingly intellectual for one in such a profession. Regis is featured as an integral part in Geralt and company's quest to find Ciri. In the continuing series of the wildly popular Witcher figures, Dark Horse is excited to bring Regis the Vampire to life! This deluxe, hand-painted plastic figure is the very first of our Witcher figures that features interchangeable parts! His head, left arm, and right hand are removable and allow you to change Regis from his human form to his vampire form. Add this to your Witcher figure collection now!
10.5 inches tall, $59.99, in stores on Nov. 13.
WITCHFINDER OMNIBUS VOLUME 1 TP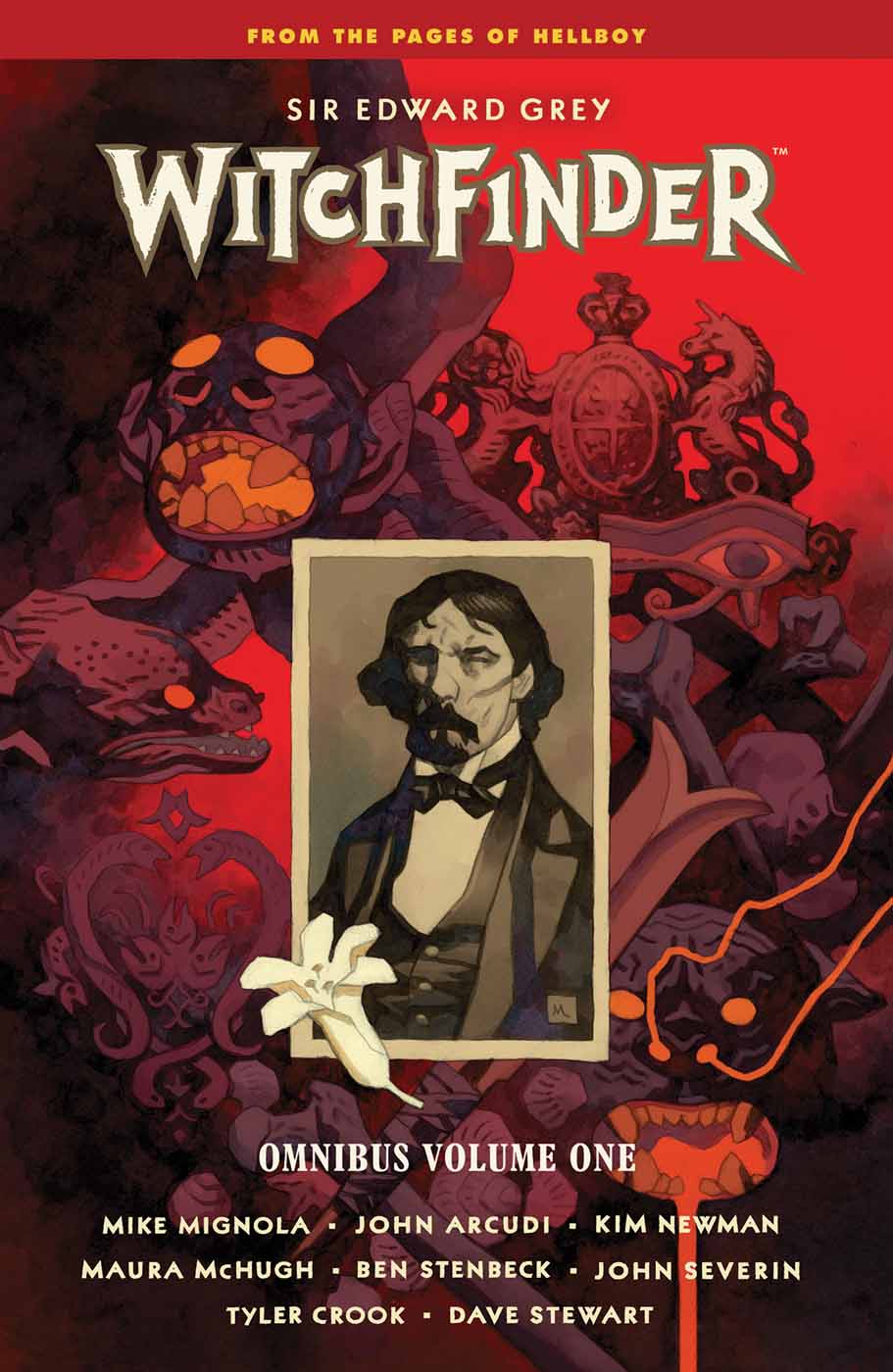 Mike Mignola (W/Cover), John Arcudi (W), Kim Newman (W), Maura McHugh (W), Ben Stenbeck (A), John Severin (A), Tyler Crook (A), Dave Stewart (A), and Others
The collected adventures of England's greatest occult investigator! When the man called the Witchfinder becomes an agent of the Queen, he is led from the sparkling echelons of Victorian London to its dark underbelly, through the American West, and to explore the mysteries of Unland! Throughout his adventures, he'll face occult conspiracies, rampaging monsters, and London's most infamous secret society: the Heliopic Brotherhood of Ra! This first omnibus edition collects Sir Edward Grey: Witchfinder volumes 1-3, plus an extensive sketchbook section.
440 pages, $34.99, in stores on Nov. 27.
Source : www.comicscontinuum.com