DYNAMITE ENTERTAINMENT FIRST LOOKS
RED SONJA & VAMPIRELLA MEET BETTY & VERONICA #1
Writer: Amy Chu
Art: Maria Sanapo
Cover A: Fay Dalton
Cover B: Francesco Francavilla
Cover C: Robert Hack
Cover D: Paulina Ganucheau
Cover E: Laura Braga
Cover F: Dan Parent
Mystery, murder, and mayhem descends on Riverdale as four of your favorite comic book women meet for the first time. A string of paranormal, unsolved murders leads the vampire hunter Vampirella and her sword-wielding barbarian partner Red Sonja to the small, sleepy town where things always seem to happen… There they discover Betty and Veronica, investigative reporters for the high school newspaper, also hot on the trail of the same killer.
32 pages, $3.99, in stores on May 8.
RED SONJA & VAMPIRELLA MEET BETTY & VERONICA FRANCESCO FRANCOVILLA ENAMEL PIN SET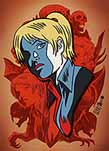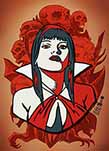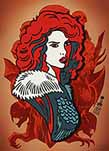 Art:Â Francesco Francavilla.
Celebrating our very first crossover event with the Riverdale universe, Dynamite presents a limited-edition enamel pin set featuring the stars of Red Sonja & Vampirella Meet Betty & Veronica. Each 1.5" diameter pin is designed by Francesco Francavilla, based on his amazing cover artwork from the first issue of the series. Also available separately as $9.99 items.
$37.99, in stores on May 8.
ALTERED CARBON: DOWNLOAD BLUES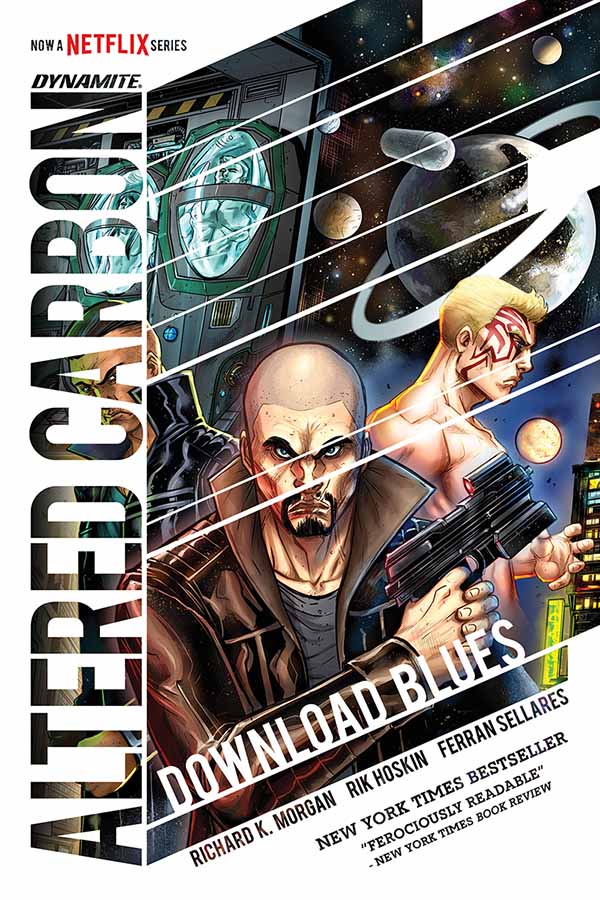 Writer: Richard K. Morgan, Rik Hoskin
Art: Ferran Sellares
Cover: Ferran Sellares
In the distant future, the human body is a temporary and interchangeable commodity - if you can pay.
For the interstellar elite, bodies are swapped out and reused without a second thought. You never grow old; you never die.
However, some bodies are more temporary than others …
Takeshi Kovacs was once a member of the Envoy Corps, stormtroopers for the Interstellar Earth Protectorate, ultra-lethal adepts in switching bodies across the stars. While he served, he was known by a variety of names–Mamba Lev, One Hand Rending, the Icepick–all testament to his capacity for rapid response and extreme violence in whatever flesh he wore. Now he's out of the service and trying to live a different life. But the Protectorate hasn't changed its spots, no matter what world Kovacs drifts to, and with that old combat rage still burning deep inside him, will he ever really be able to walk away?
128 pages, $24.99, in stores on May 15.
SWEET VALLEY HIGH ORIGINAL GRAPHIC NOVEL
Writer: Katy Rex
Art/Cover: Devaki Neogi
When Jessica falls in love with her Shakespeare teacher, she begins to act like her studious twin sister Elizabeth to impress him. Now it's up to Elizabeth to make sure that all's well that end well - but with Jessica playing her role, will anyone be able to tell which twin is which?
The treasured series that has entertained generations and sold over 60 million books returns! Fans of the over 600 classic novels and spinoffs and the TV show will adore this charming graphic novel from rising star writer Katy Rex (Charmed Magic School, Jade Street Protection Services) and artist Devaki Neogi (The Skeptics, Curb Stomp). Sweet Valley High is also in development as a major motion picture.
120 pages, $14.99, in stores in June.
ARMY OF DARKNESS/BUBBA HO-TEP #4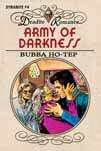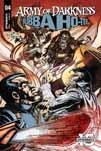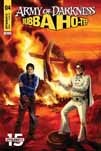 Writer: Scott Duvall
Art: Vincenzo Federici
Cover A: Diego Galindo
Cover B: Tom Mandrake
Cover C: Robert Hack
Following an unscheduled crash-landing in Graceland, Ash must quickly dust himself off and do what he does best – defending Necronomicons from Evil! As if plummeting into the King's mansion wasn't bad enough, Bubba enlists an undead Elvis impersonator to take on everyone's favorite deadite-slayer while the fate of the real Elvis remains unknown. The deadly conclusion to this hunk of burning crossover grooviness that's guaranteed to raise temperatures and set your soul afire!
32 pages, $3.99, in stores on May 29.
BATTLESTAR GALACTICA: TWILIGHT COMMAND #4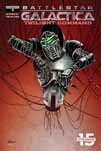 Writer: Michael Moreci
Art: Breno Tamura
Cover A: Brent Schoonover
Cover B: Breno Tamura
Things heat up in the penultimate issue of Twilight Command! One of Flores's own puts his life on the line for his squad, and the Cylon plot proves to be much more of a threat than anyone imagined! A desperate mission puts Twilight Command's back against the wall, and with time running out they may not be able to stop Cavil's plan in time!
32 pages, $3.99, in stores on May 22.
Writer: David Avallone
Art: Julius Ohta
Cover A: John Royle
Cover B: Scott Chantler
Cover C: David Williams
Cover D: Julius Ohta
Cover E: Photo Cover
A new dimensional shift finds our heroine with sharpened canines, an eye-catching monokini, and a taste for blood…but if that's what it takes to stop the Great Old Ones from destroying our reality, pour her a Type O plasma on the rocks! The Crisis on Infinite Betties continues, and only our Pin-Up Protagonist can save the multiverse, in part two of the epic four-part saga.
32 pages, $3.99, in stores on May 22.
CRACKDOWN #4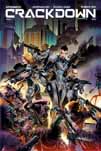 Writer: Jonathan Goff
Art: Ricardo Jaime
Cover: Ricardo Jaime
From the world of the hit Crackdown (Xbox) video game franchise comes the final chapter in a battle against impossible odds.
The fight to save San Reno may just be a fight to save the world as the Agents face threats on all fronts!!! The villainous mega-corporation, TerraNova, as plunged the world into darkness. It's up to Commander Rollins and her team of super-Skilled Agents to make one, last stand against a terrifying new world order. Lucky for us – no matter the odds, no matter the threat – Agents don't quit. And when push comes to shove, they always…
32 pages, $3.99, in stores on May 29.
ELVIRA: MISTRESS OF THE DARK #10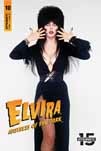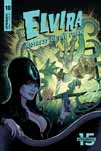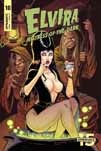 Writer: David Avallone
Art: Dave Acosta
Cover A: Tim Seeley
Cover B: Craig Cermak
Cover C: John Royle
Cover D Subscription: Photo Cover
Elvira's eldritch adventures continue, as her wild ride winds up at a horror-haunted hospital. A crazy cult is playing doctor (and not in a good way)… but Elvira is ready to operate as only she can, in her latest absurd escapade!
32 pages, $3.99, in stores on May 22.
Writer: Greg Pak
Art: Eric Gapstur
Cover A: Dave Johnson
Cover B: Khoi Pham
Cover C: David Nakayama
Cover D: Stephen Mooney
« Goldfinger. » A friendship is finished. The world is in peril. And Goldfinger wants diamonds. The modern Bond epic continues.
32 pages, $3.99, in stores on May 15.
Writer: Jeff Parker
Art: Ibrahim Moustafa
Cover A: Dan Panosian
Cover B: Juan Gedeon
Cover C: Eric Gapstur
Cover D: Ibrahim Moustafa
Cover E: Bob Q
« Russian Ruse, » Part III. Injured and alone, lieutenant James Bond has escaped his Russian captors, only to be thrust into the heart of war.
32 pages, $3.99, in stores on May 8.
Writer: Amy Chu
Art: Edu Menna
Cover A: Stuart Sayger
Cover B: Ruairí Coleman
Cover C: Pasquale Qualano
Cover D: Photo Cover
Jay thought his life was pretty normal until he died. Now, with the help of a mysterious girl named Mania, Jay is tracking down the members of KISS at the behest of the Demon King! And if you think that is metal, just wait until we get to the part about the Wasteland!
32 pages, $3.99, in stores on May 15.
OBEY ME #2
Writer: Mario Mentasti
Art: Ben Herrera and Emmanuel Ordaz Torres
Cover: Ben Herrera
During a routine clean-up mission of the city slums, Vanessa and Monty are suddenly targeted by a group of human mercenaries serving one of the Infernal Archdukes. Under pressure, they accidentally stumble upon a new power, but disagreements caused tempers to flare up and they split apart. Will they be able to restore their partnership and finish the job or will their division mark the end of their adventures and even their lives?
32 pages, $3.99, in stores on May 1.
Writer: Kieron Gillen
Art: Caspar Wijngaard
Cover A: Kevin Wada
Cover B: Paulina Ganucheau
Cover C: Caspar Wijngaard
All that exists, and all that ever will exists rests on the confrontation between two men who are the same man. Peter Cannon versus Peter Cannon, for the future of the canon. Who wins? Who loses? Peter Cannon. Evidently.
32 pages, $3.99, in stores on May 29.
Writer: Mark Russell
Art: Mirko Colak
Cover A: Amanda Conner
Cover B: Joseph Michael Linsner
Cover C: Christian Ward
Cover D: Kenneth Rocafort
Cover E: Cosplay Variant
« The Brothers Of Misfortune. » The Zamoran Empire musters a fleet of war chariots to rush arms and provisions to the front line. Hyrkania would be lost, were they not led by Sonja The Red, who knows it is not enough to know one's own strength, but to understand the strengths, and weaknesses, of one's opponents.
32 pages, $3.99, in stores on May 1.
Writer: Christopher Hastings
Art: David Hahn
Cover A: Michael Walsh
Cover B: Eric Gapstur
Cover C: Felipe Magaña
« The $1,475,964 Man. » Steve Austin gets hit by lightning. That'd kill anybody else. But for a broken-down-and-battery-depleted-former-astronaut-turned-cyborg-secret-agent-in-Japan-desperate-to-save-the-world kinda guy like Steve? Just what the doctor ordered.
32 pages, $3.99, in stores on May 1.
Writer: Ron Marz
Art: Roberto Castro
Cover A: Rags Morales
Cover B: Butch Guice
All secrets are revealed as Turok faces the ultimate truth of the Lost Valley, and his place in it, when he is confronted by a seemingly endless array … of Turoks! Will the revelations be enough to return Turok and Andar to their home? Or will the brothers be forever marooned in a land of hungry dinosaurs?
32 pages, $3.99, in stores on May 15.
Writer: Vita Ayala
Art: Olympia Sweetman
Cover A: David Mack
Cover B: Emanuela Lupacchino
Cover C: Paulina Ganucheau
« The Grand Old Army. » The epic journeys persist. Xena and Gabrielle find themselves amidst a deadly quarrel between The God Of Strife and The God Of Discord! The only way to save a village of innocents is for Xena to agree to lead an army against an incoming Roman legion. But Xena's "army" is comprised of…the village elders!?
32 pages, $3.99, in stores on May 8.
THE BOYS OMNIBUS VOL. 2 TRADE PAPERBACK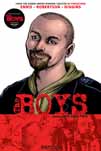 Writer: Garth Ennis
Art/Cover: Darick Robertson
An all-new omnibus printing that includes The Boys Volume 3: Good for the Soul & The Boys Volume 4: We Gotta Go Now.
In "Good for the Soul…" Everyone has something to get off their chest: Frenchie and the Female are up to something nasty with the Mafia, Mother's Milk goes to see his mom, Annie January wants a word with God himself, and Butcher enjoys yet another ghastly tryst with CIA Director Rayner. The Legend, meanwhile, offers to tell Hughie everything he wants to know about The Boys - all Hughie has to do is take a walk with the dead.
In "We Gotta Go Now…" All is not well with mysterious millionaire John Godolkin's band of misfits. Silver Kincaid, one of the original G-Men, has just committed suicide in the most public and grotesque way imaginable. That's not good news for Vought-American's number one franchise, with G-Force, G-Coast, G-Style, G-Wiz, the G-Brits and the G-Nomads all depending on their slice of the G-pie. There's far too much at stake for anyone to go poking around the G-Mansion now. Who knows what dirty secrets might be waiting down there in the dark?
376 pages, $29.99, in stores on May 8.
CHARLAINE HARRIS' CEMETERY GIRL BOOK THREE: HAUNTED
Writer: Charlaine Harris, Christopher Golden
Art/Cover: Geraldo Borges
They call her the Ghost of Dunhill Cemetery, but most people think « the Cemetery Girl » is just a story. In some ways, that's true. Her chosen name is Calexa Rose Dunhill, but she doesn't know her real name. When she first arrived here, all she knew was that someone had tried to murder her, dumped her body, and left her for dead. Calexa has been hiding out, afraid to seek out her true identity in fear that her would-be murderer would find her and finish the job. And someone is searching for her…a man named Salazar, who holds the key that will unlock the secrets of Calexa's past.

Calexa has new secrets as well – including the fact that she was murdered…she did die, if only for a moment. And in that moment, something changed inside her. Now, if someone dies near her, their spirit is drawn to Calexa, drawn into her. It has happened twice before, but now – as her worst fears come true and there are killers on her trail – the third ghost to take up residence in Calexa's soul will change everything and bring the Cemetery Girl trilogy to its shocking conclusion!
120 pages, $19.99, in stores on May 8.
JAMES BOND ORIGIN VOL. 1 HARDCOVER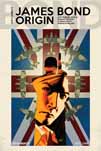 Writer: Jeff Parker
Art: Bob Q
Cover: John Cassaday
At last, the definitive account of James Bond's exploits during World War II!
MARCH, 1941: Seventeen-year-old James Bond is a restless student in Scotland, an orphan, eager to strike out and make his mark on the world. But a visit by an old family friend coincides with THE CLYDEBANK BLITZ, the most devastating German attack on Scotland during the War. James will fight through hell to survive, coming out the other side determined to make a difference. He'll find his calling in a new British government service, secret in nature…
160 pages, $24.99, in stores on May 15.
PROJECT SUPERPOWERS VOL. 1: EVOLUTION
Writer: Rob Williams
Art: Sergio Davila
Cover: J.G. Jones
An all-new threat faces the Earth, while the team faces turmoil from within and must overcome all obstacles to prove their worth and value in a world that desperately needs its heroes. The Death-Defying Devil, Samson, Black Terror, Masquerade, Green Lama, Scarab and more are all here as the adventure begins again!
160 pages, $24.99, in stores on May 16.
VAMPIRELLA/DEJAH THORIS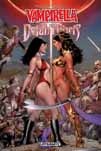 Writer: Erik Burnham
Art: Ediano Silva
Cover: Jay Anacleto
The encounter that was destined to happen! When an alien scout ship crashes on Mars, Dejah Thoris must risk reigniting war with the Green Martians and becoming dinner for the white apes. But the stakes are raised so much higher when the ship is revealed to carry Vampirella, who is on a desperate mission of survival-one that might end before it truly begins!
132 pages, $19.99, in stores on May 1.
RED SONJA: WORLDS AWAY VOL. 4 – THE BLADE OF SKATH
Writers: Amy Chu, Erik Burnham
Art: Carlos Gomez
Cover: John Royle
Following the defeat of Kulan Gath, Sonja discovers her trusty sword has a secret history as the legendary Blade of Skath and faces a decision: does she keep her steel, or return it to its rightful Cimmerian owner?
132 pages, $19.99, in stores on May 15.