RED SONJA/VAMPIRELLA #1
Writer: Jordie Bellaire
Art: Drew Moss
Covers: Terry Dodson, Rachel Dodson, Julian Totino Tedesco, Babs Tarr, Leonardo Romero, Jordie Bellaire, Drew Moss.
The first ongoing series, co-starring The Daughter Of Drakulon and The She-Devil With A Sword! A saga spanning space and time, filled with horror, adventure, mystery and murder.
32 pages, $3.99, in stores on Sept. 4.
CHASTITY #1
Writer: Leah Williams
Art: Daniel Maine
Covers: Clayton Crain, Nick Bradshaw, Jay Anacleto, Catherine Nodet, David Nakayama.
Chastity Jack has been kidnapped, to the great misfortune of her kidnappers. She, along with a dozen other young women, arrive at an audition for a prestigious New York City burlesque act hoping to land a coveted spot in the popular show. When they wake up in chains on a spooky cruise ship in the middle of nowhere, they're congratulated on joining the cast. Realizing they've been drugged and kidnapped by human traffickers, Chastity Jack declines the offer. Grindhouse-style.
32 pages, $3.99, in stores on Sept. 11.
JAMES BOND: LIVE AND LET DIE GRAPHIC NOVEL HARDCOVER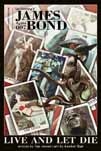 Writer: Van Jensen, Ian Fleming.
Art: Kewber Baal.
Cover: Fay Dalton.
In this second adaptation of the Fleming novels… Bond is sent to New York City to investigate « Mr. Big », an agent of SMERSH and a criminal voodoo leader. With no time for superstition – and with the help of his colleague in the CIA, Felix Leiter, Bond tracks « Mr. Big » through the jazz joints of Harlem, to the everglades and on to the Caribbean, knowing that this criminal heavy hitter is a real threat. No-one, not even the mysterious Solitaire, can be sure how their battle of wills is going to end…
168 pages, $24.99, in stores on Sept. 11.
THE COMPLETE GAIL SIMONE RED SONJA OMNIBUS – OVERSIZED EDITION HARDCOVER
Writer: Gail Simone.
Art: Walter Geovani, Jack Jadson.
Cover: Jenny Frison.
Gail Simone gives the iconic fantasy heroine a fresh new attitude! Red Sonja, the She-Devil with a Sword, intends to pay back a blood debt owed to the one man who has gained her respect… even if it means leading a doomed army to their certain deaths! Who is Dark Annisia, and how has this fearsome warrior accomplished what no god nor demon has been able to do: force Sonja to her knees in surrender? An epic tale of blood, lust, and vengeance, Queen of the Plagues takes Red Sonja from the depths of her own grave to the heights of battlefield glory. Contains issues 0-18 of Red Sonja (Volume 2).
528 pages, $49.99, in stores on Sept. 11.
THE BOYS OMNIBUS VOL. 4 TRADE PAPERBACK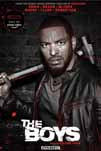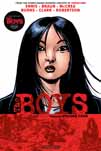 Includes both volumes 7 & 8 of the series in one volume.
So where are the real superheroes? The warriors for truth and justice, the defenders of the American way, the heroes who fight to make things right and ask for nothing in return? Hughie finds out when he meets the teenage adventurers known as SUPERDUPER… but unknown to the little Scotsman, Butcher has finally learned his secret. A dire scheme is set in motion, and at the vast superhero evangelist festival of BELIEVE, Hughie's relationship with Annie January - aka Starlight of the Seven - reaches its terrible conclusion.
Next… a special story featuring everyone's favorite pint-sized Scotsman, Hughie. Mind reeling from cataclysmic events in New York, Wee Hughie heads home to Auchterladle - the semi-idyllic Scottish seaside town where he grew up. All Hughie wants is some time to himself, to return to the bosom of family and friends, and get his head together after two years of unimaginable chaos. But our hero's luck has always been more cloud than silver lining, and the familiar surroundings he craves are not all they might be. Old pals are warped beyond recognition, strangers in town are up to no good, and a figure from Hughie's recent past has come back to resolve some unfinished business. You can go home again - but whether or not you should is another matter entirely.
328 pages, $29.99, in stores on Sept. 11.
Writer: Gail Simone
Art: Walter Geovani
Covers: Inhyuk Lee, Lucio Parrillo, Riccardo Federici.
The Death Defying 'Devil's time in the Winslow house brings him closer to the people he has sworn to protect, but a mystery inside the house is blooming, while the enemy outside moves in closer. Threats loom everywhere and the 'Devil may be the greatest of them all.
32 pages, $3.99, in stores on Sept. 4.
Writer: David Avallone.
Art: Julius Ohta.
Covers: John Royle, Scott Chantler, David Williams, Pasqual Qualano, photo.
It's almost 1953, and Americans are afraid. There are flying saucers in the sky, a Commie spy under every bed…and something even more dangerous might be attacking America…from within! It's up to Model Agent Bettie Page to find out what it is…and stop it. A new storyline begins with…the Invasion of the Bettie Snatchers!
32 pages, $3.99, in stores on Sept. 25.
CHARLIE'S ANGELS VS. THE BIONIC WOMAN #3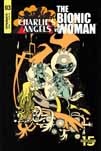 Writer: Cameron DeOrdio.
Art: Soo Lee.
Covers: Cat Staggs, Jim Mahfood.
Kelly's undercover and a hair's breadth away from getting Naris's security schematics to the rest of the Angels, but the Bionic Woman has other plans – and a dangerously accurate hunch. Will Kelly make it out of Stoker Security? Will the Angels make it into the Naris vault? Motives will be unveiled and plans will unravel in the third installment.
32 pages, $3.99, in stores on Sept. 4.
Writer: Greg Pak.
Art: Robert Carey.
Covers: Dave Johnson, Khoi Pham, Gleb Melnkov, Robert Carey.
« Goldfinger » continues. Infiltration. A mad love. Someone goes unhinged.
32 pages, $3.99, in stores on Sept. 18.
RED SONJA #8
Writer: Mark Russell.
Art: Bob Q.
Covers: Amanda Conner, Joseph Michael Linsner, Khoi Pham, Katie O'Meara, Cosplay Photo.
« The Woodlands. » Hyrkania burns, from flames allowed by its ruler, Sonja The Red. In The Clearing, Lord Oak will hear her call for alliance with the woodland tribes. But trust does not come easily to either folk.
32 pages, $3.99, in stores on Sept. 11.
RED SONJA: BIRTH OF THE SHE-DEVIL #4
Writer: Luke Lieberman.
Art: Sergio Davila.
Covers: Lucio Parillo, Sergio Davila, Cosplay Photo.
The fiery conclusion! Red Sonja has travelled long and hard to come to terms with her mentor – Ozzyus and save Shashana! Now, the trio hurtle towards the oblivion and despair of the villainous Raka, while working to restore the kingdom of the good king Andol!
32 pages, $3.99, in stores on Sept. 18.
RED SONJA & VAMPIRELLA MEET BETTY & VERONICA #5
Writer: Amy Chu.
Art: Maria Sanapo.
Covers: Fay Dalton, Robert Hack. Laura Braga, Dan Parent, Cat Staggs.
Fear and paranoia run rampant in Riverdale, but super sleuths Betty and Veronica finally flush out the mysterious killers with the help of Vampirella and Red Sonja. And it's not who they think…!
32 pages, $3.99, in stores on Sept. 25.
VAMPIRELLA #3
Writer: Christopher Priest.
Art: Ergun Gunduz.
Covers: J. Scott Campbell, Guillem March, Fay Dalton, Ergun Gunduz, Cosplay photo.
Seduction of The Innocent Book Three of Twelve: Vampirella leads a team of religious zealots to take down a pack of werewolves preying on unsuspecting cultists. Also, weary of her mother Lilith's nagging, Vampirella reluctantly goes speed dating and, in so doing, stumbles into a dangerous new love affair.
32 pages, $3.99, in stores on Sept. 19.
Written by Jeff Parker, art by Dean Kotz, covers by Dave Johnson, Marc Laming, Ramon Villalobos, Ben Caldwell.
« Back To Barsoom. » The hero returns! John Carter reunites with his Barsoom allies…just as Mars Attacks! Can John, Tars Tarkas, Woola and more defend the world they love, or will this Mars fall?
32 pages, $3.99, in stores on Sept. 25.
Writer: Vita Ayala.
Art: Olympia Sweetman.
Covers: David Mack, Rachael Stott, Paulina Ganucheau.
Just as Xena's World Tour brings her back home to Greece, she and her travel companions will confront the might Zeus himself on Mount Oympus!
32 pages, $3.99, in stores on Sept. 11.
ARMY OF DARKNESS/BUBBA HO-TEP TRADE PAPERBACK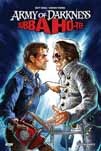 Writer: Scott Duvall.
Art: Vincenzo Federici.
Cover: Diego Galindo.
Ash embarks on a soul-searching road trip to Texas on a hunch that Elvis Presley may still be alive and kicking (and supposedly vanquished a mummy)! What follows is a series of universe-spanning events that involve an Elvis jumpsuit with special time-travel abilities, a trip to 70's Vegas, plus the reveal of an evil new Book of the Dead, the Necronomicon Ho-Tep. Has Ash met his ultimate match when trading barbs with a 4,000-year-old, foul-mouthed mummy who sucks souls? Can his idol Elvis mentor him through a mid-life crisis before it becomes his final crisis? Join the adventure in a road-tripping, time-hopping groovy tale!
104 pages, $17.99, in stores on Sept. 4.
ELVIRA: THE SHAPE OF ELVIRA TRADE PAPERBACK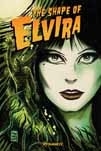 Writer: David Avallone.
Art: Fran Strukan, Fernando Ruiz.
Cover: Francesco Francavilla.
The Mistress of the Dark lands the leading role in a touching art film about human/gill monster romance, but there's something decidedly fishy about her costar. Is there an Oscar™ in her future, or is director Billy Bullworth interested in spawning something more than an Academy Award-winning movie?!
120 pages, $17.99, in stores on Sept. 11.
DEJAH THORIS AND THE GREEN MEN OF MARS OMNIBUS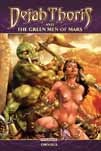 Writer: Mark Rahner.
Art: Lui Antonio, Jethro Morales.
Cover: Jay Anacleto.
The peace John Carter brought to Helium and Thark is new and fragile. On the eve of a Red & Green festival to balm age-old hatreds, Dejah Thoris is kidnapped. The ordeal triggers her lingering nightmares of abuse and helplessness at the hands of brutal Tharks. And the kidnapper is nightmare personified: Voro. He caters to a taste some green men never lost: the red meat of Helium women.
320 pages, $29.99, in stores on Sept. 4.
PETER CANNON: THUNDERBOLT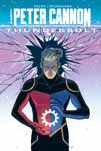 Writer: Kieron Gillen.
Art/cover: Caspar Wjingaard.
His level of genius is matched only by his heroics, and in humanity's darkest hour, he's the hero they need the most-alas, poor humanity. Peter Cannon-the man known as Thunderbolt-is only too happy to leave civilization to face its end. Kieron Gillen (The Wicked + the Divine) teams up with powerhouse artist Caspar Wijngaard (Doctor Aphra) as he returns to the superhero genre with a dark, humorous and relentless love song to the genre. Well, « Love Song » in a Leonard Cohen Love Song kind of way. Peter Cannon, Thunderbolt: saving a world he hates.
124 pages, $29.99, in stores on Sept. 4.
Source : www.comicscontinuum.com