IDW PUBLISHING FOR AUGUST
MARVEL ACTION: CAPTAIN MARVEL #1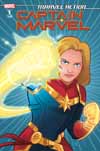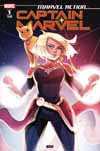 Sam Maggs (W), Sweeney Boo (A/C), Sarah Leuver (VC).
Go higher, further, and faster with Captain Marvel in this brand-new, all-ages adventure! Carol Danvers' quiet night with BFF Jessica Drew (a.k.a. Spider-Woman) takes a cat-astrophic turn when Manhattan's bodegas are suddenly overrun by a host of angry felines! And not just any felines—Flerkens, the most terrifying, pocket-dimension-holding, tentacle-devouring kitty-look-alikes in the entire universe! Carol's paw-sitive she can handle the situation on her own, but questions remain: can she overcome the fur-midible foes before it's too late? How well does the « Find My Phone » function actually work? And will there be more cat puns?! It's a Flerken invasion in the latest addition to the mighty Marvel Action banner!
32 pages, $3.99.
MARVEL ACTION: AVENGERS #8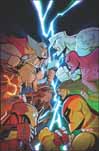 Matthew K. Manning (W), Jon Sommariva (A/C), Dario Brizuela (VC).
As an incoming threat nears, old foes – U-Foes, to be exact – return to make life miserable for the Avengers! Meanwhile, Black Panther begins to question whether he belongs in the Avengers!
32 pages, $3.99.
MARVEL ACTION: SPIDER-MAN #9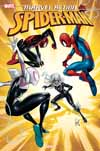 Delilah S. Dawson (W), Fico Ossio (A/C), Nicoletta Baldari (VC).
When Peter, Miles, and Gwen nab a famous cat burglar, they inadvertently make a new enemy in the Black Cat! And she'll stop at nothing to make them wish they had never crossed paths!
32 pages, $3.99.
MARVEL ACTION: SPIDER-MAN: SPIDER-CHASE
Erik Burnham (W), Christopher Jones (A/C)/
Peter, Miles, and Gwen have joined forces and nothing can stop them in these middle-grade friendly adventures! Well, maybe nothing except homework and an internship at the Daily Bugle, not to mention being stalked by a new dangerous foe…Kraven the Hunter! One by one, the Spiders fall into Kraven's web, but the final showdown looms on a battlefield of the hunter's choosing. Could this be the end for Peter, Miles, and Gwen? Collects issues #4-6 of the Marvel Action: Spider-Man series.
80 pages, $9.99.
CARE BEARS: UNLOCK THE MAGIC #2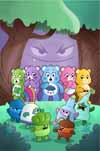 Matthew Erman (W), Nadia Shammas (W), Agnes Garbowska (A/C), Nico Pena (VC).
Bluster has built a fantastical funhouse, but instead of bringing mirth to the Whiffles, it's only introducing arguments and bad feelings! The Care Bears investigate, and are forced to confront some of their very worst fears!
32 pages, $3.99.
MY LITTLE PONY: FRIENDSHIP IS MAGIC #81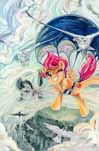 Thom Zahler (W/VC), Nicoletta Baldari (A/C), Sara Richard (VC).
It's Foals and Friends Weekend at the Wonderbolts Academy, but after an accident during practice, Rumble finds himself grounded. Good thing General Dauntless is there with a story or two to tell! Including one about the only Earth pony who has ever been a member of the Wonderbolts.
32 pages, $3.99.
MY LITTLE PONY: THE FEATS OF FRIENDSHIP #1
Ian Flynn (W), Tony Fleecs (A/C), JustaSuta (VC), Katie O'Neill (VC).
Come one, come all, to the School of Friendship's very first sporting event – the Feats of Friendship! As Sandbar, Smolder, Gallus, Ocellus, Yona, and Silverstream prepare for the new competition, they realize they're going to need one more pony to round out their team. Enter Swift Foot, a mysterious new exchange student! But will she help strengthen the Young Six's bonds of friendship – or just drive them apart? Jealousy threatens our favorite youngsters in this brand-new miniseries!
32 pages, $3.99.
STARCADIA QUEST #1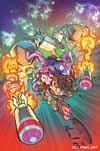 James Roberts (W), Aurelio Mazzara (A/C), Nicoletta Baldari (VC).
Out in the Frontier, the toughest jobs in the galaxy are handled by Freelance Adventuring Crews, and on his sixteenth birthday (kinda), the delivery boy known as Starkid sends out a call for the best recruits he can get… at his local Stardollars coffee shop. An action-packed and hilarious QWST begins!
36 pages, $4.99.
STAR WARS ADVENTURES #25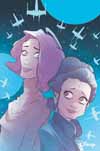 Delilah S. Dawson (W), Margaux Saltel (A/C), Megan Levens (VC), Stefano Simone (VC).
In this story set before A New Hope, Princess Leia Organa faces the most challenging task of her young life: teaching Amilyn Holdo how to drive a speeder! But both learn an important lesson after finding themselves in the dangerous lower levels of Coruscant.
32 pages, $3.99.
SONIC THE HEDGEHOG #20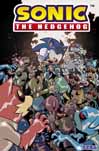 Ian Flynn (W), Jack Lawrence (A/VC), Evan Stanley (C), Nathalie Fourdraine (VC).
« Crisis City, Part 2 »! When a powerful ally succumbs to the Metal Virus, Omega and Sonic stand alone against an infected city. And even if they can save the remaining civilians from the zombots, will they be safe from Sonic?
32 pages, $3.99.
SONIC: TANGLE & WHISPER #2
Ian Flynn (W), Evan Stanley (A/C), Nathalie Fourdraine (A/VC).
If Tangle and Whisper know they're being led into a trap, the imposter they've been chasing can't get the drop on them, right? Who is this mysterious imposter, why is Whisper so adamant about taking him down, and will Tangle be able to help – or just get in the way? Find out in « Ambush »!
32 pages, $3.99.
DISNEY AFTERNOON GIANT #6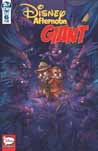 Ian Brill (W), Leonel Castellani (A/C), Ricardo Garcia (A), Morgan Luthi (A), James Silvani (A).
This issue we present another Chip ‹ n › Dale Rescue Rangers adventure in « Spine-Tinger »! Then it's another chapter in the return of Darkwing Duck as « The Duck Knight Returns » continues! So, where had he gone, you ask, and what was he up to while he was away? And just why did he leave in the first place? Find out the answers to all these questions and more this issue… That's two action-packed, drama-filled stories you won't want to miss!
48 pages, $5.99.
TANGLED: THE SERIES – HAIR AND NOW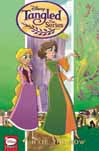 Katie Cook (W), Monica Catalano, Eduardo Petrovich, Rosa La Barbera, and Giuseppe Di Maio (A), Eduard Petrovich, Rosa La Barbera, and Monica Catalano (c)
Celebrate everything you love about Tangled: The Series with this special collection of five stories featuring Rapunzel, Eugene, Cassandra, and all their friends! From a mystery that needs solving in « The Corona Caper; » to the circus coming to a neighboring kingdom in « Under the Big Top; » to the (literal) magic of art in « Framed, » and to the adventures of Maximus and Pascal in « Curtain Call » and « Picture Perfect; » there's something for everyone in the pages of these beautifully illustrated stories written by fan-favorite Katie Cook!
80 pages, $9.99.
TANGLED: THE SERIES: HAIR IT IS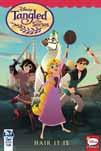 Leigh Dragoon and Katie Cook (W), Eduard Petrovich (A/C/VC), Rosa La Barbera (A/V/C), and Diogo Saito (A).
It's a special one-shot celebrating Tangled: The Series with four stories featuring Rapunzel and all her friends! Take one more magical tour through the beautiful kingdom of Corona in « Barefoot Friends, » « Baking Instinct, » « Eager to Help, » and « Guardian's Day! » You won't want to miss it!
36 pages, $4.99.
YOUNG DONALD DUCK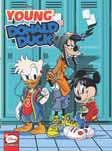 Francesco Artibani, Stefano Ambrosio, and Alessandro Ferrari (W), Stefano Intini, Marco Mazzarello, Antonello Dalena, and Francesco D'Ippolito (A), Stefano Intini (c)
Life on the farm is not easy, especially when you're twelve years old and you really can't stand life getting in the way of YOUR life! But all of a sudden Donald finds himself thrown into a new one that might be much better when he moves to the big city to attend a fancy school with lots of new kids to become friends with. However, things are actually not as easy as they seem. Donald will fall in love, deal with new teachers, homework, assorted crazy adventures, and realize that growing up is really difficult, especially when you're really only a kid!
176 pages, $14.99.
UNCLE SCROOGE #48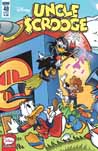 Vito Stabile and Pietro B. Zemelo (W), Frederico Franzo (A), Marco Mazzarello (C), Stefano Intini (VC).
Uncle Scrooge's fortune has reached the milestone of seventy bajillion, and he's decided to celebrate the event, refurbishing his Money Bin by tricking it out with a brand-new defensive system thanks to Gyro Gearloose. But something has gone wrong, and all of Killmotor Hill has disappeared underground, the Money Bin included! How will Scrooge make his way out of the Bin and back above ground – or will he? Find out in Chapter Two of « Under Siege. » Collect all three connecting covers from issues #47-49!
36 pages, $4.99.
DUCKTALES: SILENCE & SCIENCE #1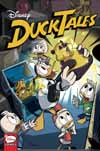 Steve Behling (W), Luca Usai, Circo Cangialosi, and Gianfranco Florio (A), Marco Ghighlione and Cristina Stella (A and B covers)
All Donald Duck wants to do is take a nice, long, uninterrupted nap, but there are too many distractions and just too much noise at McDuck Manor for him to do so. But then Donald remembers a magical artifact that cancels out all noise! Once he uses it, he can finally take a nap. There's only one problem: it's not only silent in McDuck Manor – it's silent all over the world! Will anyone be able to talk ever again? Discover for yourself in « Silence is Golden. »
32 pages, $3.99.
TEENAGE MUTANT NINJA TURTLES #97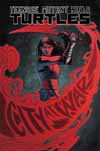 Tom Waltz (W), Kevin Eastman (W/VC), Dave Wachter (A/C), Cory Smith (VC).
City at War, Part 5. With enemies victorious on all sides and allies in short supply, the TMNT are at their lowest point. Yet as the TMNT start to blame themselves, a greater threat looms ever closer.
32 pages, $3.99.
TEENAGE MUTANT NINJA TURTLES, VOL. 22: CITY AT WAR, PT. 1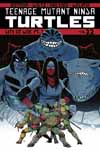 Kevin Eastman, Tom Waltz (W), Michael Dialynas, Dave Wachter (A), Michael Dialynas (C).
It's all been leading up to this! A massive showdown on the streets of NYC! Everything comes together in this explosive story that sees New York City torn apart by different factions, mutant and human alike! Karai returns to New York and the future of the TMNT, and all of NYC, comes down to a final negotiation between Splinter and Karai. Can they reach an agreement before Bishop's new plan begins? Leonardo, Raphael, Donatello, and Michelangelo face a gauntlet of danger unlike anything they have experienced before! Collects issues #90–95 of the ongoing series.
152 pages, $15.99.
TEENAGE MUTANT NINJA TURTLES: SHREDDER IN HELL
Mateus Santolouco (W/A/C)
Abandon all hope… as the most infamous villain in the Turtles' universe, Shredder, returns! Oroku Saki's death is just the beginning, and his journey through the depths of the underworld proves to be anything but a divine comedy. How much of Shredder's soul will remain after he faces the horrors of hell – and as his twisted path leads him deeper through the underworld, will he be able to survive an onslaught of demonic forces? Or, more importantly – the truth revealed about his own soul?!
128 pages, $17.99.
RISE OF THE TMNT: SOUND OFF! #2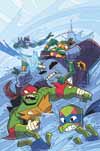 Matthew K. Manning (W), Chad Thomas (A/C), George Caltsoudas (VC).
The TMNT have been bested by their new sound-controlling enemies! Meanwhile, April struggles to cope with the unorthodox public speaking tips of Splinter!
32 pages, $3.99.
TMNT: URBAN LEGENDS #16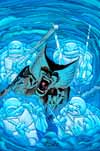 Gary Carlson (W), Frank Fosco (A/C/VC), Erik Larsen (VC), Kevin Eastman (VC).
The Shredder returns – and he's got Master Splinter! As Mikey, Donatello, and Leonardo mount a rescue mission, secrets are brought to light, and the true identity of their fabled enemy is revealed. Who could be behind the mask?!
32 pages, $3.99.
USAGI YOJIMBO #3
Stan Sakai (W/A/C).
"Bunraku,: Part 3. A sinister force grows in strength, and Usagi must team up with the supernaturally powered Sasuke to defeat it. The heroic duo is in for the fight of their life as the danger becomes even more bizarre than they could imagine!
32 pages, $3.99.
STAR PIG #2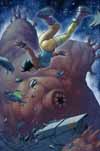 Delilah S. Dawson (W), Francesco Gaston (A/VC), Paulina Ganucheau (C).
Like many late-21st-century teens, geeky 16-year-old Vess gets packed off to spend her summer at Space Camp – which is literally in space. Tragically, a shuttle accident sends her and the rest of the passengers careening toward a cold, frosty death among the stars. But when a gigantic, space-faring tardigrade miraculously rescues Vess and her beloved retro Discman, it's the beginning of an extraordinary friendship and an incredible journey home, all set to the nostalgic tunes of Vess' 1990s-heavy playlist.
32 pages, $3.99.
GLOW VS THE STAR PRIMAS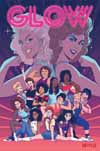 Tini Howard (W), Hannah Templer (A/C).
The Gorgeous Ladies of Wrestling are ready to take on the world – or at least L.A. – in this graphic novel based off the hit Netflix series! When the unthinkable happens and the women of GLOW find themselves ahead of schedule, Sam ruins the promise of a wrestling-free weekend with… more wrestling! Robbed of blissful relaxation and forced to raise money to fund their way to the event, the GLOW team is less-than-prepared for their opponents: real gorgeous lady wrestlers. What could possibly go wrong?! Zoya the Destroya, Liberty Belle, and the rest of your favorite Gorgeous Ladies of Wrestling take to the pages for new fights, new tights, and new drama!
96 pages, $15.99.
TRANSFORMERS #11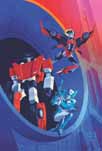 Brian Ruckley (W), Andrew Griffith (A) Beth McGuire-Smith (A), James Raiz (C), George Caltsoudas (VC), Guido Guidi (VC).
Chromia and Windblade raid a Rise base in search for clues about the identity of Brainstorm's murderer, only to be discovered – and the Rise isn't happy. Meanwhile, Bumblebee sees his first bit of action as the Ascenticon Guard is called to defend a building under siege!
32 pages, $3.99.
TRANSFORMERS #12
Brian Ruckley (W), Kei Zama (A), Alex Milne (C), Kei Zama (VC), Jeffrey Veregge (VC).
Out in the vast galaxy, Cybertronian explorers encounter all manner of beings – some friendly and some in stern opposition to Cybertronian expansion. When relations start to crumble and violence is threatened, there's only one bot to turn to – Nautica, head of xeno-relations.
32 pages, $3.99.
TRANSFORMERS '84 #0
Simon Furman (W), Guido Guidi (A.C).
An all-new prequel to the original 1984 Transformers #1! Celebrating 35 years of Transformers! War has gripped the planet Cybertron, but an even deadlier threat looms – an asteroid belt powerful enough to destroy the metal world unless Autobot Field Commander Optimus Prime and his heroic recruits can clear a path for the planet. But what other motivations does Prime have for this mission? And how does it tie to a secret on Earth in the eleventh century?
36 pages, $4.99.
TRANSFORMERS/GHOSTBUSTERS #3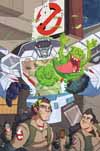 Erik Burnham (W), Dan Schoening (A/C), Nick Roche (VC), Philip Murphy (VC)
« Ghosts of Cybertron, » part 3. The 35th anniversary meeting between Transformers and Ghostbusters continues! Ectotron came to Earth and found a situation far more complicated than he was expecting, which means Optimus Prime is going to need to be brought into the picture. But until Optimus can arrive, Ectotron takes the opportunity to join the Ghostbusters on a case and observe the paranormal. And don't forget about the ghost of Starscream!
32 pages, $3.99.
GHOSTBUSTERS 35TH ANNIVERSARY COLLECTION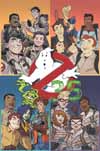 Erik Burnham, Cavan Scott, Devin Grayson, Jim Beard, Keith Dallas (W), Dan Schoening, Marcelo Ferreira, SL Gallant, Tim Lattie (A), Anthony Marques (c)
Celebrate the 35th anniversary of the Ghostbusters with four spooktacular stories featuring different teams in all-new standalone adventures! Who Ya Gonna Call? You've got four teams to choose from as the original Ghostbusters, The Real Ghostbusters, the Answer The Call team, and the Extreme Ghostbusters are all at the ready!
104 pages, $15.99.
G.I. JOE: A REAL AMERICAN HERO #267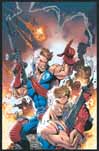 Larry Hama (W), Robert Atkins (A), Robert Atkins (C), Jamie Sullivan (VC).
« Snake Hunt, » Part 2! Cobra Commander thinks Sean Collins is the real Snake Eyes and wants him on the side of Cobra, whatever it takes. Dawn Moreno and the rest of the G.I. JOEs know the truth and want Sean back, whatever it takes. But Cobra Commander's not going to give up his prized new possession without a fight. The battle call has sounded and it's all hands on deck for both G.I. JOE and Cobra as living legend Larry Hama and fan-favorite artist Robert Atkins continue their 10-issue event… which features EVERY SINGLE MEMBER OF G.I. JOE!
32 pages, $3.99.
G.I. JOE: A REAL AMERICAN HERO, VOL. 23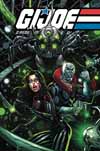 Larry Hama (W), Netho Diaz (A/C), SL Gallant (C).
As Cobra continues its relentless onslaught on a global scale, G.I. Joe is there to meet them in kind. It's tyranny versus freedom – heroes and villains will rise and fall, bullets will fly, blood will spill, and who and what remains when the smoke clears is anyone's guess! A hostile takeover turns into a desperate fight for survival when Destro and Baroness are caught in a deadly ambush by Revanche Robotic's Alpha 001 Prime, who has declared war on M.A.R.S. and the Arashikage Clan! Collects issues #261-265.
120 pages, $17.99.
MAGIC: THE GATHERING: CHANDRA - TRIALS OF ALARA #1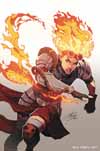 James Asmus (W), Eric Koda (A), S L Gallant (C/VC), Siya Oum (VC).
Chandra Nalaar – Planeswalker, pyromancer, hero—bursts into a brand-new miniseries! On the formerly fractured plane of Alara, Chandra must protect a village in grave peril – no big deal, especially with a little help from fellow Planeswalker Jace Beleren. But what happens when the dust of battle clears, and Chandra is forced to contend with a problem that can't be burned away?
32 pages, $3.99.


CROW: HACK/SLASH #3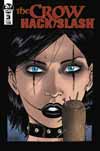 Tim Seeley (W/A/C), Jim Terry (A), Rebekah A. Isaacs (VC).
Cassie and her new partner Marcus Grieves must stop the rebel Crow Angeles before she assassinates the entirety of San Francisco's elite. But without a crow spirit to guide him, Marcus is acting dangerously erratic… can Cassie trust one undead revenge killer in pursuit of another?
32 pages, $3.99.
DUNGEONS & DRAGONS: A DARKENED WISH #5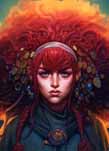 B. Dave Walters (W), Tess Fowler (A/C/VC)
When War threatens the Moonshae Isles, legendary heroes return to defeat the forces of an unthinkable foe. A thunderous fracturing of time and space as ultimate power is revealed!
32 pages, $3.99.
MOUNTAINHEAD #1
John Lees (W), Ryan Lee (A/C), Ryan Stegman (VC).
Abraham Stubbs and his father Noah roam America in a nomadic existence. Convinced they are being pursued by sinister government forces, Noah has them living off the grid, burgling houses to survive. Elsewhere, on Mount Rector, the lone survivor of a climbing expedition staggers homeward, covered in blood. Both are on an inevitable collision course with the picturesque Canadian resort town of Braeriach. From writer John Lees (Sink) and artist Ryan Lee (Archer & Armstrong), featuring colors from Doug Garbark and letters from Shawn Lee.
32 pages, $3.99.
STAR TREK: DISCOVERY: AFTERMATH #1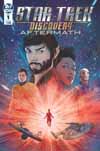 Kirsten Beyer (W), Mike Johnson (W), Tony Shasteen (A), Angel Hernandez (C), George Caltsoudas (VC).
You saw the stunning conclusion of the second season of Star Trek: Discovery – now witness the Aftermath! After discovering Michael Burnham's personal log, Spock begins to unravel the story of Burnham's journey from orphan to Starfleet officer – and the secret history of the Red Angel as well. But as he confronts the secrets of Burnham's past, he'll also have to grapple with his own. An amazing new Star Trek: Discovery miniseries begins here!
32 pages, $3.99.
STAR TREK: THE Q CONFLICT
Scott Tipton (W), David Tipton (W), David Messina (A), George Caltsoudas (c)
The captains of the Original Series, The Next Generation, Voyager, and Deep Space Nine meet for the first time in a contest of unwilling champions! When a dispute between godlike beings threatens the galaxy, it will take all of Starfleet's best captains to stop them. Join James T. Kirk, Jean-Luc Picard, Kathryn Janeway, and Benjamin Sisko as they go head-to-head in a competition that will determine the fate of the Earth and beyond. Will they be able to emerge victorious, or will they be torn apart by The Q Conflict?
152 pages, $19.99.
STAR TREK: YEAR FIVE #5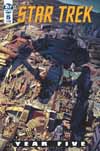 Jody Houser (W), Silvia Califano (A), Stephen Thompson (C), J.J. Lendl (VC).
During an investigation of a long-dead world, the crew of the Enterprise uncovers a mysterious device that at first appears to be a universal translator. But as Uhura investigates this strange new device, she'll quickly discover there's more than meets the eye about the Truth Artifact!
32 pages, $3.99.
CANTO #3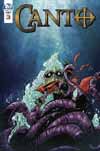 David M. Booher (W), Drew Zucker (A/C), Jorge Coronva (VC).
Into the belly of the beast! Canto consults with the Hermit and learns the surprising truth about the slavers. Canto's path is now laid out before him, but is he prepared to face a foe known only as the Shrouded Man?
32 pages, $3.99.
MARILYN MANOR #3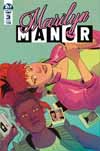 Magdalene Visaggio (W), Marley Zarcone (A/C).
« Live Forever! » It's a long, strange trip through the American Myth as Marilyn and Abe try to bring back the dead! If you are at all confused by that description, please bear in mind that you are correct to be so.
32 pages, $3.99.
EVE STRANGER #5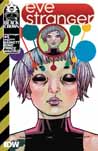 David Barnett (W), Philip Bond (A) Liz Prince (A), Philip Bond (C).
After her crisis of faith, Eve wants out of the job. But how can she do that when she has nanobombs in her blood and her life – literally and physically! – depends on completing every mission to earn the deactivating serum? Her latest mission takes her back to Iceland, her home turf, and this time it's extra personal. Eve might be down, but she's not out… can she see this through with a little help from some very strange friends? Find out in the explosive conclusion to EVE STRANGER: RETROGRADE.
32 pages, $3.99.
H.G. WELLS' THE ISLAND OF DR. MOREAU #2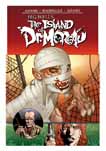 Ted Adams (W), Gabriel Rodríguez (W/A/C)
The action ramps up as Ellie learns more about Moreau's experiments on the animals that have been brought to the island. At the same time, the animals start to question the authority of the man who changed them. Will Moreau's hubris lead to his own downfall? Will Ellie escape the island? Find out in The Island of Dr. Moreau #2.
36 pages, $4.99.
ROAD OF BONES #4
Rich Douek (W), Alex Cormack (A/C).
Roman and Sergei passed the point of no return a long time ago. All that remains is the question of whether they will finally taste freedom – or die in the frozen wasteland. Yet even as they work together to survive the brutal and unforgiving tundra, the machinations of the Domovik may wind up consuming them both. The epic tale of survival horror comes to a deadly conclusion in Road of Bones #4 from writer Rich Douek (Gutter Magic) and artist Alex Cormack (SINK).
32 pages, $3.99.
THE MIGHTY ELVIS: A GRAPHIC BIOGRAPHY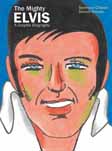 Seymour Chwast, Steven Brower (W), Seymour Chwast (A/C).
Revel in this commemoration of Elvis' life in the form of a large-format art book told through the unique vision of legendary graphic novelist, designer and illustrator Seymour Chwast. Beautifully illustrated throughout, it presents an enhanced portrait of one of America's greatest celebrities. Spearheading a new music form that, combined with an attitude and a look, would change the world, Elvis Presley became one of the most important cultural figures of the second half of the 20th century.
With text by author Steven Brower (Satchmo: The Life and Art of Louis Armstrong), The Mighty Elvis reminds us of the continuing stardom of one of the most popular American singers of all time. Through Chwast's illustrations, cartoons, and comics we get to relive his early life, his meteoric rise to fame, and how he was affected by, and in turn affected, the world of music in the many genres he mastered. The book covers his first appearances on television, Graceland, his meeting with President Nixon, his wedding to Priscilla, his inspiration from Captain Marvel, Jr., and much more! Millions of fans loved him, purchased his records, attended his sold out shows and went to his thirty-three films. Death, forty years ago, has not diminished his fame. Elvis lives!
72 pages, $19.99.
GHOSTS: CLASSIC MONSTERS OF PRE-CODE HORROR COMICS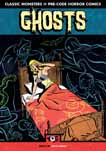 Steve Banes (Editor), Alex Toth, John Blummer, Sid Check, Lin Streeter, Ross Andru, Lou Cameron, King Ward (A), Al Avison (C).
There's an eerie moan on the midnight wind from just beyond the cemetery gate. A crypt door slowly creaks open, and a strange shape emerges from the darkness within.
It flitters across the cold, foggy night, eyes ablaze with hate—and now glaring in your direction! You're too paralyzed to move. It's coming towards you… closer… closer… closer…
From the terror team that curdled your blood with Haunted Horror, Zombies, Return of the Zombies, Haunted Love, Swamp Monsters, and Mummies, Ghosts is the latest and ghastly greatest in the Classic Monsters of Pre-Code Horror comics collections.Over 128 pages of appalling apparitions, formidable phantoms, shuddery seances, shivery spooks 'n specters, and evil wraiths with much more than just revenge on their murdered minds!
128 pages, $24.99.
COMPLETE LITTLE ORPHAN ANNIE, VOL. 16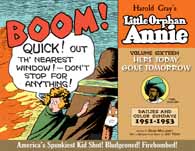 Harold Gray (W/A/C).
Annie might feel as if she's between a hammer and an anvil, but those are about the only menaces she avoids during the early 1950s! In less than two years of stories, the little orphan gets run over by a car, shot with a pistol, whacked with a bludgeon, firebombed in her bed, shoved in a gunny sack, caught in a tornado, flung overboard in a raging storm, and thrown alive into an underground cemetery vault. Meanwhile, « Daddy » Warbucks, Punjab, and the Asp are a thousand miles away, with no clue to the whereabouts of America's spunkiest kid.
« Here Today, Gone Tomorrow » reprints all daily and color Sunday strips from October 29, 1951 through July 5, 1953. Included are five stories replete with greed and murder, atomic boats, blackmailers, poisoners, and deadly mutineers – yet also filled with good Samaritans and friendship from the most unexpected quarter, while also posing the question: can romance survive in a town called Futility?
280 pages, $49.99.
MATTEO, BOOK TWO: 1917-1918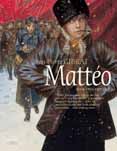 Jean-Pierre Gibrat (W/A/C)
Get swept up in this historical graphic novel trilogy rich in great events and human tragedies from the First World War, the Russian Revolution, the Popular Front, and the Spanish Civil War. In this tour-de-force from award winning writer/artist Jean-Pierre Gibrat, the honor and glory sought in the Great War (seen in Book One of this series) have become mutilated and blurred memories. The October Revolution in Russia exudes hope in the hearts of the oppressed and draws in Mattéo, the son of a Spanish anarchist. But first he stops in Collioure to visit his mother. That same evening he sees his beloved Juliet for a brief but memorable moment, and the next day, with his father's friend Gervasio, Mattéo departs for Petrograd with camera in hand to document the advent of the more just and honorable world of his ideals. But once there, he learns that those ideals may very well become victim of the disputes and differences between the various factions leading the revolution.
80 pages, $19.99.
BATMAN: THE ANIMATED SERIES: GOTHAM CITY UNDER SIEGE – MASTERMINDS & MAYHEM
Richard Launius (D), Michael Guigliano (D), Jack Lawrence (A), TableTaffy (A).
Batman's enemies were thwarted in Gotham City Under Siege, but they've returned with a vengeance in the Masterminds & Mayhem expansion! In their latest attack, the Masterminds have brought deadlier weapons, like armored cars and massive explosives, and have taken to the streets to fight alongside their hired goons. The villains' tactics have also improved, with new Rooftop Villains and Act Leader Target mechanics. Don the cape once more and help protect Gotham City from these deadly new threats!
1-5 players, Playable from ages 14+,4 5-60 minutes, MSRP $14.99.
BATMAN: THE ANIMATED SERIES – GOTHAM CITY UNDER SIEGE
Richard Launius (D), Michael Guigliano (D), Matt Ferguson (A), TableTaffy (A).
Batman: The Animated Series—Gotham City Under Siege has you and up to 4 of your friends playing as Batman and his trusted allies. In each round you'll face off against a set of story cards all inspired by the first season of Batman: The Animated Series and roll a pool of dice to complete actions. You'll need to balance between cleaning up the streets of Gotham City and completing story missions in order to protect the city. Let too many civilians fall or buildings be destroyed, and there will be nothing left for Batman to protect!
1-5 players, Playable from ages 14+ • 45-60 minutes, MSRP $49.99.
BATMAN: THE ANIMATED SERIES: ROGUES GALLERY
Sen-Foong Lim (D), Jessey Wright (D), Chris Fenoglio (A), Jack Lawrence (A), Dario Brizuela (A), Marcelo Ferreira (A), TableTaffy (A).
Defeat the Batman to rule the city! Gotham City's coffers are ripe for the robbing, but one thing stands in the way of the city's supervillains – the reviled Batman. It's time someone finally took out that nuisance! Choose your favorite villain, then go on crime sprees, steal powerful upgrades, recruit nefarious accomplices, and race to complete your master plan and be the first to defeat the World's Greatest Detective!
3-5 players, Playable from ages 12+, 30-45 minutes, MSRP $34.99.
DRAGON BALL SUPER: TOURNAMENT OF DESTROYERS
Sen-Foong Lim (D), Jessey Wright (D), Toei Animation (A).
Ultimate power collides as Goku and Hit face off to determine which of their universes will be spared from destruction in The Tournament of Destroyers! Dragon Ball Super: Tournament of Destroyers is a 2-player combat game that challenges players to predict their opponents next move while building their ultimate combo. Unleash devastating combos in order to knock your opponent out of the ring, but be warned, after each ring-out your opponent will grow in strength! The last fighter standing after 3 knock-outs is the winner!
2 players, Playable from ages 10+, 30 minutes, MSRP $29.99.
MEN IN BLACK: UNDERCOVER
Jay Cormier (D) Sen-Foong Lim (D), Dan Schoening (A/C).
Aliens exist! In Men In Black: Undercover, you'll join one of three groups: the Men In Black, who work to hide aliens, the Shadow Government, who seek to capture and weaponize aliens, and the Conspiracy Theorists, who try to expose alien life. Join a side and influence the aliens to join your cause, but don't reveal your true intentions – you'll need to stay Undercover to win!
3-6 players, Playable from ages 12+, 30 minutes, MSRP $19.99.
DEATH NOTE: CONFRONTATION
Jordan Goddard (D), Mandy Goddard (D).
The mysterious killer Kira has managed to take another life. Baffled by Kira's ability to seemingly strike anyone, anywhere, Interpol have called in the legendary detective « L. » Now the cat and mouse game begins! L must feed Kira specific targets in order to deduce Kira's location, and ultimately his identity. Meanwhile, Kira continues to enact his supernatural brand of homicidal justice, racing toward completing his list and disappearing without a trace.
Death Note: Confrontation is a 2-player game in which one player takes on the role of L, trying to locate and capture Kira, and the other plays as Kira, punishing those he sees deserving of the ultimate penalty. Each player uses their character's specified notebook, and either, as L, reveals criminal targets to systematically locate Kira, or, as Kira, eliminates those targets in order to gain enough victory points.
2 players, Playable from ages 16+, 30 minutes, $29.99.
THE LEGEND OF KORRA: PRO-BENDING ARENA
Sen-Foong Lim (D), Jessey Wright (D), Tony Vargas (A).
Few diversions in Republic City offer as much excitement as attending a pro-bending game! This is doubly true when the teams facing off in the hexagonal ring are the reigning champs, the White Falls Wolfbats, and their fierce challengers, the Future Industry Fire Ferrets!
In The Legend of Korra: Pro-bending Arena, 2 players face off as either the White Falls Wolfbats or the Future Industry Fire Ferrets in attempt to defeat their opponent and take of the title of Pro-bending Champions. Blending card drafting, resource placement, and area control, players in The Legend of Korra: Pro-bending Arena draft unique decks for each bender on their team, equip special team-ability trick cards, and strategically place their team members and the elements they bend on the board. Push the farthest forward, or in a real show of strength, knock out the other team entirely to claim the pro-bending championship!
2 players, Playable from ages 14+, 30 minutes, $49.99.
NICKELODEON'S SPLAT ATTACK!
Jonathan Ying (D), Troy Little (A), David Garcia Cruz (A)
Prepare for the food fight to end all food fights in an all-star, jam-packed, crossover event featuring Nickelodeon's SpongeBob SquarePants, Hey Arnold!, Rugrats, and Invader Zim. In Nickelodeon's Splat Attack! 2 to 4 players select a team and head to the cafeteria to unload their trays! Sling unique food items and roll dice to determine your hits! When getting splattered with food, pull a splat token from a lunch bag and place it on your character's grid. If your character's grid is ever full, then they're splat'ed and out of the game!
Nickelodeon's Splat Attack is a family-friendly, miniatures combat game that features custom dice-rolling combat, hand management, and a unique damage system that has players laying splat tiles onto their characters until their characters are completely covered with food-splats!
2-4 players, Playable from ages 14+, 45-60 minutes, MSRP $59.99.
JOHN BYRNE FANTASTIC FOUR ARTIST SELECT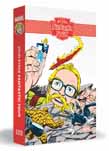 John Byrne (W/A/C)
For more than 40 years, John Byrne has been one of the most popular artists in comics. His legendary run on X-Men with collaborator Chris Claremont stands as one of the most influential of all time. Now, IDW Publishing is proud to present the massive (360 pages!) John Byrne Artist Select Fantastic Four collection. This beautiful book is part of the Marvel Artist Select series which collects iconic issues by beloved Marvel creators.
This oversized, limited edition hardcover celebrates John Byrne's time on Fantastic Four, with a carefully chosen selection of the creator's most impactful issues. Each book in this 999-copy, limited-edition run is presented in a beautiful slipcase, is individually numbered, and is signed by John Byrne. This deluxe hardcover features a collection of stories which will only be available in this limited edition hardcover. Highlights in this collection include Fantastic Four #'s 236, 238, 240, 242, 243, 244, 252, and more!
360 pages, $150.
Source : www.comicscontinuum.com