IDW PUBLISHING FOR AUGUST
DUNGEONS & DRAGONS: RAVENLOFT - ORPHAN OF AGONY ISLE #3
Aaron Harvey (W), Ro Mediavilla (W), Bayleigh Underwood (A/C), Kayla Felty (A), Corin Howell (VC), Chrissie Zullo (VC).
When Miranda's situation in Schloss Mordenheim becomes unbearable, she makes a daring escape, only to discover that Viktra's warnings about the outside world were true! Can Miranda choose between the doctor she knows and the doctor she doesn't?
32 pages, $3.99.
Scott Snyder (W), Hayden Sherman (A/C), Andrea Sorrentino (VC), Morgan Beem (VC), Maria Llovet (VC).
The trap is set and the blaze is burning, but what our rogue firefighters find inside the hillside mansion is more than they ever bargained for – and more than they can bear. The plan for the perfect heist suffers a terrifying twist as the flames approach and we turn up the heat in Dark Spaces: Wildfire #2!
36 pages, $3.99.
F.A.R.M. SYSTEM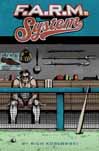 Rich Koslowski (W).
They're superstrong, but are they powerful enough for the big leagues? If superheroes were real, they'd be a lot like pro athletes. In this quirky graphic novel, go behind the scenes with all the heroes waiting for their big breaks.
For every hero who saves the galaxy and makes the front page, there are a dozen staffers working behind the scenes…and a hundred up-and-comers hoping to take his place. F.A.R.M. System is your ticket to the hidden world of super-powered individuals hoping to « make the Big Leagues. »
In the Farm System, having an incredible and unique power is only the first step. Guided by an army of agents, managers, and experts, recruits must undergo rigorous psychological evaluations, harassment and sensitivity seminars, marketing and endorsement workshops, and costume design meetings, all to boost their chances of recruitment into an A-list superhero team.
Some recruits make « the Bigs. » Some have fleeting moments of glory, then lose it all. Some take "Blue Cowl"gigs as superpowered bodyguards for famous actors or powerful CEOs. Some flounder in the System for years, never getting « the call. » And some find success by joining teams of a…less reputable ilk.
Following the profound pop-culture satire of Three Fingers, The King, and BB Wolf and the Three LPs, award-winning graphic novelist Rich Koslowski examines the hopes, disappointments, perseverance, and triumphs of the super-gifted…and the sometimes drastic lengths they will go to to achieve fortune and fame.
184 pages, $19.99.
G.I. JOE: A REAL AMERICAN HERO - SATURDAY MORNING ADVENTURES
Erik Burnham (W), Dan Schoening (A) .
From Paris to Tokyo, deserted islands to mountain fortresses, wherever Cobra is, Duke, Scarlett, Snake Eyes, and the team are on their tail in this special Saturday morning send-up, based on the classic 1980s cartoon!
G.I. Joe is the code name for America's daring, highly trained, special mission force. Its purpose: to defend human freedom against Cobra, the ruthless organization determined to take over the… Well, you know the story! But now Cobra may have found their most versatile weapon yet! Can G.I. Joe even stop the Aladdin Initiative?
96 pages, $12.99.
G.I. JOE: BEST OF STORM SHADOW
Larry Hama (W), Various (A), James Biggie (C).
Once a warrior for Cobra, then a soldier for G.I. Joe, but always an Arashikage ninja first and foremost! He's Tommy Arashikage, aka Storm Shadow…and these are some of his greatest adventures!
100 pages, $6.99.
G.I. JOE: A REAL AMERICAN HERO #297
Larry Hama (W), SL Gallant (A/C), Jamie Sullivan (VC), John Royle (VC)>
The final G.I. Joe: A Real American Hero story arc at IDW Publishing continues! Using a brand-new casino on Cobra Island as a front, Cobra has been busy behind the scenes resurrecting dangerous villains and heroes alike, all in the hope of creating the deadliest Cobra army ever! It'll be up to the warriors of G.I. Joe to foil their archenemy's evil machinations before it's too late. The game for the fate of the world is barreling toward a calamitous conclusion, and it's time for every single player to go…all in! New and classic heroes and villains will fill the pages (including some shocking appearances!) as story continues the final treacherous march to issue #300!
32 pages, $3.99.
GODZILLA VS. THE MIGHTY MORPHIN POWER RANGERS
Cullen Bunn (W), Freddie Williams II (A).
The King of the Monsters and the defenders of Earth take on villains from both their worlds in this crossover clash for the ages! When the evil sorceress Rita Repulsa retrieves the multiversal focus – a gemstone through which all realities can be seen – she sets her sights on an alternate Earth where the Power Rangers don't exist to interfere with her nefarious plans! But what she finds instead are a race of alien conquerors known as the Xiliens, who are unleashing unpredictable Kaiju in the hopes of defeating Godzilla and taking over the planet. As the two join forces, they find their goals interrupted by the arrival of the Power Rangers! Can they and Godzilla stop the threat before it's too late? Collects the five-issue crossover event.
120 pages, $17.99.
THE INVISIBLE FRONTIER
Benoit Peeters (W), Francois Schuiten (A).
Uncover the strange magic of The Obscure Cities and be awed by the beautiful art and incredible storytelling! Features a new English translation of the classic graphic novel.
Roland de Cremer is a young man who has just been assigned to the Center of Cartography in Sodrovno-Voldachia. It's a secluded place that is usually insulated from the outside world. But something is happening out there. Rumors swirl of attacks, assassinations, war, and rebellions bloodily put down. Meanwhile, Roland has fallen in love with a young woman named Shkodra, who the authorities have also shown an increased interest in. She has mysterious markings on her back, tattoos that look like a map. As the threat to her increases, the two flee through deserts, mountains, and swamps. They have only one option for escape: to cross the border. But will they be able to find their way through this land that bears no resemblance to the maps Roland is familiar with and will his desire to save her get them both killed?
First published in English in 2002, this new edition of the classic European graphic novel makes the critically acclaimed series accessible to a new generation of readers!
144 pages, $24.99.
THE KILL LOCK: THE ARTISAN WRAITH #6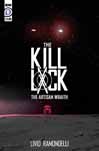 Livio Ramondelli (W/A/C) .
Secrets revealed! The origin of the Wraith Legion's alliance with the Forgers is revealed! What could possibly scare an army of nearly indestructible bots? And what does the Artisan Wraith have to do with it?!
64 pages, $7.99.
Mary Kenney (W), Trish Forstner (A/C), JustaSuta (VC), Konrad Kachel (VC).
Pipp's online persona has only been growing. The « Pippsqueaks » look forward to getting glimpses of her exciting life. But when Pipp decides to get personal and depart from her expected glitz and glamour, she will have to reckon with unpredictable responses and address the difficulty of balancing her private life with that of a renowned Pegasus princess.
32 pages, $3.99.
RICK AND MORTY VS. DUNGEONS & DRAGONS COMPLETE ADVENTURES
Jim Zub (W), Patrick Rothfuss (W), Troy Little (A).
It's the complete adventures! Grab your dice, pencils, and spellbook as Rick and Morty vs. Dungeons & Dragons returns in this min-maxing, saga-spanning collection!
When Morty asks Rick for help learning how to play D&D to impress the girl he has a crush on, it ends up drawing the entire family into a D&D world, where they inadvertently help the « bad guys » win – but thankfully make it right in the end.
Then, in the hit series Painscape, magical D&D adventures come to Earth… but will anyone survive? The world's greatest role-playing game returns to plague the world's most dysfunctional animated family! And this time, we can't just rest on brand-name recognition and curiosity to fuel your interest, Morty, because no one gives a d-d-damn about sequels unless they're really good, so no pressure, you hacks!
Includes Rick and Morty vs. Dungeons & Dragons #1-4 and Rick and Morty vs. Dungeons & Dragons: Painscape #1-4, plus a new story from Jim Zub and Troy Little, featuring Mr. Meeseeks conquering the Forgotten Realms! Over 300 pages of monsters, mayhem and a bag of holding-worth of bonus materials.
312 pages, $29.99.
Evan Stanley (W/A), Gigi Dutreix (C), Jennifer Hernandez (VC), Nathalie Fourdraine (VC).
Every Badnik is on high alert in Eggperial City! It's going to take some quick thinking from Sonic and crew to escape undetected. Meanwhile, Surge plots her comeback – she needs more power, and she needs it now.
32 pages, $3.99.
SONIC THE HEDGEHOG ANNUAL 2022
Ian Flynn (W), Aaron Hammerstrom (W), Daniel Barnes (W), Evan Stanley (W), Sonic Team (A/C), Reggine Graham (VC), Nathalie Fourdraine (VC).
It's a little mangled, it's kind of jumbled, it's the 2022 annual with Rough & Tangle and Rouge & Tumble! Six new heartwarming stories of unlikely pairs.
48 pages, $7.99.
SONIC THE HEDGEHOG: IMPOSTER SYNDROME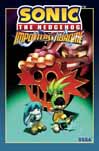 Ian Flynn (W), Thomas Rothlisberger (A), Aaron Hammerstrom (A).
Rivals, fakers, and doppelgangers have been scourges to Sonic for years, but Dr. Starline's newest creations pose an entirely new threat New challengers Surge and Kit were designed for a single purpose: to replace Sonic and Tails as the world's greatest heroes! And that means it's not just the Blue Blur and his friends who should be wary – Dr. Eggman better watch out too!
But has Dr. Starline gone too far this time? Will his master plan succeed, or will these imposters prove impossible to control? One thing's for sure: Surge and Kit mean to make a splash, and Sonic's world will never be the same!
Collects the complete four-issue mini-series.
96 pages, $15.99.
Jody Houser (W), Hendry Prasetya (A/C), Alexandra Beguez (VC).
Someone is following Vanah, a research student and ex-applicant to the Trill Symbiont Initiate Program, after a life-changing event on a joint Trill-Federation science expedition. Delve into the world of the Trill in this suspenseful tale of tradition, independence, and survival.
52 pages, $7.99.
TRANSFORMERS: LAST BOT STANDING #4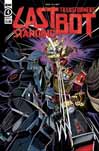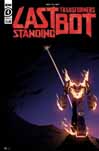 Nick Roche (W), E.J. Su (A/VC), Nick Roche (C), Kei Zama (VC), Saren Stone (VC), Ochopante (VC).
It's come to this! Donnokt – no, the universe – hangs in the balance. The last true Cybertronian stands against Visitors from another world to determine the future. One shall stand, one shall fall. Find out who will be the Last Bot Standing!
48 pages, $5.99.
TRANSFORMERS: SHATTERED GLASS II #1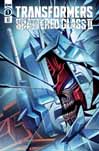 Danny Lore (W), Marcelo Matere (A), Nick Brokenshire (C), Zoner Siyi Hemu (VC), Marvelo Matera (VC).
Shattered Glass is back! Optimus Prime is a ruthless tyrant, and Megatron is a compassionate peacekeeper. Cybertron sits on the brink of war as Autobots and Decepticons race to gain control of a Titan that could destroy either side in nanocycles. While everyone has their eyes on the Titan, Ultra Magnus, a powerful shadow broker, puts into action a plan kilocylces in the making…
32 pages, $3.99.
TEENAGE MUTANT NINJA TURTLES #132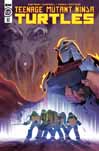 Sophie Campbell (W), Pablo Tunica (A), Pablo Tunica (VC), Kevin Eastman (VC), Abel (VC).
As the TMNT continue to train under the tutelage of the Shredder in Northampton, the techniques they are learning take a bizarrely arcane turn. Will Michelangelo, Donatello, Raphael, Leonardo, and Jennika learn how to master and control the dark ninja arts…or will they be consumed by them? One thing's for certain: if they are to have any chance at success, they will need to seek out a light from the past to help guide their way.
32 pages, $3.99.
TEENAGE MUTANT NINJA TURTLES: THE ARMAGEDDON GAME - OPENING MOVES #2
Tom Waltz (W), Faro Pe (A), Faro Pe (C), Kevin Easman (VC).
The Rat King has been plotting behind the scenes of NYC and Mutant Town with his newly recruited trio of terror—LeatherKrang, Madame Null, and Baxter Stockman. As a result, his witch sister, Kitsune, and the Shredder have undertaken a desperate metaphysical journey seeking past weaknesses in order to counter the trickster god's latest deadly gambit. Now, with Krang out of the way, Shredder and Kitsune turn their attention to Madame Null and Baxter Stockman. But will the answers they seek be even more dangerous than the arcane quest to find them? As it was in the shocking first issue, enemies become allies and exciting new characters are debuted as longtime TMNT scribe Tom Waltz returns to the pages of IDW's ongoing series, alongside brilliant artist Fero Peniche, in this official prequel to the massive TMNT event of 2022…the Armageddon Game!
48 pages, $5.99.
TEENAGE MUTANT NINJA TURTLES: BEST OF BAXTER STOCKMAN ONE-SHOT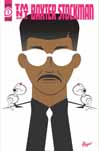 Various (W), Various (A), James Biggie (C).
He's an inventor. He's a mad genius. He's a cutthroat businessman. He's a villain. He's a hero. He's been a mutant fly. He's even been the mayor of New York City. But most importantly, he's never, ever boring. This is Baxter Stockman at his very best… Just ask him!
100 pages, $5.99.
TEENAGE MUTANT NINJA TURTLES: THE IDW COLLECTION VOLUME 2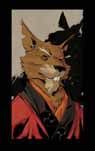 Kevin Eastman (W), Tom Waltz (W), Mateus Santolouco (W), Erik Burnham (W), Andy Kuhn (A).
Presenting the complete TMNT stories in recommended reading order, including one-shots, crossovers, and event series. Everything a beginner could need, everything a diehard could want.
The forces of good and evil marshal on multiple fronts. The Turtles have a new mission, but Shredder's ambitions could put an end to it before it even begins. Meanwhile, General Krang unveils his master plan, which puts the Turtles into direct confrontation with one of their mightiest enemies. Plus, delve into the history of the original founder of the Foot Clan!
Collects issues #13-20 of the Teenage Mutant Ninja Turtles ongoing series, the Casey Jones, April, Fugitoid, Krang, and Baxter Stockman Micro-Series issues, and the Secret History of the Foot Clan mini-series.
416 pages, $39.99.
TRANSFORMERS: LAST BOT STANDING
Nick Roche (W), E.J. Su (A).
The war for Cybertron is over. But when a self-exiled hero awakens to a world under invasion, he realizes the war from Cybertron will never end. The planet Donnokt sits on the edge of the universe, far away from all the stars that are flickering and fading out. It is a world on the precipice of revolution—industrialization—taking its first steps into the realms of the mechanical. When Visitors arrive on this far edge of nowhere, they threaten to reveal the secret Rodimus has given up his life to protect. With carnivorous mechanical lifeforms threatening its inhabitants' very existence, Donnokt will never be the same again. But its protector has one last job to do: can he rid the world of the Visitors or will someone else be the Last Bot Standing?
144 pages, $17.99.
Scott Tipton (W), David Tipton (W), Gavin Smith (A), J.K. Woodward (C), Amanda Madriaga (VC), Mark Alvarado (VC).
After splintering the Cardassian blockade with a bold, joint attack and help from old friends, the crew of the I.S.S. Enterprise moves to end the Klingon-Cardassian Alliance once and for all. Enter the Mirror Universe and witness the fate of the Terran Empire in this explosive finale of The Mirror War!
32 pages, $3.99.
STAR TREK: PICARD - STARGAZER #1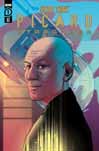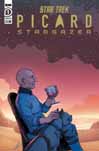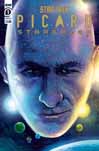 Mike Johnson (W), Angel Hernandez (A/C), Megan Levens (VC), Liana Kangas (VC).
Embark on a never-before-seen journey set between seasons two and three of the Paramount+ hit series Star Trek: Picard! After a tantalizing offer to return among the stars arises, Captain Jean Luc-Picard takes to the bridge of the U.S.S. Stargazer. But when trouble rears its head on a once peaceful, pre-warp planet from his past, Picard enlists the help of an old friend.
36 pages, $4.99.
Scott Bryan Wilson (W), Liana Kangas (A/C), Maria Llovet (VC), Fabian Lelay (VC).
Marty Tarantella has been flipping burgers for 15 years. He has no kids, no hobbies, no love interests, and, essentially, no life. But what he does have is a plan to change everything. Years of watching the daily rhythms of the neighboring stores has given Marty the idea for a perfect heist, but when he accidentally steals a supernatural weapon from a cult full of violent lunatics, the resulting Satanic panic will be way above his minimum-wage pay grade. Nothing can prepare you for the coming of Trve Kvlt, a deliciously horrifying and hilarious new series.
32 pages, $3.99.
Stan Sakai (W/A/C).
Merchant Awase, his family, and all his employees are dead, and his shop has been ransacked. Chizu, former head of the Neko Ninja, reveals to them the secret document they carry hidden in a nondescript jewelry box. A document that Lord Hikiji, the Shadow Lord, wants and has sent his Komori (Bat) Ninja squad to retrieve, no matter the cost.
32 pages, $3.99.
Stan Sakai (W/A).
The rabbit ronin's newest adventures continue in this fourth volume that sees Usagi and new companion Yukichi on the road! Thinking their troubles behind them, they find new ones constantly emerging.
In « Ransom, » Usagi and Yukichi meet up with Kitsune, a street performer and thief, who has stolen a ledger recording bribes to local politicians. When Kitsune's protege is kidnapped in return, Usagi decides that he must help and get her back. Then, in "Crossroads,"Usagi and Yukichi come upon a group of pilgrims who have been left for dead by a band of cutthroat ronin. Deciding to go after them, Usagi must head back to the province, and the danger, from which he has just escaped! Collects issues #22-26 of the all-new full-color Usagi Yojimbo series published by IDW.
136 pages, $19.99.