IDW PUBLISHING FOR APRIL
STAR TREK: YEAR FIVE #1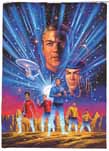 Jackson Lanzing (W), Collin Kelly (W), Stephen Thompson (A), Greg Hildebrandt (C), J.J. Lendl (VC), Greg Hildebrandt (VC).
The crew of the U.S.S. Enterprise left Earth four years ago. They've traveled to strange new worlds, defeated impossible foes, and made universe-changing decisions. But now, with the end in sight, they'll have to face their biggest challenge yet. Step aboard the Enterprise with Kirk, Spock, Bones, Uhura, Sulu, Scotty, and Chekov as they begin the end of their original Five Year Mission and boldly go into an uncertain future in this new continuing Star Trek series!
32 pages, $3.99.
STAR TREK: THE Q CONFLICT #4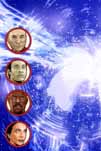 Scott Tipton (W), David Tipton (W), David Messina (A/C), George Caltsoudas (VC).
As the Captains try to figure out how to beat Q at his own game, the godlike beings offer a dangerous new challenge – drawing the extra-dimensional Prophets out of their wormhole to join the competition! The stakes have never been higher in the biggest Star Trek crossover ever.
32 pages, $3.99.
GHOSTBUSTERS: 35TH ANNIVERSARY: GHOSTBUSTERS
Erik Burnham (W), Dan Schoening (A/C), Anthony Marques (VC).
The 35th Anniversary of the Ghostbusters is upon us! Let's celebrate with four spooktacular weekly comics featuring different Ghostbuster teams in all-new standalone adventures! First out of the Firehouse are the original 'busting team of Peter, Winston, Egon and Ray, who have seen a lot of things during their time as paranormal investigators, but the latest case might just turn history on its head! Could it be that they've found proof of… Atlantis? It's a case full of saltwater and slime with the ORIGINAL GHOSTBUSTERS!
32 pages, $3.99.
GHOSTBUSTERS: 35TH ANNIVERSARY: REAL GHOSTBUSTERS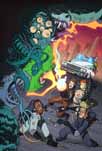 Cavan Scott (W), Marcelo Ferreira (A/C), Anthony Marques (VC)
The 35th Anniversary of the Ghostbusters is upon us! Let's celebrate with four spooktacular weekly comics featuring different Ghostbuster teams in all-new standalone adventures!
THE REAL GHOSTBUSTERS keep losing business to a flashy new rival ghost-catching company: SPOOKS AWAY! They seem to have better gear, better threads… better everything! In fact, Spooks Away seems determined to ruin the RGB. But there's something far more sinister than a hostile takeover going on here, and it's up to Ray Stantz to go undercover to find out who – or what – is behind Spooks Away's sudden rise to supernatural elimination superstardom.
32 pages, $3.99.
GHOSTBUSTERS: 35TH ANNIVERSARY: ANSWER THE CALL GHOSTBUSTERS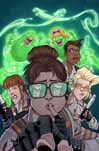 Devin Grayson (W), SL Gallant (A/C), Anthony Marques (VC)
The 35th Anniversary of the Ghostbusters is upon us! Let's celebrate with four spooktacular weekly comics featuring different Ghostbuster teams in all-new standalone adventures! Do demons get visitation rights? That's the question facing a harried young mother as she tries to accommodate a stream of otherworldly visitors intent on paying their respects to her half-demon toddler. When the ghosts begin to herald the arrival of the girl's father – rumored to be a class 7 entity – Mommy knows who she has to call: The ANSWER THE CALL GHOSTBUSTERS! Erin, Abby, Patty, and Holtzman find themselves mediating the custody battle from hell… and it's a scorcher!
32 pages, $3.99.
GHOSTBUSTERS: 35TH ANNIVERSARY: EXTREME GHOSTBUSTERS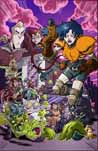 Jim Beard & Keith Dallas (W), Tim Lattie (A/C), Anthony Marques (VC)
The 35th Anniversary of the Ghostbusters is upon us! Let's celebrate with four spooktacular weekly comics featuring different Ghostbuster teams in all-new standalone adventures! Some people wish for the ability to fully communicate with the animals around us, but when the furry, feathered, and finny inhabitants of the Central Park Zoo star talking and demand their release, the people of New York just wish they'd shut up! Egon Spengler and his EXTREME GHOSTBUSTERS race to answer the call, unaware of one creature's fiendish plot to control the possessed animals and drive them to attack humanity in revenge for their incarceration.
32 pages, $3.99.
SAMURAI JACK: LOST WORLDS #1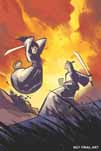 Paul Allor (W), Adam Bryce Thomas (A/C), Gavin Fullerton (VC), Nelson Daniel (VC).
« Samurai Jack 2.0 »! Under the leadership of the benevolent Samurai Jack, society has prospered. Everything is in line with his philosophies, his storied stoicism, and of course his hair. Of course, this is all news to Jack who doesn't much care for this impostor using his name. But which one is the real Samurai Jack?
32 pages, $3.99.
MARVEL ACTION: SPIDER-MAN: A NEW BEGINNING (BOOK ONE)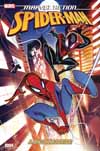 Delilah S. Dawson (W), Fico Ossio (A/C)
Readers of all ages can get tangled up in these all-new adventures of Spider-Man and his astonishing friends! Peter Parker has thrown down with deadly villains and legendary heroes, but high school life might be his greatest challenge yet. Luckily, he has a shot at making the grade with a little help from his new friends… Miles Morales and Gwen Stacy!
80 pages, $9.99.
MARVEL ACTION: AVENGERS #5
Matt Manning (W), Jon Sommariva (A/C), Billy Martin (VC)
As the notorious ne'er-do-well Count Nefaria threatens New York City, Captain Marvel, Thor, and Doctor Strange attempt to escape from their confounding crimson confinement – but will the God of Thunder's strength be their undoing?! The nature of the Ruby Egress is revealed – you won't want to miss it!
32 pages, $3.99.
MARVEL ACTION: SPIDER-MAN #6
Erik Burnham (W), Christopher Jones (A/C), Dan Schoening (VC)
One by one, the Spiders fell into Kraven's web, but now the final showdown looms on a battlefield of the hunter's choosing. Could this be the end for Peter, Miles, and Gwen?
32 pages, $3.99.
MARVEL ACTION: BLACK PANTHER #4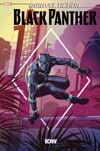 Vita Ayala (W), Arianna Florean (A/C), Paulina Ganucheau (VC)
Every 25 years, Wakanda's ruler trades places with one of their subjects to gain perspective on their kingdom. T'Challa's turn has come, and while working in a Vibranium refinery, he uncovers a plot to sell the priceless metal on the black market.
32 pages, $3.99.
BIG HERO 6: THE SERIES #1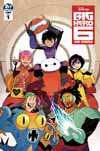 Hannah Blumenreich (W), Nicoletta Baldari (A/VC), Gurihiru (C)
Hiro, Honey Lemon, Wasabi and Go Go are all off on a class trip for the day – leaving Fred at home to defend San Fransokyo! He'd better come up with a strategy, just in case – and what better way to do that than by writing his very own Big Hero 6 comic book!
32 pages, $3.99.
DESCENDANTS: TWISTED FIELD TRIP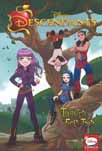 Delilah S. Dawson (W), Carin Davis (W), Anna Cattish (A), Egle Bartolini (C), Anna Cattish (C)
The children of classic Disney characters like Maleficent, Belle and The Beast, and the Evil Queen take on an all-new adventure from Auradon! Evie, Mal, Ben and friends begin taking classes in Sherwood Forest with other Auradon Prep students. In the forest, they discover that some of the skills they learned on the Isle of the Lost will come in handy, but the other students have talents of their own to match. And when they're split into pairs, they'll be reminded that teamwork is the key to success… AND survival!
64 pages, $9.99.
DISNEY AFTERNOON GIANT #4
Ian Brill, Warren Spector (W), Leonel Castellani, Jose Massaroli, and Ruben Torreiro (A), Leonel Castellani (C)
Get ready for two more stories featuring your favorite Disney Afternoon characters! First up is Chip 'n' Dale in « Stranger Danger, » followed by Part Four of « Rightful Owners » as Uncle Scrooge and company conclude their epic mission across the globe!
48 pages, $5.99.
UNCLE SCROOGE #44
Alberto Savini, Janet Gilbert (W), Nicola Tosolini, Andrea Ferraris (A), Marco Mazzarello (C), Alessandro Parina (VC).
When an important client comes to town, Uncle Scrooge must rely on Donald and Fethry Duck to serve not just double duty, but triple and quadruple duty as they take on a variety of roles in « The Crowded Newsroom! » Then, when Scrooge's tax bill skyrockets, Donald comes up with an unusual way for his uncle to make some much-needed cash in « Bin World. »
36 pages, $4.99.
DUCKTALES #20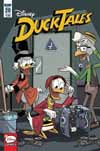 Various (W), Various (A), Disney (C)
It's another two-part adventure for Uncle Scrooge, Gyro Gearloose, and Huey, Dewey, and Louie as Fethry Duck joins the team in the « Saga of the Super-Intern! » What chaos will be unleashed in Duckburg this time?!
32 pages, $3.99.
TANGLED: THE SERIES: HAIR AND NOW #2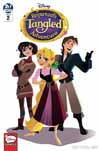 Katie Cook (W), Eduard Petrovich, Rosa La Barbera, and Monica Catalano (A), Disney (C), Gabby Zapata (VC)
Rapunzel, Eugene, Cassandra, and Lance find themselves going undercover in « Under the Big Top! » When they encounter a circus while in Vardaros, something doesn't seem quite right, so it's up to Rapunzel and her friends to investigate and hopefully save the day!
32 pages, $3.99.
MICKEY MOUSE: THE QUEST FOR THE MISSING MEMORIES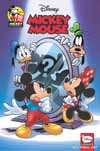 Francesco Artibani (W), Giorgio Cavazzano, Marco Gervasio, Andrea Freccero, Marco Mazzarello (A), Marco Ghiglione (C)
Celebrate Mickey's 90th anniversary with this original collection featuring a brand-new eight-episode story that will be treasured by fans of Mickey Mouse and his friends for decades to come! When Mickey is struck with amnesia, it's up to his closest friends to remind him who he is and what he stands for! Join Goofy, Minnie Mouse, Pluto, Donald Duck, Uncle Scrooge, Eega Beeva, and more as they help celebrate the True Original that is Mickey Mouse in a story that will resonate with Disney fans young and old. Drawn by eight of Disney's top artists, this special collection is the perfect way to celebrate Mickey's magical milestone!
168 pages, $14.99.
SONIC THE HEDGEHOG #16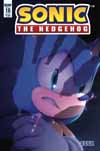 Ian Flynn (W), Diana Skelly (A), Evan Stanley (C), Jonathan Gray (VC), Nathalie Fourdraine (VC)
« Infection! » Sonic's been infected with a mysterious new virus and his speed seems to be his only saving grace. Can Sonic, Tails, and Tangle beat the disease before Sonic is beat? And who will be the virus' next victims?
32 pages, $3.99.
MY LITTLE PONY: FRIENDSHIP IS MAGIC #77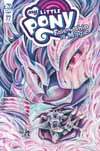 Katie Cook (W), Andy Price (A/C), Sara Richard (VC), Philip Murphy (VC)
With stars aligning, villains escaping, and princesses out of commission, can Equestria's favorite ponies find a way to defeat Cosmos – before it's too late?!
32 pages, $3.99.
MY LITTLE PONY: NIGHTMARE KNIGHTS
Jeremy Whitley (W), Tony Fleecs (A/C)
Equestria's in danger! Powerless and threatened by a great evil, Princess Luna discovers she can't count on her sister or any of the usual heroes of Equestria. Running out of time and with nowhere to turn, Luna assembles a team specially suited to save the day… made up of former villains! Will Luna, Capper, Tempest Shadow, Trixie, and Stygian all be able to work together and find a way into the most dangerous place any of them have ever been?
120 pages, $17.99.
GOOSEBUMPS: HORRORS OF THE WITCH HOUSE #2
Denton Tipton (W), Matthew Dow Smith (W), Chris Fenoglio (A/C), Megan Levens (VC)
Rosie thought it was bad enough having a witch as a neighbor, but now the witch is trying to take over the whole town! As their parents fall under the witch's dark spell, it's up to Rosie and her friends to try and save the day. And they thought algebra was hard…
32 pages, $3.99.
STAR WARS ADVENTURES #21
Cavan Scott (W), Derek Charm (A/C), Nicoletta Baldari (VC), Michael Avon Oeming (VC).
Not ones to rest on their laurels, Han and Luke embark on a mission to secure equipment for the fledgling rebellion in this exciting tale set just after A New Hope!
32 pages, $3.99.
STAR WARS ADVENTURES: DESTROYER DOWN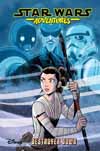 Scott Beatty (W), Derek Charm, Jon Sommariva (A), Derek Charm (C)
On sweltering Jakku, explore with Rey as she races to uncover the secrets inside a crashed Star Destroyer! Swallowed by the shifting sands, the Imperial Star Destroyer Spectral has been lost for two decades, giving rise to rumors of hauntings and buried treasure. But an epic sandstorm has revealed the ruins of the starship, and renowned scavenger Rey now leads the race to claim whatever lies within! Also includes a backup story depicting the Battle of Jakku, revealing how the Star Destroyer Spectral met its fate during the last days of the Empire.
80 pages, $9.99.
DUNGEONS & DRAGONS: A DARKENED WISH #3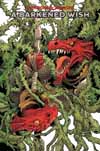 B. Dave Walters (W), Tess Fowler (A/C/VC), Ibrahem Swaid (VC).
When war threatens the Moonshae Isles, legendary heroes return to defeat the forces of an unthinkable foe. The Great Wyrm, Hoondarrh, has won the day. Impossibly, within the ashes of defeat, something even more sinister is set upon the winds. In the face of tragedy, loss, and betrayal, how can our heroes possibly prevail?
32 pages, $3.99.
GO-BOTS
Tom Scioli (W/A/C)
A new spin on classic action-figure nostalgia bursts off the page in this inventive nod to the titans of golden age comics. They say they're here to help us, but are they here to replace us?
128 pages, $17.99.
TEENAGE MUTANT NINJA TURTLES #93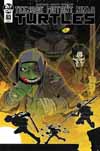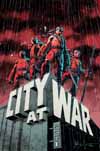 Tom Waltz, Kevin Eastman (W), Dave Wachter (A/C), Kevin Eastman (VC), Dan Duncan (VC).
« City at War, Part 1. » The battle for control of New York City begins! As the city splinters into different human, mutant, and ninja factions, the TMNT find themselves in the middle of the chaos! Eight years of storytelling have led to this!
32 pages, $3.99.
TMNT: SHREDDER IN HELL #1 DIRECTOR'S CUT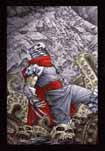 Mateus Santolouco (W/A/C)
Revisit the start to Shredder's journey in the afterlife with a special Director's Cut! Featuring the jaw-dropping inks of Mateus Santolouco as well as annotations and behind-the-scenes development artwork!
36 pages, $4.99.
TMNT: URBAN LEGENDS #12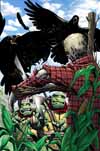 Gary Carlson (W), Frank Fosco (A/C), Kevin Eastman (VC).
The fallout! With Donatello offline and Deathwatch still on the loose, it's up to Leo and Mikey – accompanied by some intergalactic help – to catch the infamous killer, while Raph – back home in New York – takes on a much more familiar foe: the mob, hellbent on getting Casey's daughter back!
32 pages, $3.99.
TEENAGE MUTANT NINJA TURTLES: MACRO SERIES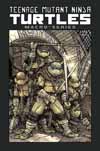 Kevin Eastman, Tom Waltz, Paul Allor, Sophie Campbell, Ian Flynn (W), Sophie Campbell, Brahm Revel, Michael Dialynas, Ben Bishop (A), David Petersen (C)
First, Donatello understands that more is at stake than his brothers realize and in order to prepare for the coming conflict, Don will aim to repair his relationship with his mentor, Harold… and his malicious robotic counterpart, Metalhead! Then, Michelangelo's deteriorating relationship with his father, Splinter, reaches a point of no return! Will Mikey fight those he loves to save those who need him the most? Next, Leonardo seeks refuge in Northampton, but danger follows – in the form of Koya and Karai! An epic throwdown will result in Leo making a drastic decision that will quickly alter the course of TMNT history! And finally, Raphael is pushed to his breaking point as he is separated from his brothers and forced to endure an onslaught from the nefarious Bishop unlike anything he has experienced in the past!
188 pages, $29.99.
TEENAGE MUTANT NINJA TURTLES: THE IDW COLLECTION, VOL. 9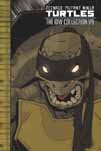 Kevin Eastman, Tom Waltz, Stan Sakai, Rich Douek, Erik Burnham, Bobby Curnow (W), Mateus Santolouco, Stan Sakai, Dave Wachter, Pablo Tunica, Aaron Conley, Sophie Campbell (A), Dan Duncan (C)
Agent Bishop's long-gestating hunt for mutants begins in earnest and no one is safe! The Mutanimals are the first targets, but the Turtles' turn will come soon enough, and they'll be hounded like never before. Alopex and Nobody are looking for a little rest and relaxation but get more than they ask for when they become the unwilling guests of a never-ending party thrown by the hedonistic Toad Baron! Plus, Karai has always embodied the Foot Clan. With the Clan under the control of Splinter, what path will she take during her travels in Japan? Danger and intrigue await her, Koya, and Bludgeon! Collects issues #67-72 of the ongoing Teenage Mutant Ninja Turtles series, Teenage Mutant Ninja Turtles Universe issues #9-15, and the TMNT/Usagi Yojimbo crossover.
336 pages, $49.99.
TRANSFORMERS #3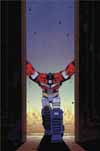 Brian Ruckley (W), Angel Hernandez (A), Ron Joseph (A), Nick Roche (C), Anna Malkova (VC), Guido Guidi (VC).
High above Cybertron, the planet's inner moon unfolds to become a gigantic energon harvester, a magnificent show for Bumblebee and his new friend. Meanwhile, Megatron is assembling a new security force, but rumors abound about the new team.
32 pages, $3.99.
TRANSFORMERS #4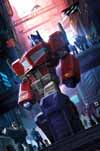 Brian Ruckley (W), Angel Hernandez (A), Ron Joseph (A), Sara Pitre-Durocher (C), Umi Miyao (VC), Jeffrey Veregge (VC).
Prowl and Chromia are investigating the disappearance of a missing scientist in the wilds of Cybertron when a mysterious figure crosses their path. Who is he and what does he know about the murdered scientist? And where is Bumblebee disappearing to at all odd hours?
32 pages, $3.99.
G.I. JOE: A REAL AMERICAN HERO #263
Larry Hama (W), Netho Diaz (A/C), Dan Fraga (VC), Sl Gallant (VC).
As Cobra continues its relentless onslaught on a global scale, G.I. Joe is there to meet them in kind. It's tyranny versus freedom – heroes and villains will rise and fall, bullets will fly, blood will spill, and who and what remains when the smoke clears is anyone's guess! Join Living Legend Larry Hama and superstar artist Netho Diaz for another explosive adventure into the action-packed world of G.I. Joe: A Real American Hero!
32 pages, $3.99.
Michel Fiffe (W/A/C/VC), Ibrahem Swaid.
A rush to the endgame reaches its big climax as a core team of select G.I. Joe operatives embark on the ultimate rescue mission! Will Snake Eyes defeat a brainwashed Storm Shadow in time to prevent a massacre? Betrayal, triumph, and twists & turns converge, crashing into the core of this primal conflict.
36 pages, $4.99.
AMBER BLAKE #3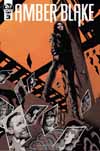 Jade Lagardère (W), Butch Guice (A/C), Catherin Nodet (VC).
Amber Blake is a woman on a mission. She's going to destroy everyone who has hurt the people she loves. But not all is as it seems, and some of her allies have agendas of their own…
32 pages, $3.99.
GLOW #2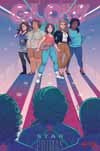 Tini Howard (W), Hannah Templer (A/C), Nicoletta Baldari (VC), Tess Fowler (VC).
Faced with foes in the form of the Star Primas – who have real muscles and matching windbreakers – the Gorgeous Ladies of Wrestling are ready to prove they aren't unskilled losers. They're paid television actors! And it's time to show those Star Primas that paid television actors mean business…
32 pages, $3.99.
NARCOS #1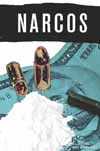 Ryan Ferrier (W), Vic Malhotra (A/C/VC), Nelson Daniel (VC).
Spinning out of the hit Netflix original show comes a new four-issue mini-series further detailing the intrigue and danger of the international drug trade of the 1980s! Two new recruits bring danger to DEA agents Murphy and Peña, while El Patrón must contend with a dangerous threat to his drug empire!
32 pages, $3.99.
GEARS OF WAR: HIVEBUSTERS #2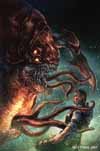 Kurtis Wiebe (W), Alan Quah (A/C), John Gallagher (VC)
The fight against the Swarm gets personal as Mac seeks to take revenge against the monsters that wiped out his hometown. But as tempers rise, will Keegan and Lahni be able to keep the team on track, or are they on a collision course with certain death? The hivebusting action continues here!
32 pages, $3.99.
JUDGE DREDD: TOXIC!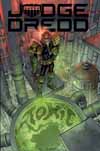 Paul Jenkins (W), Marco Castiello (A), Mark Buckingham (C)
Dredd's investigation into the death of a seemingly unremarkable sewage worker spirals into a waste management crisis that could destroy all of Mega-City One, which has long used genetic modification on its waste workers to control the deluge of filth that flows under the city each day. When Dredd discovers that some of them have foregone that disfiguring procedure in favor of hosting protective alien symbiotes, it sparks a groundswell of anti-immigration fervor. Soon the toxic atmosphere spills into the streets, undermining the very infrastructure that makes the city tolerable. Can Dredd find a solution to save the now-indispensable aliens from the angry mobs?
96 pages, $15.99.
V-WARS: GOD OF DEATH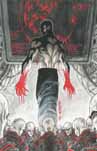 Jonathan Maberry (W), Alex Milne (A/VC), Ryan Brown (C), Juan Carlos Ruiz Burgo (VC).
Michael Fayne was patient zero of the plague that exploded into the Vampire Wars. A cult of militant vampires wants to resurrect him. Luther Swann leads a strike team to prevent the rise of a vampire god. New York Times bestseller Jonathan Maberry returns with an all-new V-Wars tale.
36 pages, $4.99.
ROAD OF THE DEAD: HIGHWAY TO HELL
Jonathan Maberry (W), Drew Moss (A), Santiperez (C)
The five-time Bram Stoker Award-winning author introduces the world to the latest chapter of the zombie epic in this over-the-top wild-ride prequel to ROAD OF THE DEAD! The dead rose and are feasting on the living and a young scientist may hold the secret to a cure. Meanwhile, zombies and biker gangs want her dead, so it's up to a bunch of losers in muscle cars and a hijacked tank to risk everything to save her.
96 pages, $15.99.
GHOST TREE #1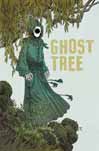 Bobby Curnow (W), Simon Gane (A/C)
Seeking a refuge from an unhappy life, Brandt returns to his ancestral home in Japan to find a haunted tree and the departed souls that are drawn to it, including his Grandfather. Brandt attempts to heal some of history's wounds but will he be able to find any measure of peace for himself when someone special from his past returns?
32 pages, $3.99.
Michael Avon Oeming (W/A/C/VC), Kyle Baker (VC).
Dick Tracy is Sisyphus, pushing the law boulder up the hill as he struggles for reason and order in a world with none. His attempts at law and order are met with crime and chaos, in the form of unpredictable and absurd villains. But Dick Tracy will never give up trying, no matter the era or incarnation. Join Eisner Award-winning creator Michael Avon Oeming on a startling case through time and space!
32 pages, $3.99.
BRAVO FOR ADVENTURE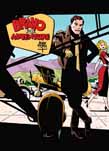 Alex Toth (W/A/C)
First time in trade paperback! Alex Toth's magnum opus contains all three of The Genius's stories starring Jesse Bravo, knock-about pilot and reluctant swashbuckler. Also included are rare pencil roughs, preliminary drawings, and story fragments, as well as samples of Toth's own coloring for an edition that never saw print, and of the coloring for what was intended to be Bravo's original 1975 first printing in France!
96 pages, $24.99.
RIP KIRBY, VOL. 11: 1973-1975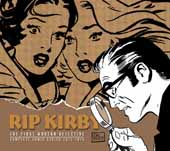 Fred Dickenson (W), John Prentice (A/C)
The longest-running modern adventure strip continues with eleven new stories starring the debonair private detective, reproduced from the original King Features Syndicate proofs. In these stories, Rip Kirby takes part in an old-style shoot-out in a nearly deserted Western ghost town, battles the deadly Owl and the Pussycat over a hidden stash of heroin, and rubs a magic lamp the wrong way in a Turkish bazaar. After learning he is the doppelganger of the crown prince of a postage stamp-sized country, the bespectacled detective follows the trail of a counterfeit two million before being framed by a paroled con man who wants to get even with Rip for making him play second fiddle in the prison orchestra. Plus – the long-awaited return of Rip's original girlfriend, Honey Dorian, as well as his arch-nemesis, the deadly Mangler! The more than 800 sequential comics from January 22, 1974 to October 11, 1975 also feature Rip's new girlfriend, Holly Glowstep, and standbys such as Desmond, Wiggins, and Ma Casino.
296 pages, $49.99.
FOUR SISTERS, VOL. 2: HORTENSE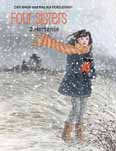 Cati Baur, Malika Ferdjoukh (W), Cati Baur (A/C)
Second book in the series! Since the deaths of their parents, Hortense and her sisters have been on their own. Winter arrives, and, as the world is buried in snow, eleven-year-old Hortense buries her life in books. She wonders what she will become: a character in her favorite show? A surgeon of incurable diseases so she can save her new friend Muguette? Or a world famous actress? But to go onstage, Hortense would have to overcome her shyness, which seems unlikely for a girl who'd rather write in her diary than express her feelings out loud. It's in her diary where she exposes her innermost thoughts and shares the ups and downs of her life as a girl and a sister.
160 pages, $19.99.
EVE STRANGER #1
David Barnett (W), Philip Bond (A/C)
You have unlimited funds, a jet-set lifestyle, and extraordinary abilities. And your bloodstream is filled with nanobombs. The contents of a syringe will deactivate them for a week and also wipe your memory. So what happens when you develop a sneaking suspicion that you're actually working for the bad guys? EVE STRANGER, amnesiac-for-hire.
32 pages, $3.99.
PUNKS NOT DEAD: LONDON CALLING #3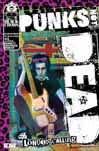 David Barnett (W), Martin Simmonds (A/C)
In northern England, Fergie's mom Julie gets a fatal blow – while in London, Sid and Fergie… hit the pub? Plus, we take a trip back to 2002 to learn the true story of why Fergie's father disappeared, and how super spy Dorothy Culpepper was involved. Hint: it's basically all her fault!
32 pages, $3.99.
LODGER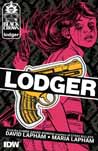 David Lapham & Maria Lapham (W), David Lapham (A/C)
Lust, guns and revenge. As American as the wicked west. Ricky Toledo is going to find the man who killed her mother, and revenge is going to be sweet. Ricky was 15 when she fell hard for a handsome drifter who rented a room in her family home. Then he killed her mother and got her father sent to prison for it. It's three years later, and Ricky will stop at nothing to get revenge. A broken young woman and her trusty companion – a Smith and Wesson 45 named Golddigger – track a serial killer hiding in plain sight as a travel blogger. It's a dark, grimy game of cat and mouse through a tangled American landscape. And, like all the best crime noir, it's a twisted love story.
120 pages, $17.99.
LEAGUE OF EXTRAORDINARY GENTLEMEN, VOL. 4: THE TEMPEST #6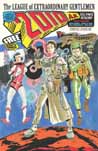 Alan Moore (W), Kevin O'Neill (A/C/VC)
In Moore and O'Neill's final comic book, this issue masquerading as a British science-fiction weekly, the plot-strands of our concluding volume and loose ends from twenty years of continuity are tied in an ingenious starry bow, as Mina Murray and her legendary confederates transition from the world of fiction past and present to the world of fiction future. Planets end in visual spectacle, lovers are united in the matrimonial event of the millenium, and deadly enemies draw close in the conclusion of their fatal dances. This is your last call for the immaculate crescendo of The League of Extraordinary Gentlemen, Vol. IV, The Tempest.
32 pages, $4.99.
BOX (BOOK ONE)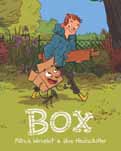 Patrick Wirbeleit (W), Uwe Heidschötter (A/C) Matthew likes to build things. And invent things. So, finding a box sitting in front of his house one day is a real stroke of luck. But he has to pinch himself when it suddenly starts talking. A living toolbox! Even better, Box loves to invent things too, so the two become fast friends. But where did Box come from, and how did he get to be so magical? When his secret comes out and accidentally leaves Matthew's parents frozen, the two friends will have to race to find the answers and save the day.
72 pages, $9.99.
PENNY NICHOLS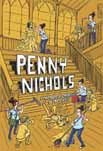 MK Reed (W), Greg Means (W), Matt Wiegle (A/C)
Somehow, sarcastic Penny's gotten roped into helping make an amateur slasher film. With a team of flakes and weirdos, she's probably the only one who can save this stupid movie… but maybe it can save her, too. Now can somebody please stop that dog from licking the fake blood? This hilarious original graphic novel is a loving tribute to the chaos and camaraderie of DIY filmmaking, and the ways we find our future – and our family – in the unlikeliest of places.
208 pages, $19.99.
SURFSIDE GIRLS (BOOK TWO): THE MYSTERY AT THE OLD RANCHO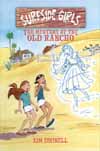 Kim Dwinell (W/A/C)
Sam and Jade are back! Get ready for more ancient mysteries, beautiful beaches, cute boys, and wild adventures in this delightful full-color graphic novel. When one of the ghosts from Danger Point gets… spooked, it's time for Sam and Jade to pull out the Journal of Weird and jump into action! Trying to solve this 200-year-old mystery takes the girls all over their town and beyond, all while Surfside's Annual Surf Competition is going down. Add to the mix a cute surfer boy, a mysterious mustached man with a guitar, and a very jealous Sam – can the surfing sleuths save the day again?
208 pages, $14.99.