IDW PUBLISHING FOR MAY
THEY CALLED US ENEMY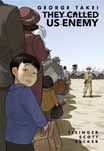 George Takei (W), Justin Eisinger (W), Steven Scott (W), Harmony Becker (A/C)
George Takei has captured hearts and minds worldwide with his captivating stage presence and outspoken commitment to equal rights. But long before he braved new frontiers in Star Trek, he woke up as a four-year-old boy to find his own birth country at war with his father's – and their entire family forced from their home into an uncertain future. In a stunning graphic memoir, Takei revisits his haunting childhood in American concentration camps, as one of over 100,000 Japanese Americans imprisoned by the U.S. government during World War II. Experience the forces that shaped an American icon – and America itself – in this gripping tale of courage, country, loyalty, and love.
192 pages, black and white, $19.99.
MARVEL ACTION: AVENGERS #6
Matt Manning (W), Jon Sommariva (A/C), Tony Fleecs (VC).
Count Nefaria's otherworldly assault reaches its fever pitch as the Avengers struggle to reunite and save Dr. Strange!
32 pages, $3.99.
MARVEL ACTION CLASSICS: SPIDER-MAN TWO-IN-ONE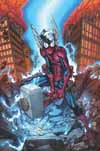 Marc Sumerak, Peter David (W), David Nakayama (A), Mike Norton (A), Patrick Scherberger ©
Two classic Spider-Man tales, pulled from the legendary Vault of Heroes! First – a chance encounter with the Enchantress pits Spidey against Thor – with the whole of Asgard right behind! Then, when Flash Thompson gets a bite from a werewolf, Spidey seeks the aid of the sorcerer supreme – Doctor Strange!
48 pages, $4.99.
MARVEL ACTION: BLACK PANTHER #5
Vita Ayala (W), Arianna Florean (A/C), Ashley A. Woods (VC).
When one of the Black Panther's advisers suffers an injury during an attack, the adviser requests the aid of a traditional healer over modern medicine. Shuri scoffs at the idea, but soon a curse forces her on an epic quest, but nothing is as it seems. All-new action in the Mighty Marvel Manner!
32 pages, $3.99.
MARVEL ACTION: BLACK PANTHER: STORMY WEATHER (BOOK ONE)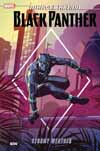 Kyle Baker (W), Juan Samu (A/C).
A marvelous new era begins here! Readers of all ages can get lost in the technologically advanced African nation of Wakanda. Follow the all-new adventures of its monarch, the Black Panther! King T'Challa is responsible for defending his people – and the world – from any threats and he gets plenty of help, and sass, from his genius sister Shuri. Collects issues #1-3.
80 pages, $9.99.
SONIC THE HEDGEHOG #17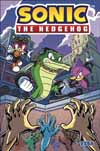 Ian Flynn (W), Tracy Yardley (A), Jack Lawrence ©, Jamal Peppers (VC), Nathalie Fourdraine (VC).
"Plague!" As the infection spreads across a helpless city, the Chaotix Detective Agency stands alone against the horde. Will even the world's fastest hedgehog be quick enough to provide back-up, or will the city fall?
32 pages, $3.99.
SONIC THE HEDGEHOG, VOL. 3: BATTLE FOR ANGEL ISLAND
Ian Flynn (W), Tracy Yardley, Evan Stanley (A), Nathalie Fourdraine ©
A powerful new foe has set his sights on Angel Island, and Sonic and his friends must defend it at all costs! When Neo Metal Sonic – an evil robot with Sonic's speed, Dr. Eggman's intellect, and an unbreakable mechanical body – conquers the island to grow his power even more, Sonic and his friends must team up and take the fight to him. But even with the full power of the Resistance behind him, will Sonic be able to take down Neo Metal Sonic once and for all? Collects Sonic the Hedgehog issues #9-12.
96 pages, $15.99.
TEAM SONIC RACING PLUS DELUXE TURBO CHAMPIONSHIP EDITION ONE-SHOT
Caleb Goellner (W), Adam Bryce Thomas (A), Sega ©
When the evil Dr. Eggman invites himself to Dodon Pa's tournament, it's up to Sonic and his friends to race into action – again! Re-presenting the hit one-shot Team Sonic Racing, the Plus Deluxe Turbo Championship Edition is so jam-packed with goodies, we had to give it a name worthy of its extras! Reprints Team Sonic Racing plus a new guide to the Wisp power-ups, a glossary of Team Moves, a gallery of in-game tracks, and commentary by writer Caleb Goellner!
48 pages, $5.99.
STAR WARS ADVENTURES #22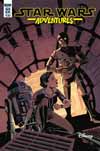 Elsa Charretier (W/A/C), Pierrick Colinet (W), Michael Avon Oeming (VC).
After losing the man she loves to a bounty hunter, Princess Leia embarks on a dangerous mission with R2-D2 and C-3PO in this exciting tale set just after The Empire Strikes Back!
32 pages, $3.99. *Retailers: See your order form for incentive information.
STAR WARS ADVENTURES, VOL. 6: FLIGHT OF THE FALCON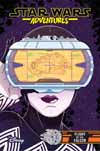 Michael Moreci (W), Arianna Florean (A), Philip Murphy ©
A galaxy-spanning adventure tracking Han Solo's renowned light freighter in a series of tales highlighting its illustrious history, starring Chewie, Luke, Leia, and more! Follow Bazine Netal's quest for the legendary Millennium Falcon! The First Order spy travels the galaxy seeking information on the ship's whereabouts. Along the way she will hear tales from some familiar faces – and some new ones – hot on the trail of the fastest ship in the galaxy! Collects the "Flight of the Falcon" story from Star Wars Adventures #14 – 18, plus the Flight of the Falcon one-shot.
80 pages, $9.99.
STAR WARS ADVENTURES ANNUAL 2019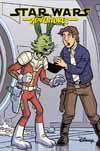 Cavan Scott (W), Mauricet (A), Stan Sakai ©
A daring rescue mission leads Lando – and his new friend Jaxxon – to the seat of Imperial power, where they must recover an important artifact that will inspire a planet to drive the Empire from their home.
48 pages, $7.99.
MY LITTLE PONY: FRIENDSHIP IS MAGIC #78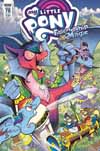 Katie Cook (W), Andy Price (W/A/C), Sara Richard (VC), Brenda Hickey (VC).
The thrilling conclusion to the "Cosmos" story arc is here! With the most powerful ponies in Equestria under Cosmos' control, do the remaining ponies stand a chance? And whose side will Discord take?
32 pages, $3.99.
MY LITTLE PONY: STAR PUPIL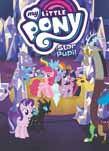 Joanna Lewis (W), Kristine Songco (W), Justin Eisinger (W), Various (A/C).
Adapting the most beloved My Little Pony animated cartoon episodes to graphic novels! Revisit the inhabitants of Equestria and learn about the magic that friendship brings in this adaptation of the television series' seventh season premiere! This volume adapts two episodes, "Celestial Advice" and "All Bottled Up," in an original graphic novel.
144 pages, $7.99.
MY LITTLE PONY: SPIRIT OF THE FOREST #1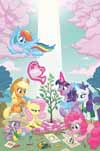 Ted Anderson (W), Brenda Hickey (A/C), Tony Fleecs (VC), Kate Sherron (VC).
The Cutie Mark Crusaders are back! When Apple Bloom, Scootaloo, and Sweetie Belle take a trip into the woods, they find a forest filled with trash! Just what could be causing this mess?! Looks like it's another mystery for our favorite fillies to solve – and one where not everything is as it seems…
32 pages, $3.99.
TANGLED: THE SERIES: HAIR AND NOW #3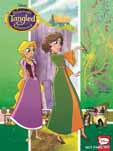 Katie Cook (W), Eduard Petrovich (A/C), Rosa La Barbera (A/C), Monica Catalano (A/C), and Giuseppe Di Maio (A), Gabby Zapata (VC).
It's the final issue of the latest Tangled miniseries, but saying goodbye to Rapunzel and her friends has never been this fun! It's a special art-themed issue as we present two stories guaranteed to fire up your creative spirit. In "Framed," Rapunzel discovers how art not only imitates life, but takes on a life of its own in a very unexpected way! Then, in "Picture Perfect," Maximus and Pascal unleash their inner artists – with unique and delightful results!
32 pages, $3.99.
TANGLED: THE SERIES: HAIR-RAISING ADVENTURES
Katie Cook (W), Eduard Petrovich, Rosa La Barbera, and Diogo Saito (A), Eduard Petrovich and Rosa La Barbera ©
Rapunzel and her friends are back for more adventures and more heartwarming stories written by fan-favorite Katie Cook! What will Rapunzel, Eugene, Cassandra, and their friends get up to in the kingdom of Corona this time? Find out in six stories you'll read over and over again! Collects Tangled: The Series: Hair-Raising Adventures #1-3.
80 pages, $8.99.
DUCKTALES: MONSTERS AND MAYHEM
Joey Cavalieri (W), Steve Behling (W), Joe Caramagna (W), Emilio Urbano (A) Andrea Greppi (A), Cristina Stella (A), Gianfranco Florio (A), Ciro Canglialosi, (A) Luca Usai (A), Marco Ghiglione ©.
It's time for more stories featuring your favorite DuckTales characters! First up, Scrooge and the kids meet Huge McDuck, another billionaire who claims to be a long-lost relative! But can he be trusted? Then, Gladstone Gander takes Donald's place on Scrooge's next adventure! Will he prove to be a good luck charm, or even more accident-prone than Donald? After that, Scrooge, Donald, Huey, Dewey, Louie, and Webby deal with the "Countdown to Termination" and hit the ice in "The Mighty Ducks of Duckburg!" Finally, there are monsters up to no good in a two-part tale of scary times in Duckburg! Join our friends as they realize that "The Monsters Are Due at Duck Manor!" Collects DuckTales #12-14.
80 pages, $9.99.
DISNEY COMICS AND STORIES #5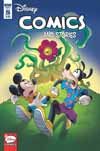 Andrea "Casty" Castellan, Marco Gervasio, and Tito Faraci (W), Andrea Ferraris, Marco Gervasio, and Alessio Coppola (A), Paolo Campinoti ©
Three stories never-before-seen in the U.S. await you in another fun-filled issue! In "Mickey Mouse and the Hydrophilic Monsters," Mickey and Goofy encounter plant life like they – or you – have never seen before! Then, in "Pluto and the eSuper' Day," what happens when Goofy dog-sits Mickey's beloved pup? Why, nothing less than the unexpected! Finally, in "Shhh," Peg-Leg Pete and his accomplice encounter more than they bargained for in a robbery gone very wrong!
40 pages, $5.99.
UNCLE SCROOGE #45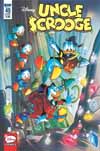 Francesco Artibani (W), Alessandro Perina (A/VC), Marco Gervasio ©
When one of Gyro Gearloose's inventions allows Donald Duck to "hear" what his plants are saying, Uncle Scrooge gets one of his biggest money-fueled ideas ever. But in true Scrooge fashion, the road to riches is anything but smooth – in fact, it's downright magical! Find out how in "The Captain's Sequoia!"
36 pages, $4.99.
BIG HERO 6: THE SERIES #2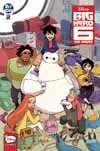 Joe Caramagna (W), Nicoletta Baldari (A), Gurihiru ©, Nicolette Baldari (VC).
Join Hiro, Wasabi, Fred, Go Go, Honey Lemon, and Baymax for new adventures, new friends, and new adversaries as the Big Hero 6 team continues to fight to protect San Fransokyo!
32 pages, $3.99.
SAMURAI JACK: LOST WORLDS #2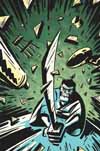 Paul Allor (W), Adam Bryce Thomas (A/C), Gavin Fullerton (VC), Sara Pitre-Durocher.
"Samurai Jack and the Empty Village!" As Jack travels through lonely mountain roads, he's warned to turn back lest he disturb a haunted village. Of course, Jack's never one to shy from danger, so he continues forward. But maybe some things are better left undisturbed…
32 pages, $3.99.
GOOSEBUMPS: HORRORS OF THE WITCH HOUSE #3
Denton Tipton (W), Matthew Dow Smith (W), Chris Fenoglio (A/C), Megan Levens (VC).
Rosie and her friends are in the witch's clutches, and if they want to save themselves (not to mention the entire town), they'll have to figure out a way to stop her most powerful spell before it's too late! Friendships will be tested and secrets will be revealed in this stunning conclusion.
32 pages, $3.99.
ATOMIC ROBO AND THE DAWN OF A NEW ERA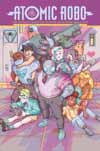 Brian Clevinger (W), Scott Wegener (A/C)
The action continues… or does it, as Robo shifts to the more quiet side of life! No more sci-fi catastrophes! This is now a quiet series about the charming antics and sitcom misunderstandings that happen at a boarding school for future action scientists. Also, Robo's hiding a secret AI son in the basement… No way that could cause any trouble.
144 pages, $19.99.
DICK TRACY FOREVER #2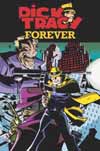 Michael Avon Oeming (W/A/C/VC)
Dick Tracy is Sisyphus, pushing the law boulder up the hill as he struggles for reason and order in a world with none. His attempts at law and order are met with crime and chaos, in the form of unpredictable and absurd villains. But Dick Tracy will never give up trying, no matter the era or incarnation. Join Eisner Award-winning creator Michael Avon Oeming on a startling case through time and space!
32 pages, $3.99.
GLOW #3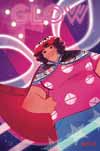 Tini Howard (W), Hannah Templer (A/C), Nicoletta Baldari (VC), Jenn St-Onge (VC).
The Gorgeous Ladies of Wrestling quickly realize that there's no way they're going to be able to beat these real, muscle-y professional wrestlers! With morale low, Ruth has to come up with a new plan, and she's going to make sure they win – even if they have to lose!
32 pages, $3.99.
TEENAGE MUTANT NINJA TURTLES 35TH ANNIVERSARY BOX SET
Peter Laird, Kevin Eastman (W/A), Kevin Eastman ©.
Revisit the glorious origins of the TMNT during the 35th anniversary month! This special box set includes Mirage Publishing's TMNT #1-4 and the Raphael Micro-Series at their original 8 3/8" x 10 7/8" dimensions enclosed in a box with new art from TMNT co-creator Kevin Eastman. A must-have for all shell-heads!
188 pages, $49.99.
TMNT: SHREDDER IN HELL #4
Mateus Santolouco (W/A/C), Kevin Eastman (VC), Marcelo Costa (VC).
Oroku Saki faces the Dragon! With demons closing in on every side, the Shredder faces the truth about the world's primal forces, the mysterious Pantheon, and his own soul!
32 pages, $3.99.
TEENAGE MUTANT NINJA TURTLES #94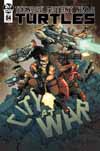 Tom Waltz (W), Kevin Eastman (W/VC), Dave Wachter (A/C), Andy Kuhn (VC).
"City at War, Part 2." As battle lines are drawn in the criminal underworld of New York City, Old Hob takes his mission to the next level, and he'll have unexpected help from one of the TMNT!
32 pages, $3.99.
TMNT: URBAN LEGENDS #13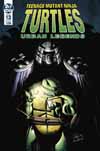 Gary Carlson (W), Frank Fosco (A/C/VC), Erik Larsen (VC), Kevin Eastman (VC).
The search for Deathwatch continues! The infamous killer's trail leads Leo, Mikey, and a robotic Donatello to Sheldon, Arkansas, where they find themselves face-to-face with more murderous mayhem. Meanwhile, Raph, back home in New York, makes a chilling discover during his duel with the mob. Could it bec Shredder's inner sanctum?!
32 pages, $3.99.
GEARS OF WAR: HIVEBUSTERS #3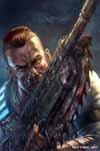 Kurtis Wiebe (W), Alan Quah (A/C)
As Team Scorpio presses on toward Mac's hometown, they also begin to uncover more about his painful past. But with emotions running high, will the team be able to give it their all once they uncover the lurking Swarm? The Hivebusting action continues here!
32 pages, $3.99.
NARCOS #2
Ryan Ferrier (W), Vic Malhotra (A/C), Clay McCormack (VC).
Murphy and Pena clash with their new partners' irregular methods while a drug kingpin makes a play for control of Medellin's drug network! Meanwhile, an attempt on El Patron's life makes him rethink who he can trust.
32 pages, $3.99.
G.I. JOE: MODERN ERA LEGENDS PORTFOLIO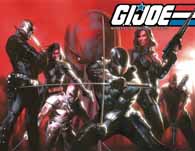 Various (A).
Modern era legends artwork from the pages of G.I. Joe, featuring fan-favorite Joe heroes and Cobra villains! Contents include 10 prints from superstar artists – Art Adams, J. Scott Campbell, Cliff Chiang, Gabriele Dell'Otto, Michael Golden, Adam Hughes, Rob Liefeld, Paul Pope, Ben Templesmith, and Ashley Wood!
10 pages, $39.99.
G.I. JOE: A REAL AMERICAN HERO #264
Larry Hama (W), Netho Diaz (A/C), Dan Fraga (VC), Tim Lattie (VC).
G.I. Joe battles for justice, liberty, and freedom around the globe, and with the evil terrorist organization known as Cobra slithering around every corner, the stakes have never been higher! Living Legend Larry Hama and superstar artist Netho Diaz continue the latest explosive arc ofc G.I. Joe: A Real American Hero!
32 pages, $3.99.
TRANSFORMERS #5
Brian Ruckley (W), Angel Hernandez (A), Cachet Whitman (A/VC), Andrew Griffith ©, Guido Guidi (VC).
The investigation into the mystery of Cybertron's first murder continues! Windblade closes in on answers, Rubble finds a job that suits him, and Bumblebeec well, Bumblebee has a secret that could lead to chaos.
32 pages, $3.99.
TRANSFORMERS #6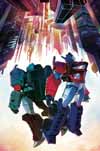 Brian Ruckley (W), Bethany McGuire-Smith (A), Bethany McGuire-Smith (C/VC), Jeffrey Veregge (VC).
Optimus takes the spotlight! Even a bot as wise as a leader of the Autobots needs guidance now and again, so Optimus turns to Codexa – a Cybertronian who has grown into the very planet itself. Will she help Optimus settle his problems with Megatron or will she lead them both to ruin?
32 pages, $3.99.
STAR TREK: THE Q CONFLICT #5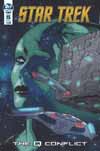 Scott Tipton (W), David Tipton (W), David Messina (A/C/VC), George Caltsoudas (VC).
The contest for the ages continues as the Captains race to capture the one exotic creature that Trelane is missing from his intergalactic menagerie – a Borg Queen! But as the Godlike beings revel in the games, the crews are hatching a plan of their own. Don't miss the penultimate issue of the biggest Star Trek crossover of all time!
32 pages, $3.99.
STAR TREK: YEAR FIVE #2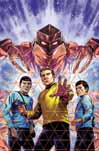 Jackson Lanzing (W), Collin Kelly (W), Stephen Thompson (A/C), J.J. Lendl (VC).
As the last year of their original mission begins, the crew of the U.S.S. Enterprise will have to use all of the skills they've acquired along the way as they prepare to face the biggest challenge of their lives – a dark threat that doesn't just threaten their existence, but the existence of the entire Federation as well…
32 pages, $3.99.
CLUE: CANDLESTICK #1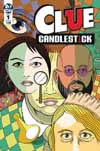 Dash Shaw (W/A/C/VC), Jed McGowan (VC)
All of your favorite suspicious characters are back in this new brain twister based on the timeless detective game. Ripe with puzzles, secrets, and lies, in CLUE: CANDLESTICK everyone's a suspect! Cartoonist auteur Dash Shaw unleashes his murderous imagination on the quirky, thrilling and mysterious world of Clue!
36 pages, $4.99.
AMBER BLAKE #4
Jade Lagardere (W), Butch Guice (A/C), Catherine Nodet (VC)
Amber Blake has finally found the person responsible for all of the pain in her life – and there's no way she's letting him get away again. But nothing is as it seems, and when the people closest to her betray her, she'll have to use all of her skills to get out alive – and to get the vengeance she's longed for.
32 pages, $3.99.
GHOST TREE #2
Bobby Curnow (W), Simon Gane (A/C)
Brandt discovers more about his family's past as he reels from a surprise return of someone that played a pivotal part in his life. Meanwhile, a malevolent creature begins to stalk the departed denizens of the Ghost Tree…
32 pages, $3.99.
ROAD OF BONES #1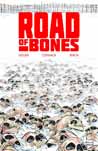 Rich Douek (W), Alex Cormack (A/C)
In 1953, the Siberian Gulag of Kolyma is hell on Earth – which is why Roman Morozov leaps at the chance to escape it. But even if they make it out, Roman and his fellow escapees still have hundreds of miles of frozen tundra between them and freedom. With the help of a mysterious being straight out of his childhood fairy tale stories, Roman just might make it – or is the being simply a manifestation of his brutal circumstances driving him insane?
32 pages, $3.99.
BRAM STOKER'S DRACULA
Roy Thomas (W), Mike Mignola (A/C)
The comics adaptation based on the film from Columbia Pictures (Sony) and Zoetrope Studios returns with all-new colors. Mike Mignola is one of the most popular comic book artists of the past thirty years, known for such important works as Batman: Gotham by Gaslight, Cosmic Odyssey, and, of course, Hellboy. Considered to be among Mignola's greatest works, Bram Stoker's Dracula was his last project before Hellboy launched and was originally released as a full-color four issue adaptation of Francis Ford Coppola's 1992 movie.
136 pages, $19.99.
GODZILLA: KINGDOM OF MONSTERS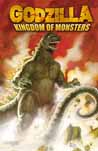 Eric Powell (W/C), Tracy Marsh (W), Jason Ciaramella (W), Phil Hester, Victor Santos (A).
The King of the Monsters rises again, and he's bringing lots of other beloved Toho monsters with him in one destructive saga! When Godzilla appears off the coast of Japan, the Japanese government must respond quickly to contain the disaster… but before long, other monsters begin appearing all over the world. Can humanity survive this mysterious onslaught of giant beasts? Featuring Anguirus, Battra, Destroyah, Gigan, Hedorah, King Ghidorah, Kumonga, Mechagodzilla, Mothra, Rodan, Spacegodzilla, and Titanosaurus. Collects the entire 12-issue series for the first time.
304 pages, $29.99.
WYNONNA EARP: BAD DAY AT BLACK ROCK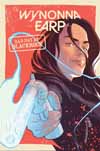 Beau Smith (W), Tim Rozon (W), Chris Evenhuis (A/C)
There's a prison break at Black Rock and it's a family affair! Wynonna Earp, descendant of the legendary gunslinger Wyatt Earp, and her whole family are members of the U.S. Marshals Black Badge Division – a unit dedicated to protecting the world from all things that go bump in the night. Two of their greatest assets in the fight against evil are the Division's relative secrecy and Black Rock Prison, the only facility capable of holding major paranormal threats, and both were just exposed. That means it's time for Bobo Del Rey, Wynonna's old enemy, to step up his plans on a breakout to free his brother. It's family against family as the Earp clan and the Del Reys go head-to-head in a rip-roaring, knock-down, drag out fight to escape the Bad Day at Black Rock.
72 pages, $12.99.
MARVEL MASTERWORKS PIN-UPS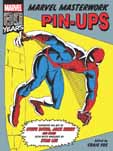 Craig Yoe (Ed.) Jack Kirby, Steve Ditko, Jim Steranko, Don Heck, John Byrne, Wally Wood, John Romita, John Severin (A), Steve Ditko ©
An incredible artbook showcasing some of the greatest comic artists of all time! Jack Kirby, Steve Ditko, Jim Steranko, Don Heck, John Byrne, Barry Windsor-Smith, John Severin, Wally Wood, John Romita, and many more! As part of the tremendous fun of Silver Age comics, artists created pin-ups of the most popular Marvel heroes and villains! Now the greatest of those works of art are gathered for the first time in a beautiful large-format hardback book! Included are rare examples of original art of The Thing, Spider-Man, and Dr. Strange.
120 pages, $34.99.
THE LAST UNICORN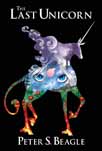 Peter S. Beagle (W), Peter B. Gillis (W), Renae De Liz (A/C)
Peter S. Beagle's beloved fantasy classic captured imaginations around the world, and takes on new life in this luscious, fully illustrated graphic novel adaptation. The Last Unicorn is a tale for any age about the wonders of magic, the power of love, and the tragedy of loss. The unicorn, alone in her enchanted wood, learns that she may be the last of her kind. Reluctant at first, she sets out on a journey to discover the fate of her fellow unicorns, even if it means facing the terrifying anger of the Red Bull and the malignant evil of the king who wields its power. Along the way she'll encounter a cast of unforgettable characters, including Schmendrick the magician, the bandit Molly Grue, the noble Prince Lir, and the occasional talking butterfly.
168 pages, $14.99.
LOAC ESSENTIALS, VOL. 13: CHARLIE CHAN, 1938

Alfred Andriola (W/A/C)
As a famed hero of the mystery novels by Earl Derr Biggers, Inspector Charlie Chan reached even greater heights in a series of popular movies. As actor Sidney Toler was preparing to replace Warner Oland as the wily police detective in 1938, Alfred Andriola was tapped to create a newspaper strip version of the character. The pride of the Honolulu Police Department uses his intellect more than his fists to solve cases of international intrigue, and the syndicate's initial promotion called Charlie Chan "a new mystery strip, totally devoid of guns and gangsters" to separate it from Dick Tracy and his many hard-boiled imitators. Featuring the first complete year of daily strips, from October 1938 to November 1939, this volume offers readers exciting adventures, snappy dialogue, and arresting art.
328 pages, black and white, $29.99.
FROM HELL: MASTER EDITION #5
Alan Moore (W), Eddie Campbell (A/C)
"Love is enough." As his pace of murder accelerates – twice in one night – the increasingly unhinged Dr. Gull leaves an ominous message.
Five unsolved murders. Two of the greatest creators in the history of comics. One sprawling conspiracy, one metropolis on the brink of the 20th century, and one bloody-minded Ripper ushering London into the modern age of terror. The award-winning bestseller FROM HELL, often ranked among the greatest graphic novels of all time, takes on haunting new dimensions in FROM HELL: The Master Edition, enhanced with impressionistic hues by Eddie Campbell himself.
This volume contains Chapter 5, as well as all the original annotations.
72 pages, $7.99.
WHY DID WE TRUST HIM?
Shannon Wheeler (W/A/C)
Hot off Sh*t My President Says, Shannon Wheeler unloads a new set of top notch cartoons in this premium collection. Instead of lampooning the President, Wheeler demonstrates what won him a couple of Eisner Awards with a more personal set of single panel comics. Relationships, social norms, cats, dogs, food, and Wheeler himself are all targets of his urbane wit. It's a gem of a book.
120 pages, $14.99.
NOCTURNE: THE WALLED CITY TRILOGY (BOOK TWO)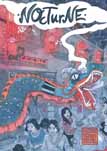 Anne Opotowsky (W), Angie Hoffmeister (A/C)
In 1905, a child is kidnapped and brought to Hong Kong, growing into a clever and reckless young man looking for answers. In the 1930s, the British are shaping that island into the free-trade playground for which it will soon become famousc while China's internal strife borders on chaos. The eccentricities of Hong Kong rub off on everyone, the greed is more palpable, the lust and caution herd on both the young and old.
Within the Walled City itself, the population has grown by leaps and bounds, despite attempts to clear them out. Both the British and the Chinese now declare it a lawless ghetto, a legal No Man's Landc so the city evolves into an astonishing world of its own. In this chaotic yet harmonious world, the three boys from Book One – Song, Xi, and Yubo – are finding three very different ways to become men.
Abductions, obsessions, refugees, and star-crossed lovers intertwine throughout this staggeringly ambitious and gorgeously illustrated sagac while the undercurrents of power, manipulation, and loss begin to show terrible cracks in the walls.
460 pages, $39.99.
EVE STRANGER #2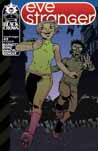 David Barnett (W), Philip Bond (A/C)
Eve Stranger can do anything thanks to the nanotech that she has to inject every week to stay alive… anything except remember who she is or where she's been. Her talents sold by the shadowy E.V.E. Project to the highest bidder, Eve's latest mission finds her on the run in Pamplona, Spain. High-octane adventure, weird science, and doomed romance meet the jet-set in "Retrograde."
32 pages, $3.99.
PUNKS NOT DEAD: LONDON CALLING #4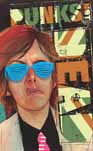 David Barnett (W), Martin Simmonds (A/C)
Butch and Sundance! Bonnie and Clyde! Laurel and Hardy! History is littered with great double acts, but the ultimate boy-meets-ghost odd couple is no more as Fergie and Sid go their separate ways. While Sid heads off to look up old mates, Fergie finally meets his dad in London Calling: "To the Imitation Zone."
32 pages, $3.99.
WALTER SIMONSON STAR WARS ARTIST'S EDITION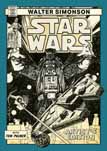 Various (W), Walter Simonson (A/C) Tom Palmer (A).
Comics legends Walter Simonson and Tom Palmer collaborated on a wonderful run of Star Wars comics in the early 1980s, before the release of The Empire Strikes Back. Like all Artist's Editions, each page has been meticulously scanned from the original art (from the personal archives of both artists) and presented at 100 percent of actual size.
144 pages, $126.
BATMAN: THE ANIMATED SERIES ROGUES GALLERY
Sen-Foong Lim (D) Jessey Wright (D) Chris Fenoglio (A), Jack Lawrence (A), Dario Brizuela (A), Marcelo Ferreira (A), TableTaffy ©.
Defeat the Batman to rule the city! Gotham City's coffers are ripe for the robbing, but one thing stands in the way of the city's supervillains – the reviled Batman. It's time someone finally took out that nuisance! Choose your favorite villain, then go on crime sprees, steal powerful upgrades, recruit nefarious accomplices, and race to complete your master plan and be the first to defeat the World's Greatest Detective.
3-5 players, Playable from ages 12+, $39.99.
MEN IN BLACK: UNDERCOVER
Jay Cormier (D), Sen-Foong Lim (D), Dan Schoening (A)
Aliens exist! In Men In Black: Undercover, you'll join one of three groups: the Men In Black, who work to hide aliens, the Shadow Government, who seek to capture and weaponize aliens, and the Conspiracy Theorists, who try to expose alien life. Join a side and influence the aliens to join your cause, but don't reveal your true intentions – you'll need to stay Undercover to win!
3-6 players, playable from ages 12+, $19.99.
NARUTO SHIPPUDEN: VILLAGE DEFENDERS
Team Lynnvander (d)
When most of the Leaf Village ninja are out on various missions, it has fallen to a small handful of ninja to protect the village! Together, the members of Team 7 and a couple of their close friends will attempt to turn back the invaders. They are the last line of defense, and they must not fall!
1-4 players, playable from ages 14+, $19.99.
AMOEBA
Greg Preslicka & Heidi Preslicka (D).
You'll need to divide in order to conquer in Amoeba, the tile-laying game that requires you to think strategically and act microscopically. 2-4 players draw and place tiles in order to build the biggest amoebas. But be careful: your opponents can place tiles on top of your completed amoebas to split them up and hurt your score. After all tiles are played, the player with the biggest amoeba wins!
2-4 players, playable from ages 8+, $19.99.
Source : www.comicscontinuum.com