IDW PUBLISHING FOR MARCH
Brian Ruckley (W), Angel Hernandez (A), Ron Joseph (A), Gabriel Rodriguez ©, Angel Hernandez (VC), Sara Pitre.Durocher (VC), Freddie E. Williams (VC).
A NEW ERA DAWNS! In the infinite universe, there exists a planet like no other: Cybertron! Home to the Transformers, and a thriving hub for inter-stellar commerce, it is a world brimming with organic and constructed diversity. Immense structures line its landscape. Mechanical giants roam across its surface. Starship-sized titans orbit its skies, keeping a constant protective watch above and below.
Ancient Transformers merge into its very fabric. Small, mysterious creatures skulk in its shadows. It is a truly amazing realm, long untouched by war, and exuberantly reaching for the stars. This is the Cybertron that Optimus Prime and Megatron vie for in this bold new origin–a world of seemingly endless peace! All that changes when Bumblebee and Windblade take a newly-forged Cybertronian on his first voyage through this world of wonders–they are confronted by the hard reality of the first murder to have occurred on Cybertron in living memory!
32 pages, $3.99.
TRANSFORMERS #2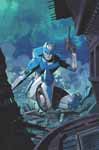 Brian Ruckley (W), Angel Hernandez (A) Ron Joseph (A), Nelson Daniel ©, Ron Joseph (VC), Jeffrey Veregge (VC).
"Your life is yours to shape." These words form the backbone of the Transformers' society. But Cybertronian police officers Chromia and Prowl learn there's a dark underside as they investigate the murder that's caught Bumblebee in a web of lies and secrets.
32 pages, $3.99.
TRANSFORMERS: THE IDW COLLECTION PHASE TWO, VOL. 9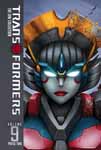 John Barber (W), James Roberts (W), Mairghread Scott (W), Livio Ramondelli, (A) Sarah Stone (A), Andrew Griffith (A), Marcelo Ferreira (A(, Corin Howell (A), Alex Milne (A), Hayato Sakamoto (A), Marcelo Matere ©
The Autobots and Decepticons' uneasy peace is threatened by the flames of war! Starscream, ruler of Cybertron, makes contact with Windblade's homeworld–and the only defense against a new Cybertronian Empire is the Combiners–multiple Cybertronians joining together into huge, dangerous forms! Collects Transformers issues #39-43, More Than Meets the Eye issues #41-44, and Windblade, Volume 2 issues #1-5.
312 pages, $49.99.
G.I. JOE: A REAL AMERICAN HERO, VOL. 22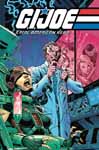 Larry Hama (W), Ron Joseph (A), John Royle ©, Jagdish Kumar ©
In "The Cobra's Venom," a dangerously mysterious weapons shipment is en route to Springfield. Can our Real American Heroes–at home and abroad–find a way to stop these evil machinations of Dr. Venom? What is his dastardly new scheme, and just how far will he go to achieve his goals? Maybe farther than his Cobra allies can stand! A bombastic new chapter in G.I. JOE: A Real American Hero lore from living legend Larry Hama and exciting new artist Ron Joseph! Collects issues #256-260.
120 pages, $17.99.
G.I. JOE: A REAL AMERICAN HERO #262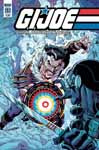 Larry Hama (W), Netho Diaz (A/C), John Royle (VC), Blacky Shepherd (VC).
As Cobra continues its endless global onslaught against freedom, G.I. Joe meets their evil at every turn, determined to bring the good fight wherever it's needed! Join the G.I. Joe Army and living legend Larry Hama and superstar artist Netho Diaz (G.I. Joe: ARAH: Silent Option) for the latest explosive chapter of G.I. Joe: A Real American Hero!
32 pages, $3.99.
G.I. JOE: SIERRA MUERTE #2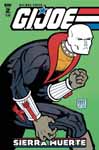 Michel Fiffe (W/A/C/VC), Vasilis Lolos (VC).
While Stalker & Scarlett dodge downtown bullets, Baroness & Destro are cornered in a high-rise shootout. As the G.I. Joes circle closer to Cobra's secret headquarters, an unlikely alliance in the battlefield of love is born. Can a dying Cobra Commander cling to his hate long enough to ensure victory?
36 pages, $4.99.
GLOW #1
Tini Howard (W), Hannah Templer (A/C), Cara McGee (VC), Tess Fowler (VC), Paulina Ganucheau (VC)
The Gorgeous Ladies of Wrestling are ready to take on the world–or at least LA–in this comic based on the hit Netflix series! When the unthinkable happens and the women of GLOW find themselves ahead of schedule, Sam ruins the promise of a wrestling-free weekend with… more wrestling! Robbed of blissful relaxation and forced to raise money to fund their way to the event, the GLOW team is less-than-prepared for their opponents: real gorgeous lady wrestlers. What could possibly go wrong?!
32 pages, $3.99.
SYNERGY: A HASBRO CREATORS SHOWCASE
Various (W/A/C)
In recognition of Women's History month, IDW and Hasbro are teaming up to create SYNERGY: A HASBRO CREATORS SHOWCASE, a celebration of fan-favorites and new talent working with some of the most beloved Hasbro characters. With 13 fabulous covers drawn from the IDW archives and 27 pages of new material–including autobiographical works by Mairghread Scott (drawn by Sara Pitre-Durocher, reuniting the creative team behind the beloved Transformers: Till All Are One series) and Katie Cook (writer on the hit My Little Pony comic), as well as three original stories inspired by G.I. Joe, Transformers, and Jem and the Holograms–this anthology celebrates the women who have made, or will make, an impact on the world of Hasbro for many years to come.
40 pages, $7.99.
GEARS OF WAR: HIVEBUSTERS #1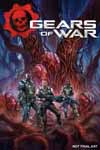 Kurtis Wiebe (W), Alan Quah (A/C), John Gallagher (VC)
From the creators of Gears of War and Kurtis Wiebe, the writer of the hit Rise of RAAM miniseries, comes a pulse-pounding new mission with a whole new squad–Team Scorpio! After successfully busting a Swarm hive on the remote island of Pahanu, this suicide squad will face their most dangerous mission yet–going after the Swarm that decimated the home settlement of one of their own!
32 pages, $3.99.
GO-BOTS #5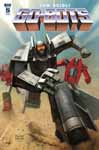 Tom Scioli (W/A/C), Dash Shaw (VC), Ryan Brown (VC)
The jaw-dropping conclusion to Tom Scioli's epic tale is here! The fate of all Go-Bots hangs in the balance!
32 pages, $3.99.
COMPLETE CHESTER GOULD'S DICK TRACY, VOL. 26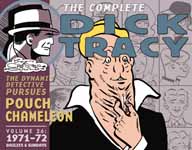 Chester Gould (W/A/C)
Having returned to policing duty on Planet Earth, former Space Sheriff Tracy finds a world markedly changed from the one he left. Feeling handcuffed by expanded legal protections afforded suspects and stricter guidelines of evidence, Tracy all but begs bad guys to shoot first, and he may get his wish, thanks to nemeses such as explosion-crazed Jonny Scorn, the hand grenade-toting revolutionary called El Tigress, and the aptly-named Dope King. These early '70s adventures also see the dauntless detective facing off against one of the strip's best late-era grotesque villains: Pouch, who uses a repulsive hidden flap in his neck to hide anything from stolen diamonds to automatic pistols. Volume 26 reprints all dailies and Sundays from December 24, 1970 to September 27, 1972.
296 pages, $44.99.
MAGIC: THE GATHERING – CHANDRA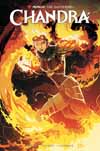 Vita Ayala (W), Harvey Tolibao (A), Ken Lashley ©
The rich world of Magic: The Gathering comes to life, revealing new adventures, in this thrilling graphic novel featuring Planeswalker and pyromancer Chandra Nalaar. Ever in search of adventure, Chandra strikes out on her own, determined to protect the Multiverse and help those who cannot help themselves. But as new threats arise, she finds herself haunted by the failings of her past… and confronted by a sinister foe hoping to prey on her weakness. Plagued by demons–both figuratively AND literally–it'll take more than fireballs for Chandra to win the day! How will she save those in peril… including herself?
Magic: The Gathering: Chandra ties directly into recent events on the cityscape plane of Ravnica–as seen in October 2018's Guilds of Ravnica and subsequent card sets–bringing the comics closer to the game's story than ever before.
96 pages, $15.99.
DUNGEONS & DRAGONS: A DARKENED WISH #2
B. Dave Walters (W), Tess Fowler (A/C/VC), Ibraham Swaid (VC).
When war threatens the Moonshae Isles, legendary heroes return to defeat the forces of an unthinkable foe. Enter Hoondarrh: the Red Rage of Mintarn; the Sleeping Wyrm of Skadaurak; a Red dragon of legendary size, cunning, and strength. None shall prevail against his might.
32 pages, $3.99.
BATMAN/THE MAXX: ARKHAM DREAMS BOX SET
Sam Kieth (W/A/C)
Collecting all five issues of the mega-hit series! Sam Kieth's action-packed and quirky series is presented here in its entirety, complete with logo-free A cover artwork on the front and B cover artwork on the back! Plus, get a special blank cover version of #1 with the title logo on the back! Featuring Sam's gorgeous rendition of Batman, The Maxx, and especially all those classic villains–miss at your own peril!
192 pages, $29.99.
TMNT: SHREDDER IN HELL #3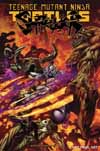 Mateus Santolouco (W/A/C), Kevin Eastman (VC), Juan Gedeon (VC).
The Shredder's long road through the depths of hell reaches a fever pitch as he is forced to face echoes of his own soul! With lives on the line, who will survive the raging inferno?
32 pages, $3.99.
TEENAGE MUTANT NINJA TURTLES #92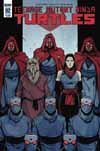 Tom Waltz (W), Kevin Eastman (W/VC), Michael Dialynas (A/C), Michael Walsh (VC).
The future of the TMNT, and all of NYC, comes down to a final negotiation between Splinter and Karai. Can they reach an agreement before Bishop's new plan begins?
32 pages, $3.99.
TEENAGE MUTANT NINJA TURTLES: URBAN LEGENDS #11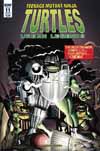 Gary Carlson (W), Frank Fosco (A/C), Erik Larsen (VC), Kevin Eastman (VC).
As the Turtles and their allies close ranks on the murderer haunting the streets of Chicago, they find themselves facing their most terrifying adversary yet! Just how are they going to get out of this one?!
32 pages, $3.99.
TEENAGE MUTANT NINJA TURTLES COLOR CLASSICS, VOL. 2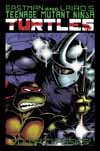 Kevin Eastman (W), Peter Laird (W/C), Dave Sim (W), Michael Dooney, Jim Lawson (A).
Beginning with the Cerebus one-issue crossover with Dave Sim, follow the original adventures of Leonardo, Donatello, Raphael, and Michelangelo. Contains the stories "The Passing," "Silent Partner," "True Stories," and more! This volume is perfect for fans to relive the glorious days of the Turtles' origins as well as an excellent place for new readers to see where the TMNT phenomenon began. Collected are issues #8-13 and the Donatello Micro-Series and Leonardo Micro-Series one-shots.
300 pages, $29.99.
TEENAGE MUTANT NINJA TURTLES, VOL. 21: BATTLE LINES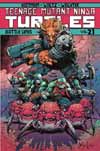 Kevin Eastman (W), Tom Waltz (W), Dave Wachter (A), Michael Dialynas (A), Dave Wachter ©
The longest running TMNT series continues as new dangers and enemies force the Turles to make tough choices! Multiple sources of conflict collide as the maniacal Agent Bishop goes to war with the alien forces on Earth, driving the Turtles to embrace unsavory alliances and race to stop a massacre. But this complex web of enemies and allies–as well as new divisions between the Turtles themselves–may thwart any chance they have for success! Collects issues #86-89.
104 pages, $17.99.
STAR TREK: THE Q CONFLICT #3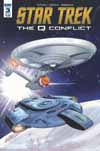 Scott Tipton (W), David Tipton (W), David Messina (A/C/VC), George Caltsoudas (VC).
As the clash of the godlike beings continues, the captains face off in a series of war games that become much more lethal when Q introduces a fifth competitor–a Doomsday Machine! The biggest Star Trek crossover ever continues here.
32 pages, $3.99.
STAR TREK VS. TRANSFORMERS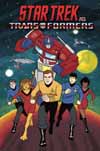 John Barber (W), Mike Johnson (W), Philip Murphy, Jack Lawrence (A), Derek Charm ©
When Kirk, Spock, and the entire crew of the U.S.S. Enterprise investigate problems at a remote mine, they're met with an explosive battle between powerful warriors who change into vehicles from the 20th century! As the battle between the Autobots and Decepticons rages, it's up to Kirk to decide–does he violate the Prime Directive and interfere in a war that's raged for millenia? And how will the Klingons complicate the issue? It's cartoony fun between two of the most popular science fiction franchises in the world!
120 pages, $17.99.
STAR TREK: WAYPOINT SPECIAL 2019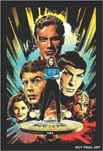 Matt Sheean (W) Malachi Ward (W/A), Thom Zahler (W), Stephen Mooney (W/A/C), Corinna Bechko (W), Andy Price (A), Daniel Irizarri (A).
The anthology series celebrating 50+ years of Star Trek continues in this new oversized special. Featuring four all-new tales written and drawn by some of today's top creators, this new installment of the hit Waypoint Special will revisit fan-favorite characters all across the Star Trek universe.
40 pages, $7.99
STAR WARS ADVENTURES #20
Cavan Scott (W), Derek Charm (A/C), Valentina Pinto (VC).
During the Clone Wars, Jedi Knight Anakin Skywalker and Jedi Master Yoda undertake an urgent mission, where Anakin's rebellious nature could spell trouble for the Republic.
32 pages, $3.99.
STAR WARS ADVENTURES: TALES FROM VADER'S CASTLE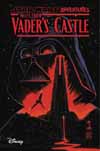 Cavan Scott (W), Derek Charm (A), Chris Fenoglio (A), Kelley Jones (A), Corin Howell (A), Robert Hack (A), Charles Paul Wilson III (A), Francesco Francavilla ©
How do a band of rebels distract themselves when sneaking into the creepiest place in the galaxy? Tell scary stories of course! Follow Lina Graf, Crater, and friends as they sneak–and fight–their way into the terrifying castle of Darth Vader! Along the way, they'll trade spooky stories featuring the most terrifying villains and creatures in the universe!
120 pages, $12.99.
STAR WARS ADVENTURES TREASURY EDITION–PREQUEL TRILOGY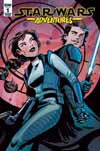 Various (W), Various (A), Elsa Charretier ©
Revisit your favorite Star Wars Adventures stories in a giant-sized format fit for a Wookiee! Join Anakin Skywalker, Padmé Amidala, and Obi-Wan Kenobi on their exploits during the Prequel Trilogy!
64 pages, $9.99.
MARVEL ACTION: AVENGERS #4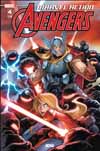 Matthew K. Manning (W), Jon Sommariva (A/C), Chad Thomas (VC).
Magic and mayhem collide for more mighty Marvel action in this new adventure featuring Earth's Mightiest Heroes! Thor, Captain Marvel, and Doctor Strange have gone missing! Forced to face fiendish foes without their teammates, can the rest of the Avengers find their friends before it's too late? And what's this about a ruby?! It's an adventure you'll need to see, True Believers!
32 pages, $3.99.
MARVEL ACTION: BLACK PANTHER #3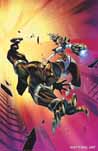 Kyle Baker (W), Juan Samu (A/C), Michael Avon Oeming (VC).
Black Panther and Shuri faced a deadly swarm of mosquitos in the depths of the Wakandan jungle. Now they must race home to defend their country from the mastermind behind the recent unnatural natural disasters.
32 pages, $3.99.
MARVEL ACTION: SPIDER-MAN #5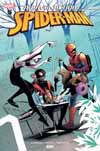 Erik Burnham (W), Christopher Jones (A/C), Juan Samu (VC)
Now that Peter, Miles, and Gwen have joined forces, nothing can stop them! Except maybe for homework and an internship at the Daily Bugle. Not to mention being stalked by a most dangerous foe… Kraven the Hunter!
32 pages, $3.99.
SONIC THE HEDGEHOG #15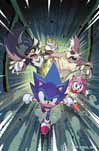 Ian Flynn (W), Jack Lawrence (A/C), Diana Skelly (VC), Nathalie Fourdraine (VC).
"Patient Zero." Having finally come face-to-face with Dr. Starline, Sonic needs to learn more about this new threat. He and Amy investigate an old Eggman lair but find it less abandoned than they thought when Rough & Tumble return for revenge!
32 pages, $3.99.
SONIC THE HEDGEHOG: ANNUAL 2019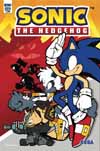 Ian Flynn (W), James Kochalka (W), Evan Stanley (W) Gigi Dutrieux (W), Cavan Scott (W), Caleb Goellner (W), Jonathan Gray (A), Jack Lawrence (A), Jennifer Hernandez (A/VC), Diana Skelly( A), Evan Stanley (A), Yuji Uekawa ©, Nathalie Fourdraine (VC)
In Sonic's world, adventure awaits around every corner, but even the world's fastest hedgehog can't be at the center of all of it! Join Sonic and some of his coolest friends in adventures that show just how wonderful Sonic's world really is. In the lead story, the odd couple of Tangle the Lemur and Whisper the Wolf team-up to save a friend in need! Then Sonic and Tails take the Tornado for a spin, but is Sonic going too fast? Plus, Silver and Blaze slow down for a minute to go gardening, the Sonic Fan Club has their first official meeting, and Rouge the Bat hunts for treasure!
48 pages, $7.99.
MY LITTLE PONY: FRIENDSHIP IS MAGIC #76
Katie Cook (W), Andy Price (W/A/C), Sara Richard (VC), Diego Jourdan (VC).
The search for the missing stars of the Andalusian constellation continues! With Pinkie Pie, Big Mac, Zecora, and the Cutie Mark Crusaders on the case, this expedition's in the bag! …Right?! Things aren't always what they seem in this thrilling new adventure featuring your favorite ponies and Equestria's biggest villain yet–Cosmos!
32 pages, $3.99.
MY LITTLE PONY: FRIENDSHIP IS MAGIC, VOL. 16
Paul Allor (W), Ted Anderson (W), Jeremy Whitley (W), Thom Zahler (W), Toni Kuusisto (A), Tony Fleecs (A), Andy Price (A), Agnes Garbowska (A), Andy Price ©
Things are getting a little crazier than normal in Ponyville! Pinkie Pie gains extraordinary powers after eating a magic apple, but will she use her new powers for good, or for fun? Meanwhile, the entire town is getting into the spooky spirit for Nightmare Night! Then, Rainbow Dash decides the elder ponies of the retirement village could use some more excitement in their lives. So she invents EXTREME BINGO! What could go wrong? Collects issues #69-73.
120 pages, $17.99.
GOOSEBUMPS: HORRORS OF THE WITCH HOUSE #1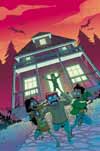 Denton Tipton (W), Matthew Dow Smith (W), Chris Fenoglio (A/C), Megan Levens (VC)
When young tech entrepreneur Veruca Curry buys the old Whaley House, the kids in town are worried the ghosts who haunt it will get her. But when they discover Veruca's horrible secret, it will turn their world upside-down!
32 pages, $3.99.
TANGLED: THE SERIES: CORONA CAPERS #1
Katie Cook (W), Eduard Petrovich (A), Rosa La Barbera (A), Diogo Saito (A), Eduard Petrovich ©, Rosa La Barbera ©, Gabby Zapata (VC).
It's another series of brand-new Tangled stories! Join Rapunzel, Eugene, and all their friends in "The Corona Caper" and "Curtain Call."
32 pages, $3.99.
UNCLE SCROOGE: MY FIRST MILLIONS
Fausto Vitaliano (W), Marco Mazzarello (A), Paolo Mottura (A), Stefano Intini (A), Giampaolo Soldati (A), Paolo Mottura ©
Travel back in time to Scrooge's younger days to explore the origins of everyone's favorite miser! Find out how Uncle Scrooge made his first, second, third, and fourth millions in a four-part story that answers all our burning questions about how Scrooge McDuck got so very, very rich–and so very, very stingy! Collects Uncle Scrooge: My First Millions #1-4.
128 pages, $17.99.
DISNEY COMICS AND STORIES #4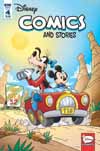 Andrea "Casty" Castellan (W), Stefan Petrucha (W), Lorenzo Pastrovicchio (A), Xavier Vives Mateu (A), Paolo Campinoti ©
This month, we present two terrifying tales in two different ways! While traveling in the desert, Mickey Mouse and Goofy soon discover "The Secrets of Area 52," while in "Eek!bay," Goofy terrorizes Mickey when the latter just wants to get a good night's sleep!
48 pages, $5.99.
UNCLE SCROOGE #43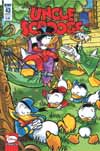 Vito Stabile (W), Carlo Panaro (W), Francesco Guerrini (A), Paolo Campinoto (A), Marco Mazzarello ©, Paolo Mottura (VC).
What happens when Uncle Scrooge gets his greedy hands on Donald Duck's magical hammock? Nothing simple and easy, that's for sure! While Donald just wants a well-earned nap, Uncle Scrooge has other ideas in mind… See the hilarious results in "The Helpful Hammock!"
32 pages, $3.99.
DUCKTALES #19
Various (W/A/C)
What new adventures will Scrooge McDuck and company get up to this month? Find out in another exciting issue of DuckTales!
32 pages, $3.99.
IMPOSSIBLE, INC.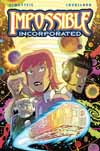 J.M. DeMatteis (W), Mike Cavallaro (A/C)
Join 17-year-old Number Horowitz, daughter of legendary genius-adventurer Goliath Horowitz, as she and her companions board a cosmic train called the Non-Local Express, riding across the quantum sea and into the Infinite Spiral that leads anywhere, everywhere, and every place in between. Time travel, other worlds, new dimensions, and parallel universes: the Impossible Incorporated team can journey any place the mind can imagine–and also into mysteries far beyond imagination's reach. But the greatest mystery of all–what happened to Goliath Horowitz? Number's father vanished when she was seven years old, and she's determined to discover the truth about Goliath's disappearance.
120 pages, $12.99.
ATOMIC ROBO AND THE DAWN OF A NEW ERA #5
Brian Clevinger (W), Scott Wegener (A/C), Andrew Griffith (VC)
Atomic Robo opened Tesladyne Institute's doors to the next generation of Action Scientists. Everything was going pretty smoothly until Lang discovered Robo's secret robot son who is kinda (sorta) a new iteration of the old automatic intelligence that tried to cook the Earth in nuclear fire some years back. No way things are falling apart, right?
32 pages, $3.99.
ENOLA HOLMES: THE CASE OF THE LEFT-HANDED LADY
Serena Blasco, Nancy Springer (W), Serena Blasco (A/C)
Sherlock Holmes' strong-willed and equally brilliant younger sister takes center stage in these graphic novel adaptations of Nancy Springer's bestselling mystery series. Hiding from Sherlock and their older brother, Mycroft, who want to place her in a boarding school following her mother's disappearance, Enola has reinvented herself as Ivy Meshle, secretary to the fictitious Dr. Ragostin, specialist in finding missing persons. Her new client? None other than Sherlock's friend, Dr. John Watson! His mission: to employ Dr. Ragostin to find the missing Enola! She decides to take the case, only so she can keep tabs on Sherlock's every move to locate her.
64 pages, $14.99.
VIOLETTE AROUND THE WORLD, VOL. 2: A NEW WORLD SYMPHONY!
Teresa Radice (W), Stefano Turconi (A/C)
Welcome to the wonderful world of the Circus of the Moon as it crosses the Atlantic to perform in the "New World!" Your guide? Clever Violette Vermeer, daughter of the stuntwoman and the insect trainer. This little girl with a big heart meets two people when she arrives in America–Hiawatha, a young Native American girl, and the famous composer Antonin Dvorà k. These two new friends will help her achieve a long-held dream in this second volume of Violette's adventures around the world!
48 pages, $29.99.
AMBER BLAKE #2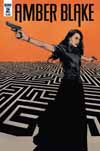 Jade Lagardère (W), Butch Guice (A/C), Catherine Nodet (VC)
Amber Blake is a top recruit at a covert agency deadset on ending human slavery in all of its forms–and eliminating the criminals behind it. Now she and her partner Matt are deployed on their first mission–the sabotage of a sex trafficking ring run by the yakuza in Japan–but they might not be prepared for the monsters they'll have to face.
32 pages, $3.99.
NIGHT MOVES #5
VJ Boyd (W), Justin Boyd (W), Clay McCormack (A), Chris Burnham (C/VC)
A terrifying noir nightmare in the occult underworld of Las Vegas! In the thrilling conclusion to the series, Chris and Alexis return to a Las Vegas in flames, enlisting the help of some old friends in a final showdown with evil forces–both demonic and all too human. The question is: how will they know who to trust…?
32 pages, $3.99.
30 DAYS OF NIGHT 100-PAGE GIANT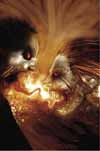 Kelly Sue DeConnick, Steve Niles (W), Justin Randall (A/C)
Out of print for over a decade, the superstar creative team of Kelly Sue DeConnick (Bitch Planet), Steve Niles (Kick-Ass), and Justin Randall (Changing Ways) tackle the classic 30 Days vampires! Stella managed to bring her husband Eban back from beyond… but he came back hungry!
100 pages, $4.99.
WYNONNA EARP: FAN-TASTIC VOYAGE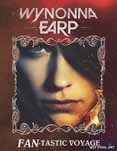 Beau Smith (W), Photo ©
Wynonna Earp fandom is like no other fandom – anywhere! Dedication, loyalty, love, and a feeling of family. This goes both ways: the cast, crew, and creator feel the same for the fans as the fans feel for them. Because of this, IDW Publishing, the Wynonna Earp cast, crew, creator, and showrunner, invite you to take a Wynonna Earp: FAN-Tastic Voyage to the world of Wynonna Earp. New unpublished interviews with the cast, crew, creators and the fans known as Earpers. TV series set photos, candid photographs, unpublished art from the comic book and graphic novels as well as special content that will open up new insight into one of the most talked-about characters on TV and in print–Wynonna Earp!
64 pages, $14.95.
FROM HELL: MASTER EDITION #4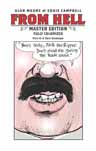 Alan Moore (W), Eddie Campbell (A/C)
"A Torn Envelope." Another woman is brutally murdered near Whitechapel, and the police receive a mysterious letter bearing the name… "Jack the Ripper."
Five unsolved murders. Two of the greatest creators in the history of comics. One sprawling conspiracy, one metropolis on the brink of the 20th century, and one bloody-minded Ripper ushering London into the modern age of terror. The award-winning bestseller FROM HELL, often ranked among the greatest graphic novels of all time, takes on haunting new dimensions in FROM HELL: The Master Edition, enhanced with impressionistic hues by Eddie Campbell himself.
This volume contains Chapters 6 and 7, as well as all the original annotations.
80 pages, $7.99.
HIGHWAYMAN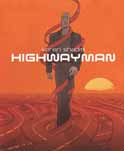 Koren Shadmi (W/A/C)
Forever on the move, Highwayman travels through the vastness of North America searching for the source of his condition. He suffers from a strange, seemingly incurable disease: immortality. Bound to the road and at the mercy of whomever will give him a ride, he encounters people who reflect the rapidly changing world around him. Moving through centuries of change, he watches humanity's precarious trajectory towards an unknown future.
160 pages, $19.99.
V-WARS: THE GRAPHIC NOVEL COLLECTION
Jonathan Maberry (W), Alan Robinson (A), Marco Turini (A), Photo ©
V-Wars is set in a world transformed by a global pandemic caused by a millenia-old virus that, once triggered, affects individuals differently depending on their DNA, resulting in vampires as unique as their cultures. But the response from unaffected humans is like never before, leading to all-out war. New York Times best-selling author Jonathan Maberry takes you on a non-stop thrill ride of action, horror, and suspense! These all-new tales chronicling the early days of the Vampire Wars offer the first salvo in the battle between humans and hundreds of new species of vampires! No matter how it ends, the world is going to bleed. Collects all 11 issues.
256 pages, $29.99.
SONS OF CHAOS
Chris Jaymes (W), Ale Aragon (A/C)
The Greek War for Independence was a conflict that quietly influenced the entire world. Participants ranged from the London Stock Exchange to celebrities such as Lord Byron, as well as average impassioned Americans willing to transport themselves across the Atlantic to fight alongside the Greeks. This conflict was the pinnacle of what we now know as the Romantic Period and yet, it's a war that few know ever existed outside of the Greek and Turkish cultures; a war that stimulated the fall of the Ottoman Empire and shaped what we now know as the Western World, and in a sense is being fought today under a different heading amongst the political leaders of the Eastern and Western worlds.
192 pages, $49.99.
SUPERMAN: THE GOLDEN AGE NEWSPAPER DAILIES: 1947-1949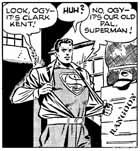 Alvin Schwartz (W), Wayne Boring (A), Pete Poplaski ©
The Man of Steel's newspaper comic strips are among the rarest of all Superman collectibles. In these 15 storylines, Superman faces off against the "Crime Mentalist" who can predict crimes before they happen; finds himself locked up for speeding in "Superman, Jailbird;" plays cupid to help a millionaire Prince Charming find the mysterious "Miss Whisper;" and is at the mercy of his old foe Enthor's paralyzing weapon! Other stories in this third addition to the series include "Lois's Secret Identity" and "The Super Elixir."
260 pages, $49.99.
MATCHLESS BEAUTIES: THE ART OF PIN-UP MATCHBOOK COVERS
Richard Greene (W)
Matchless Beauties is a presentation of hundreds of classic "Girlie" matchbook covers in full color, displaying pin-ups by legendary artists such as Earl Moran, George Petty, and Alberto Vargas, as well as many unsung anonymous artists who created beautiful "Glamour Girls" to sell everything from lightbulbs to lingerie. Culled from one of the best private collections of matchbook covers in the country, Matchless Beauties offers a fun journey into one of the most popular forms of ephemeral advertising of the 20th century. Whether used as inspiration or just created as sweet eye-candy, Matchless Beauties is a welcome addition to the library of anyone who appreciates feminine beauty and vintage advertising.
208 pages, $29.99.
ROY G. KRENKEL: FATHER OF HEROIC FANTASY: A CENTENNIAL CELEBRATION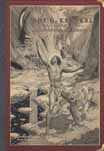 Andrewsteven Damsits, Barry Klugerman (W), Roy G. Krenkel (A/C)
Roy G. Krenkel illustrated numerous works by Edgar Rice Burroughs, Robert E. Howard, Lin Carter, and more. But many of Krenkel's works – what he calls his "Doodles," in a characteristically self-effacing manner – were rarely seen by even his biggest fans. And while many of Roy's doodles were simple drawings, many were finished illustrations done for the pure pleasure of creating art. Most of the images in this book are published here for the very first time (courtesy of and with the full cooperation of the Krenkel Estate), and nearly all have been painstakingly scanned from the original art (in a manner akin to IDW's Eisner Award-winning Artist's Edition series) with the goal being to showcase Krenkel's gorgeous original art in a way it has never been seen before. While the realms of science fiction, heroic fantasy, paleontology, and historical reconstruction were particular specialties of Roy's, his pen, brush, and palette knew no boundaries.
304 pages, $59.99.
PUNKS NOT DEAD: LONDON CALLING #2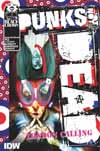 David Barnett (W), Martin Simmonds (A/C).
In the spirit of awkward house calls, Fergie and Sid's urgent quest for Fergie's long-absent father finds them holed up in a dilapidated London boozer… where they meet some unwelcome old enemies and make an interesting new friend. Back in Preston, Dorothy Culpepper of The Department of Extra-Usual Affairs gets a proper wallop and Fergie's mom Julie and kinda-girlfriend Natalie end up with blood on their hands. The spirit of '77 is alive by night with power chords and psychic grenades in London Calling: "To the Faraway Towns."
32 pages, $3.99.
FEMME MAGNIFIQUE: 10 MAGNIFICENT WOMEN WHO CHANGED THE WORLD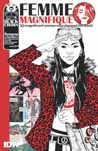 Just in time for Women's History Month, we've curated a one-shot selection of short stories from the critically acclaimed anthology, FEMME MAGNIFIQUE: 50 Magnificent Women Who Changed the World. Part mini-biopic, part salute to their personal icons, the subjects and creative teams include:
MARGARET HAMILTON by Alisa Kwitney & Jamie Coe
SYLVIA EARLE by Maris Wicks
KATE BUSH by Gail Simone & Marguerite Sauvage
MARGARET SANGER by Lucy Knisley
HILLARY RODHAM CLINTON by Kelly Sue DeConnick & Elsa Charretier
CINDY WHITEHEAD by Jim Rugg
MARY BLAIR by Casey Gilly & Jen Hickman
HARRIET TUBMAN by Chuck Brown & Sanford Greene
RUMIKO TAKAHASHI by Chynna Clugston-Flores
SALLY RIDE by Cecil Castellucci & Philip Bond
From artists to astronauts, from performance halls to the Skateboard Hall of Fame, the magnificent women featured in this single issue have one thing in common: they've shattered ceilings and continue to empower, educate, and promote equality.
36 pages, $4.99.
MUNCHKIN TEENAGE MUTANT NINJA TURTLES DELUXE
Steve Jackson Games and Jon Cohn (D), Kevin Eastman and Tadd Galusha (A).
Munchkin Teenage Mutant Ninja Turtles is now available in the best-selling Deluxe format! Using the much beloved and extremely popular Munchkin game rules by Steve Jackson Games, Munchkin Teenage Mutant Ninja Turtles blends the humor and gameplay of Munchkin with the enemies and "team-up" themes of the iconic Teenage Mutant Ninja Turtles comics. In Munchkin TMNT the Turtles and their pals are in a race to the Level 10 Pizza Parlor as the first one there eats for free! It's all good dudes, except Shredder and the Foot Clan are out to spoil their pizza party!
$29.95.
Source : www.comicscontinuum.com