IDW PUBLISHING FOR SEPTEMBER
TRANSFORMERS #13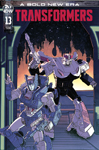 Brian Ruckley (W), Bethany McGuire-Smith (A), Anna Malkova (A), Winston Chan ©, Umi Miyao (VC), Black Shepherd (VC).
The hunt is on! Chromia and Prowl launch a massive security operation, desperately trying to track down two murderers. Bumblebee visits an injured Windblade, Orion Pax, Sentinel Prime, and Megatron wrestle for control and influence – and nobody knows whose side (if anyone's) Termagax and Starscream are on in all of this!
32 pages, $3.99.
TRANSFORMERS GALAXIES #1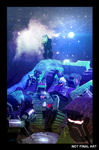 Tyler Bleszinski (W), Livio Ramondelli (A/C), Nick Roche (VC), George Caltsoudas (VC).
Cybertron, a planet of vast beauty and extraordinary cities, wasn't always so perfect. After the War Against the Threefold Spark, Cybertron was decimated, and new bots – the Constructicons – emerged to help rebuild it grander and more amazing than ever before. But where are these bots now? Why have they been erased from Cybertron's history? And what are they planning to do about it? Find out in "Constructicons Rising," Part One!
32 pages, $3.99.
TRANSFORMERS LEGACY: THE ART OF TRANSFORMERS PACKAGING
Jim Sorenson (W), William Forster (W).
Presenting hundreds of beautifully airbrushed paintings from the iconic first decade of The Transformers, as archived by Hasbro, Takara, and private collectors around the world. Extras include never-before-seen artwork from toys that never were, original design sketches, catalog artwork, and more.
304 pages, $29.99.
TRANSFORMERS: THE IDW COLLECTION PHASE TWO, VOL. 10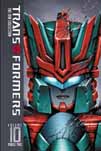 Mairghread Scott (W), John Barber (W), Nick Roche (W), James Roberts (W), Nick Roche (A), Corin Howell (A), Andrew Griffith (A), Marcelo Matere ©.
Collects issues #44-45 of The Transformers series, issues #45–49 of More Than Meets The Eye, issues #6-7 of Windblade Vol. 2, the Sins of the Wreckers mini-series, the Combiner Hunters one-shot, and the Holiday Special.
360 pages, $49.99.
TRANSFORMERS/GHOSTBUSTERS #4
Erik Burnham (W), Dan Schoening (A/C), Alex Milne (VC), Chris Panda (VC).
"GHOSTS OF CYBERTRON", PART 4! The Ghostbusters and their Autobot allies search the greater New York City area for the missing ghost of Starscream – and discover something much worse has been drawn to Earth. Can our heroes overcome this evil ectoplasmic entity before it utterly annihilates everything in order to achieve its ends? Find out in the penultimate chapter of this team-up for the ages.
32 pages, $3.99.
GHOSTBUSTERS: SPECTRAL SHENANIGANS, VOL. 2
Erik Burnham (W), Dan Schoening, Doc Shaner (A), Dan Schoening ©
When an upstart paranormal investigation and elimination service calling itself the Ghost Smashers sets up shop in NYC, the Ghostbusters suddenly find themselves out of work and out of favor. But the Ghost Smashers are messing with some shaky science, and it's only a matter of time before their incompetence threatens the entire world!
Plus, what would happen if the Ghostbusters were really gone – like, in another dimension gone? A new group made up of some close friends and former foes will have to step up and don the proton packs. Collects issues #13-16 of the Ghostbusters series and issues #1-8 of the New Ghostbusters series.
328 pages, $29.99.
MAGIC: THE GATHERING: CHANDRA – TRIALS OF ALARA #2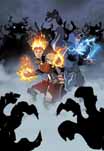 James Asmus (W), Eric Koda (A), Eric Koda (C/VC)
The mission continues as Chandra and Jace lead a reluctant and suspicious group of refugees through the Alaran wilds in search of a new home. Can the two of them agree on a plan before the dangers of Grixis overwhelm them?
32 pages, $3.99.
G.I. JOE: A REAL AMERICAN HERO #268
Larry Hama (W), Robert Atkins (A/C), Jamie Sullivan (VC), John Royle (VC).
"Snake Hunt," Part 3! Can the Joes rescue Sean Collins, a.k.a. Snake Eyes, from the nefarious clutches of Cobra before it's too late? The battle call has sounded, and it's all hands on deck for both G.I. JOE and Cobra as living legend Larry Hama and fan-favorite artist Robert Atkins continue their massive 10-issue event… featuring EVERY SINGLE MEMBER OF G.I. JOE!
32 pages, $3.99.
G.I. JOE #1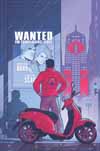 Paul Allor (W), Chris Evenhuis (A/C), Dustin Weaver (VC), Eleanora Carlinia (VC).
Tyranny is on the rise as Cobra topples governments and spreads its ruthless power across the globe. In these trying times, desperate measures are taken. The new G.I. Joe program recruits civilian spies and saboteurs: ordinary people living in occupied territories who will put their lives on the line to strike back through clandestine but high-impact missions. Join these new recruits as they resist Cobra control, fight to make a better world for all, and find out just what they are capable of.
32 pages, $3.99.
DUNGEONS & DRAGONS: A DARKENED WISH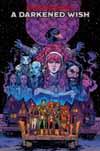 B. Dave Walters (W), Tess Fowler (A/C).
An all-new adventure of epic scope and flair that combines the elements of storytelling and action that make every campaign so fun! When war threatens the Moonshae Isles, legendary heroes return to defeat the forces of an unthinkable foe. The Forgotten Realms are changed forever as young wizard Helene and her friends grow from raw recruits on the streets of Mintarn into powerful warriors.
120 pages, $17.99.
DUNGEONS & DRAGONS: BALDUR'S GATE 100-PAGER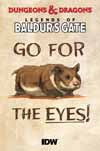 Jim Zub (W), Max Dunbar, Various (A/C)
Join Minsc, Delina, Krydle, Shandie, and Boo the Miniature Giant Space Hamster on their original adventures in this oversized, value-priced, introductory issue! Dungeons & Dragons is more popular than ever – now is the perfect time to join the fun, and this is the perfect place to start!
100 pages, $5.99.
Delilah S. Dawson (W), Davide Tinto (A/C), Jonboy Meyers (VC).
Yet another Spider-Man arrives on the scene, but this one is big, bad, and wreaking havoc all across the city. Ghost-Spider crosses paths with him first, but is he a misguided friend or a fiendish foe?
32 pages, $3.99.
MARVEL ACTION: AVENGERS #9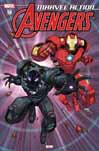 Matthew K. Manning (W), Marcio Fiorito (A), Jon Sommariva ©, Siobhan Keenan (VC).
Heroes and villains unite to battle a terrifying cosmic onslaught! The key to victory lies with Black Panther, but will he be able to overcome his past in order to do so?
32 pages, $3.99.
MARVEL ACTION: CAPTAIN MARVEL #2
Sam Maggs (W), Sweeney Boo (A/C), Sara Pitre-Durocher (VC).
Go higher, further, and faster with Captain Marvel in this brand-new, all-ages adventure! Carol finds herself alone on the Flerken homeworld, surrounded by terrifying cats suddenly bent on galactic domination! Why the sudden megalomaniac turn? Well, the Kree Supreme Intelligence might have something to do with it… Carol's uncovered the Kree's most sinister plot yet in this latest addition to the mighty Marvel Action banner!
32 pages, $3.99.
DESCENDANTS: FRIGHT AT THE MUSEUM
Delilah S. Dawson (W), Anna Cattish (A/C)
Mal, Evie, Jay, Carlos and all their friends are excited to be hanging out at Evie's to watch Lonnie's first R.O.A.R. tournament – but before they can do that, they have to contend with a mysterious magical force that's making the artifacts in the Museum of Cultural History come to life!
72 pages, $9.99.
GHOST TREE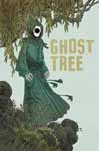 Bobby Curnow (W), Simon Gane (A/C).
A touching graphic novel about love, loss, and how the past never truly stays dead. Seeking a refuge from an unhappy life, Brandt returns to his ancestral home in Japan to find a haunted tree and the departed souls that are drawn to it, including his grandfather. Getting more involved with the tree's inhabitants, he attempts to heal some of history's wounds but will he be able to find a measure of peace for himself when someone special from his past returns?
96 pages, $15.99.
SONIC THE HEDGEHOG #21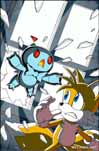 Ian Flynn (W), Tracy Yardley (A), Aaron Hammerstrom ©, Jamal Peppers (VC), Nathalie Fourdraine (VC).
"The Last Minute," Part One! To contain the Metal Virus, the Restoration must split up! In this issue, as Tails researches a cure for the Metal Virus, his lab comes under attack by Zombots. With Whisper and Tangle out saving as many civilians as they can, will Tails withstand the siege and find the cure – or will the whole world fall?
32 pages, $3.99.
SONIC: TANGLE & WHISPER #3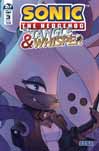 Ian Flynn (W), Evan Stanley (A/C), Nathalie Fourdraine (VC).
"Betrayal." The origin of Whisper the Wolf is revealed! All your (and Tangle's) questions answered! Where did her Wisps come from? How did she get her Variable Wispon? Why does she hate Eggman so much? And who betrayed her?
32 pages, $3.99.
STAR TREK: DISCOVERY: AFTERMATH #2
Kirsten Beyer (W), Mike Johnson (W), Tony Shasteen (A), Angel Hernandez ©, Photo (VC). As Spock deals with the loss of his sister Michael Burnham, Captain Pike makes an offer to the Klingons. But will the enemies of Chancellor L'Rell ignite a new war instead? Don't miss this amazing new series that follows the shocking conclusion of season 2 of Star Trek: Discovery.
32 pages, $3.99.
STAR TREK: YEAR FIVE #6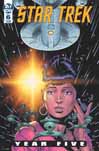 Jody Houser (W), Silvia Califano (A), Stephen Thompson ©, J.J. Lendl (VC).
With the crew at each other's throats due to the Truth Artifact, Captain Kirk decides to head back to the dead planet it came from to find answers before it's too late. Meanwhile, Uhura has found that the artifact allows her to communicate with their Tholian passenger. The final voyages of the five-year mission continue here!
32 pages, $3.99.
COMPLETE CHESTER GOULD'S DICK TRACY, VOL. 27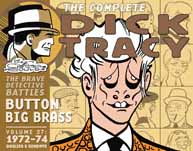 Chester Gould (W/A/C)
With one end of a rope around Tracy's neck and the other end attached to an innocent young boy hanging out of a high-rise window, Chester Gould proves that he can still invent unique death traps for the sharp-jawed detective. The tension and excitement continue throughout the stories collected in this book as Tracy and his team are led on one relentless chase after another. And just when they think they've captured the criminal mastermind known as "Button," he escapes… and escapes again! Things never slow down in Dick Tracy Volume 27, which reprints all dailies and Sundays from September 28, 1972 to July 6, 1974.
296 pages, black and white, $44.99.
SAMURAI JACK: LOST WORLDS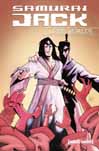 Paul Allor (W), Adam Bryce Thomas (A/C)
Continue the journey with the wandering samurai as he embarks on adventures far and wide in his attempt to get back to his own time and home. Under the leadership of the benevolent Samurai Jack, society has prospered–everything is in line with his philosophies, his storied stoicism, and of course his hair. This is all news to Jack, who doesn't much care for this impostor using his name. But which one is the real Samurai Jack? Then, as Jack travels through lonely mountain roads, he's warned to turn back lest he disturb a haunted village. Of course, Jack's never one to shy from danger, and he continues forward. But maybe some things are better left undisturbed…
96 pages, $15.99.
DICK TRACY FOREVER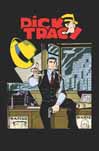 Michael Avon Oeming (W/A/C)
Join the iconic detective with the yellow fedora on this adventure that combines all the elements of his classic past with a modern twist! Dick Tracy is Sisyphus, pushing the law boulder up the hill as he struggles for reason and order in a world with none. His attempts at law and order are met with crime and chaos in the form of unpredictable and absurd villains. But Dick Tracy will never give up trying, no matter the era of incarnation. Join Eisner Award-winning creator Michael Avon Oeming (Powers, The Mice Templar) on a startling case through time and space!
104 pages, $15.99.
USAGI YOJIMBO #4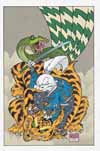 Stan Sakai (W/A/C)
In this explosive new story, Usagi goes back to his roots as a yojimbo (bodyguard) when he is hired by Lady Mura, a famous writer, to keep her safe on her perilous journey to her father's home. Making matters worse, Usagi is thrown into a bitter dispute between Lady Mura and her jealous ex-husband (a high ranking lord). A wild tale of action, drama, and adventure!
32 pages, $3.99.
TEENAGE MUTANT NINJA TURTLES #98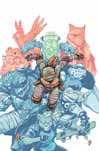 Tom Waltz (W), Kevin Eastman (W/VC), Michael Dialynas (A), Dave Wachter ©, Michael Dialynas (VC).
"City at War," Part 6. As power in New York City's underworld is consolidated, the populace goes to the polls to potentially elect Baxter Stockman as Mayor. A devastating act will change the city forever, and Raphael must choose which side he's on!
32 pages, $3.99.
TMNT: URBAN LEGENDS #17
Gary Carlson (W), Frank Fosco (A/C/VC), Kevin Eastman (VC).
After a bloody run-in with a group of wannabe-heroes combing the sewers for giant alligators, Leonardo tries to make sense of it all – the Turtles cleared out all the gators when they were kids! Well… except for one. And all signs point to the return of an old nemesis: Leatherhead!
32 pages, $3.99.
TMNT: RISE OF THE TMNT: SOUND OFF! #3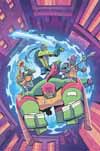 Matthew K. Manning (W), Chad Thomas (A/C), George Caltsoudas (VC).
The TMNT will have to use all of their cunning and skills to best their new adversaries! But victory will all depend on April finding her voice before it's too late!
32 pages, $3.99.
TMNT: THE ULTIMATE COLLECTION, VOL. 4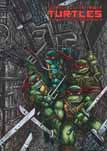 Kevin Eastman (W/A/C), Peter Laird (W/A), Jim Lawson (A),
Take a thorough look back at the TMNT's comic book origins. Plus, insightful annotations from co-creators Kevin Eastman and Peter Laird. Rediscover the underground roots of Teenage Mutant Ninja Turtles, with this special collection of Mirage Studios' issues #48–55 including the start of a major Turtles storyline. Beginning with the two-part "Shades of Gray," get ready as the multi-part "City at War" explodes onto the comics page! With over 250 pages of mutated martial arts action, along with annotations following each issue, this volume is perfect for fans to relive the glorious days of the Turtles' origins as well as an excellent place for new readers to see where the TMNT phenomenon began.
256 pages, $29.99.
RAGNAROK: THE BREAKING OF HELHEIM #2
Walter Simonson (W/A/C/VC)
Thor begins his descent into the Kingdom of the Dead, but finds the way blocked by a titanic Hall rising before him on the rim of Helheim. Guarded by both the living and the dead and ruled by the iron hand of a would-be god, it hides beneath its deepest dungeons a secret powerful enough to shatter the very foundations of the Dusklands.
36 pages, $4.99.
NAPOLEON DYNAMITE #1
Carlos Guzman-Verdugo (W), Alejandro Verdugo (W), Jorge Monlongo (A/VC), Sara Richard ©, Photo (VC).
NAPOLEON DYNAMITE is back and senior year is gonna be flippin' sweet! He's dating Deb, training at a new dojo, and his best friend, Pedro, is student body president. But the good times might not last when a fellow student accuses Pedro of cheating in the election. Can Napoleon and Deb use their special skills to clear their friend before the principal can IMPEACH PEDRO? Maybe, gosh, get off his back!
32 pages, $3.99.
CROW: HACK/SLASH #4
Tim Seeley (W/A/C/VC), Jim Terry (A), Rebekah A. Isaacs (VC).
Cassie and Marcus finally confront the rebel Crow Angeles and her street shaman ally as their insidious plan is revealed. What are they doing with thousands of little black eggs? And can Vlad's life be saved before the power of the Crow is taken back?
32 pages, $3.99.
NARCOS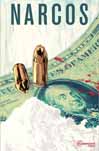 Ryan Ferrier (W), Vic Malhotra (A/C).
All-new stories bring to light the tangled web of money and power in 1990s Colombia spinning straight out of the hit Netflix original show! Further detailing the intrigue and danger of the international drug trade of the '90s, two new recruits bring danger to DEA agents Murphy and Pena, while Pablo Escobar must contend with a dangerous threat to his drug empire! A can't miss for fans of crime stories inspired by true events!
96 pages, $15.99.
PANDEMICA #1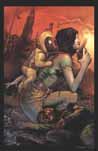 Jonathan Maberry (W), Alex Sanchez (A/C/VC)
War is brewing in America. A shadow government is preparing to launch "purity bombs" for ethnic cleansing. A small group of scientists and former SpecOps shooters stand in their way. Join the resistance – save the world!
32 pages, $3.99.
CARE BEARS: UNLOCK THE MAGIC #3
Matthew Erman (W), Nadia Shammas (W), Agnes Garbowska (A/C), Muffy Levy (VC).
The Care Bears learn to overcome their worst fears by relying on each other in the conclusion to this whimsical funhouse fiasco! And with Bluster's plan foiled, the Bears are able to help their very good friends the Whiffles get back to doing what they do best: sowing Seeds of Caring!
32 pages, $3.99.
CANTO #4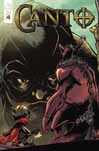 David M. Booher (W), Drew Zucker (A/C), Phillip Sevy (VC).
Here there be giants! Canto must enter the dangerous City of Dis and climb to the top of the looming Emerald Tower. But can he find a way past the giants guarding the city gates?
32 pages, $3.99.
STARCADIA QUEST #2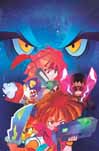 James Roberts (W), Aurelio Mazzara (A/C), Nicoletta Baldari (VC).
Starkid, a delivery-boy-turned-spaceship-captain, and his crew of a gamer barista and a, well, criminal, are off on their first adventure! They have to get to Teklawn and run a secret mission, because if they don't, they'll never be Freelance Adventurers. The only thing that could send them off-course is… a well-placed holo-ad?! The action-packed and hilarious QWST continues!
36 pages, $4.99.
STAR PIG #3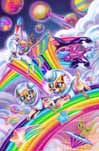 Delilah S. Dawson (W), Francesco Gaston (A), Sara Richard ©, Francesco Gaston (VC).
Like many late-21st-century teens, geeky 16-year-old Vess gets packed off to spend her summer at Space Camp – which is literally in space. Tragically, a shuttle accident sends her and the rest of the passengers careening toward a cold, frosty death among the stars. But when a gigantic, space-faring water bear miraculously rescues Vess and her beloved retro Discman, it's the beginning of an extraordinary friendship and an incredible journey home, all set to the nostalgic tunes of Vess' 1990s-heavy playlist.
32 pages, $3.99.
MOUNTAINHEAD #2
John Lees (W), Ryan Lee (A/C), Brian Lovell (VC).
In Braeriach, everyone is happy and strangers smile at you on the street. So why can't Abraham shake the feeling that this is all a trap? Why does he keep having the same horrific nightmare? And, as Abraham struggles to adjust to his new life, his old life may not be ready to let him go.
32 pages, $3.99.
MY LITTLE PONY: FRIENDSHIP IS MAGIC #82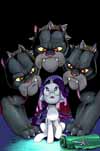 Kate Sherron (W), Toni Kuusisto (A/C), Sara Richard (VC), Nicoletta Balardi (VC).
A dust-up in Ponyville plus an escaped Cerberus equals quite the ruckus for our favorite fillies! When Princess Celestia requests a dog sitter for the high-spirited canine, the task falls to the least likely of ponies: Rarity! It's going to take some dog-dog-dogged determination, a bit of hard work, and a whole lot of patience to figure this whole dog thing out… but it's sure to be a pawsitively wild adventure!
32 pages, $3.99.
MY LITTLE PONY: THE FEATS OF FRIENDSHIP #2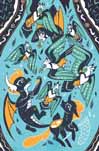 Ian Flynn (W), Tony Fleecs (A/C), Brenda Hickey (A), Justa Suta (VC), Katie O'Neill (VC).
With the Feats of Friendship underway, the Young Six – plus Swift Foot – look to get ahead of the competition! On the schedule? Gathering apples from Sweet Apple Acres, building a bridge across Stable Rapids River, and outwitting the Chimera! Shouldn't be a problem for our heroes, right? If only they could just get along… and why does Swift Foot seem so happy about all this fighting, huh?!
32 pages, $3.99.
MY LITTLE PONY: SPIRIT OF THE FOREST
Ted Anderson (W), Brenda Hickey (A/C)
Join the Cutie Mark Crusaders as they embark on another mystery filled with action and adventure when a trip to the woods leads them to discover it's filled with trash! What could be causing this mess, and what can they do about it? It looks like another mystery that Apple Bloom, Scootaloo, and Sweetie Belle will have to solve, but one where not everything is as it seems. Ponies start seeing weird shapes, hearing unknown sounds, and losing things, but it couldn't actually be the Spirit of the Forest, right?
80 pages, $9.99.
DISNEY COMICS AND STORIES #7
Laura Shaw (W), Mark Shaw (W), Daniele Vessella (W), Giorgio Cavazzano (A), Maurizio Amendola (A), Andrea Freccero ©
Presenting two brand-new-to-the-U.S. stories featuring Donald Duck! They say money doesn't grow on trees, but when one of Gyro Gearloose's crazy inventions has an unexpected effect on the soil near Uncle Scrooge's Money Bin, a literal money tree sprouts overnight – much to Uncle Scrooge's greed and delight! Then, in "The Distracted Delay," Donald decides to get a 10-hour start on his date with Daisy to avoid the usual disasters, but even with that long of a head start, he might STILL manage to not make it in time! Will Daisy give him the benefit of the doubt, or is too little, too late? Or is there an unexpected surprise in store for Donald?
48 pages, $5.99.
UNCLE SCROOGE #49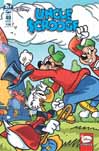 Vito Stabile (W), Pietro B. Zemelo (W), Frederico Franzo (A), Marco Mazzarello ©, Stefano Intini (VC).
It's the penultimate chapter of "Under Siege" as Scrooge faces off against Magica De Spell in the buried Money Bin. While the two longtime enemies hatch a plan for escape, Donald and Fethry – with Gyro's help – are busy aboveground trying to devise their own plan to rescue the Money Bin and restore things to normal. But when the Beagle Boys decide to launch an all-out attack on our heroes, things definitely seem to start going from bad to worse!
36 pages, $4.99.
UNCLE SCROOGE: THE WORLD OF IDEAS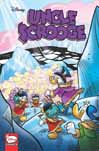 Carlo Panaro (W), Manuela Marinato (W), Vito Stabile (W), Paolo De Lorenzi (A), Giorgio Cavazzano (A), Francesco Guerrini (A), Paolo Campinoti (A), Marco Mazzarello ©.
Uncle Scrooge and company return with all-new stories never before seen in the U.S.! Not everyone wishes Uncle Scrooge a happy birthday as Magica De Spell is once again up to her old tricks in "The Vortex of Time!"; in "The World of Ideas," Gyro Gearloose's latest invention allows Uncle Scrooge and the nephews to experience reality in a way they've never done before – with (almost) un-chaotic results for Uncle Scrooge! Then, "The Helpful Hammock" may be Donald Duck's favorite thing in the world, but it leaves Uncle Scrooge unhappy with his lazy nephew… until he too succumbs to the hammock's powers of relaxation! But what does that mean for his business?! Collects Uncle Scrooge issues #41-43.
112 pages, $12.99.
DUCKTALES: SILENCE AND SCIENCE #2
Steve Behling (W), Luca Usai (A), Gianfranco Florio (A), Marco Ghiglione (C/VC).
It's another two-part story as Uncle Scrooge and company deal with a possible ghost in the Money Bin! But is it really a ghost, or is it just another experiment gone awry? After all, there are no such things as ghosts, right? Find out in "Phantom Science."
32 pages, $3.99.
DUCKTALES: MISCHIEF AND MISCREANTS
Steve Behling (W), Joe Caramagna (W), Gianfranco Florio (A), Ciro Cangialosi (A), Danilo Loizedda (A), Marco Ghiglione ©
It's another exciting collection of all-new adventures with three special double-length stories! What will Uncle Scrooge, Gyro Gearloose, Mrs. Beakley, Webby, Huey, Dewey, and Louie get up to this time? Find out in "The Greatest Invention He's Never Had," "The Incredible Shrinking Webby," and "Marooned in Mystery Manor!" Collects DuckTales issues #15-17.
80 pages, $9.99.
STAR WARS ADVENTURES, VOL. 7: POMP AND CIRCUMSTANCE
John Jackson Miller (W), John Barber (W), James Gilarte (W), Jon Sommariva (A), Valentina Pinto (A), Jon Sommariva ©
Join Chewie, Poe Dameron, BB-8, and Luke Skywalker in these adventures that span the Star Wars universe and the saga's entire history. These young-reader friendly stories will appeal to Jedi everywhere, Master and Padawan alike! Chewie shows off his problem-solving skills, Poe gets separated from BB-8, and Luke gets thrust into a diplomatic situation. Plus, an all-new tale based on Star Wars Resistance! Collects issues #14–17 of Star Wars Adventures and the 2018 Star Wars Adventures Annual.
80 pages, $9.99.
STAR WARS ADVENTURES #26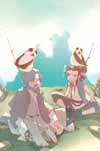 Cavan Scott, Adam Christopher (W), Derek Charm (A/C), Megan Levens (A/VC), Stefano Simms (VC).
Witness one of the many lessons Rey learned from Luke Skywalker during her time on Ahch-To. Plus, in an all-new installment of Tales from Wild Space, Resistance pilot Tallie teaches her squad how to overcome their fears.
32 pages, $3.99.
BACK TO THE FUTURE: THE HEAVY COLLECTION, VOL. 2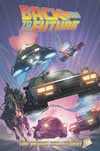 Bob Gale (W), John Barber (W), Emma Vieceli (A), Marcelo Ferreira (A), Athlia Fabbio (A), Marcelo Ferreira ©
Co-creator Bob Gale takes his most famous creations on new adventures throughout the spacetime continuum, expanding the universe created by the blockbuster films! Who is Marty McFly? That's what Marty's asking himself, as it becomes abundantly clear his childhood memories don't match up with what actually happened in this timeline. Then, Marty's uncle, "Jailbird Joey," is coming home, but is Marty happy about this? In fact, he's not even sure why Joey went to prison in the first place, so when Marty starts asking questions, he's shocked to learn it involves Doc Brown. Collects the final 13 issues, #13-25, of the Back to the Future series.
296 pages, $29.99.
LOAC ESSENTIALS, VOL. 14: BARNEY GOOGLE, 1928
Billy DeBeck (W/A/C).
Reprinting four classic Barney Google stories that define the strip! Barney and his horse Spark Plug get involved in all sorts of hijinks and schemes when they enter the Million-Dollar Cross-Country Marathon, decide to swim the English Channel, and when Barney joins the Secret and Mysterious Order of the Brotherhood of Billy Goats (in DeBeck's send-up of secret societies and fraternal lodges), culminating in Barney Google's historic run for President of the United States in 1928! LOAC Essentials reprints, in yearly volumes, the daily newspaper strips that are essential to comics history, strips that are unique creations in their own right, while also contributing to the advancement of the medium.
352 pages, $29.99.
EVE STRANGER
David Barnett (W), Philip Bond (A/C)
You have unlimited funds, a jet-set lifestyle, and extraordinary abilities. So what happens when you develop a sneaking suspicion you're working for the bad guys? Meet Eve Stranger, amnesiac for hire. Eve wakes up in a hotel room without knowing who she is or how she got there. Beside her is a teddy bear, a credit card, a briefcase of cash, a used syringe, and a letter in her own handwriting that explains her next mission. She's living week by week, undertaking different, seemingly impossible tasks on behalf of a mystery benefactor. Her bloodstream is flooded with nanobombs, and the contents of the syringe deactivates them for one week and also wipes her memory. Because every Friday morning she wakes up with a clean slate and a new job, from black ops action/adventure hero to personal shopper, scuba treasure hunter to space station saboteur.
128 pages, $17.99.
OCTOBER FACTION #1 SPECIAL EDITION
Steve Niles (W), Damien Worm (A).
Celebrating the upcoming Netflix series, this special edition re-presents the debut adventure of the Allan family! Written by master of modern horror Steve Niles (Kick-Ass, 30 Days of Night) with mind-blowing art by superstar Damien Worm (Dark Souls) andfeatures a behind-the-scenes look that digs deep into the creation of these terrifying monster-hunts – because sometimes crazy is the glue that binds a family together!
32 pages, $3.99.
A RADICAL SHIFT OF GRAVITY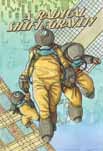 Nick Tapalansky (W), Kate Glasheen (A/C)
The world is changing. Gravity, a force everyone takes for granted, has begun to disappear. As a young journalist, Noah spends his days documenting the wondrous and terrifying shifts in the world around him. But Noah's life is changing, too. Falling in love and raising a rebellious daughter adds new meaning to life in this mysterious floating world. As he covers the invention of new sports, interviews experts, and even journeys into space, each experience shapes how Noah views the world and, in turn, his relationship with his family. And as his daughter grows older, Noah faces the challenge every parent dreads and dreams of: letting go. A Radical Shift of Gravity is a science-fiction fable: a graphic novel that explores the ties that bind a family together, the forces that threaten to pull them apart, and the quiet beauty of a world where everyone is floating away.
224 pages, $29.99.
FROM HELL: MASTER EDITION #7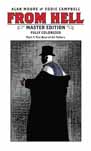 Alan Moore (W), Eddie Campbell (A/C).
"The Best of All Tailors." The Ripper's bloody work reaches its horrific climax. And afterwards/// there is only descent. Five unsolved murders. Two of the greatest creators in the history of comics. One sprawling conspiracy, one metropolis on the brink of the 20th century, and one bloody-minded Ripper ushering London into the modern age of terror. The award-winning bestseller From Hell, often ranked among the greatest graphic novels of all time, takes on haunting new dimensions in From Hell: The Master Edition, enhanced with impressionistic hues by Eddie Campbell himself. This volume contains Chapter 10, as well as all the original annotations.
48 pages, $7.99.
MARILYN MANOR #4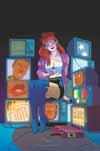 Magdalene Visaggio (W), Marley Zarcone (A/C)
In a manner of speaking, she was to the manor bored. So First Brat Marilyn Kelleher decided to throw an innocent little gathering of a thousand close friends and celebrities and trash the White House while President Dad was away on a trade mission. Throw in some cracked vinyl, a Ouija board, and a few dead Presidents, and the ultimate rager folds in on itself. The question remains – will Marilyn save the day or just save herself – with a little help from her own "Personal Jesus" in the final issue of the weirdest post-punk White House party of the 20th century.
32 pages, $3.99.
MARILYN MANOR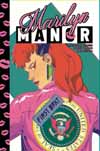 Magdalene Visaggio (W), Marley Zarcone (A/C)
Where were you in '81? Politics gets a taste of punk, new wave, and new romantic as First Daughter Marilyn Kelleher is about to throw the ultimate rager at the White House in this rollicking, coming-of-age graphic novel. When the White House goes dark for 17 days in August, the President's rebellious daughter Marilyn and her best friend Abe, who claims she's possessed by the spirit of Abraham Lincoln, throw a rager at 1600 Pennsylvania Avenue, unearthing long dead historical figures (like Lincoln and Marilyn Monroe) and government secrets that are better off buried.
194 pages, $15.99.
JOHN BYRNE'S MARVEL CLASSICS ARTIFACT EDITION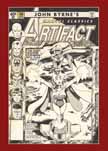 Various (W), John Byrne (A/C)
John Byrne is one of the true superstars of Marvel Comics. His legendary runs on The X-Men and Fantastic Four are just two of the highlights of his illustrious and storied career (and have each received the award-winning ARTIST'S EDITION treatment!). Now we continue to present John Byrne at his finest, in an Artifact Edition that features his work on MARVEL TEAM-UP, CAPTAIN AMERICA, THE AVENGERS, IRON FIST, and more. As you have come to expect from Artist's Edition style books, each page is tracked down and scanned from the original art – perusing this book will be like opening a portal in time and visiting John Byrne in his studio as he painstakingly draws some of his most well-remembered stories – all in one beautiful book!
168 pages, $125.
SEIKATSU
Isaac Shalev (D) Matt Loomis (D,) Peter Wocken (A), Lucas Mendonça (A) Peter Wocken ©, Soon Yi Warren ©.
Seikatsu is a competitive tile-laying game by designers Matt Loomis and Isaac Shalev (Retreat to Darkmoor). Players are competing to create the most breathtaking view from the perspective of their pagoda. Featuring a one-of-a-kind dual aspect tile design, players must weigh the benefits of scoring flocks of birds now, or the benefits of planting sets of flowers to be scored later. In a battle of serenity, tensions will be high as the best tile placement for you may also aid your neighbor. Who will have the best view of the garden? It's all a matter of perspective!
$39.99.
NARUTO SHIPPUDEN: VILLAGE DEFENDERS
Team Lynnvander (D).
When Leaf Village comes under attack while most of their ninja are out on various missions, it falls to a small handful of ninja to protect the village! Together, the members of Team 7 and a couple of their close friends will attempt to turn back the invaders. They are the last line of defense, and they must not fall! Naruto Shippuden: Village Defenders is a fast paced, cooperative card game where players assume the role of TEAM 7's heroes as they fight back an invading force of enemies that fans of Naruto Shippuden will be quick to recognize.
$19.99.
THE TOWERS OF ARKHANOS
Daniel Alves (D) Eurico Cunha (D), Marcelo Bastos (A/C), Rodrigo Ramos (A/C).
Tap into the power of Arkhanos in order to build the tallest tower. In Towers of Arkhanos, 2-4 players will become wizards and help build the mystical Towers of Arkhanos! Roll and draft dice that become part of the towers themselves, learn and cast powerful spells to alter the dice, and rise above the competition with strategic moves in this family game of 3D tower building!
$39.99.
INVADER ZIM: DOOMSDAY DICE GAME
Ryan Jones & Spencer Reeve (d)
In Invader Zim: Doomsday Dice Game you and up to 3 of your friends play as either Zim or Gir working for their Almighty Tallest Irkin overlords, or as Dib or Agent Darkbootie working to protect the earth as part of the secretive Swollen Eye network! Draw cards to build a krazy machine to either destroy the earth (yay!) or save it (boo!). Connect cards to build your machine and your strategy. Then roll the BIG POWER DIE (it's HUGE) and the tiny type die (aww, it's cute!), allowing you to activate different cards in your machine. Active the cards for their power and surge towards victory, or use them for their special abilities to slow the other players down. The first player to earn 100 energy wins, and everyone else owes them taquitos!
$19…99.
SEIKATSU: A PET'S LIFE
Isaac Shalev & Matt Loomis (D), Neytirix (A/C).
A family-friendly update to IDW's hit tile-laying game Seikatsu by Matt Loomis and Isaac Shalev, Seikatsu: A Pet's Life has players placing adorable pets around an illustrated living room board. At first, players will want to put matching animals together, dogs with dogs and cats with cats, for example. However, as the room fills with pets, players will need to change their focus to the color of the pillows the pets are laying on, because at the end of the game, players score additional points based on the number of matching pillows they have in their rows. Simple to learn, easy to play, but with a unique scoring system, Seikatsu: A Pet's Life is perfect for a family full of gamers.
$29.99.
TONARI
Alex Randolph and Bruno Faidutti (D) Kwanchai Moriya (A/C).
The small island of Kuchinoshima has been hit by a terrible storm, leaving the village with only a single fishing boat. Each hoping to prove themselves the village's best fisherman, 2-4 players take turns moving the boat marker around the island, collecting any fish tiles they land upon. At the end of the day, the player with the best haul wins, but there's a twist – each player's score is added to their left neighbor's score before determining the winner!
$29.99.
GHOSTBUSTERS: BLACKOUT
John Cohn (D), Dan Schoening (A).
After a major power outage struck New York, the Ghostbusters must set out to capture all the ghosts escaping from their containment unit. With the whole city suffering from a blackout and an onslaught of ghosts rampaging around, it's up to the Ghostbusters to quell the chaos and get those ghosts busted! Ghostbusters: Blackout is a fully cooperative board game for 1-4 players. In it, players roll dice and allocate them to move around the city, capture ghosts, and buy upgrades for their ghost-busting tech, all while trying to keep the city from collapsing from the ensuing chaos!
$39.99.
Source : www.comicscontinuum.com