ONI PRESS FOR AUGUST
TITAN
Written, art and cover by Francois Vigneault.
When MNGR First Class João da Silva arrives on the moon of Titan to take charge of Homestead Station, he finds the massive mining colony plagued by tensions between the giant, genetically-engineered Titan workers and the Terran management. As anger mounts, what began as a routine posting quickly turns into something far more dangerous. Phoebe Mackintosh thought she left her fighting days behind her when she turned her back on the « mixing » circuit. Now, she finds herself caught between a past she'd rather forget and a future she can't predict. Together, they must find a way to pull Homestead back from the brink of disaster… Or Titan might be the spark that sets the entire solar system ablaze.
$19.99, in stores on Sept. 16.
DEAD DUDES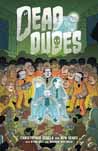 Written by Christopher Sebela, and and cover by Ben Sears.
Trev, Kent, and Brian are allegedly friends, but are best known as the backbiting hosts of the popular ghost hunting show, Ghost Bros. With ratings falling and competition rising, they gamble it all on the Chernobyl of haunted locations: Edgeway Penitentiary, where the Ghostbros find conclusive proof of the afterlife… After they die and come back as ghosts themselves, trapped there with the angry ghosts who killed them! Now that they're deceased, the Ghostbros have to be the best Dead Dudes they can be, prove to the world that ghosts exist, and save the lives of their most hated rivals (Oh yeah – and to save the living from a ghostly armageddon, but whatever).
$16.99, in stores on Sept. 16.
Written by Daniel Barnes, art and cover by D.J. Kirkland, cover by George Caltsoudas.
The time has finally come, once again, for the Carrier Man Trading Company's most anticipated event of the year - The Carrier Cup, an Olympic-esque competition in which different departments battle it out in office-specific « sports » to see who will reign supreme. Will Retsuko be able to redeem herself, after her fateful blunder from the previous year, and bring home the gold for Accounting?
$3.99, in stores on August 26.
CHEAT(ER) CODE
Written by S.A. Foxe, art and cover by Daz.
An erotic graphic novel that pushes all the right buttons, Cheat(er) Code is a hilarious, sexy, and surprisingly tender story about navigating heartbreak and rediscovering your own confidence. When Kennedy is transported into his video game console after a relationship-changing fight with his boyfriend, he'll need to confront his biggest fears to get back to reality before the game glitches him out of existence. Thankfully, his favorite video game characters are there to help him rebound, and sometimes, the unexpected (and unexpectedly hot) is just what you need to hit the reset button.
$19.99, in stores on Sept. 23.
DRYAD #5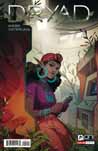 Written by Kurtis J. Wiebe, art by Justin Osterling, cover by Tomas Oleksak.
The Glass family find themselves in a boneyard of technology-a long abandoned arcade turned apothecary-fighting to keep Valencia alive. But in order to do so, they're going to have to place their trust in the very same people they left for dead thirteen years ago.
$3.99, in stores on Sept. 16.
MY RIOT
Written by Rick Spears, art and cover by Emmett Helen.
1991 – Val, a teenager from a conservative family, has grown up dreaming of becoming a ballerina, but recently something has changed. She's begun feeling pressure to conform to a specific idea of beauty, body type, and a personality that just doesn't fit. Val meets Kat, a smart, witty girl that doesn't take any crap off anyone. Kat introduces Val to punk rock. Along with Rudie, another new friend, the three form an all-girl punk band they ironically name The Proper Ladies. Soon Val and her friends find themselves caught up in a movement with other girls also starting bands-also finding their voice. Collectively, these « riot grrrls » discover that their songs ring out loud and powerful, and for Val, there's no going back.
$17.99, in stores on Sept. 9.
RICK AND MORTY PRESENTS BIRDPERSON #1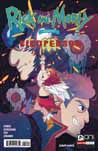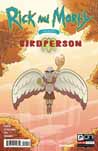 Written by Alex Firer, art and cover by Fred Stressing, cover by Angela Trizzino.
In « Birdperson's Rite of Passage, » see Birdperson's growth from Birdteen to Birdadult…and a friend to Rick Sanchez, but only after they go through an incredible adventure unites them…forever?!
$4.99, in stores on July 29.
Written by Ryan Ferrier, art and cover by Constanza Oroza, cover by Marie Enger.
Nearing the end of their journey through Hell, Rick and Morty must face their greatest challenge yet, one that will reveal the true nature of their souls. Can our titular heroes overcome the Devil's task before Hell collapses under civil war?
$3.99, in stores on Sept. 23.
ROGUE PLANET #4
Written by Cullen Bunn, art and cover by Andy MacDonald.
Ancient writings reveal the secrets of the terrible force at work on Lonely Orphan. The secrets might unlock the means to escape the murderous planet. First though, the stranded crew of the salvage vessel Cortes must survive a group of aliens who wish to sacrifice them… and the elder god that the aliens worship.
$3.99, in stores on August 26.
SHADOW ROADS #9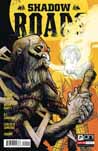 Written by Cullen Bunn, Brian Hurtt, art and cover by A.C. Zamudio, cover by Carlos Zamudio.
In Calcutta, Henry learns from his mother the truth of what happened with her and his father, Screaming Crow. She warns him that a vile assassin – a fae creature named Asha – is after him and his powerful blade. Across town, Barry has arrived and – along with his new allies–is homing in on the location of Henry. In England, Kalfu and Abigail meet with one of his « professional contacts » in search of information on Henry's whereabouts.
$3.99, in stores on August 26.
SMOOVE CITY
Written, art and cover by Kenny Keil.
Ray, Ronnie, Vinnie, and Mikey (A.K.A. Smoove City) are four besties dreaming of boy band stardom. At the mall food court, there's lots of time for daydreaming. But all that changes when they finally scrape up enough money to record a demo tape - one they're sure will land them a big-time record deal. ?Instead, their demo tape swerves them into a very un-smooth world of shady managers, smelly tour buses, and a huge misunderstanding that transforms them from unknown wannabes to pop star outlaws overnight. Their dream is finally coming true… But it could cost them a lot more than a slice of food court pizza. Deeply inspired by the music and culture of New Jack Swing, Smoove City is a funny and heartfelt story about fame, friendship, and why all that glitters ain't double platinum.
$19.99, in stores on Sept. 30.
THE TEA DRAGON TAPESTRY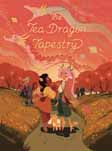 Written, art and cover bu Katie O'Neill.
Join Greta and Minette once more for the heartwarming conclusion of the award-winning Tea Dragon series! Over a year since being entrusted with Ginseng's care, Greta still can't chase away the cloud of mourning that hangs over the timid Tea Dragon. As she struggles to create something spectacular enough to impress a master blacksmith in search of an apprentice, she questions the true meaning of crafting, and the true meaning of caring for someone in grief. Meanwhile, Minette receives a surprise package from the monastery where she was once training to be a prophetess. Thrown into confusion about her path in life, the shy and reserved Minette finds that the more she opens her heart to others, the more clearly she can see what was always inside.
$21.99, in stores on Sept. 2.
THIS IS A FLYING RAT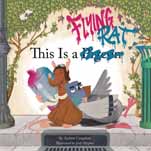 Written by Andrew Cangelose, art and cover by Josh Shipley.
This is a book about pigeons…
« You mean ‹ flying rats ›? Pigeons and flying rats are basically the same thing! »
Pigeons are considered one of the best flyers in the world.
« Pigeons and flying rats are NOT the same thing. This book is about pigeons. Pigeons that can FLY! »
From the creators of This Is a Taco and This Is a Whoopsie, Andrew Cangelose and Josh Shipley are back with a humorous tale of a « flying » rat and pigeon finding friendship despite their differences.
$15.99, in stores on Sept. 9.
WIZERD VOL. 1: POTION OF DREAMS
Written by Michael Sweater, Rachel Dukes, art and cover by Michael Sweater, Rachel Dukes.
Adventure awaits! A quest is coming! Excitement envelopes all! …and it's disturbing a reclusive, young wizerd's peace and quiet! A garden-tending wizerd is dragged into the adventuring life by a small warrior princess as they seek the ingredients of a wish-granting potion. (The warrior princess's wish? To get big and strong - and hunky! - really hunky!) Thanks to ransacking goblins, a too-noble knight, an evil wych, and the warrior's endless appetite, securing the potion ingredients won't be as quick or as simple as the wizerd had hoped! The Wizerd and the Potion of Dreams packs humor, heart, and heaps of distractions into a fantasy adventure sure to please any adventurer out there.
$14.99, in stores on Sept. 9.