Comme l'année dernière, Marvel donnera un avant-goût de ses plans pour l'univers Star Wars dans un one-shot à nouveau intitulé Révélations. Sortie prévue pour décembre.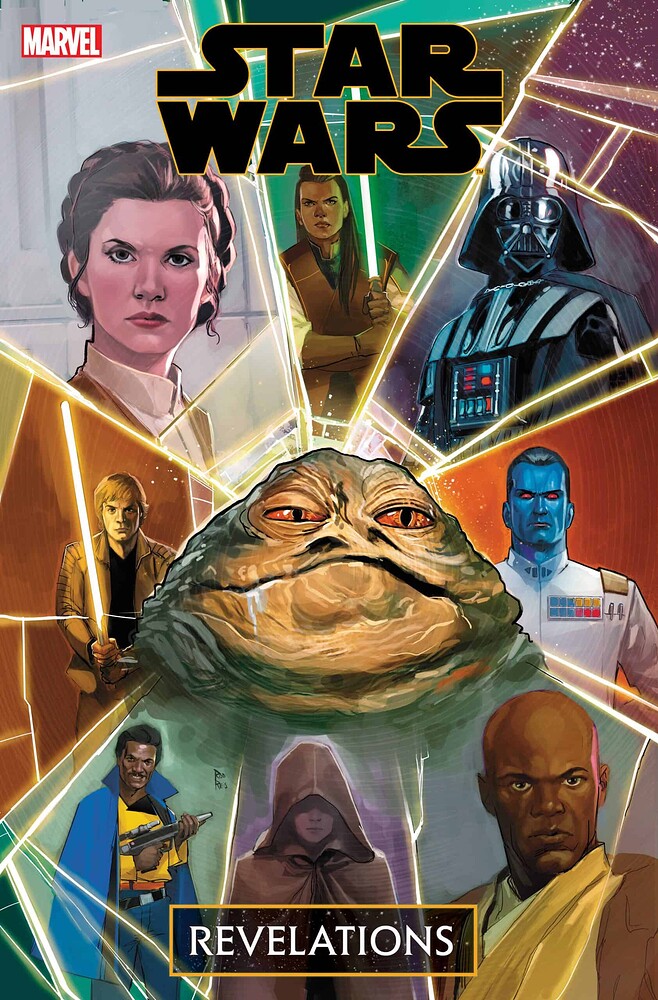 STAR WARS: REVELATIONS, the can't miss issue that offers readers a startling glimpse at what's to come next year in Star Wars comics, is back with more surprises than ever this December!

Last year's Star Wars: Revelations prepared fans for a dramatic year of Star Wars sagas including putting the pieces in place for the current crossover event, Star Wars: Dark Droids. This year will be no different with a giant-sized installment packed with the first appearances of major players, and new twists and turns across all of Marvel's STAR WARS line!

Crafted by an army of current and upcoming Star Wars talent including writers Marc Guggenheim (Star Wars: Dark Droids – D-Squad), Charles Soule (Star Wars, Star Wars: Dark Droids, Star Wars: The High Republic – Shadows of Starlight), Greg Pak (Star Wars: Darth Vader), Alyssa Wong (Star Wars: Doctor Aphra), Ethan Sacks (Star Wars: Bounty Hunters), Cavan Scott (Star Wars: The High Republic Phase III), and Marc Bernardin, this star-studded issue will impact the titles currently exploring the era between The Empire Strikes Back and Return of the Jedi as well as Marvel's upcoming Star Wars: High Republic Phase III titles. In addition, the one-shot will lay the groundwork for exciting all-new comic series that have yet to be announced!

Check out Phil Noto's cover below which teases a host of upcoming appearances including Mace Windu and Grand Admiral Thrawn, and find out what's on the horizon for Darth Vader, the heroes of the Rebellion, the Jedi Knights of the High Republic, and many more this December! For more information, visit Marvel.com.