En 2023, Marvel fêtera le 40ème anniversaire de la sortie du Retour du Jedi avec la publication d'une série de one-shots. Le premier sera consacré à Jabba le Hutt, par Marc Guggenheim et Alessandro Miracolo.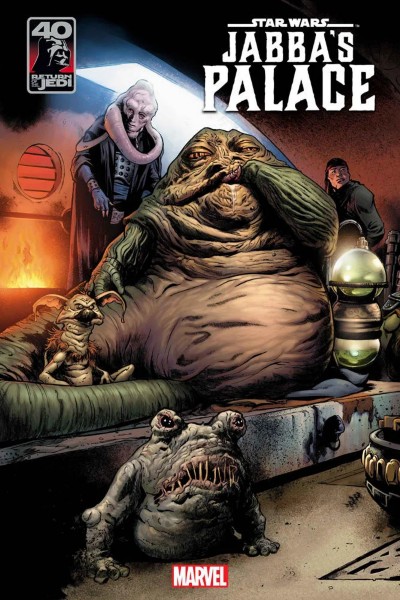 STAR WARS: THE RETURN OF THE JEDI – JABBA'S PALACE

#1

MARC GUGGENHEIM (W) • ALESSANDRO MIRACOLO (A)
Cover by RYAN BROWN
THE 40TH ANNIVERSARY CELEBRATION OF RETURN OF THE JEDI BEGINS HERE!
WHO IS PLOTTING TO OVERTHROW JABBA THE HUTT?
Jabba's palace is one of many places to find the vilest of scum and villainy relaxing, wet their whistles and indulge their vices…who would ever want that to end?
Well, SOMEONE has Jabba in their sights!
Beginning a series of One-Shots spotlighting the RETURN OF THE JEDI era, Marc Guggenheim (HAN SOLO & CHEWBACCA) and Alessandro Miracolo (OBI-WAN) bring you a tale of Jabba's Palace you won't soon forget!