Le scénariste Brian Wood travaille actuellement sur le scénario de Starve, une mini-série en creator owned dont la parution devrait débuter au printemps 2015 chez l'éditeur Image Comics. Pour ce nouveau projet, Wood retrouvera un de ses fréquents collaborateurs, le dessinateur croate Danijel Zezelj avec qui il avait déjà collaboré sur les séries DMZ, Northlanders et dernièrement The massive.
La genèse de ce projet remonte à 2009, lorsque le scénariste travaille sur une proposition de série pour le label Vertigo destinée à prendre la suite de DMZ. L'intrigue que Wood développe pour Starve se situe alors dans l'univers du show business culinaire. Mais avec le graphic novel Get Jiro d'Antony Bourdain déjà dans les tuyaux, et dont Starve semblait partager des thématiques voisines, l'éditorial de Vertigo retoque la proposition de Wood. Par la suite, Brian Wood proposera le pitch de cette série à Dark Horse puis Oni Press, sans plus de succès, puis envisagera de développer l'histoire sous la forme d'un pilote de série télévisuelle. Lorsqu'il soumet l'idée à son agent, celle-ci n'est pas convaincue et le projet prendra la poussière pendant quelques années jusqu'à l'été 2014.
Un an auparavant, le scénariste est mandaté par l'éditeur Marvel pour mettre sur pied une nouvelle série centrée sur le mutant Magneto. Décrite comme une histoire à la manière d'un roman Jack Reacher, la série devait également incorporer un aspect émotionnel prononcé en développant la relation père-fille entre Erik Lensher et sa fille Polaris. Sa proposition est acceptée mais Brian Wood se voit finalement contraint de décliner l'écriture de la série pour des raisons de planning et de finances. Puis, l'année suivante, Brian Wood reçoit un mail de Danijel Zezelj indiquant que ce dernier est disponible pour démarrer un nouveau projet. Wood extirpe plusieurs propositions de ses tiroirs et c'est finalement Starve qui est choisie par le dessinateur croate, dont l'histoire comportait déjà une relation père-fille similaire à celle proposée pour la série avortée Magneto, mais libérée des contraintes d'un univers partagé comme celui de Marvel.
En attendant d'avoir plus de détails sur le synopsis de la série, voici sept pages en noir et blanc de Danijel Zezelj tirées du premier épisode de Starve, avant la mise en couleurs de Dave Stewart: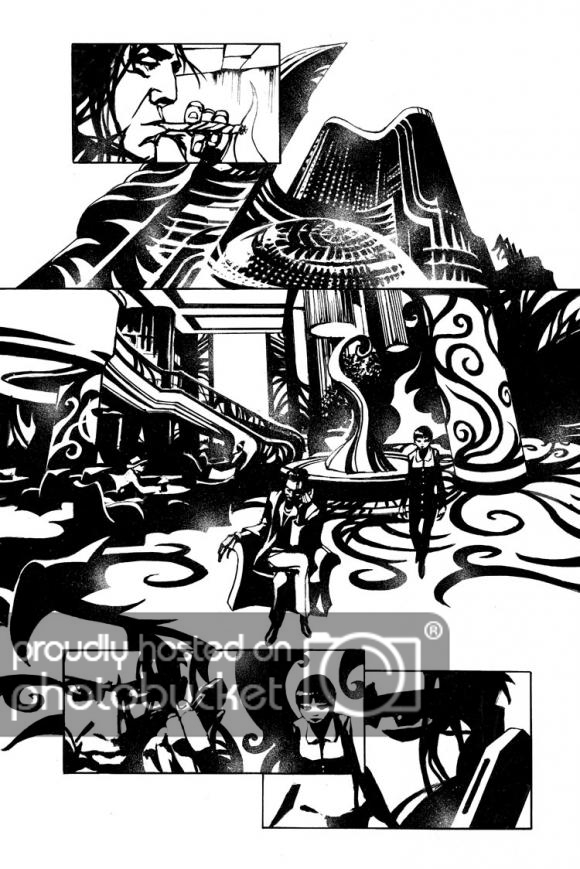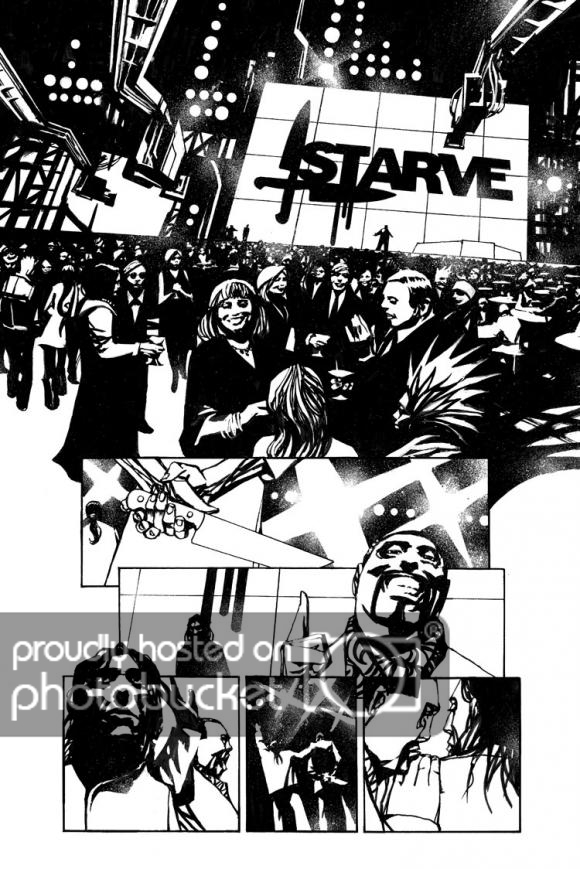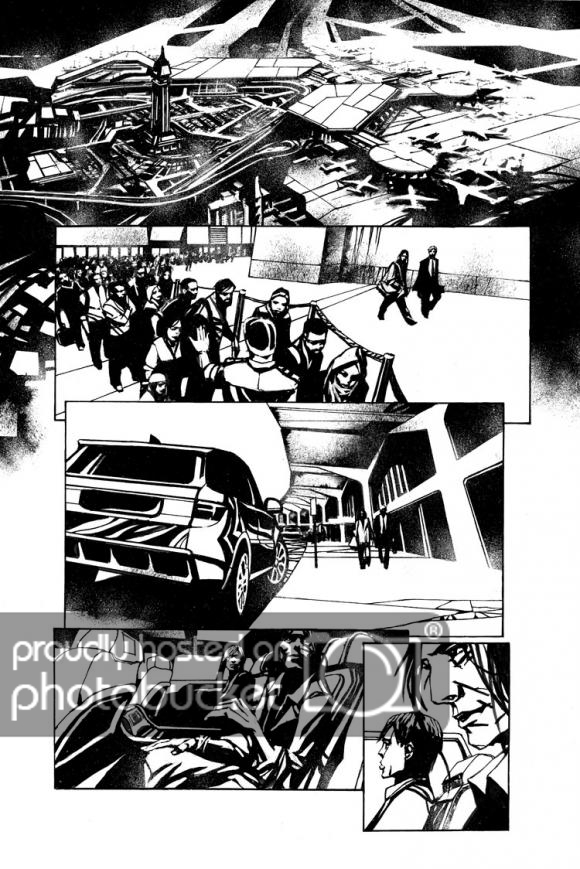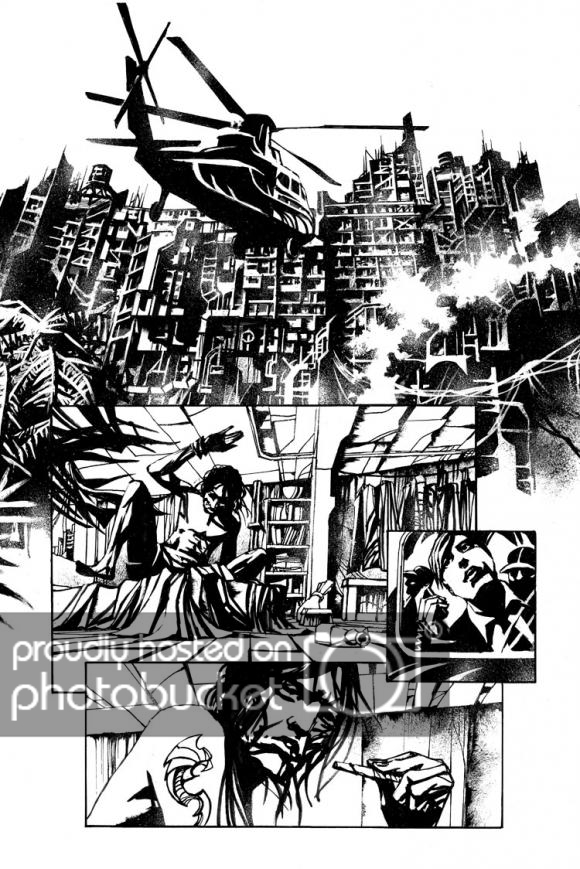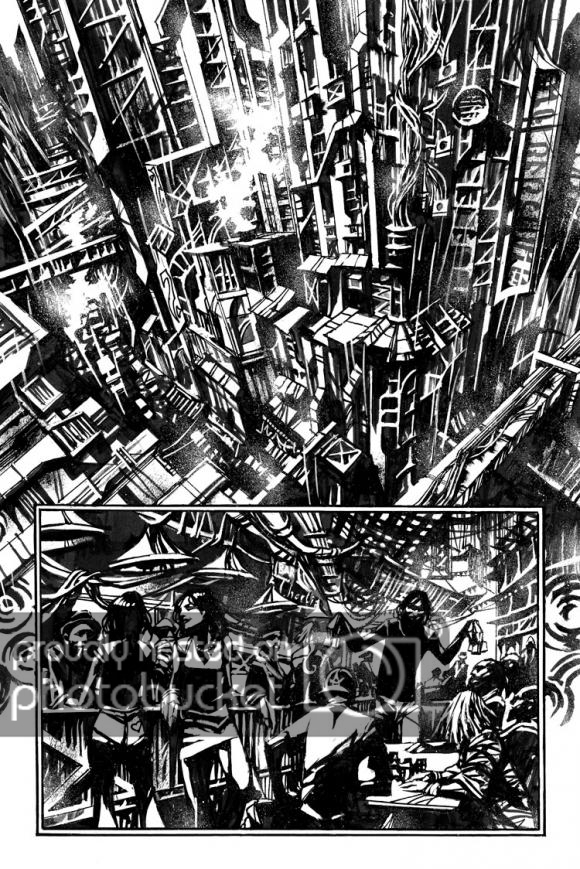 [quote="Brian Wood"]Sometime late last summer I was asked to pitch for that Magneto solo book, a pitch that was accepted but then I declined for financial and scheduling reasons. It was sort of a bummer, as I thought I had a decent idea. It was a Magneto story written like a Jack Reacher novel, but with a complex, emotional side narrative dealing with his adult daughter Polaris. It was that side narrative I was most interested in writing. Sometimes I regret turning it down.
(*Justin Giampaoli's said that he views The Plague Widow as me adjusting to fatherhood, and I've written infants and children a few times since, reflecting my own experiences and emotions related to raising two little ones. The father/adult daughter relationship is something about which I have things to say.)
A short time ago a longtime collaborator of mine emailed to say he was up to starting something new, and did I have any ideas kicking around. I have lots, so I sent them all over and what came back was something from 2009, called STARVE, that had, pretty much, the exact same father/daughter story I has pitched for Magneto. But better, obviously, as this is creator-owned and therefore not tied to system that requires X amount of people-punching per 20 pages.
I wrote half an issue of STARVE yesterday. STARVE has a funny history, now that I recall, as it was original devised as my DMZ follow-up, before being rejected by DC, then rejected by Oni, then by Dark Horse, all for various reasons. My agent looks at it then looks at me like I'm crazy. But fuck it, we're pressing ahead. More on this soon.
[size=85]source : brianwood.tumblr.com[/size]*[/quote]
[quote="Danijel Zezelj"]Starve is a new comic book series started this summer by writer Brian Wood and myself. We are also joined by master colorist David Stewart. The story is taking place in the excessive world of cooking show business. Publisher is Image, the first issue is scheduled to come out in early Spring 2015.
[size=85]source : dzezelj.com[/size][/quote]
Lien:
Le site de l'éditeur : www.imagecomics.com