Le dénouement du crossover Rotworld est proche, et sa fin signifiera également le départ du scénariste Scott Snyder et du dessinateur Yannick Paquette de la série Swamp Thing au dix-huitième épisode.
C'est Charles Soule, reconnu pour ses comic books en creator-owned 27 et Strange Atractors, qui va reprendre l'écriture de la série à partir de l'épisode 19 et le dessinateur Kano, qu'on a surtout vu ces derniers temps chez les deux majors officier comme fill-in sur Daredevil et Swamp Thing, mettra en image les scripts de Charles Soule.
Voici la couverture de Swamp Thing #19 par Andy Brase qui sortira au mois d'avril: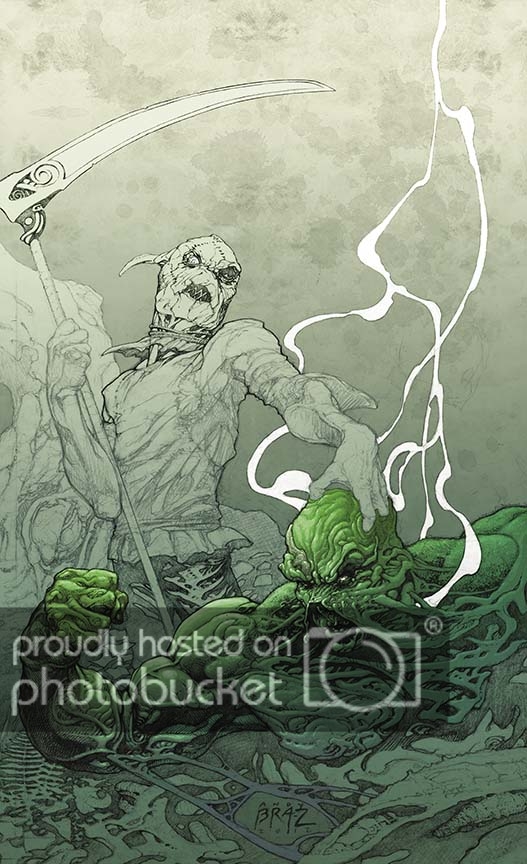 "]In particular, one of the goals I've set for myself on the book is to expand Swamp Thing's supporting cast a bit. After all, just because he lives way out in the swamp doesn't mean he can't have any pals besides Abby. For instance, I have a thousand-year old assassin character I plan to introduce pretty early. She'll have a really cool dynamic with Swamp Thing, in part because she doesn't realize that the various other avatars of the Green she's encountered in her ten centuries weren't all the same guy. They may have made certain promises to her that Alec is expected to honor - whether he wants to or not.
To sum up - familiar faces will pop into the swamp from time to time, but plenty of new surprises as well. …]
In addition to the goal of adding new supporting cast members that I mentioned above, I also want to (at least for the moment), focus on really tight stories of 1-3 issues, with each having its own distinct feel and central idea. I want readers to be able to cite each story down the road by that big idea or image - "you remember the one where Swamp Thing did THIS???" Stuff like that. Should be really fun.
[size=200]INTERVIEW DU SCÉNARISTE
CHARLES SOULE[/size]
Lien:
Le site de l'éditeur : www.dccomics.com