En septembre, l'éditeur DC Comics fêtera le premier anniversaire de son nouvel univers "new 52" en publiant des numéros 0, qui reviendront sur les origines de ces nouvelles versions des personnages de son catalogue: c'est le "Zero month". L'éditeur semble bien décidé à continuer de changer les équipes créatives des séries qui vendent le moins, et à retirer des étalages les séries qui font des scores insuffisants pour en lancer des nouvelles en remplacement.
Quatre séries vont être annulées prochainement: Voodoo de Kyle Williamns et Sami Basri, Captain Atom de J.T Krull et Freddie Williams II, Justice League International de Dan Jurgens et Aaron Lopresti ainsi que Resurrection man de Dan Abnett, Andy Lanning et Fernando Dagnino. Elles seront remplacées dès le mois de septembre par quatre nouveaux mensuels:
Talon, écrit par James Tyrion IV, Scott Snyder et dessiné par Guillem March (qui part de la série Catwoman)
Sword of the Sorcery, écrit par Christy Marx et dessiné par Aaron Lopresti. Une back-up consacrée à Beowulf sera supervisée par Tony Bedard au scénario et Jesus saiz aux dessins.
The Phantom Stranger, par Dan Didio et Brent Anderson.
Team 7, écrit par Justin Jordan et dessiné par Jesus Merino, qui relancera un ancien titre du défunt univers Wildstorm.
Sword of Sorcery suivra le parcours d'Amethyst, Amy Winston, qui découvre qu'elle est la princesse disparue du royaume Gemworld.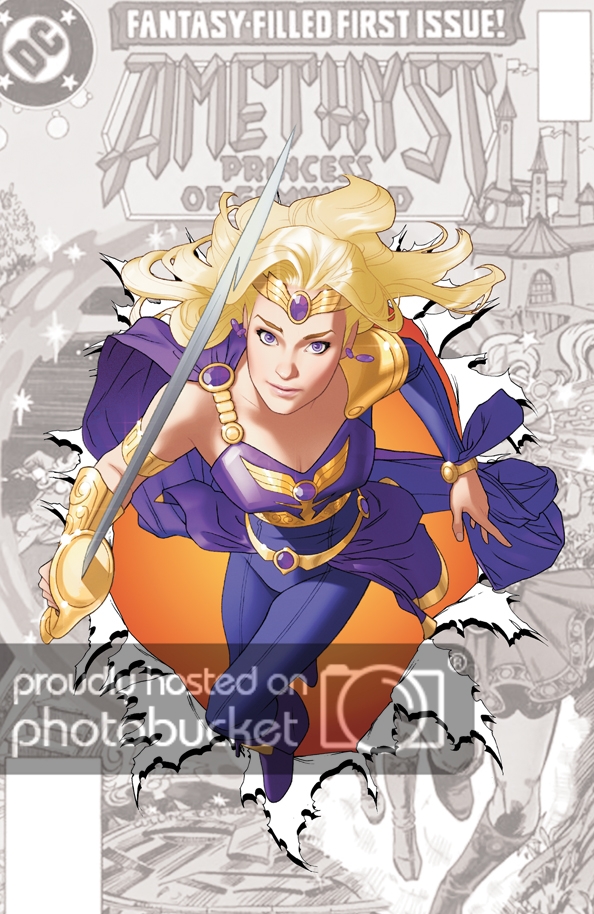 [quote]SWORD OF SORCERY #0
Written by CHRISTY MARX
Backup story written by TONY BEDARD
Art by AARON LOPRESTI and MATT RYAN
Backup story art by JESUS SAIZ
Cover by JOSHUA MIDDLETON
On sale SEPTEMBER 19 • 40 pg, FC, $3.99 US • RATED T
• In this new series featuring the long-awaited return of AMETHYST, Amy Winston leads a strange life on the road with her mother. She's about to learn why it's all been necessary when she discovers she's the lost princess of Gemworld — and has powerful enemies hunter her!
• AMETHYST is written by Christy Marx, best known for her work on animated TV series including G.I. Joe, Transformers, Teenage Mutant Ninja Turtles and more, as well as the comics series Sisterhood of Steel.
• And in the backup story set in a post-apocalyptic wasteland, the monstrous warrior BEOWULF is charged with finding and defeating the evil Grendel.[/quote]
Liens:
Le site de l'éditeur : www.dccomics.com
Le blog de l'éditeur : www.dccomics.com/blog