La lutte d'un groom naïf pour ses ambitions; un musicien expatrié en fuite; Le combat d'une jeune femme contre la paranoïa; un auteur exposant le lien entre les comics, la radio et le cinéma; et une mystérieuse figure qui tente de contrôler leurs vies; tels sont les quelques marginaux influencés par les « serials » radiophoniques qui peuplent l'œuvre Pistolwhip de Jason Hall et Matt Kindt et que l'éditeur Dark Horse va rééditer dans une version intégrale en avril.
Se situant dans l'Amérique des années 30, l'histoire suit le jeune détective privé Mitch Pistolwhip alors qu'il enquête sur de mystérieuses morts ressemblant à s'y méprendre aux méthodes de « La Menace Jaune », le vilain du comics Jack Peril.
The Complete Pistolwhip inclue les trois histoires « Pistolwhip », « Pistolwhip and the Yellow Menace » et « Mephisto and the Empty Box » (toutes colorisées pour la première fois par Marie Enger), ainsi que les 8 pages réalisées pour l'anthologie Dark Horse.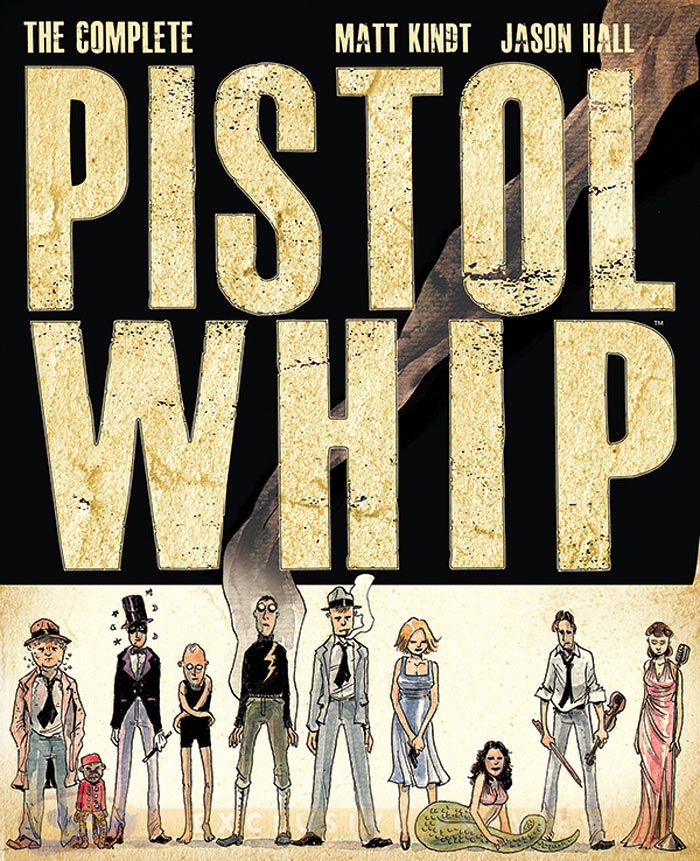 [quote=« Matt Kindt »] From the business end, it was out of print, so I wanted to have it in print again. Top Shelf wasn't really able to get it on their schedule, and Dark Horse basically wants to publish everything I do. [Laughs] From a business standpoint, it made sense, and I just like the idea of all my books being in one place. If you want anything by me, you can go to Dark Horse and you can get the whole library.
Also, it's been a while – that was my first book, and when it came out, nobody knew who I was. There were years where I would go to conventions and try to hand-sell that book, and a lot of people just weren't aware of it. People are just discovering me now, with other, bigger stuff that I've been doing.
It's nice to have that book come out and I looked at it again – it still holds up! It was my first book and I was still learning a lot of things, trying to figure out what I was doing and what I wanted to do. I like that book because I can see the seeds of things that I would do later. Hopefully, that's fun for people that read it.[/quote]
[size=200]INTERVIEW DE MATT KINDT[/size]
Liens
Le site de l'éditeur: darkhorse.com
Le site de Matt Kindt: mattkindtshop.com