[quote]Dans 100 ans, Père - l'intelligence artificielle du Japon - va prendre conscience. Sa première action en tant qu'être pensant : envoyer le Nouveau Japon en orbite pour sauver ses habitants d'une planète en perdition.
Cette société parfaite sera protégée pendant des centaines d'années par les guerriers synthétiques Rai, chacun servant Père avec loyauté.
A l'aube du quatrième millénaire, le dernier Rai découvre la vérité sur ses origines et le terrible secret qui entoure Père : pour que le Nouveau Japon vive, la Terre doit mourir. Se préparant à affronter son maitre, Rai est exilé du royaume et envoyé au seul endroit où il ne pourra plus jamais remettre en question les décisions du monarque : la Terre !
Sa dernière chance de survie est de trouver les légendes oubliées d'un monde sur le déclin pour fomenter une rébellion contre la civilisation la plus avancée de l'Histoire.[/quote]
Ainsi débute 4001 A.D., la saga Valiant de l'été 2016 conçue par le scénariste Matt Kindt et le dessinateur Clayton Crain.
Comme souvent avec ce genre d'évènement, plusieurs épisodes spéciaux accompagneront le récit principal. Entre les mois de mai et d'août, quatre numéro seront consacrés aux "légendes oubliées".
Parmi ces dernières, le lecteur découvrira les versions quatrième millénaire de X-O Manowar sous la plume du scénariste Robert Venditti et les crayons du dessinateur Clayton Henry (Book of Death: The Fall of X-O Manowar) ; Bloodshot de Jeff Lemire et Doug Braithwaite (Book of Death : The Fall of Bloodshot) ; et Shadowman que l'éditeur a confié aux nouveaux scénaristes Jody Houser (Faith) et Rafer Roberts (A&A : The Adventures of Archer & Armstrong) et au dessinateur Robert Gill.
Quant au dernier numéro tenu au secret, voici ce qu'en dit le responsable éditorial de Valiant Entertainement :
[quote="Shamdasani"]Le personnage principale du quatrième numéro "classifié" est le plus grand secret de 4001 A.D. par bien des manières et pour de très bonnes raisons. Cependant, les lecteurs ne devraient pas présumer qu'il s'agit de sa première apparition.
Lors de la sortie de Book of Death #1, nous avons promis aux lecteurs que nous reviendrions à ces futurs dans les années - voire les décennies - à venir ; que nous concevions secrètement, pour l'avenir, de nouveaux personnages et de nouvelles intrigues ; et que nous récompenserions nos incroyables fans en les reliant ensemble. J'en ai déjà trop dit ! [/quote]
A noter que l'évènement Valiant Book of Death présentait déjà plusieurs versions futuristes de nos héros dont les récits étaient contenus au sein du Livre du Geomancer.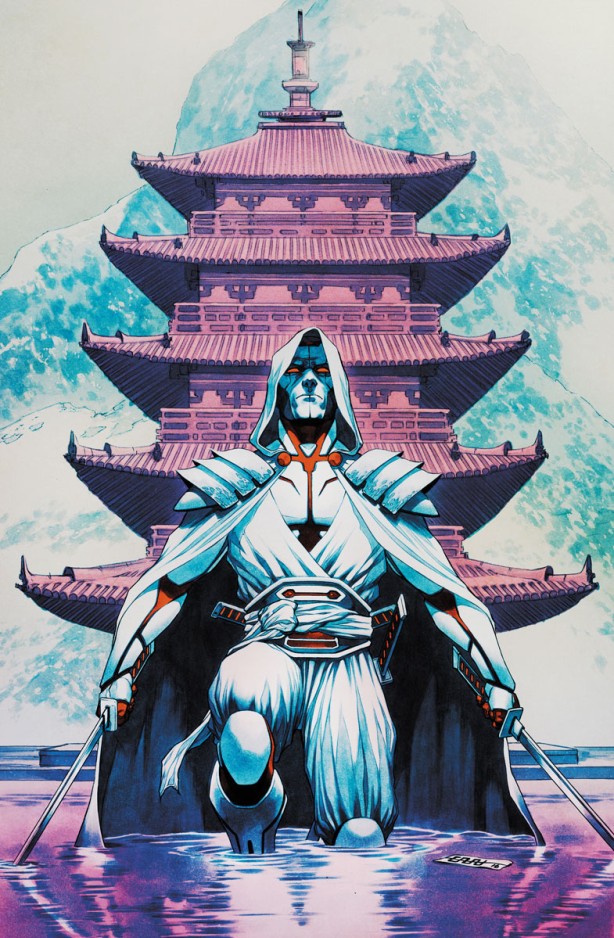 En parallèle à 4001 A.D., le prochain arc de la série Rai - dessiné pour l'occasion par Cafu en remplacement de Clayton Crain - fera la lumière sur le successeur de Rai en tant que dernier protecteur du Nouveau Japon suite à l'exile de son prédécesseur.
…[size=150]INTERVIEW DE L'ÉQUIPE CRÉATIVE [/size]
Lien
Le site de l'éditeur: valiantuniverse.com