Comme toutes les sagas événements Marvel, The War of the Realms aura droit à sa mini-série composée de plusieurs histoires qui mettront en scène différents personnages (notamment Daredevil et Howard the Duck pour la première livraison) sur le champ de bataille de la Guerre des Royaumes.
Jason Aaron, Chip Zdarsky, Josh Trujillo, Andrea Sorrentino et Joe Quinones font partie des auteurs annoncés pour le numéro 1.
Ci-dessous, la couverture de War Scrolls #1 par Alan Davis :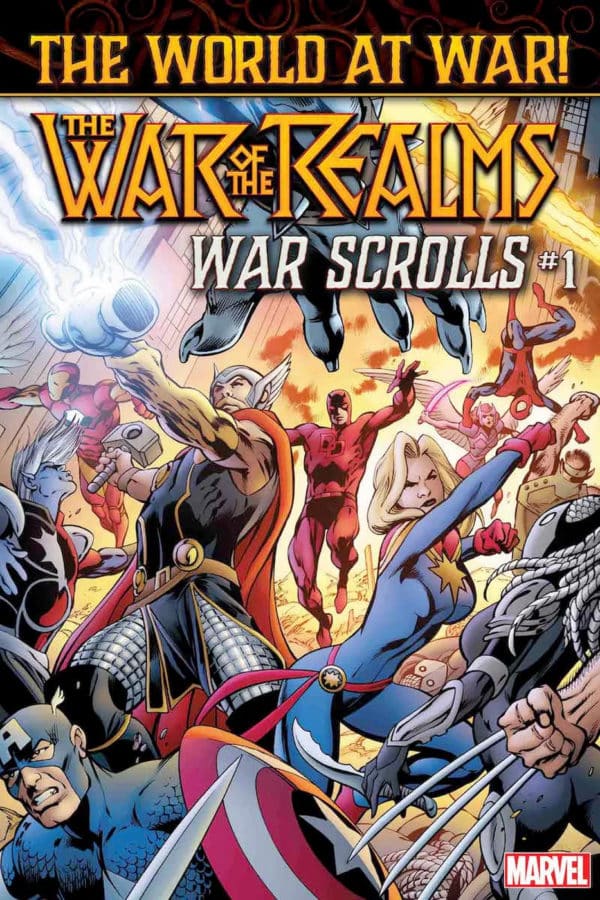 WAR OF THE REALMS: WAR SCROLLS #1 (of 3)
JASON AARON, CHIP ZDARSKY, JOSH TRUJILLO (W)
ANDREA SORRENTINO, JOE QUINONES AND MORE (A)
Cover by ALAN DAVIS, MARK FARMER & MATT HOLLINGSWORTH
VARIANT COVER BY ANDREA SORRENTINO
THE MUST-READ COMPANION TO WAR OF THE REALMS!
Gifted the sight of the Bifrost, Daredevil watches all Midgard burn under Malekith's invasion. How will the Guardian of Hell's Kitchen…guard an entire Earth turned to Hell? Find out in a story by Jason Aaron & Andrea Sorrentino! All this and more (including a new Howard the Duck story by Chip Zdarsky & Joe Quinones!), straight from the battlefield of WAR OF THE REALMS!
Source : www.bleedingcool.com