Marvel Comics lève le voile sur la destinée de l'univers Ultimate post-Cataclysm. La nouvelle ligne consistera en trois nouveaux titres lancés en avril sous la bannière Ultimate Marvel Now: "Miles Morales: Ultimate Spider-Man" par Brian Bendis et David Marquez, "All-New Ultimates" par Michel Fiffe et Amilcar Pinna, et "Ultimate FF" par Joshua Hale Fialkov et Mario Guevara.
Dans cette dernière série, l'actuel scénariste de la série "Ultimates" et le dessinateur Mario Guevara rassemblent les quatre personnes les plus intelligentes de l'univers Ultimate (dont Tony Stark, Susan Storm et probablement Reed Richards) dans une version modifiée de la Future Foundation.
Aucune image n'est disponible pour le moment. Ci-dessous, la couverture de "All-New Ultimates #1" par David Marquez: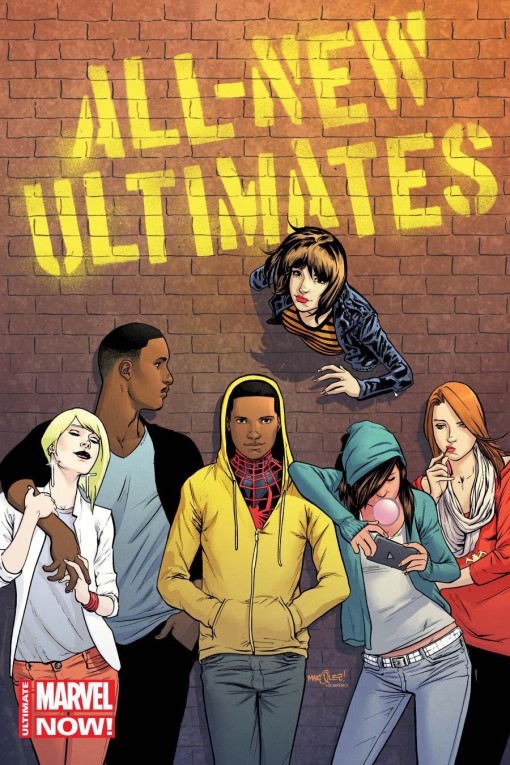 [quote]For others, the change is going to be rapid, and unexpected, said Joshua Hale Fialkov, writer of "Ultimate FF," a team book drawn by Mario Guevara focusing on several core members that make up the Future Foundation.
"It's a team of geniuses, four of the smartest people in the Ultimate universe," he said, of the core that includes Sue Storm and Tony Stark, among others. "And we're missing one, and that one happens to be a psychopath."
Fialkov called the titles an opportunity for Marvel and readers.[/quote]
Lien
Le site de l'éditeur: marvel.com