Après Creepshow et les Transformers/G.I. Joe de Hasbro, le label Skybound ajoute une nouvelle franchise à son catalogue avec une série de comics consacrés aux monstres classiques de la Universal. Et à tout saigneur tout honneur, la première mini-série Universal Monsters sera Dracula, par James Tynion IV et Martin Simmonds (le duo de Department of Truth).
Début de la publication en octobre.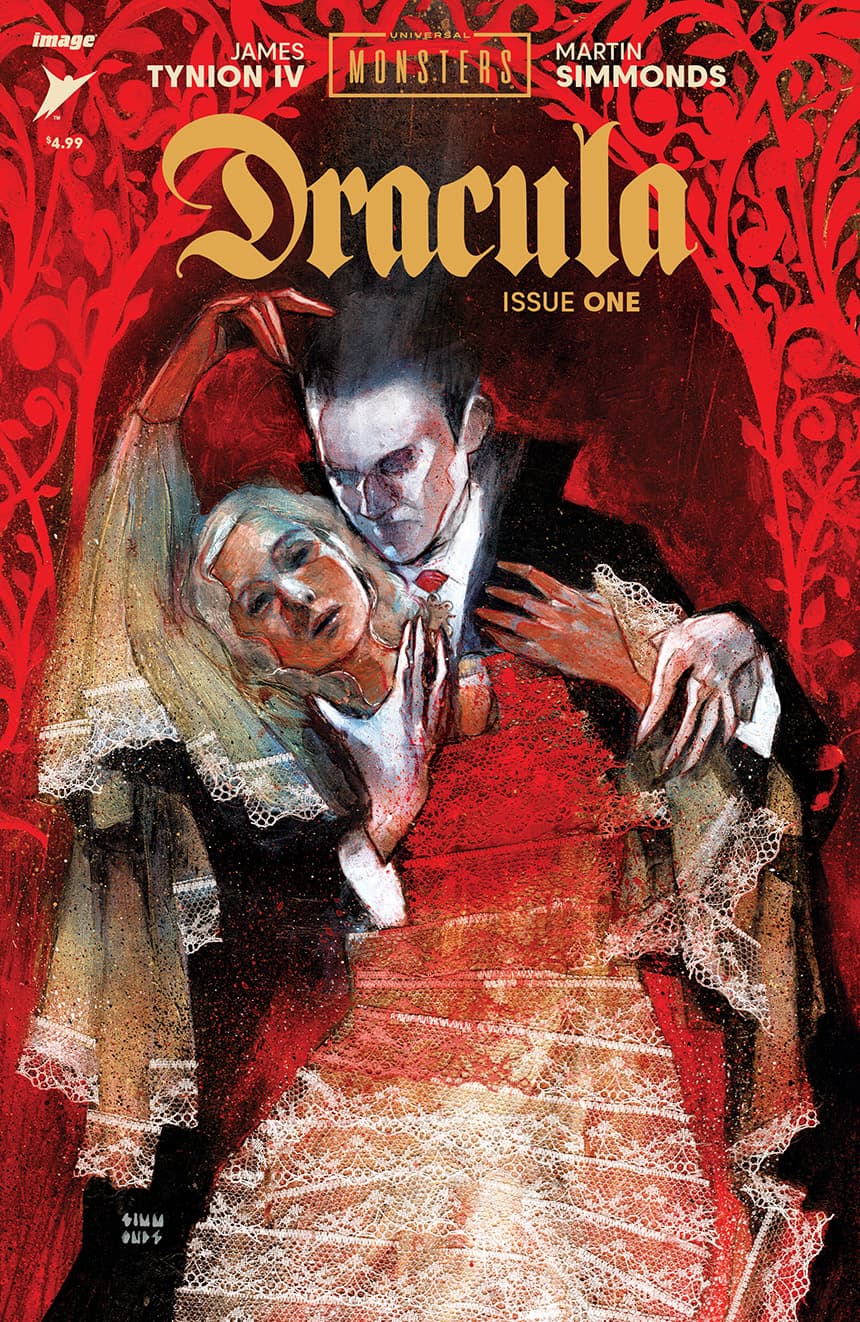 Skybound Entertainment, the creator-led, fan-focused multiplatform entertainment company, in partnership with Universal Products & Experiences, has announced Universal Monsters: Dracula, a new four-issue comic book limited series from the best-selling, Eisner Award nominated team of James Tynion IV (W0rldtr33, Something is Killing the Children) and Martin Simmonds (Swan Songs). The first issue will be available in comic book shops on Wednesday, October 25, 2023.

This collaboration between Skybound and Universal is the latest milestone in a near decade long relationship that encompasses film and video games, and now comic book publishing.

"It's been an absolute thrill to watch the powerhouse duo behind The Department of Truth breathe new life into this legendary story," said Alex Antone, Editorial Director at Skybound Entertainment. "Perfect for both new fans and horror afficionados alike – the Universal Monsters are as timeless as ever!"

The comic book miniseries will unfold over four suspenseful issues, with the first installment plunging readers into the eerie world of Dr. John Seward after he admits a seemingly delusional new patient to his asylum. Recounting chilling tales of a demonic entity residing next door, the skeptical doctor attempts to rationalize the unexplainable, but his adopted daughter Lucy mysteriously succumbs to the malevolent influence of the enigmatic Count Dracula.

"A few times in my life I've had the pleasure of writing about one of the great pop culture icons, but there is something singular about Dracula that made this opportunity too good to pass up," said James Tynion IV. "The challenge in front of Martin and I is to take the bloody heart of the Universal Pictures classic and find a bold new way to bring the character to life. It's been one of the most exciting creative challenges of my life, and I am phenomenally excited for you to see the horrors we have in store for you."

"Dracula has always been a horror favorite of mine, so to get the chance to work on an exciting new interpretation of this character alongside my Department of Truth Co-creator, James Tynion IV, was one I couldn't pass up," said Martin Simmonds. "I'm so excited for readers to experience our version of Universal's classic monster–and I hope you enjoy the direction we take the story."

In addition to Dracula himself, this series also features some popular characters from the original film, including R.M. Renfield, Mina Seward, Doctor John Seward, Van Helsing, and more. Expect fresh twists, chilling encounters, and a dive into the dark corners of these timeless villains' narratives.

Universal Monsters: Dracula will be followed by more new limited series spotlighting the iconic monsters from some of the top creators in comics.

Each series will feature variant covers from some of the best artists working in comics today—Joshua Middleton, Francis Manapul, Julian Totino-Tedesco, and Jenny Frison.

Universal Monsters: Dracula #1 will be available at comic book shops and digital platforms including Amazon Kindle, Apple Books, comiXology, and Google Play on Wednesday, October 25, 2023.