Nouveau teaser mystère :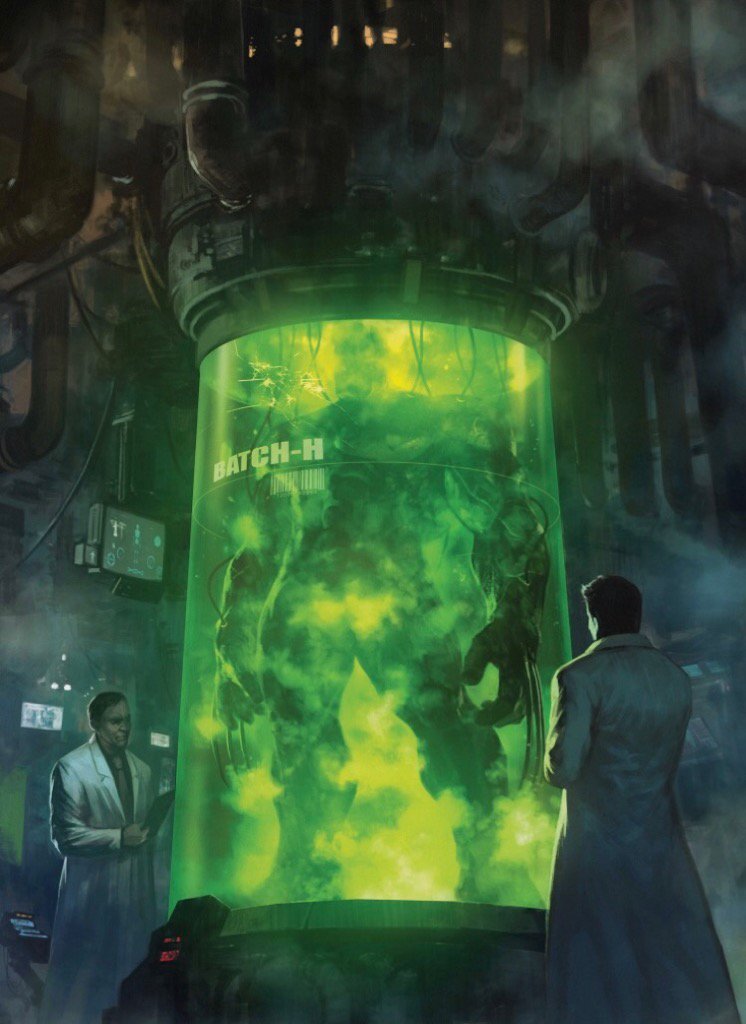 Source : newsarama.com
Purée, c'est juste E-N-O-R-M-E…
C'est un Hulk en verrine ?
Oh, joli jeu de mots…
Tori.
Ils ressuscitent en les fusionnant Hulk et Wolvie ?
Heureusement que c'est pas avec Hank Pym. Sinon, ça aurait donné "Hankulk".
Big love. Hulk n'a pas bedoin de griffe pour tout eclater mais visuellement ca peut etre syma
Derrière ce mystérieux teaser se cachait Weapons of Mutant Destruction, futur crossover en 6 numéros entre les deux séries de Greg Pak, Totally Awesome Hulk et Weapon X.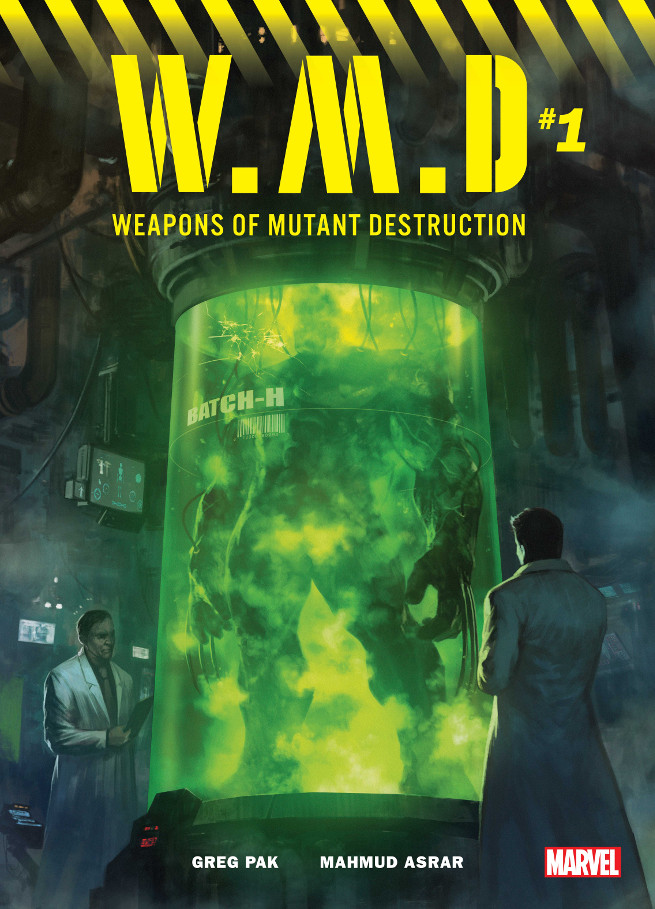 Après un prologue dans *Totally Awesome Hulk #19, *W.M.D. débutera en juin dans un numéro spécial "Alpha" dessiné par Mahmud Asrar et se poursuivra dans les deux titres mensuels.
[quote]TOTALLY AWESOME HULK #19 - PRELUDE
WEAPONS OF MUTANT DESTRUCTION 1 ONESHOT - PART ONE
TOTALLY AWESOME HULK #20 - PART TWO
WEAPON X #5 - PART THREE
TOTALLY AWESOME HULK #21 - PART FOUR
WEAPON X #6 - PART FIVE
TOTALLY AWESOME HULK #22 - PART SIX[/quote]
[quote="Greg Pak"]"There are some fun contrasts there but they've teamed up because they found out that Weapon X is hunting the Hulk. The Weapon X Program has a very specific mission in mind and it involves the Hulk, and so now our heroes and the Hulk are teaming up to try to thwart it. Over the course of this story, things are going to get bigger and bigger and bigger and there are a few mysteries that will unspool, and much slashing and smashing."
"Those two things together provide great story and character fodder. The fact is that the Hulk, Amadeus Cho, is not a killer and he is not a hero who ever plans to kill anybody. That's not in his repertoire of finishing moves. He is an optimist who thinks that he can always find the right solution to any problem and doesn't believe in the lesser of two evils. He thinks he can always find a way to do the right thing and have the right outcome."
"The team led by Logan is considerably more jaded. Maybe they've seen more. Maybe they just have a different way, a different ethos and attitude towards the world. But that conflict between them as they team up is absolutely going to feed into the story. It's going to be a big part of that emotional journey for these characters going both ways."
"I should be very careful here for fear of spoilers. I can say that Weapon X has gone through a number of different incarnations over the years, and so it's a new incarnation of the group, of this nefarious organization, but its mission is to exterminate mutants…We are eventually going to learn that a surprising character is in charge of the program, a classic X-Men villain who will be revealed in the fullness of time."
"What makes it even more interesting is that there is another villain who is involved in all of this with parallel but slightly different motivations. Even as the heroes are figuring out how to work together and what to do there is a very interesting villain story going on during the course of this crossover and I love that."[/quote]
Quel est donc ce "LOT H" vert et griffu sur lequel travaille le nouveau Programme Arme X ?
Réponse cet été !
Source : newsarama.com
C'est bien ça, un petit cross auto contenu à la Slott sur Spidey c'est bien, c'est mieux.
Et un concept aussi foufou, c'est bêtement rafraîchissant.
[quote="Le Doc"]
Quel est donc ce "LOT H" vert et griffu sur lequel travaille le nouveau Programme Arme X ?[/quote]
Une nouvelle drogue : le HX !
Nouveau teaser :
Source : comicbook.com
2 pages du one-shot Weapons of Mutant Destruction Alpha par Mahmud Asrar :
Source : comicbook.com
[quote]Weapons of Mutant Destruction #1
STORY BY
Greg Pak
ART BY
Mahmud Asrar
COLORS BY
Nolan Woodard
LETTERS BY
VC's Joe Caramagna
COVER BY
Artgerm, Pasqual Ferry, Roberto Poggi, Ron Lim, and Skan
PUBLISHER
Marvel Comics
4.99(USD)
2017-06-2
Their goal is a simple one…ERADICATE ALL MUTANTS! And they're starting their hunt with the most dangerous group of mutants on planet Earth — Old Man Logan, Sabretooth, Domino, Lady Deathstrike, Warpath and…the Hulk?! But with an army of genetic cyborgs at their disposal, this may just be the beginning…[/quote]
Source : cbr.com