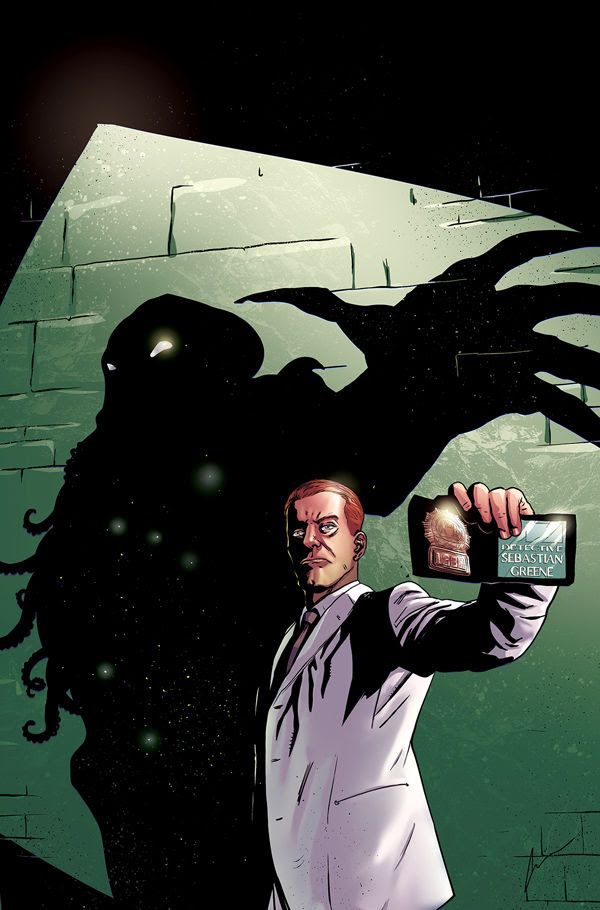 « Les rues de New York ont été marquées par un crime aux motifs bien trop surnaturels et étranges pour que n'importe quel détective puisse résoudre l'affaire. Au creux des indices se cache l'Horreur. Une Horreur qui vient d'au-delà de l'espace et du temps, cherchant à libérer le mal inimaginable des Grands Anciens. Le seul homme à pouvoir déjouer cette horreur indicible n'est pas un homme du tout car le Détective Sebastian Greene est l'un d'eux - il faut bien un monstre pour attraper les monstres. »
Après en avoir fini avec Conan : The Avenger, le scénariste Fred Van Lente (Generation Zero) lancera sa propre série Weird Detective chez Dark Horse avec le dessinateur Guiu Vilanova.
Souhaitons à la série un meilleur accueil que la défunte (et pourtant sympathique) Resurrectionists du même auteur.
Weird Detective #1 sort le 15 juin.
[quote]Weird Detective #1
Story by Fred Van Lente
Art by Guiu Vilanova
Cover by Mauricio Wallace
Publisher Dark Horse Comics
Cover Price: $3.99
The streets of New York have been plagued by a pattern of crimes too weird and bizarre for the average detective. Lurking in the evidence are shadows of loathsome horrors from beyond space and time, seeking to usher in the unimaginable evil of the Old Ones. And the only man capable of fighting against the unspeakable terrors isn't a man at all. Detective Sebastian Greene is one of them—it takes a monster to catch a monster.
• Fred Van Lente's newest original comic series!
[/quote]
http://imageshack.com/a/img923/1377/yHX51r.jpg
http://imageshack.com/a/img922/6563/8mPb6D.jpg
http://imageshack.com/a/img922/7531/WeQEHD.jpg
Lien
Le site de l'éditeur : darkhorse.com