Ça priviligie les mini séries visiblement en ce moment.
Une configuration à la Age of Apocalypse semble-t-il (remplacement éphémère).
X-23: DEADLY REGENESIS #1 (of 5)

ASSASSIN OR X-MAN? THE DEADLY DAYS OF X-23!

Laura Kinney, A.K.A. X-23, was cloned from Logan and trained by the Facility to be a deadly assassin. Even as she tries to put that life behind her, forces will try to drag her back—and she'll fight them tooth and claw! Beset by new enemies—as well as old favorites—this series follows X-23 during her days as a member of the X-Men and X-Force when she walked away from the island of Utopia to find where she truly belongs. Don't miss this all-new story in the fan-favorite saga of Laura Kinney!

Writer: Erica Schultz
Artist(s): Edgar Salazar
Cover Artist: Kalman Andrasofszky
Variant Cover Artists: Peach Momoko; R1c0; Elena Casagrande; Jan Bazaldua; Mike Choi
Editor: Mark Basso
Assistant Editor: Drew Baumgartner
Format: Limited Series
Cover Price/Page Count: $3.99/28 pages
La mode semble être aux flashbacks, dans les mini-séries Marvel, entre celles thématisées (Maestro, New F.F., Spider-Man Black…) ou les retours à des périodes passées. Il y a un petit volume de X-Treme X-Men chez les Mutants, sympathique mais vain donc j'ai arrêté, et cette saga.
Où, à l'époque Utopia, X-23 tente de trouver sa place, agit héroïquement mais est identifiée par de vieux ennemis, comme Kimura qui l'a formée et maltraitée dans l'enfance. Kimura envoie un autre « élève », qui en veut personnellement à Laura et semble réussir à bloquer ses pouvoirs.
Bon. Ca se lit, sans plus. Erica Schultz écrit une bonne voix-off à Laura, et Edgar Salazar propose des planches efficaces et fluides… mais ça n'a pas grand intérêt.
Ca a déjà été fait, et mieux. Sans moi pour la suite.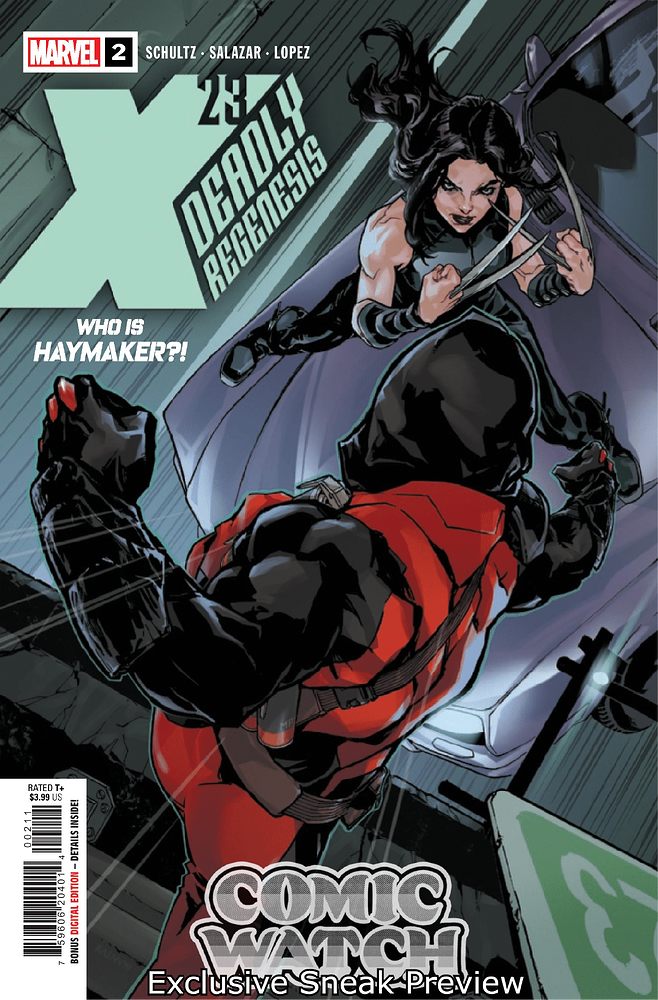 X-23: DEADLY REGENESIS #2 (of 5)

AN ALL-NEW VILLAIN IS OUT FOR X-23'S BLOOD! X-23 has made her share of enemies, but this time, REVENGE is PERSONAL! Don't miss the debut issue of a never-before-seen X-villain in the further adventures from Laura Kinney's defining era!

Creative Team

Writer: Erica Schultz
Artist(s): Edgar Salazar
Colorist: Carlos Lopez
Letterer: VC's Cory Petit
Cover Artist: Kalman Andrasofszky
Variant Cover Artists: Jung-Geun Yoon; Nathan Szerdy
Editor: Mark Basso
Assistant Editor: Drew Baumgartner
Format: Limited Series
Cover Price/Page Count: $3.99/28 pages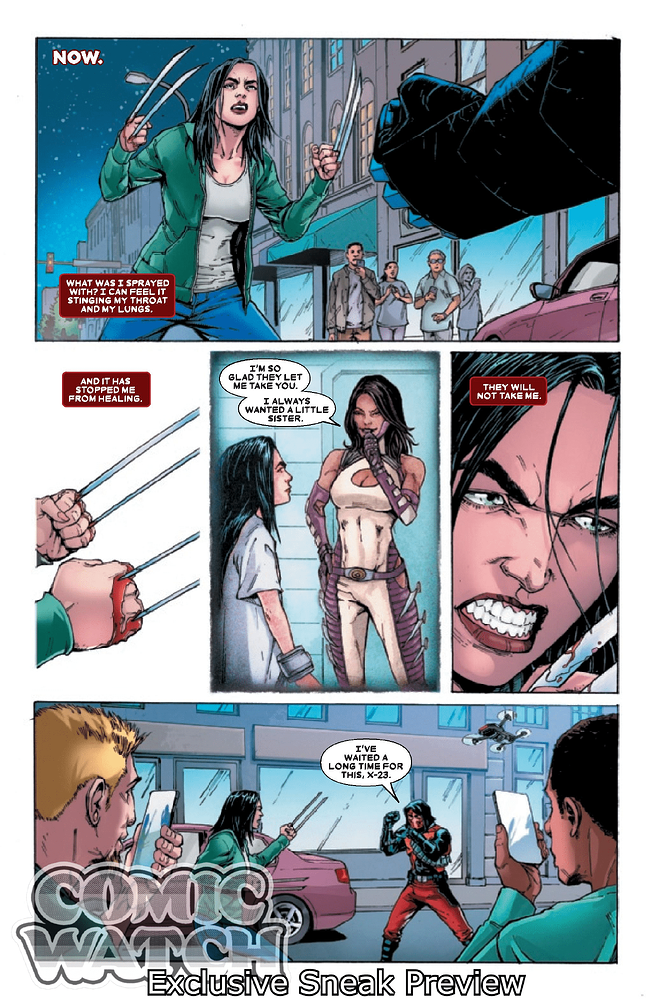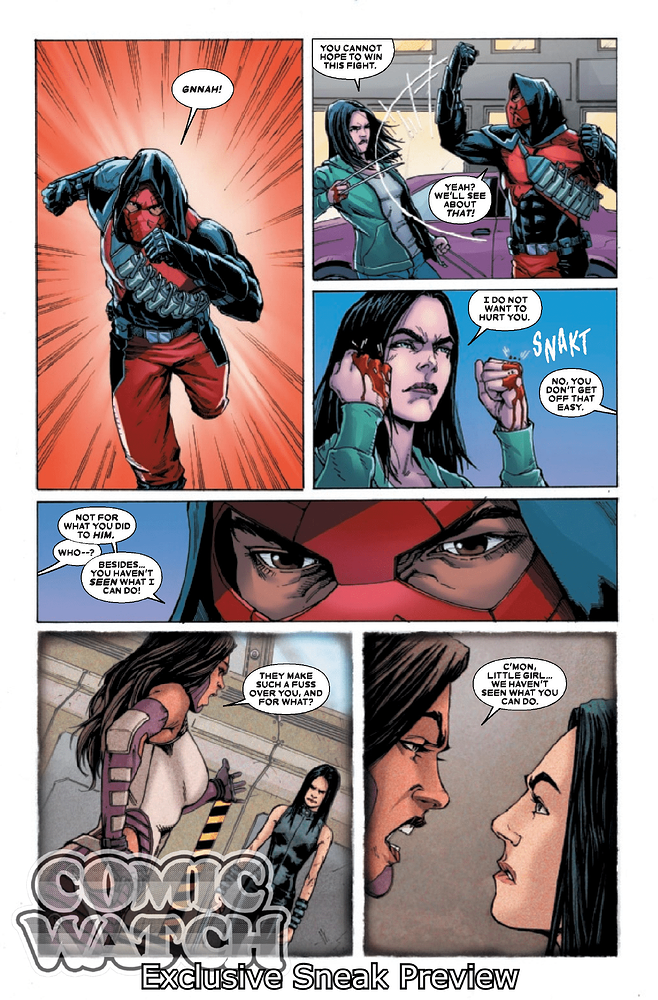 X-23: DEADLY REGENESIS #3 (of 5)

THE PAST HAUNTS US ALL, PART 3 – KIMURA'S MASTER PLAN!

KIMURA once commanded X-23 for the Facility, and she's back to pull the strings once again. But what is her master plan, and how far will X-23 go to save the innocent people caught in her nemesis' scheme? Plus, a face-off with X-23's new adversary, and a shocking twist!

Creative Team

Writer: Erica Schultz
Artist(s): Edgar Salazar
Colorist: Carlos Lopez
Letterer: VC's Cory Petit
Cover Artist: Kalman Andrasofszky
Variant Cover Artists: Gerald Parel; Leirix
Editor: Mark Basso
Assistant Editor: Drew Baumgartner
Format: Limited Series
Cover Price/Page Count: $3.99/28 pages

The return to X-23's early days as mutantkind's fiercest assassin continues in X-23: DEADLY REGENESIS #3 on shelves & digital platforms May 31, 2023, from Marvel Comics
X-23: DEADLY REGENESIS #4 (of 5)

THE PAST HAUNTS US ALL, PART 4 -LAURA ON LOCKDOWN!

KIMURA has LAURA right where she wants her! But with X-23 under Kimura's thrall like the "good old days"…will Laura be drawn back into the life of an assassin that she put behind her? Old wounds are reopened, and drastic action is taken by X-23…and the mysterious HAYMAKER!

Creative Team

Writer: Erica Schultz
Artist(s): Edgar Salazar
Colorist: Carlos Lopez
Letterer: VC's Cory Petit
Cover Artist: Kalman Andrasofszky
Variant Cover Artists: Ejikure
Editor: Mark Basso
Assistant Editor: Drew Baumgartner
Format: Limited Series
Cover Price/Page Count: $3.99/28 pages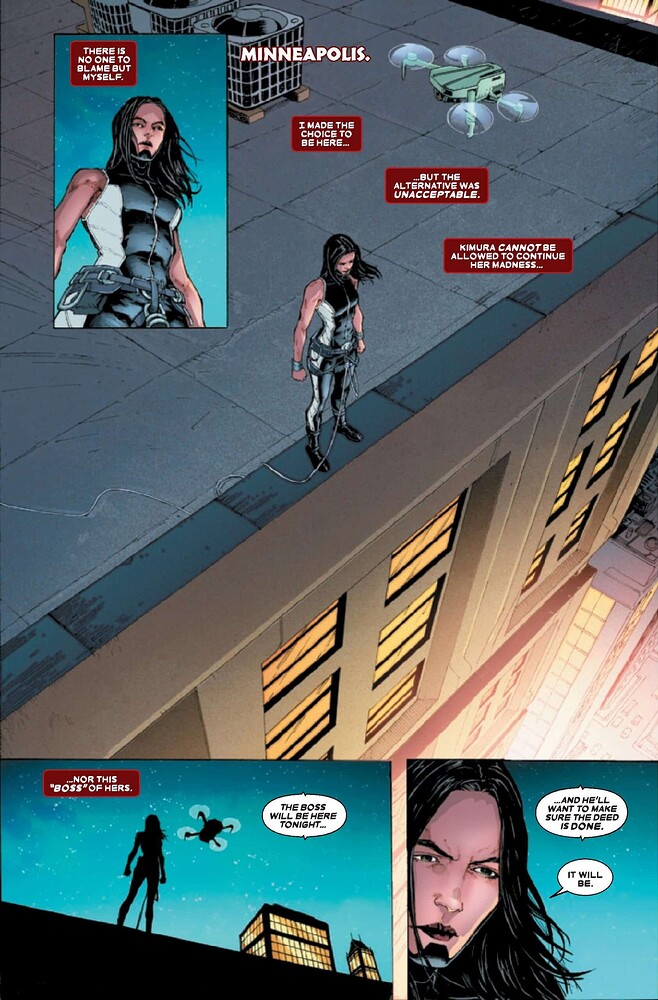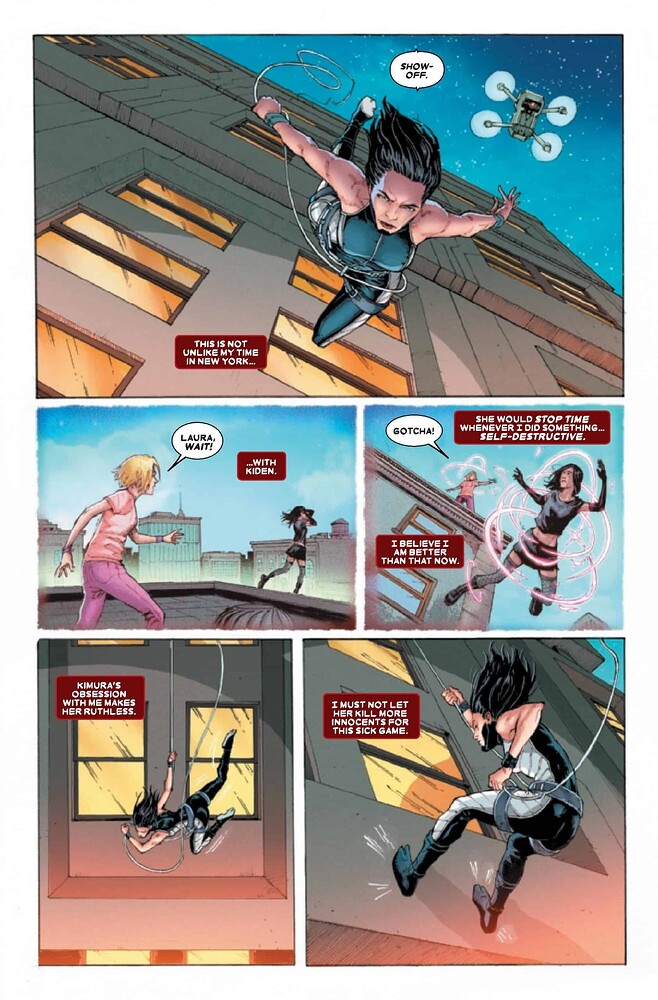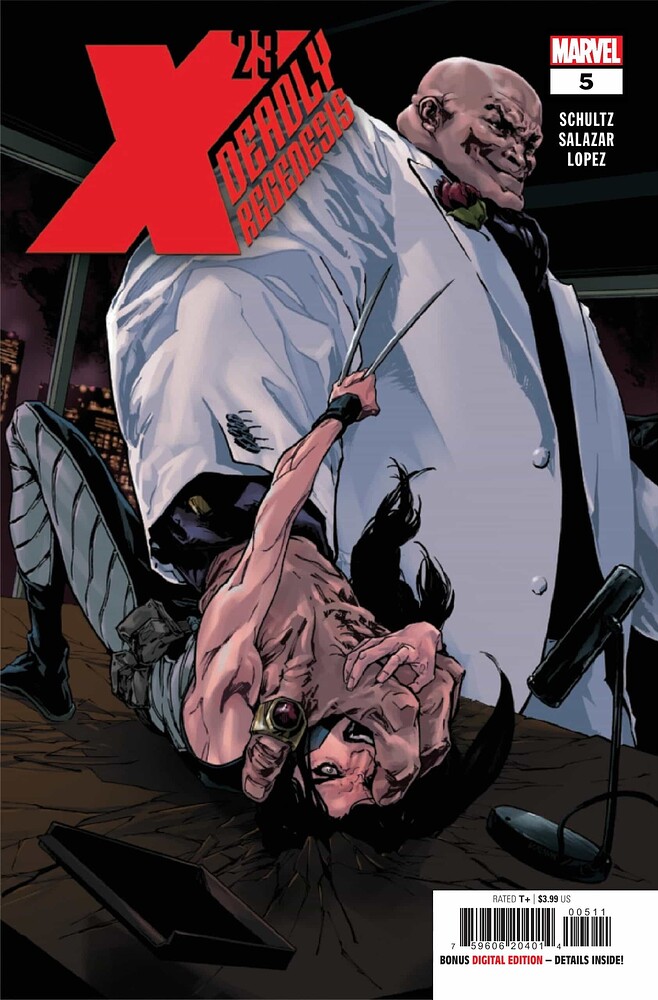 X-23: DEADLY REGENESIS #5 (of 5)

KINGPIN WANTS HIS MONEY BACK!

LAURA KINNEY has done terrible things in her time as an assassin for the Facility. And now that past comes back to haunt her with a vengeance!

With HAYMAKER on one side, KINGPIN on the other and KIMURA orchestrating the nightmare, the woman once known as X-23 will have to bring all her fighting skills and mutant power to bear if she's to survive this deadly convergence of enemies!

Creative Team

Writer: Erica Schultz
Artist(s): Edgar Salazar
Colorist: Carlos Lopez
Letterer: VC's Cory Petit
Cover Artist: Kalman Andrasofszky
Variant Cover Artists: Gerald Parel; Leirix
Editor: Mark Basso
Assistant Editor: Drew Baumgartner
Format: Limited Series
Cover Price/Page Count: $3.99/28 pages